This fresh and tangy keto cauliflower tabbouleh will be your new favorite go-to salad!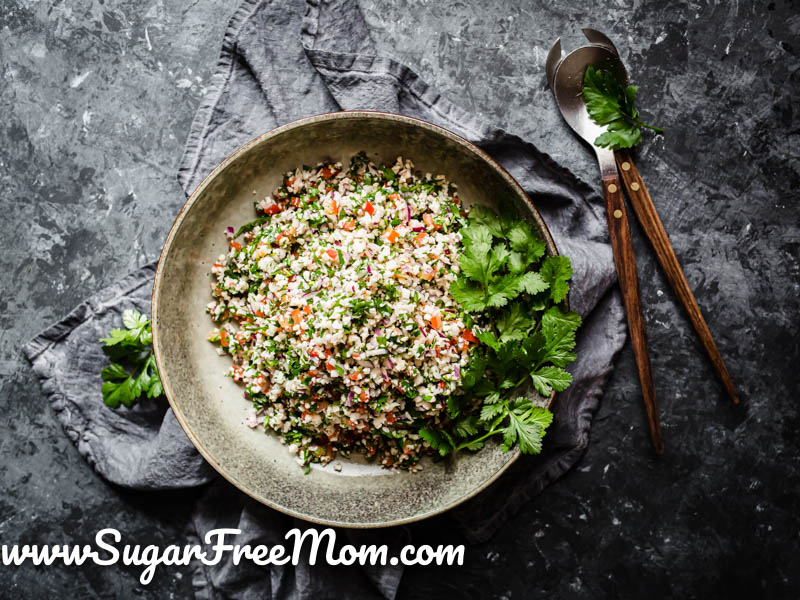 Keto Tabbouleh
Traditional tabbouleh is a fresh, vegetarian salad made with fine-ground bulgur or cracked wheat, fresh parsley, tomato, onions, mint, oil and lemon juice. Creating a keto tabbouleh is a simple swap for the bulgur for rice cauliflower which is the perfect consistency and texture of that of the bulgur. It's a simple but elegant salad to be served on its own or with a grilled steak, chicken or fish.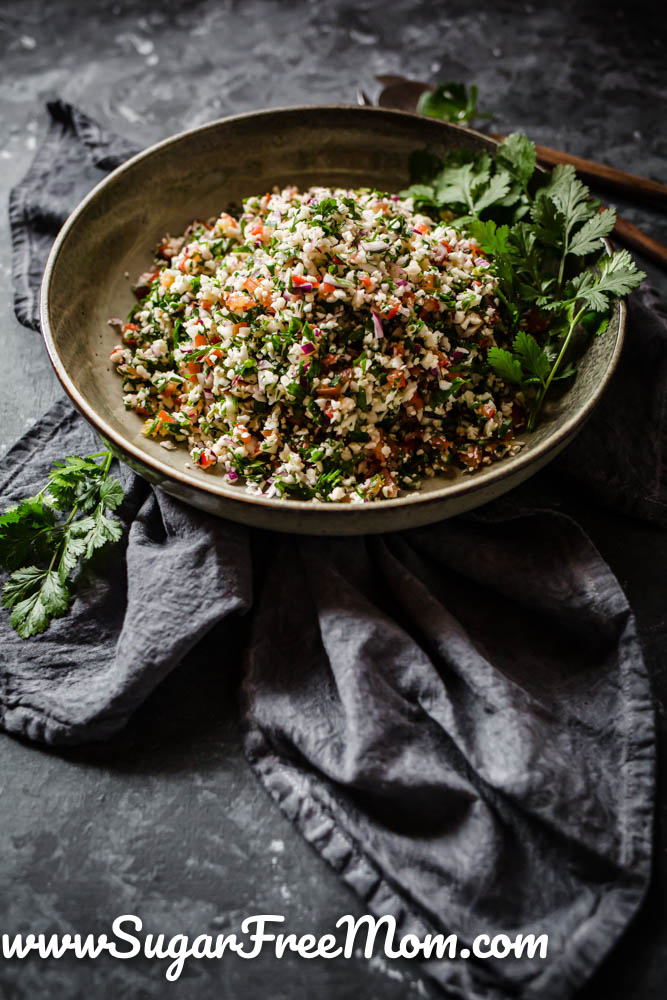 How to Make Riced Cauliflower
Back before riced cauliflower was available as a fresh or frozen option in the market, I was making it on my own using my Cuisinart food processor. You can also grate raw cauliflower with a cheese grater. Sure it takes a bit more time, but it is less expensive. Today you can find fresh, raw cauliflower already riced for you at Trader Joe's and Walmart sells a frozen, pre-cooke riced cauliflower. Either way, riced cauliflower is fantastic for so many recipes where you want to replace rice. Use it for my Antipasto Rice Salad or in my cookbook Naturally Keto I've got a Cilantro Cauliflower rice that is fabulous side for all your Mexican recipes. To make it at home, use either tool I mentioned and just grate the florets, discard the stems. Toss in this recipe raw without cooking. If you want it softer or more tender simply saute it in olive oil in a pan until tender, about 5 minutes.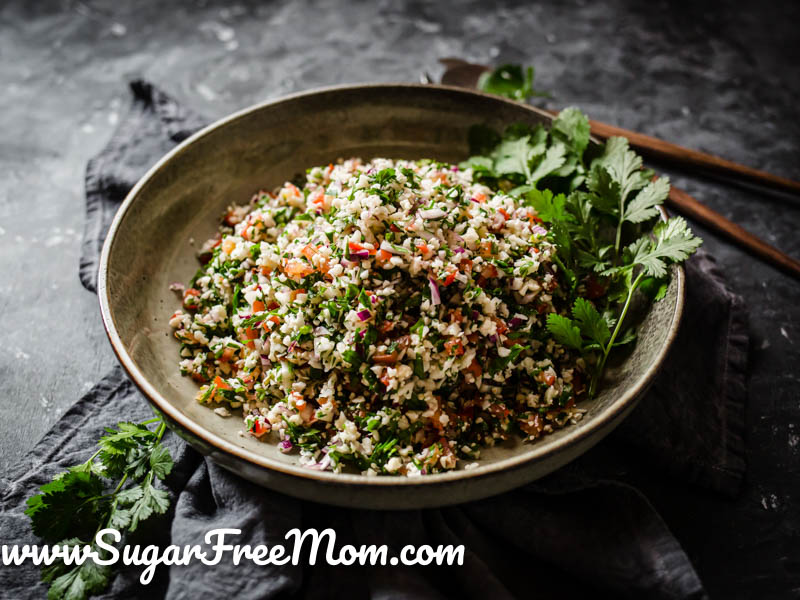 I use cauliflower for many of my keto recipes. 2019's number one recipe of the year was my Keto Cauliflower Pizza! If you haven't given that recipe a try, you should! Don't know cauliflower till you try it! I've also got a Deep Dish Cauliflower Pizza you might enjoy!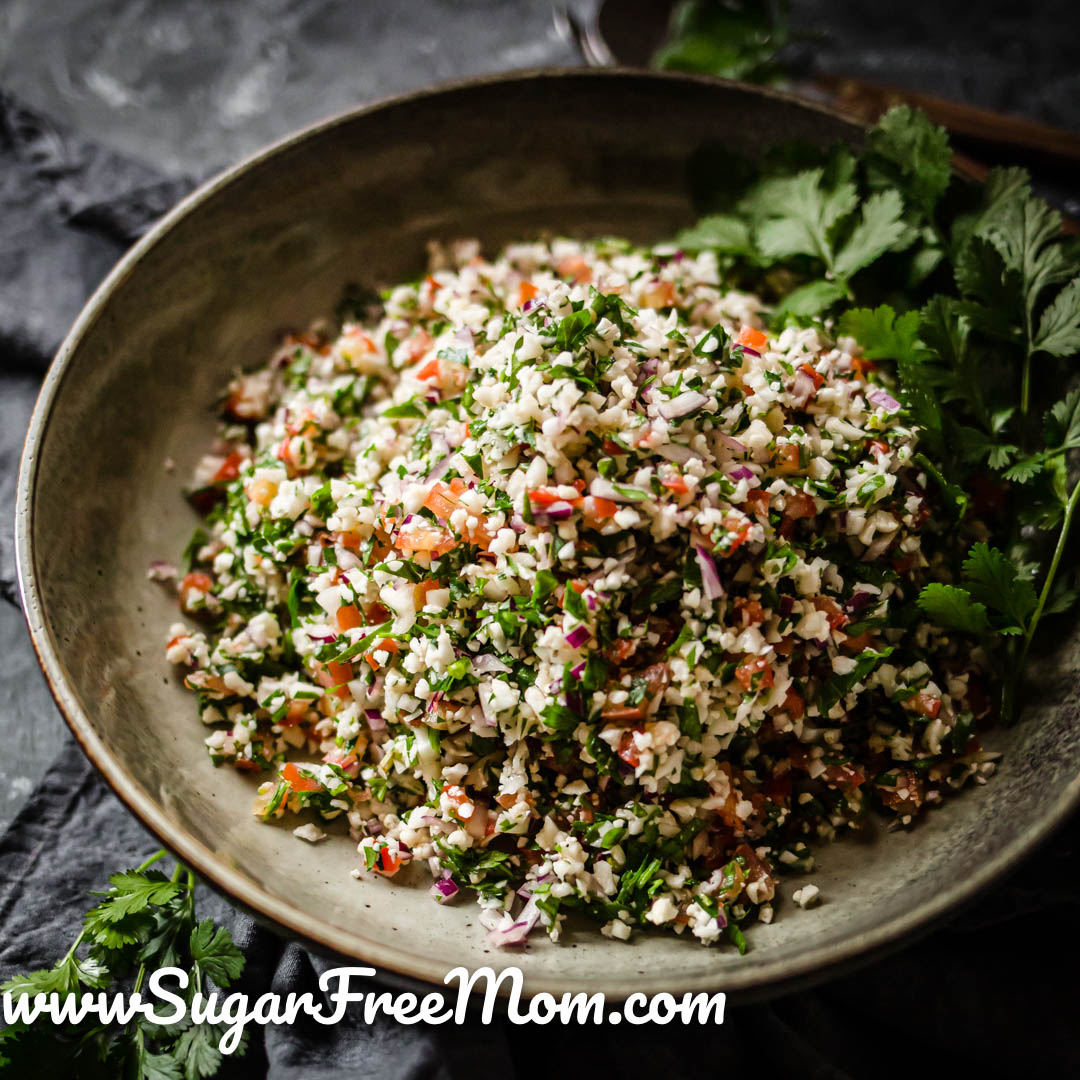 Meal Planning Membership
Our membership is simple. You can subscribe for a month to try it out or you can subscribe for a yearly membership. Each Friday you will get a meal plan that comes to your email. You'll have that early in order to go food shopping before the meal plan begins on Sunday. You will be able to view and print the meal plan and the shopping list. If you don't like a meal, simply delete it and swap it with another meal you like. The shopping list will automatically adjust. It's the best software available out there for a customizable menu plan. Not many other low carb or keto meal plans allow you the option to remove, add, start with a blank menu and create your own if you so wish.
Keto Cauliflower Tabbouleh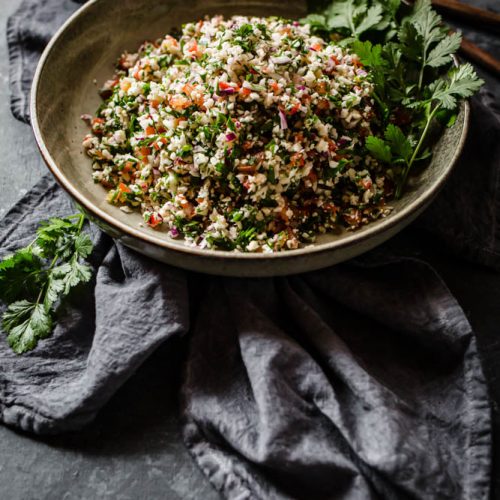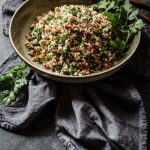 Print
Keto Cauliflower Tabbouleh
This fresh and tangy salad will be your go-to recipe. Delicious with grilled fish or
chicken or alongside a juicy steak, or divine by itself. Can be made well in advance so is perfect for picnics or for a pot-luck supper. And the best thing? It comes together in under 10 minutes.
Ingredients
1

cup

riced cauliflower

raw or 107 grams

4

cups

fresh parsley

or 240 grams

½

cup

fresh mint

or 25.6 grams

2

small

red onions

or 120 grams

1

large

tomato

or 130 grams

2

tablespoon

lime juice

or 30.8 grams

4

tablespoon

extra virgin olive oil

salt to taste
Instructions
Place the riced cauliflower into a large mixing bowl. Finely chop parsley
and mint. Add to bowl.

Dice your onions into very small pieces.

Cut the tomatoes into quarters and scoop out the pulp and seeds from the centre, this
will stop your salad becoming watery and soggy.

Dice the remaining firm tomato and add to the bowl.

Whisk the lime juice, olive oil and salt together and drizzle over the salad.

Stir through until everything is well coated. Taste and season with salt to taste.

Store in an airtight container in the fridge for up
to 1 week.
Nutrition
Serving:
1
serving @ ½ cup
|
Calories:
121
kcal
|
Carbohydrates:
8
g
|
Protein:
2
g
|
Fat:
10
g
|
Saturated Fat:
1
g
|
Sodium:
34
mg
|
Potassium:
424
mg
|
Fiber:
3
g
|
Sugar:
3
g
|
Vitamin A:
3782
IU
|
Vitamin C:
74
mg
|
Calcium:
78
mg
|
Iron:
3
mg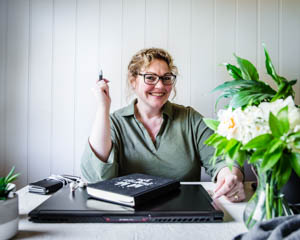 Naomi is the force behind Naomi Sherman | Food Creative. She is passionate about recipe development, food photography and styling. An accomplished home cook who was diagnosed with an auto-immune disease eight years ago, Naomi started to explore the connection between healthy, whole food and her symptoms, and a new love was born. She fiercely believes that what you put in your body is one of the most important factors for your physical, and mental, wellbeing.