Sugar Free Pumpkin Pie Bites are pumpkin cookie dough made keto, gluten free, grain free, low carb and NO BAKE with a dairy free option as well!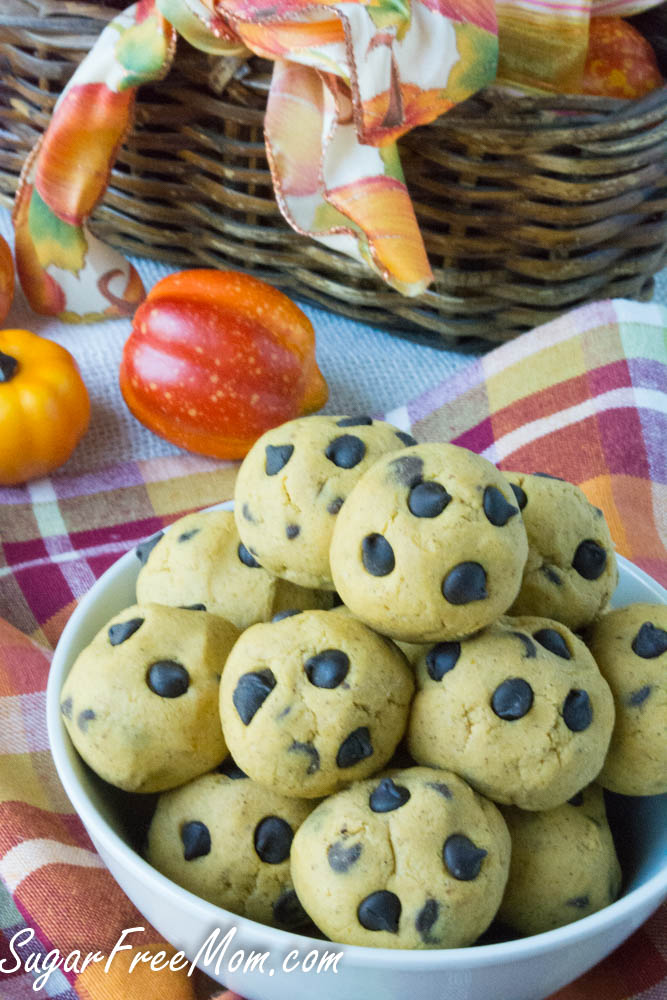 Pumpkin Pie Bites
The combination of a favorite fall ingredient combined with a classic cookie dough texture makes for one fabulous no bake, low carb and sugar free recipe!
These tasty little bites will melt in your mouth and won't make you feel the least bit of guilt when indulging in a few.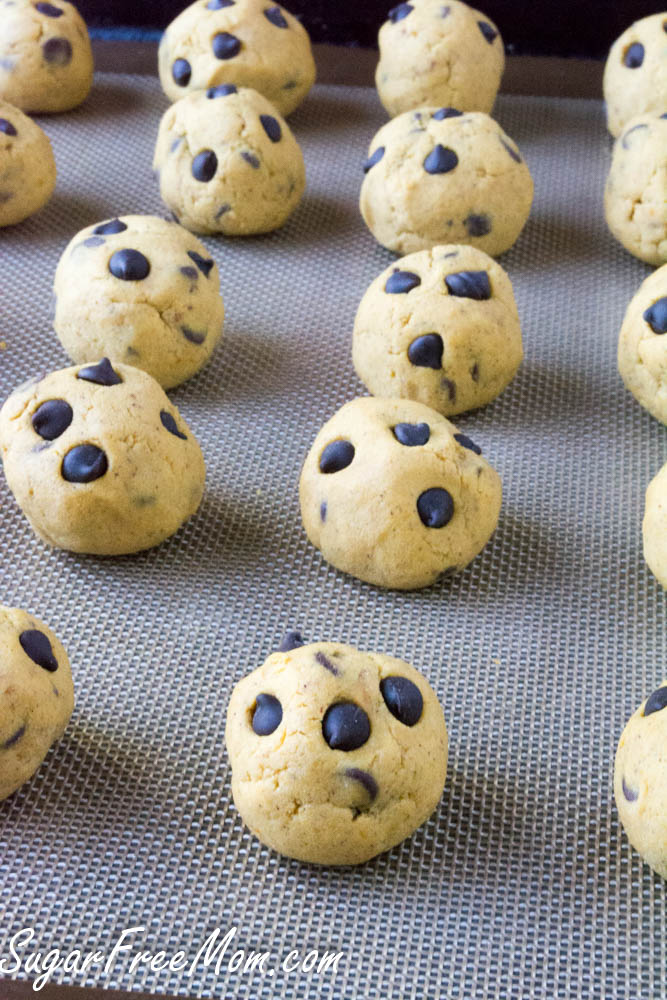 This past weekend my hubby and I ended an era.
An era of cubscout camping trips has come to an end. After 8 years of cubscouting with my oldest and our youngest, who is almost a boy scout in just a few short months, we had our final cubscout camping trip.
Kind of sad to think it's over, but ready for the youngest to join the oldest and his daddy in Boyscouts. And I'm ready to no longer be required to plan a weekly den meeting each Monday night. Of course the hubby has plans for me to particpate in parent meetings and committee meetings and help with Eagle project planning, but at least each Monday night starting in March I will be able to actually stay home. All of us will be able to stay home one night a week. And for that I am happy.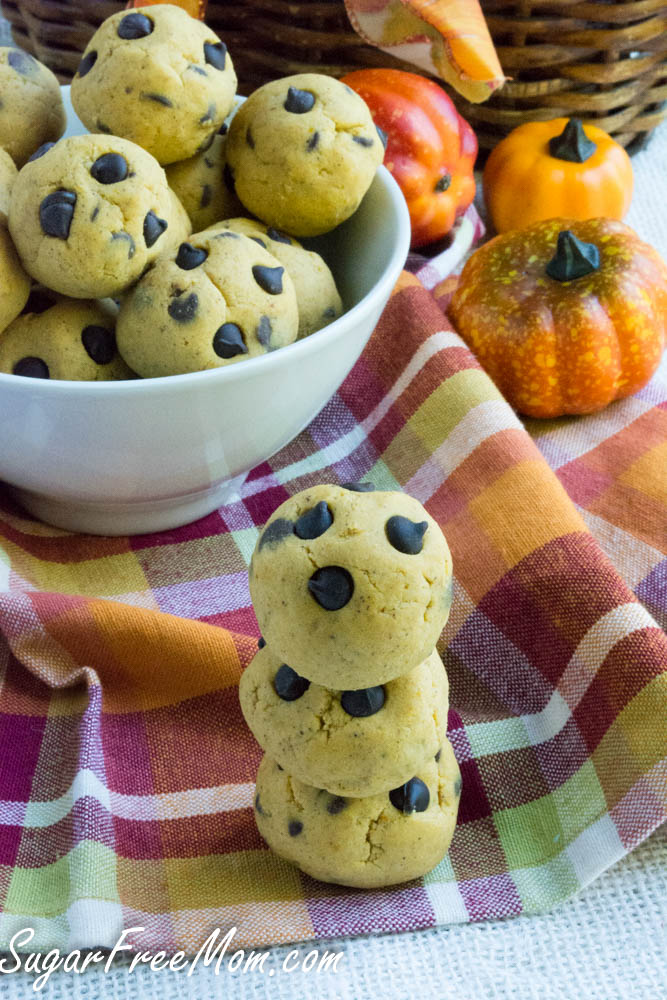 Life is busy and time is tight. I'm amazed at how many things actually need to get done in order to fully function and participate in all we do as moms. I am secretly thrilled for one less obligation, if you know what I mean.
When I think of treats, I would kind of like to skip baking if I could. I like quick and easy and no bake recipes rock my world.
Pumpkin Cookie Dough
These are festive, kid approved and easy enough for them to actually make themselves for when friends come over. I mean who doesn't love a yummy cookie dough right? If you're not a fan of pumpkin try these Peanut Butter Cookie Dough Bites.
Learning to get my kids more involved in the kitchen this past year has truly helped my sanity and taken some chores off my everyday To-Do list. Snacks was always an issue. With a growing 15 year old son, a 12 year old daughter and 9 year old son, I could barely keep up with the eating demands around here. This recipe works to fill those needs without my help. 🙂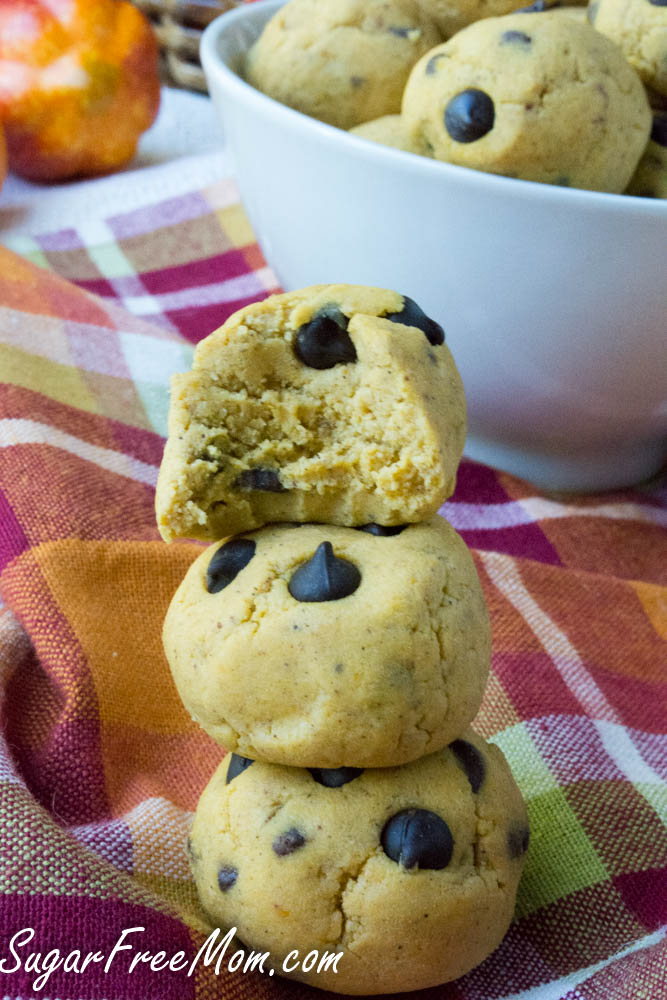 I don't know what you need to get off your plate as far as chores, routines, recipes, etc, but I do know this recipe won't be a difficult one to add to your list for easy snacks for the family or feeding a crowd of hungry teenagers in your kitchen.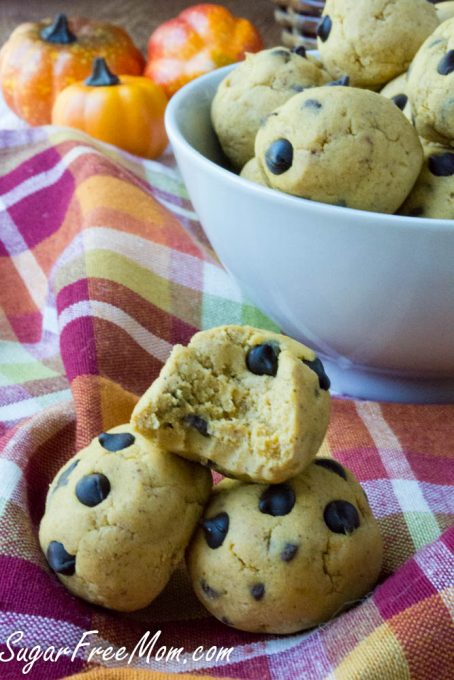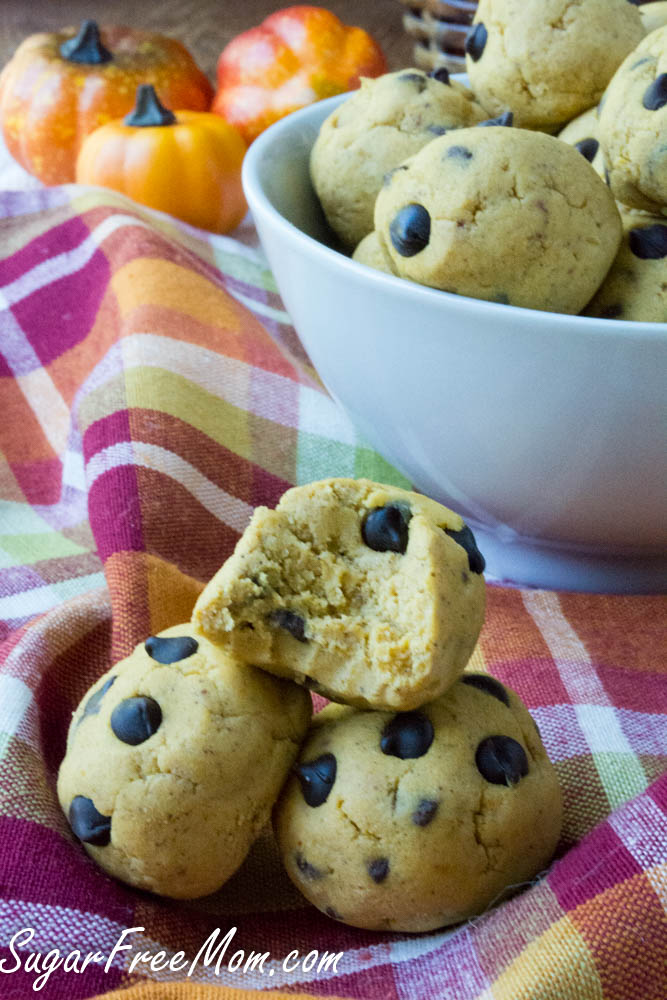 Other No Bake Recipes you might love:
video
Keto Pumpkin Pie Bites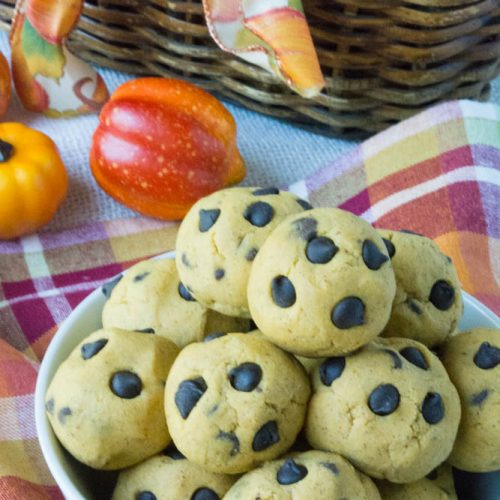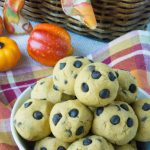 Print
Sugar Free Pumpkin Pie Cookie Dough Bites
Instructions
Blend the first 5 ingredients in a stand mixer until smooth.

Taste and adjust sweetener if needed.

Whisk the remaining ingredients together in a bowl.

Slowly pour the dry ingredients into the wet in the stnad mixer until combined.

If using chocolate chips, blend gently on low.

Using a cookie scoop, form 30 balls.

Roll in Sukrin brown sugar substitute if using.

Keep refrigerated until ready to serve.
Notes
Net Carbs: 4g
Brenda's Notes:
This recipe was first published in October of 2015 and updated in November 2018 with video.
Nutritional Information does not include chocolate chips which is optional.
I have tried this recipe using all coconut flour, but we felt the coconut flour overpowered the flavor of the pumpkin.
I have not tried this with almond flour as my youngest has a tree nut allergy but I would expect it to be fine with a mild flavor and would not overpower the pumpkin flavor.
If you don't like stevia, use a favorite sweetener of choice, just use a small amount and taste and adjust as needed.
Nutrition
Serving:
2
bites
|
Calories:
198
kcal
|
Carbohydrates:
8
g
|
Protein:
3
g
|
Fat:
18
g
|
Saturated Fat:
13
g
|
Cholesterol:
16
mg
|
Sodium:
64
mg
|
Potassium:
50
mg
|
Fiber:
4
g
|
Sugar:
2
g
|
Vitamin A:
4000
IU
|
Vitamin C:
1
mg
|
Calcium:
10
mg
|
Iron:
0.4
mg