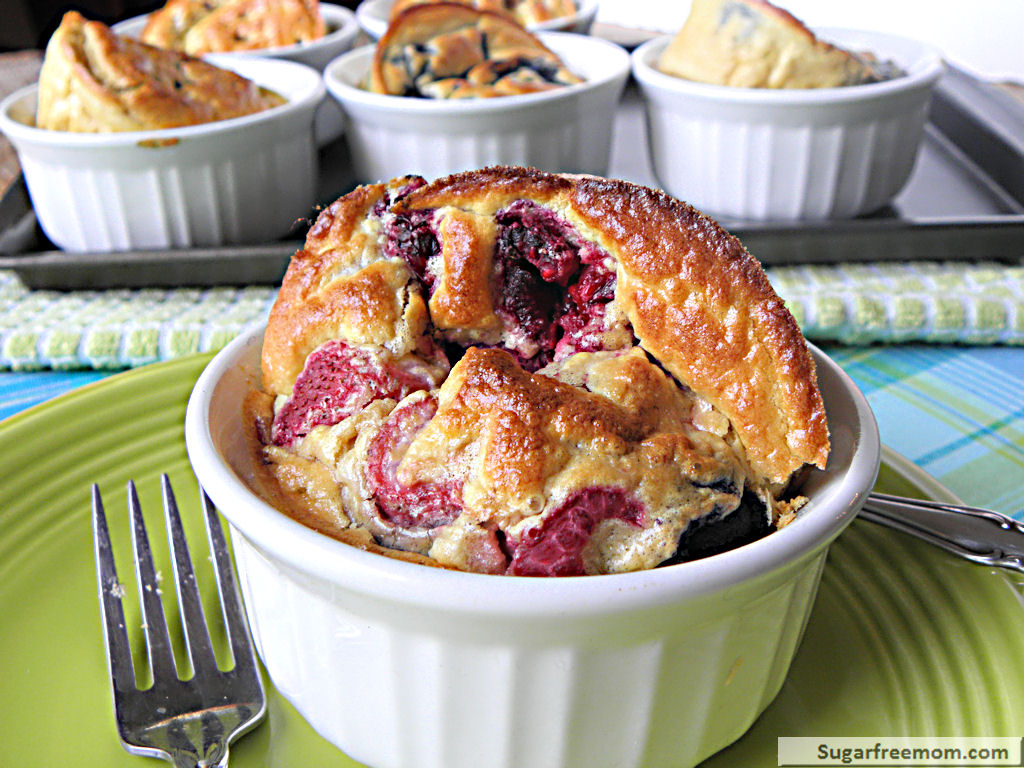 Variety is the spice of life!!!
Don't you just love to make 2 or 3 different breakfast options for your family to suit everyone's tastes?
NO??
HA! Neither do I!!!! I like everyone to eat the same thing and with a family of 5 and 2 very picker eaters that is super difficult.
In fact I don't really even like to flip pancakes at the stove. The oven is my best friend. I love to prepare something and let it do its thing in the oven and call it a day.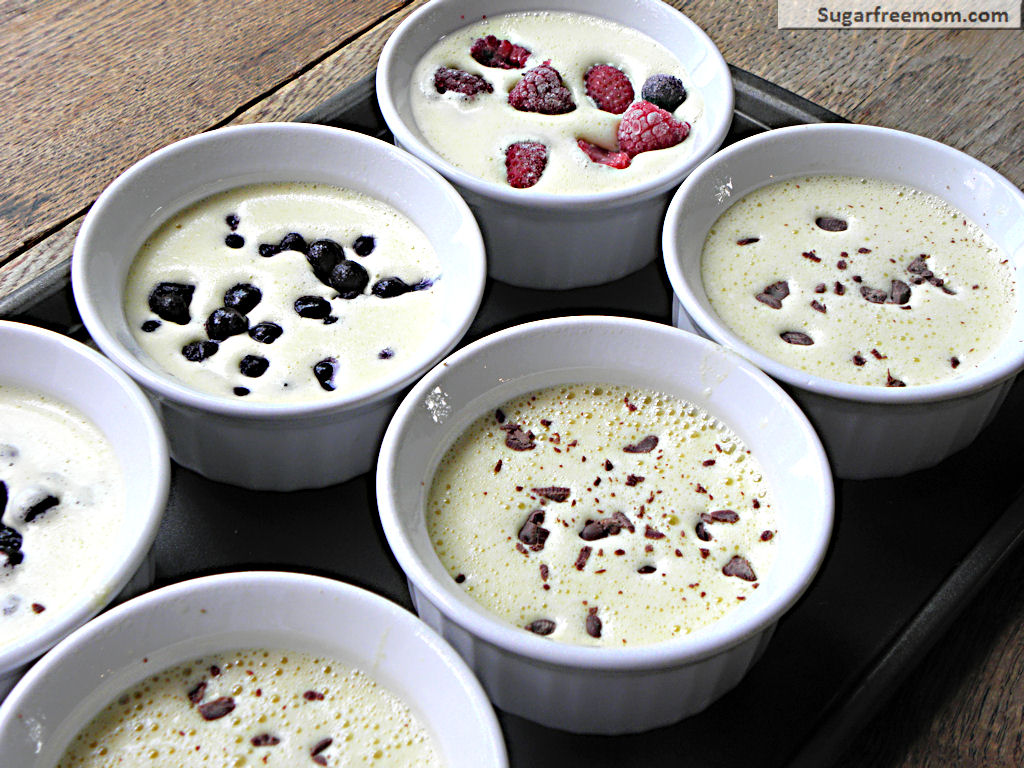 This recipe is almost exactly the same from my Original Whole Wheat Berry Puff Pancake.When I've made that recipe as well as my Banana Puff Pancake there was always one who didn't like it. No idea why I didn't think of this sooner, but here it is!
THE BIG HUGE difference here? You still make the batter easily in the blender then separate it evenly into 6 ramekins! Add blueberries, blackberries, strawberries, even chocolate chips into each batter! Whatever they want!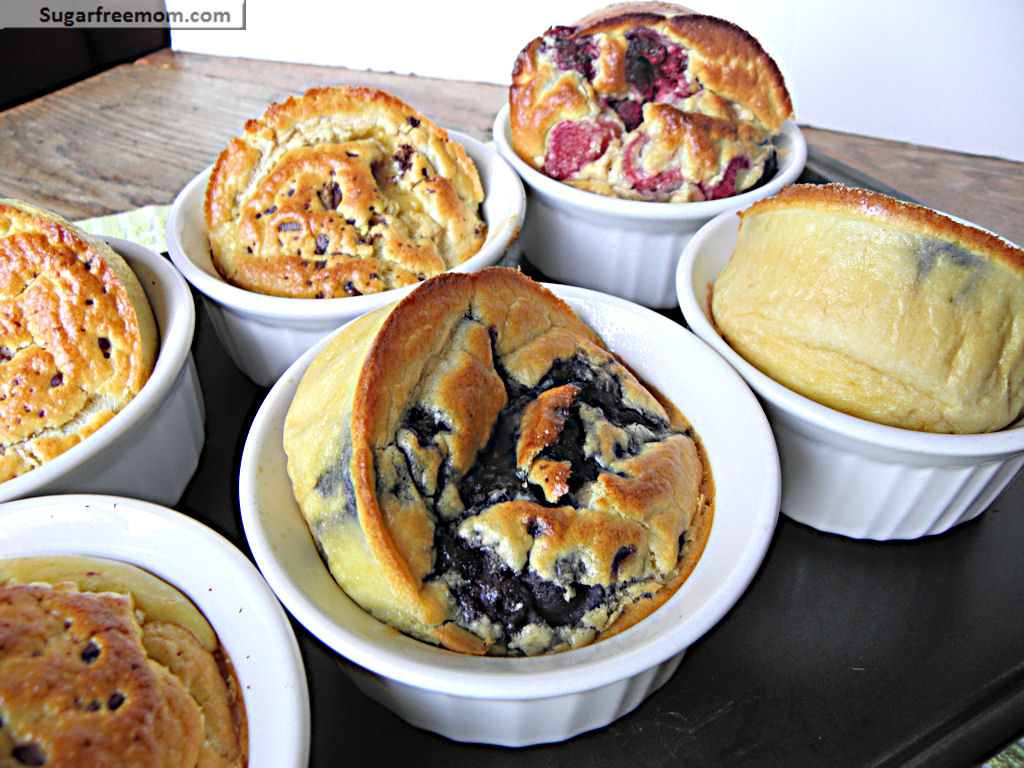 Don't they look so good? Like a souffle almost! They bake for a bit longer than the original whole pan version, but who cares right?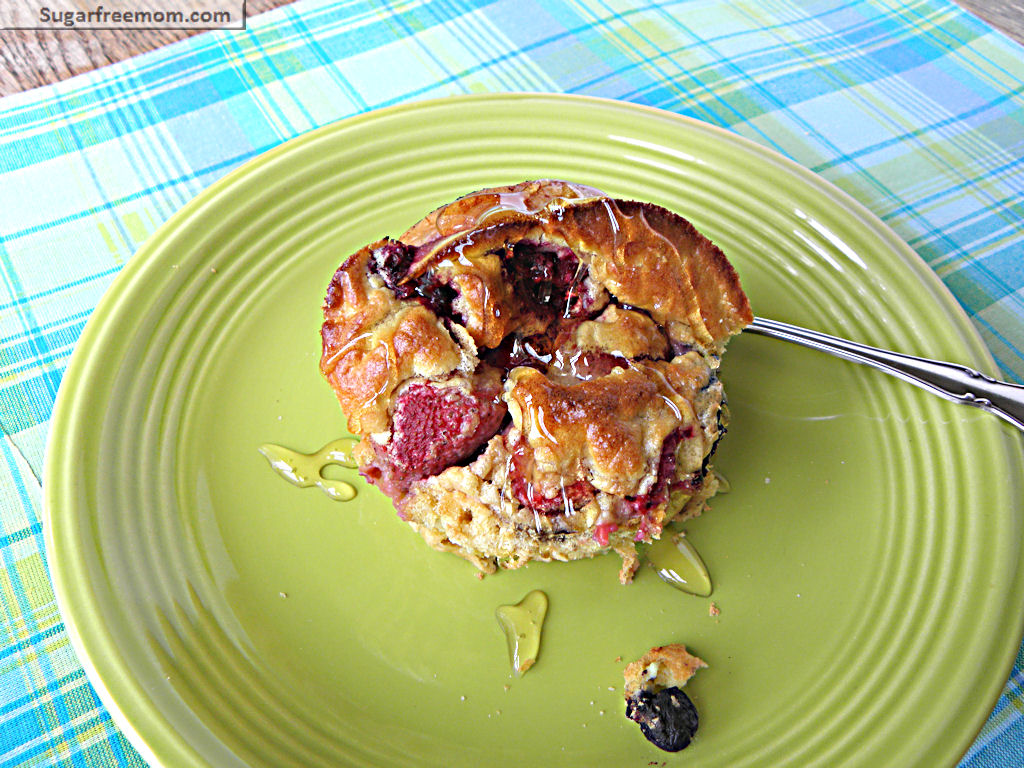 Let them cool a bit and then use a butter knife to loosen around the edges. Pop it right out with a fork in the center and lift! Add some honey on top and enjoy hearing no sound at all coming from your family. SILENCE is golden! It means that are all happily eating what you placed in front of them all because they were able to choose. 🙂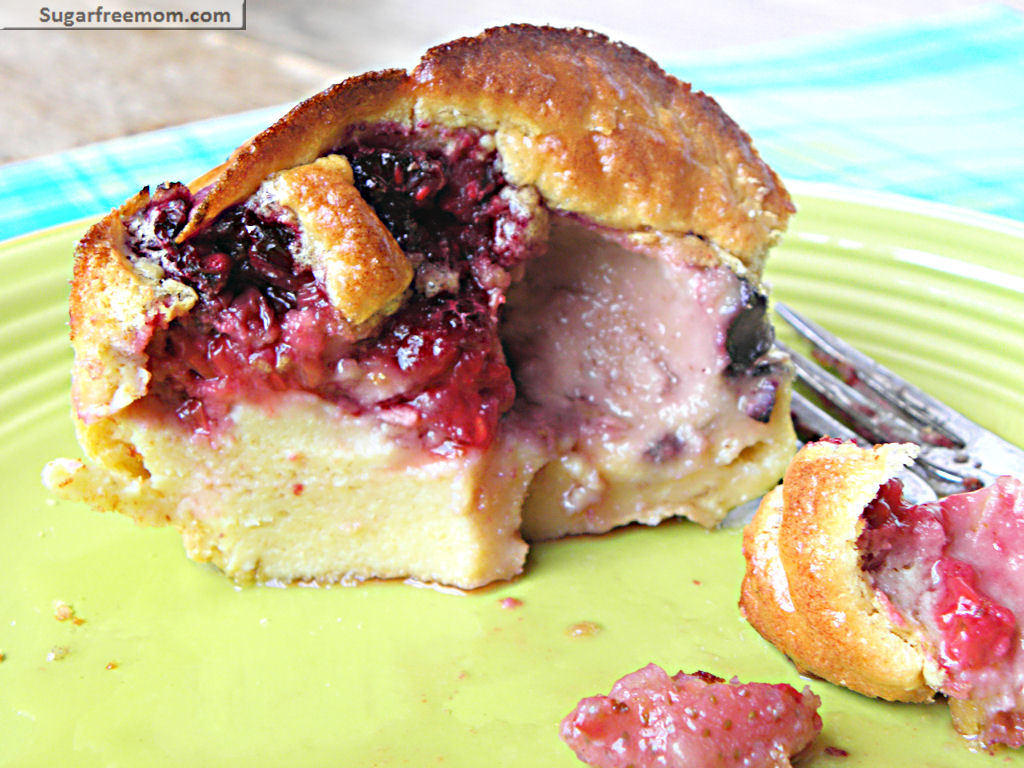 This delicious mixed berry one is all mine!!
Individual Whole Wheat Puff Pancake with Personal Toppings [No Sugar Added]
Author:
Prep time:
Cook time:
Total time:
Ingredients
6 eggs
1 cup milk of choice [I used 1%]
1 cup Whole Wheat Pastry Flour
1 teaspoon vanilla extract
Optional: ½ teaspoon [url href="http://iherb.com/p/15940?rcode=yaj035" target="_blank"]Vanilla Stevia[/url], Alcohol Free
Frozen or fresh fruit of choice or chocolate chips
Instructions
Preheat oven to 425 degrees.
Blend all ingredients in your blender and mix until all combined.
Spray 6 ramekins with nonstick cooking spray or use melted butter.
Place ramekins onto a baking sheet then pour pancake batter evenly into each. Place 1 tablespoon of frozen or fresh fruit of your choice.
If using chocolate chips, chop them a bit as they sink to the bottom or use shaved chocolate on top of batter.
Bake for 25-30 minutes until puffed as in picture.
At 25 minutes check that center is not liquidy when gently shaken. If not, they are done. Mine were perfect at 30 minutes.
Serving size:
1
Calories:
159
Fat:
6g
Carbohydrates:
17g
Fiber:
2g
Protein:
11g
Notes
Weight Watchers PointsPlus: 4*