These Scrumptious Keto, Low Carb Hazelnut Chocolate Sandwich Cookies are gluten free, grain free and only 2 net grams of carbs per sandwich cookie!
Chocolate Sandwich Cookies
Hazelnut and chocolate. They're like the Romeo and Juliet of the food world. They were destined to be together…right?
Well, in my house that is the case. I adore anything chocolate and hazelnut flavored, which used to be a bit tricky. Not now! Now, I have these divine little sandwiches of choc-nut yumminess and I couldn't be happier.
Even better, they're so easy to make and only 2 grams of carbs for each sandwich, you can easily fit one or two into your daily menu. Maybe three. Don't eat four. Enjoy!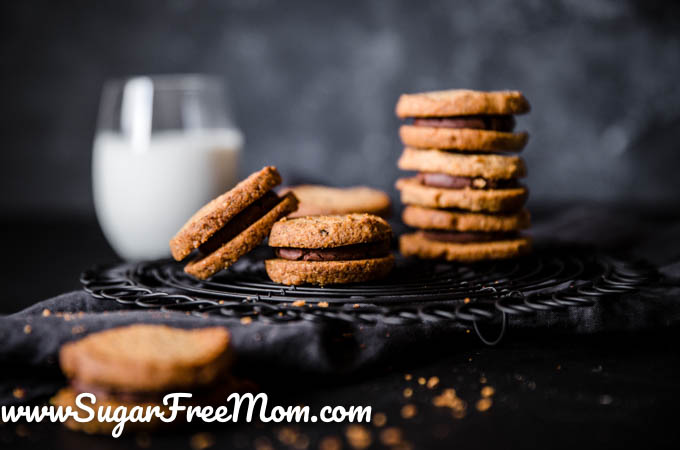 Another option for the filling for these cookies is to sandwich them between my vanilla sugar free buttercream frosting. I also have a chocolate buttercream as well. Either way these keto cookies will be a delight for anyone who tries them. Perfect for your dessert tray this holiday season and anytime of year!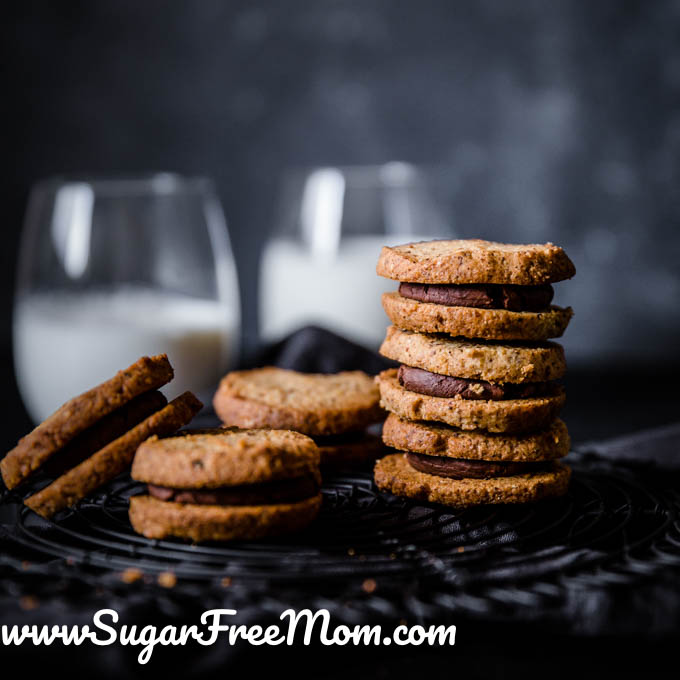 Other holiday cookie recipes you might like:
Low Carb Hazelnut Chocolate Sandwich Cookies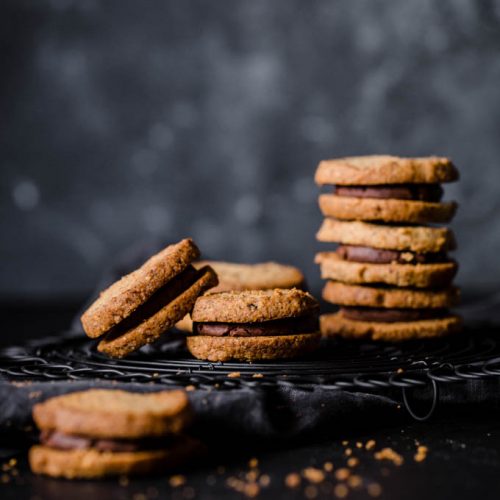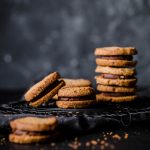 Print
Low Carb Hazelnut Chocolate Sandwich Cookies
Servings
20
sandwich cookies
Instructions
To Make the Cookies
Cream butter with the sweetener.

Beat well until light and fluffy, then add the egg and the vanilla.

In a mixing bowl, combine the flours and the baking powder and whisk to remove any lumps.

Add the dry mixture to the butter and mix on low until combined, scraping down the sides.

Lay a sheet of cling wrap on your kitchen bench and spoon the mixture on the wrap in a line.

Roll and shape into a log and place in the refrigerator for 30 minutes, or until firm but not hard.

Note: if you let this dough get too hard it will crumble instead of neatly slicing.
To Make Ganache Filling
Melt the chocolate, butter and sweetener together in a saucepan over medium heat until combined and smooth.

Place ganache in the fridge to thicken and firm up.

Pre-heat oven to 160° C. Remove the dough from fridge and slice into rounds, approx. 5 mm thick and then arrange on a lined baking tray.

Bake for 15 minutes.

Let cool on the tray for five minutes before transferring to a cooling rack.

Cookies will crisp slightly but the end result should be a soft cookie.

Once the ganache is set to the consistency of thickened cream, remove from the fridge and scrape into a mixing bowl.

Whisk the ganache until it is whipped and fluffy.

Pipe the ganache onto half of the cookies and then sandwich with the other half

Store in an airtight container, for up to seven days. The cookies will soften slightly over time.
Nutrition
Serving:
1
sandwich cookie
|
Calories:
158
kcal
|
Carbohydrates:
3
g
|
Protein:
2
g
|
Fat:
15
g
|
Saturated Fat:
6
g
|
Cholesterol:
30
mg
|
Sodium:
76
mg
|
Potassium:
28
mg
|
Fiber:
1
g
|
Vitamin A:
270
IU
|
Vitamin C:
0.2
mg
|
Calcium:
32
mg
|
Iron:
0.5
mg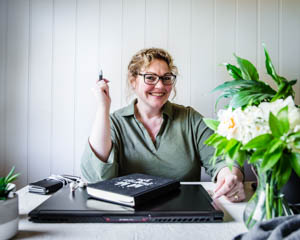 Naomi is the force behind Naomi Sherman | Food Creative. She is passionate about recipe development, food photography and styling. An accomplished home cook who was diagnosed with an auto-immune disease eight years ago, Naomi started to explore the connection between healthy, whole food and her symptoms, and a new love was born. She fiercely believes that what you put in your body is one of the most important factors for your physical, and mental, wellbeing.