Low Carb Lasagna using spaghetti squash!!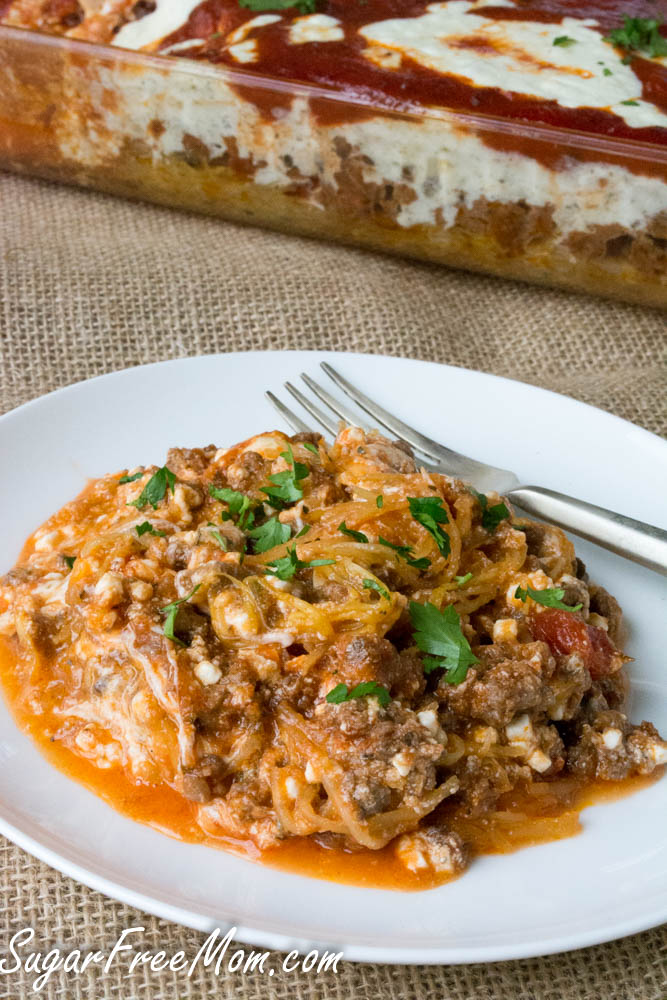 Spaghetti Squash Lasagna Casserole
If you come from an Italian family or know an Italian family, you are clearly aware of the fact they all love a good pasta dish.
Pasta is the Italian staple, especially on a holiday or actually every.single.Sunday.
At least in my childhood that's how I grew up. I woke to the amazing aromas of an freshly made marinara sauce cooking on the stove, simmering all morning until Sunday dinner at 1pm. That was our tradition and in fact my mother still makes her sauce to this day even though all her children are grown and on their own.
I think she secretly hopes we'll make a visit on Sunday just for that sauce and often we certainly do.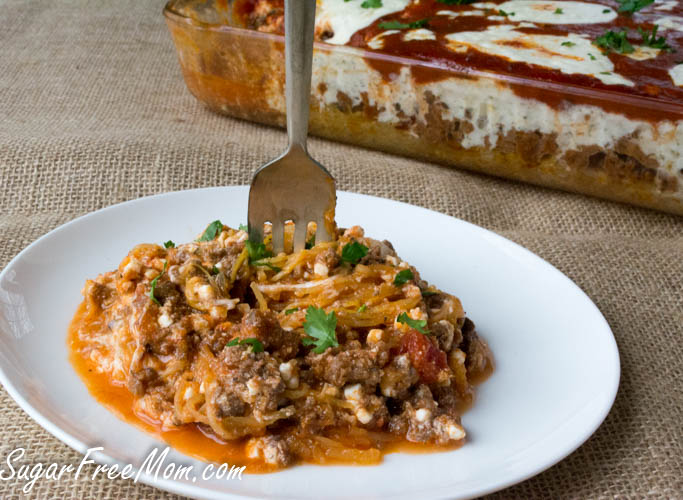 I would never complain of my childhood around the ever present pasta and bread.
But I did have an issue controlling my portions and that has stayed with me as an adult. Portion distortion is what I like to call it.
Learning to have appropriate servings was something I had to learn in my twenties and to this day I can guess on a serving of something, but then when I measure it out, it is often way more than I thought it was.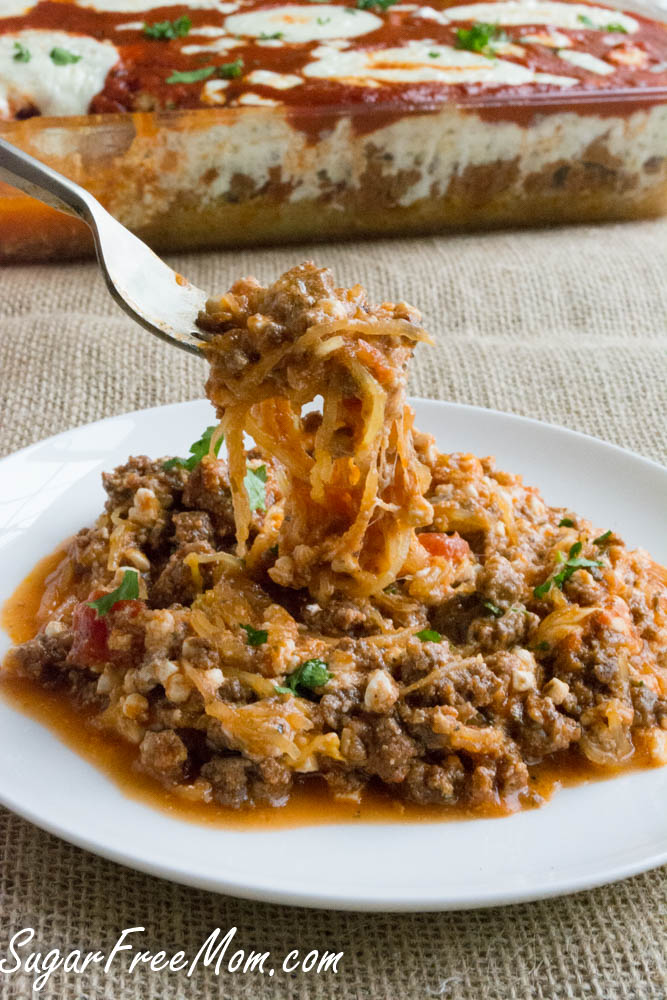 I realize there are many conflicting views on weighing and measuring food, but for me the only way I ever had control of my portions to lose weight was having to track and weigh and measure. Eyeballing never worked for me. Ever.
Just eating clean was not enough, even getting rid of sugar was not enough. My portions were out of wack and they needed to be subdued. The only way to teach myself proper portions was measuring it all out.
Not easy, not fun, but necessary. At least in my life, necessary.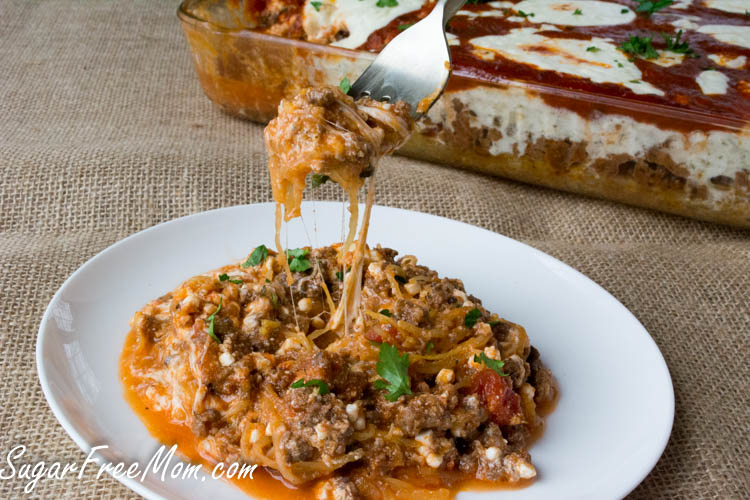 Spaghetti Squash Lasagna
So back to my Italian family and their love for pasta, especially on holidays. If you have an Italian daddy like me, who happened to come to this country on a boat when he was 15, you will empathize with me here.
I served this on Christmas!
GASP!
I served my Italian father this and called it a healthier lasagna without pasta.
He asked what it was. I quietly began...."Spaghetti......(I hesitated and cringed)......squash", I said in a whisper.
He sighed.
He ate.
He ate some more.
He finally spoke in his still evident accent and a roll of the R in my name, "I like it Brenda". And he had a second serving!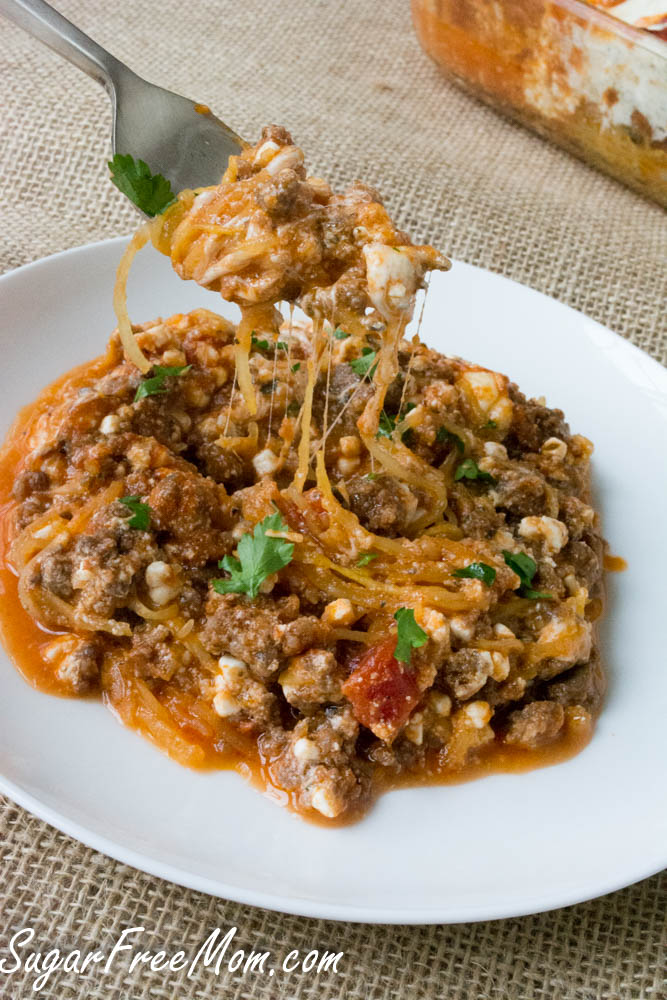 I felt like I made history that day.
If a stubborn Italian man who loves pasta can learn to enjoy a lower carb mock lasagna, there is hope for us all yet.
Other Recipes you might like:

Nutritional Information was calculated using my homemade quick marinara sauce.
If you like this recipe, there are many more like this in my Meal Planning Membership! You can have a sustainable low carb/keto lifestyle when you're well prepared and planning meals is the key! GET STARTED TODAY!
Low Carb Spaghetti Squash Lasagna Casserole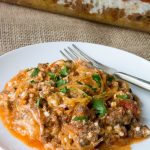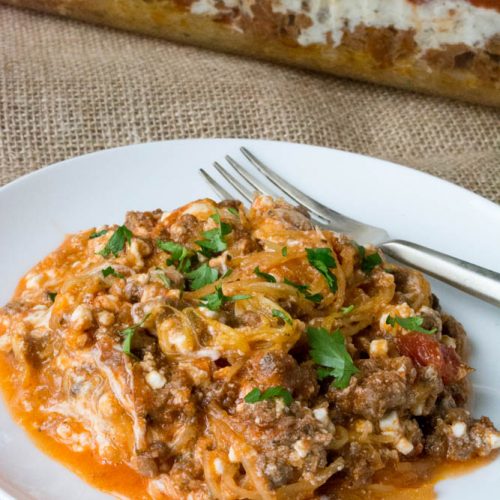 Print
Low Carb Spaghetti Squash Lasagna Casserole
Ingredients
1.5

pounds

Spaghetti Squash (was 3 pounds with shell)

halved lengthwise, seeded
Cheese Layer
24

ounces

ricotta cheese

part skim

2

cups

mozzarella

shredded, divided

¼

cup

grated Parmesan

2

eggs

½

teaspoon

dried oregano

1

teaspoon

garlic powder

1

teaspoon

dried basil

½

teaspoon

onion powder

1

teaspoon

dried parsley

½

teaspoon

salt

¼

teaspoon

crushed red pepper
Instructions
Preheat the oven to 400 degrees and bake the squash on a baking sheet for 1 hour.

In a large skillet combine the ingredients for the meat layer except sauce and cook until browned and no longer pink. Once cooked add 12 ounces of sauce to meat. Reserve the rest.

Combine all the ingredients together in a bowl for the cheese layer but reserve 1 cup shredded mozzarella.Set aside.

Scrape the cooled squash with a fork and evenly add spaghetti squash to a greased 9 by 13 baking pan.

Top with the meat layer.

Spread the cheese layer.

Add the remaining sauce over the cheese layer.

Top with the remaining mozzarella cheese.

Cover and bake for 30 minutes at 350 degrees.
Notes
Net Carbs: 6g
While the whole spaghetti squash weighed in at 3 pounds we don't consume the shell. After removing the cooked spaghetti squash from it's shell we are only consuming 1.5 pounds of the squash. Nutrition info has been updated. 
Recipe was first published in January 2015 and updated with video on January 2019. 
Nutrition
Serving:
8
ounces
|
Calories:
432
kcal
|
Carbohydrates:
7
g
|
Protein:
26
g
|
Fat:
32
g
|
Saturated Fat:
14
g
|
Cholesterol:
126
mg
|
Sodium:
627
mg
|
Potassium:
334
mg
|
Fiber:
1
g
|
Sugar:
2
g
|
Vitamin A:
495
IU
|
Vitamin C:
0.9
mg
|
Calcium:
265
mg
|
Iron:
2.1
mg