This easy microwave salted caramel sauce is sugar-free and low carb and made in under 5 minutes!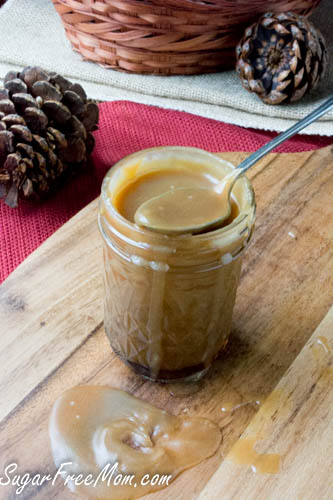 The beauty about any recipe that can be easily made in the microwave is the ability to skip a few extra minutes in front of a stove. In this case it would normally take between 20-30 minutes of stirring over a low heat to get this creamy caramel sauce texture. This recipe takes less than 5 minutes!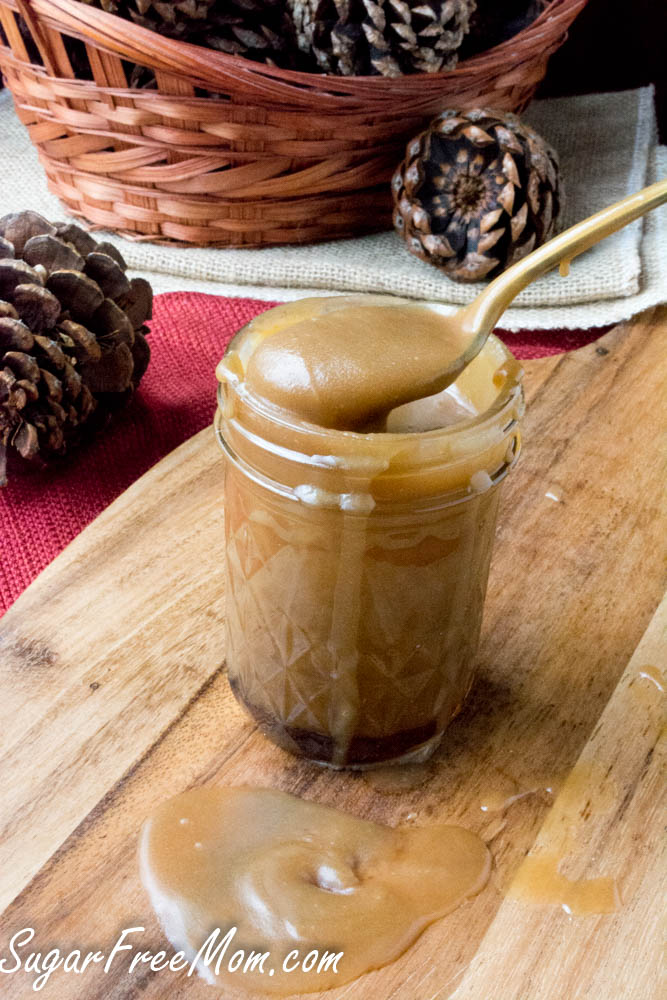 Now don't get me wrong, I love making recipes and some recipes truly need hours to develop the best flavors. I'm not opposed to taking time with any recipe when it requires it. But some recipes can be just as good without the traditional length of time it usually takes.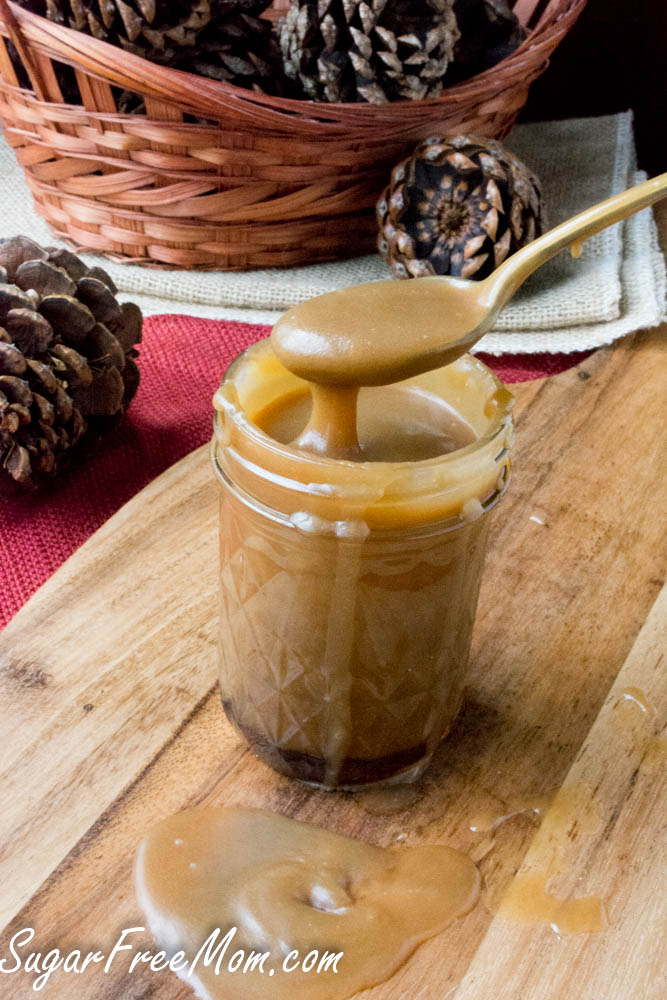 I'm a busy mom of 3 and it's Christmas time, I want the most bang for my buck so to speak for my time spent in the kitchen. Between Christmas shopping, homeschooling my kids, cooking constantly just to feed my family every day and blog work, I need some recipes to be fast! This caramel sauce is one of them! I've got a bunch of ideas for holiday treats using this luscious sauce so that's why I'm sharing this quickie method. You won't be disappointed!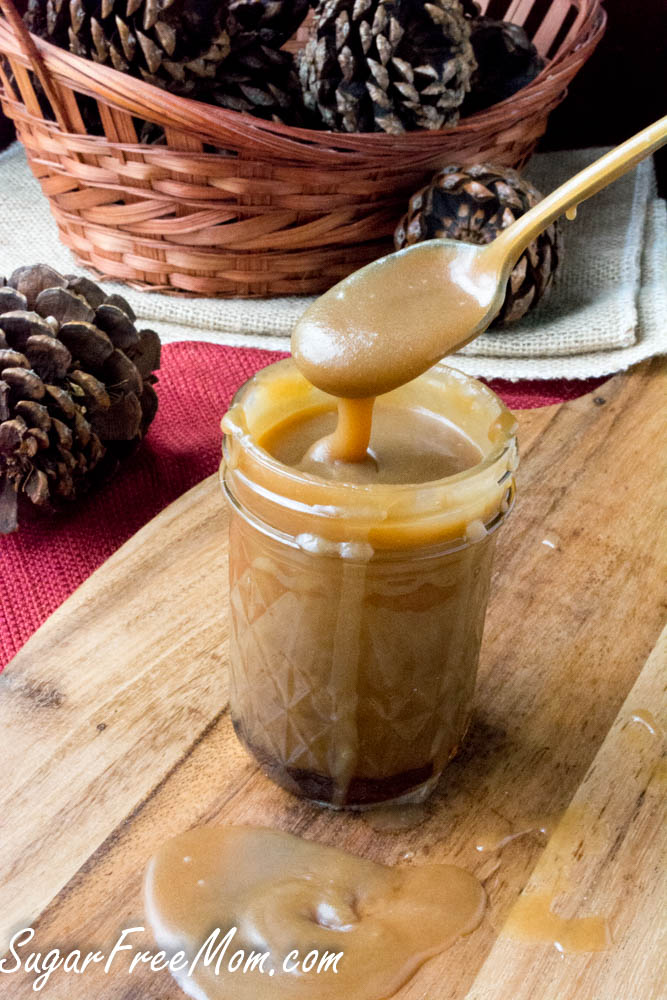 The other fabulous thing about this recipe is that everything gets poured together at once in a a mason jar, cooked in the jar and stored in the jar!
Less steps and less to clean up !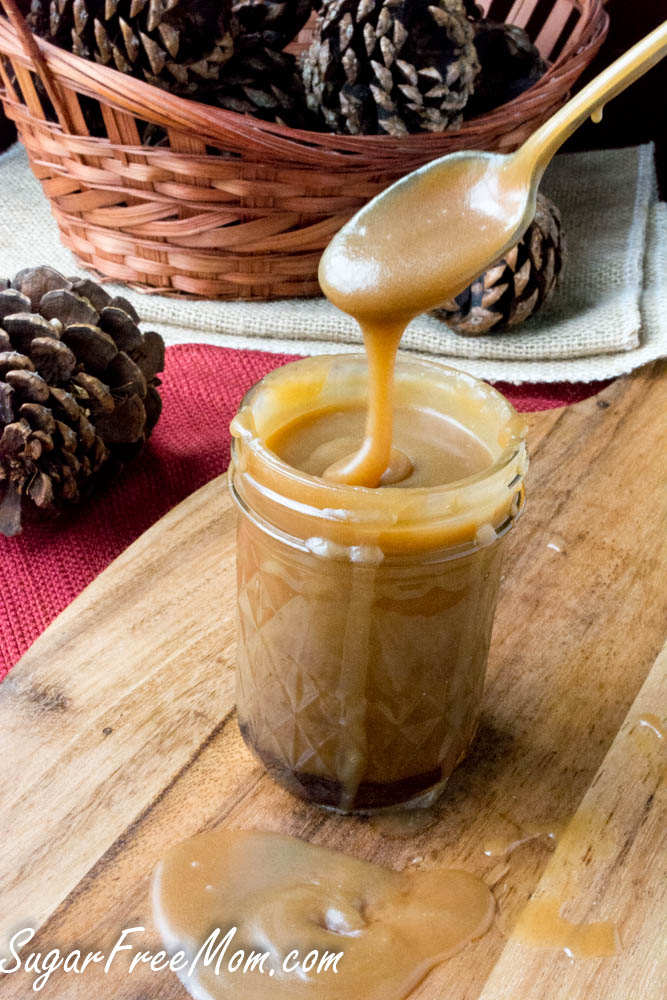 If you're opposed to using a microwave directions are below for the traditional cooking method.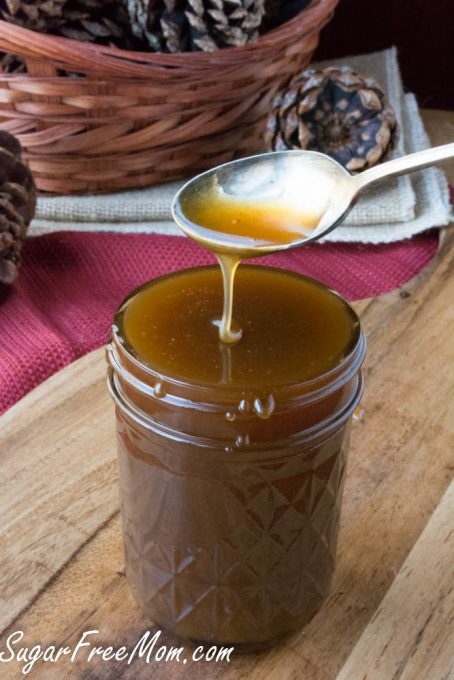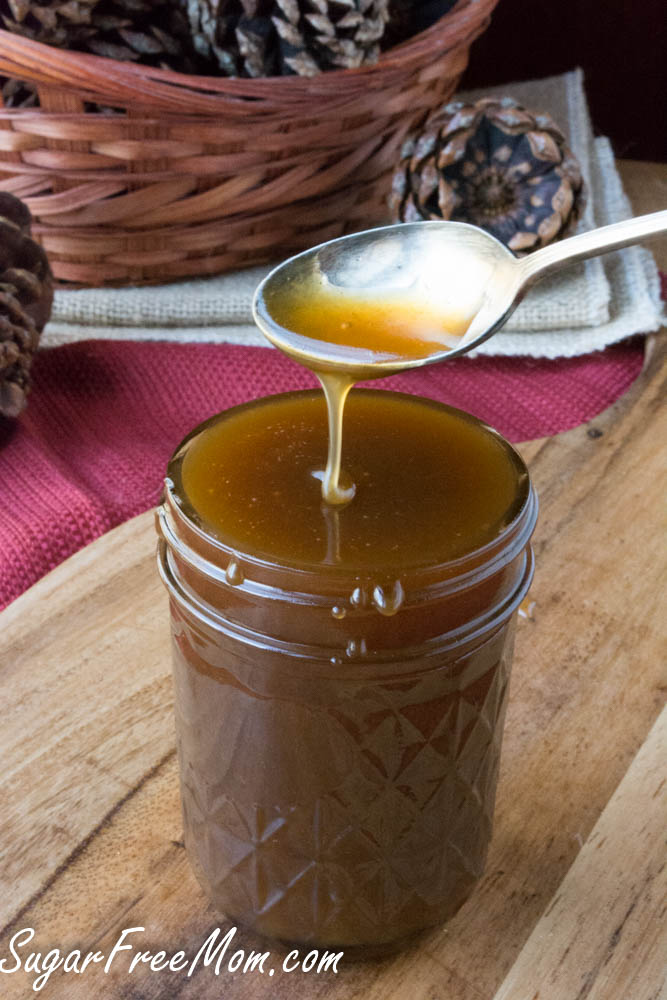 Don't be fooled into thinking you did something wrong when your caramel sauce is finished and it looks like this! This recipe was about an hour after it was completed in the microwave. A deep amber color is what you are looking for so I knew it was perfect, and even the consistency was good, but I knew as it cooled it would change it color and it did as you can see from the rest of the photos which we taken the following day after it was made. It also thickened even more which is fantastic.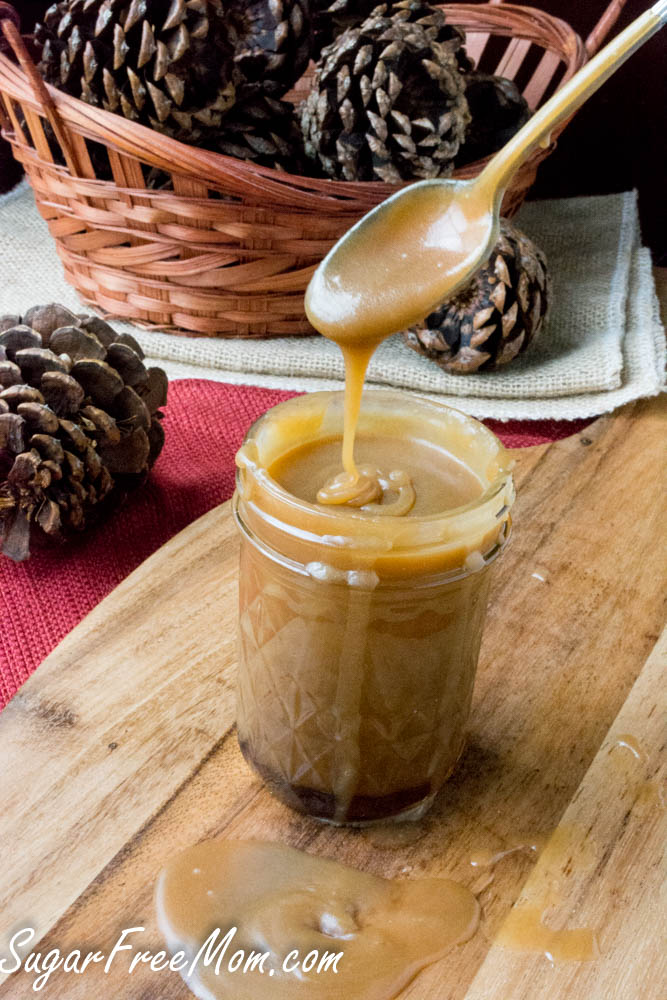 Brenda's Notes:
There are natural sugars in the heavy cream that is why there is 1 gram in the nutrition info below. Sukrin fiber syrup is sugar free.
At this time I have not made any other substitutions for replacing the Sukrin fiber syrup.
I have another recipe for a Low Sugar Salted Caramel sauce which does not use the microwave.
TO MAKE ON STOVE: Melt the butter and Sukrin syrup in a pot over low heat. Once melted, stir in remaining ingredients and bring to a boil. Simmer for 15-30 minutes or until it starts to thicken and turn amber in color.
All microwaves are different in strength, be sure to place a plate or bowl under the mason jar in case of any spilling over.
Store this in the refrigerator then warm slightly when serving, maybe just 30 seconds to a minute in the microwave.
UPDATE: I ran out of the Sukrin Syrup so I used the Sukrin Fiber Clear syrup (4 ounces) and 2 ounces of the Sukrin Gold (brown sugar sub) and it worked just as good!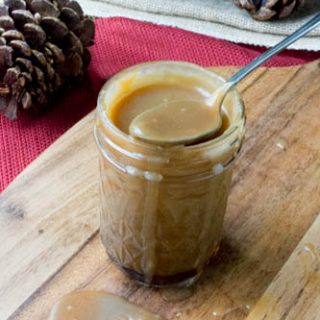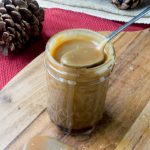 Print
Sugar-Free Microwave Salted Caramel Sauce
Ingredients
4

tablespoon

butter

6

ounces

Sukrin Fiber Gold Syrup

3

ounces

heavy cream

½

teaspoon

coarse sea salt

1

teaspoon

vanilla extract
Instructions
Place everything except sea salt and vanilla extract in a 16 ounce or larger mason jar.

Microwave 1 minute. Stir.

Microwave 1 minute. Stir well.

Microwave 1 more minute, don't stir, let it sit for 2 minutes.

Check the color and consistency. If it still looks too loose and thin, microwave 1 more minute.

Mine was perfect at 4 minutes.

Stir in the seas salt and vanilla extract.

Allow to cool completely on counter.

As it cools it will change in color and thicken.

Keep refrigerated.
Nutrition
Serving:
1
tablespoon
|
Calories:
35
kcal
|
Carbohydrates:
8
g
|
Protein:
1
g
|
Fat:
3
g
|
Saturated Fat:
2
g
|
Cholesterol:
5
mg
|
Sodium:
65
mg
|
Fiber:
7
g
|
Sugar:
1
g
|
Vitamin A:
59
IU
|
Calcium:
1
mg