These Low Carb Sugar-Free Salted Caramel Snickerdoodle Cookies are gluten fee, grain free and perfect for the holidays!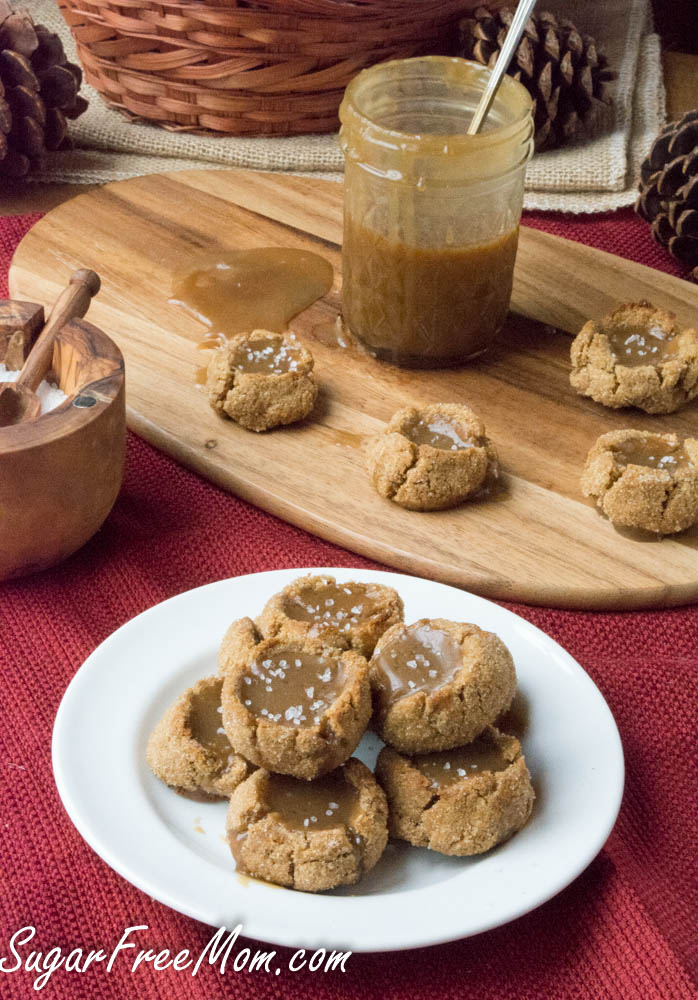 Snickerdoodle cookies are good, but adding in some homemade sugar free salted caramel to the center of each makes them 100 times more scrumptious! The idea for these all started when I made my quick Microwave Salted Caramel Sauce. I knew a cookie of some sort with the center of caramel was completely necessary this Christmas to add to my cookie baking list!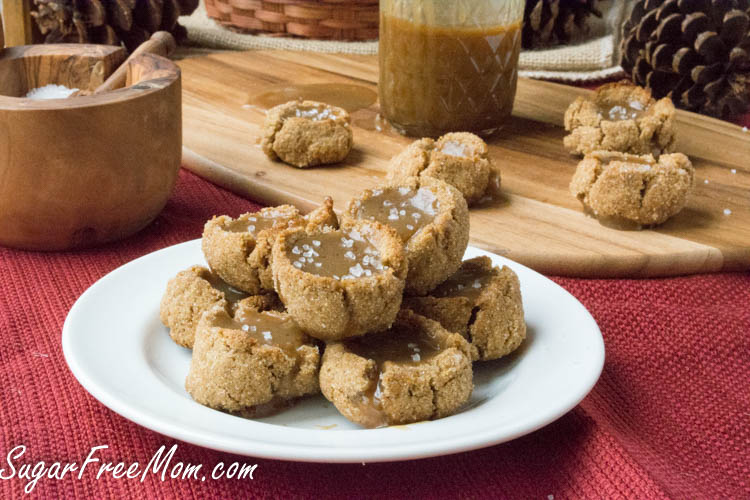 I just hadn't decided on the type of cookie I wanted to use. A sugar cookie thumbprint was one idea or a chocolate one would have been yummy as well, but then I remembered my Snickerdoodle Creme Cookies which I made last year. I took away the cream, kept the base, pushed a little indent in the center and filled with caramel. Win!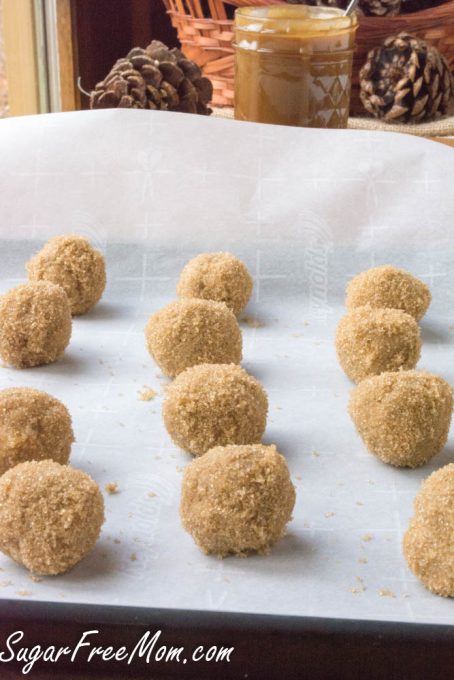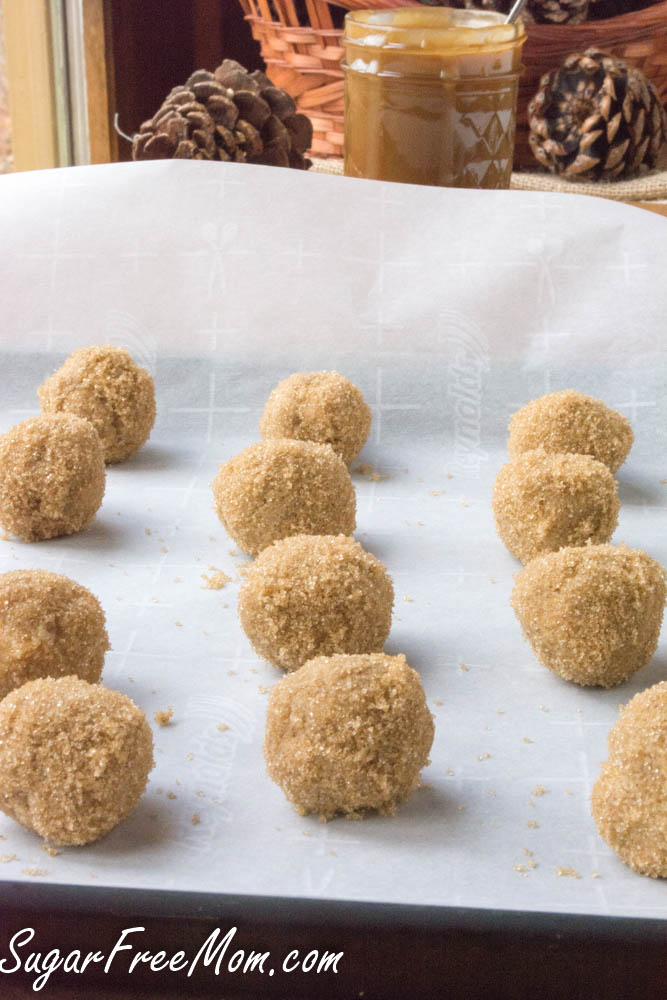 I love tried and true recipes you know you can rely on and get rave reviews from family and friends. These little snickerdoodles have stood the test of time and are loved by everyone.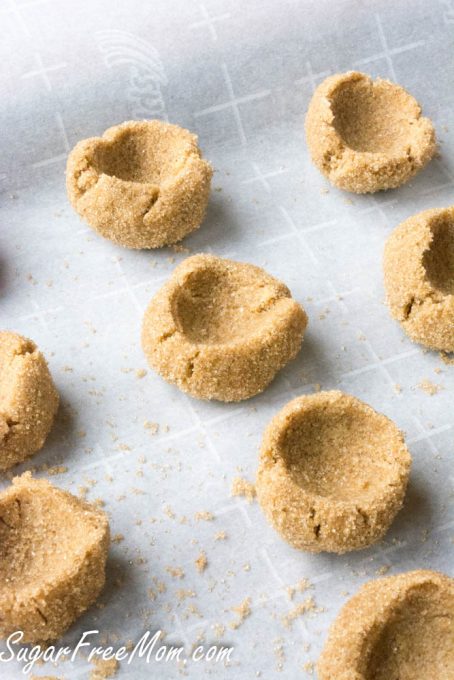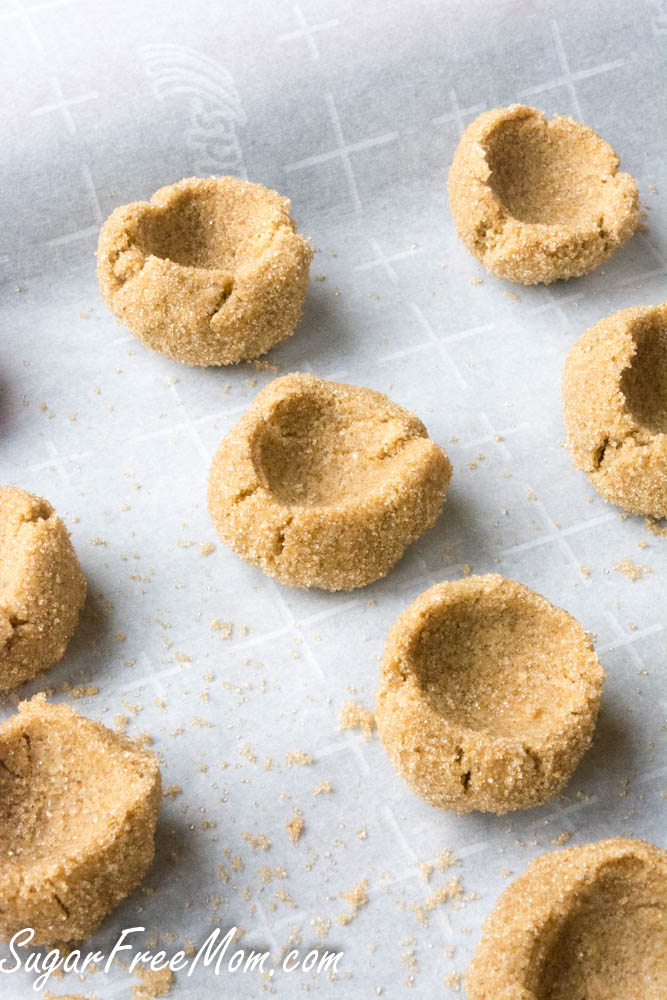 Be super careful how you press your thumb or a small rounded ¼ teaspoon into the center of each. Too much and your whole batch will spread and flatten out when baking. You really need to keep that round shape at the bottom so just a small indent is all you need.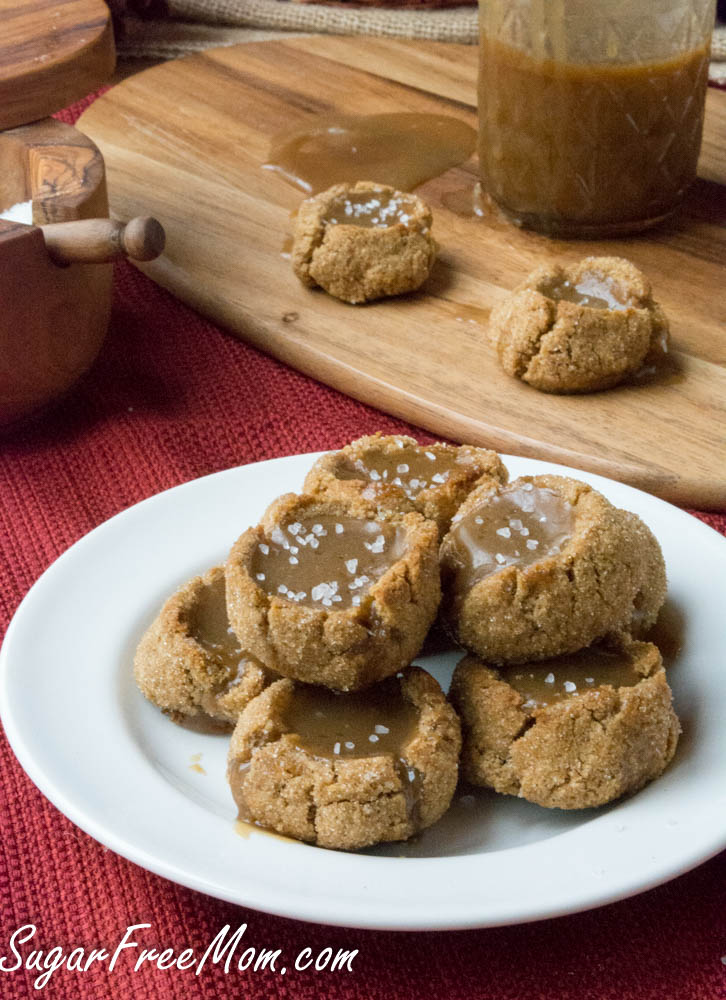 Part of baking without gluten is the problem of the flours I'm using that can tend to crack and crumble. As you can see these do indeed have cracks in them. Part of the issue with baking low carb AND having nut allergies is that I can't use almond flour which in my opinion is truly the best to use. If I know my youngest son won't like a certain recipe or I made it just for myself and hubby I will use almond flour. But cookies like these and my boy wants to be able to enjoy them as well.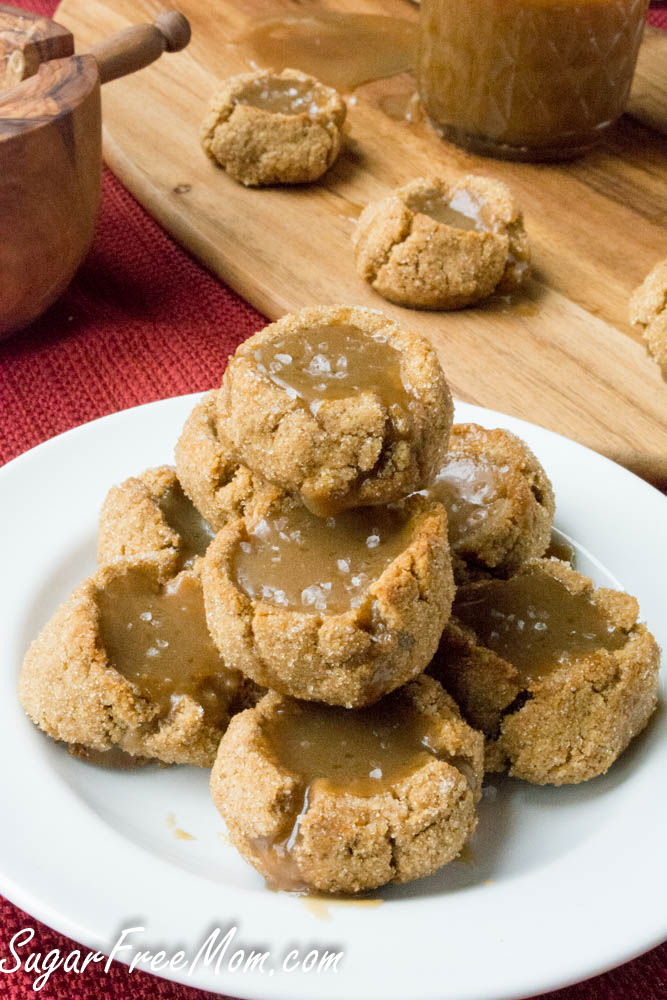 Even with a few cracks along the sides, it's really not that much of an issue when you are filling the center up with caramel. Once you place in the fridge the caramel sets and they will be devoured by everyone, cracks and all.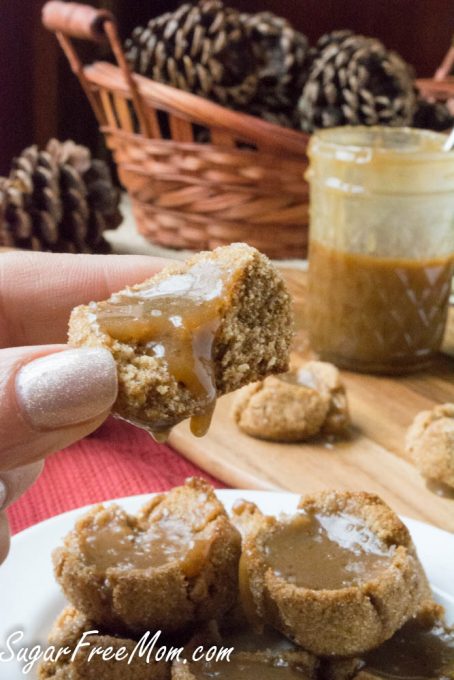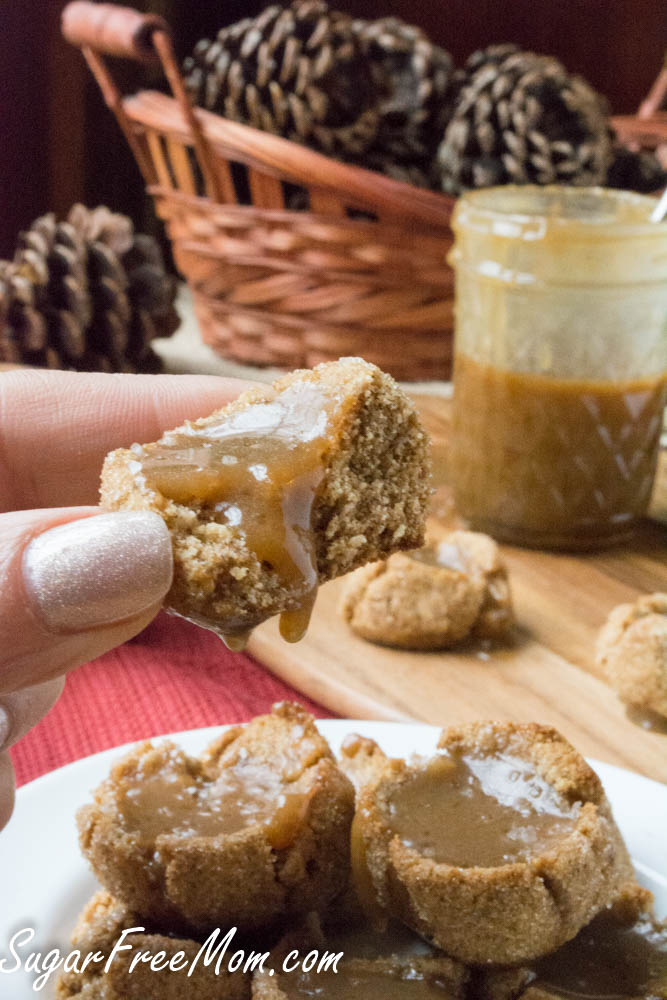 Hope you enjoy these ooey gooey caramel cookies as much as my family did!
Brenda's Notes:
Using a scale to weigh your coconut flour is truly a crucial part of baking nut free, low carb and gluten free. There is too much discrepancy when using cup measurements so for the future of all my recipes I will be providing weight and gram measurements for the flours used.
If you don't have cinnamon liquid stevia use vanilla or plain.
I would recommend using the combination of both Swerve and stevia. Alone the Swerve can sometimes have a cooling effect, in combo with the stevia there is a nice balance in flavor and I get no complaints from my family about the sweeteners when doing this.
The maple extract helps give that traditional snickerdoodle flavor to the cookies.
I get most of my ingredients at iherb.com and my discount code is YAJ035.
Enjoy!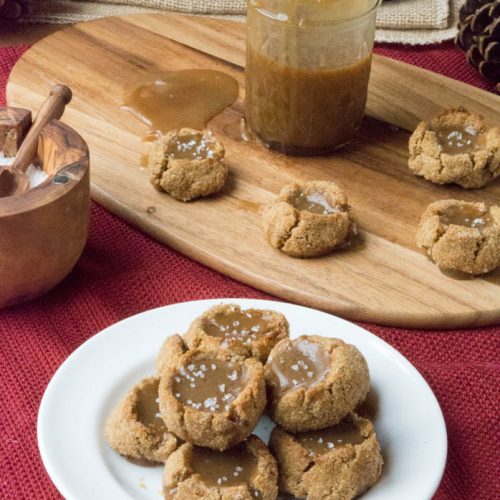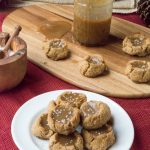 Print
Low Carb Sugar-Free Salted Caramel Snickerdoodle Cookies
Instructions
Preheat the oven to 350 degrees.

Whisk the first six ingredients together in a bowl. Set aside.

In a stand mixer add the remaining ingredients except the optional Sukrin gold and salted caramel sauce.

Once the wet ingredients are blended well pour in the dry ingredients and blend again until combined.

Using a tablespoon to measure out batter, roll 28 balls and place them onto a parchment lined cookie sheet.

If you are using the optional Sukrin Gold, roll each ball into it until all covered and place bake on cookie sheet.

Very carefully use your thumb or a round ¼ teaspoon measuring spoon to make a small indent in the center of each ball.

Bake cookies for 10 minutes. Let cool completely before filling with caramel.

Keep in fridge to set caramel or before ready to serve. You can also freeze these in an air tight container with a layer of parchment between if you need to stack them on top of each other.
Nutrition
Serving:
1
cookie
|
Calories:
58
kcal
|
Carbohydrates:
1.8
g
|
Protein:
0.8
g
|
Fat:
4.7
g
|
Saturated Fat:
2.4
g
|
Cholesterol:
24
mg
|
Sodium:
132
mg
|
Fiber:
0.9
g
|
Sugar:
0.2
g