Salted caramel sauce made low carb and low sugar!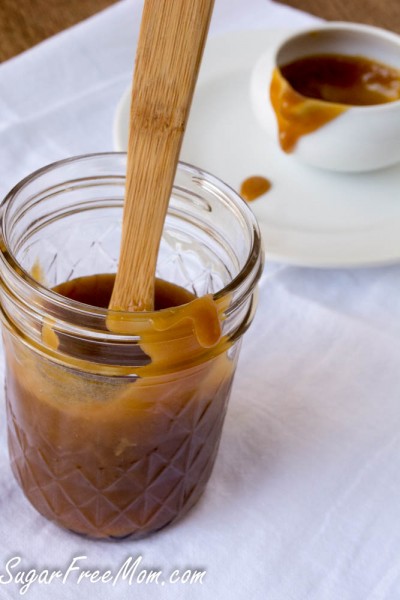 Have you ever wanted to make something for a really long time, finally attempt it only to fail miserably? That has been my experience with trying to make a sugar free caramel sauce. I attempted one last year around this time and after 2 or 3 fails I gave up.
I hate quitting but I'm a perfectionist and I just couldn't get it right so I quit on it. I was also trying my hardest to NOT include any kind of sugar at all which proved to be nearly impossible. To make what I wanted successfully, using a little bit of maple syrup and molasses and I can finally yell VICTORY to a caramel sauce made without a ton of sugar. Yes it might have 1.7 grams in the entire recipe and I can not call it a sugar FREE caramel sauce, but I'm so beyond thrilled with the results I don't care and I don't think you should care either.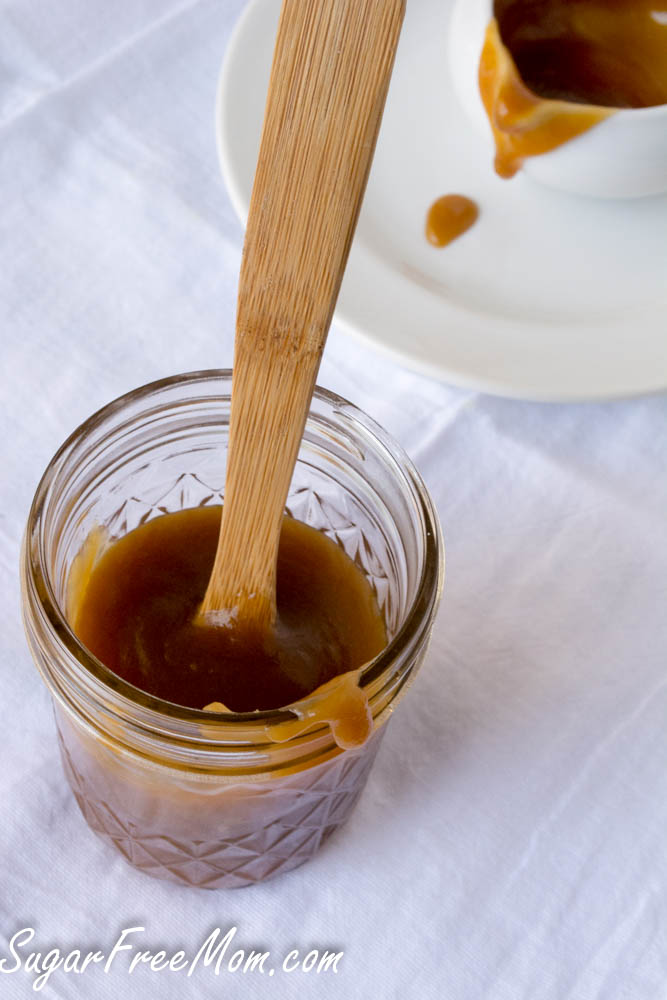 If you want a caramel sauce to resemble caramel sauce it needs that brown color. That brown color can NOT be made without a start of something brown! I tried this recipe 2 more times using 3 tablespoons of maple syrup and found I didn't like the color and my kids actually thought it was Too Sweet, go figure lol! My next attempt I tried all molasses and they family hated the flavor but the color was perfect.
My final conclusion was a combination and reduced it to only 2 tablespoons and WOOT WOOT, The best caramel sauce EVER!!!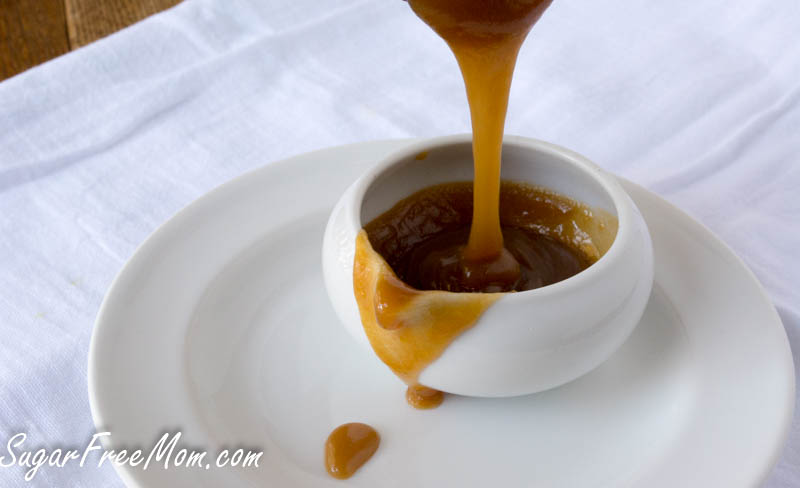 It's pour-able, it's beautiful and it tastes amazing. It's low carb, it's gluten free and it's practically sugar-free! You could probably make this dairy free by subbing the butter for vegan butter and subbing the cream for coconut milk, although I can't say this will be as good and delicious as I haven't tried those substitutes.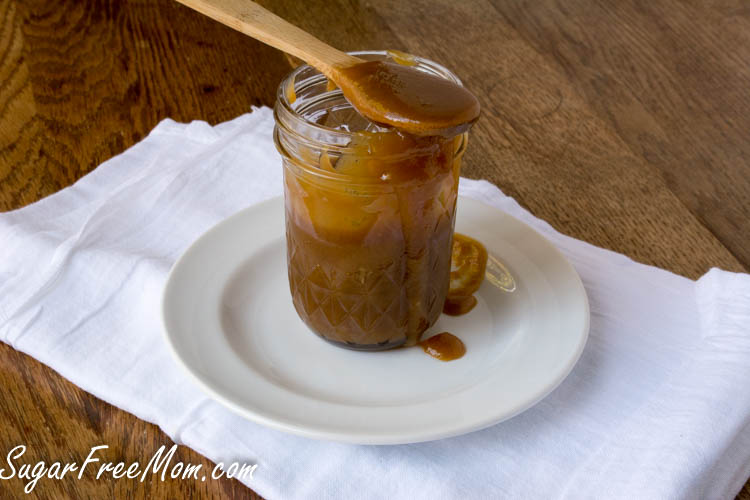 I kept mine refrigerated and just warmed it up for 30 seconds in the microwave, stirred it up and it was just as good as the day I prepared it.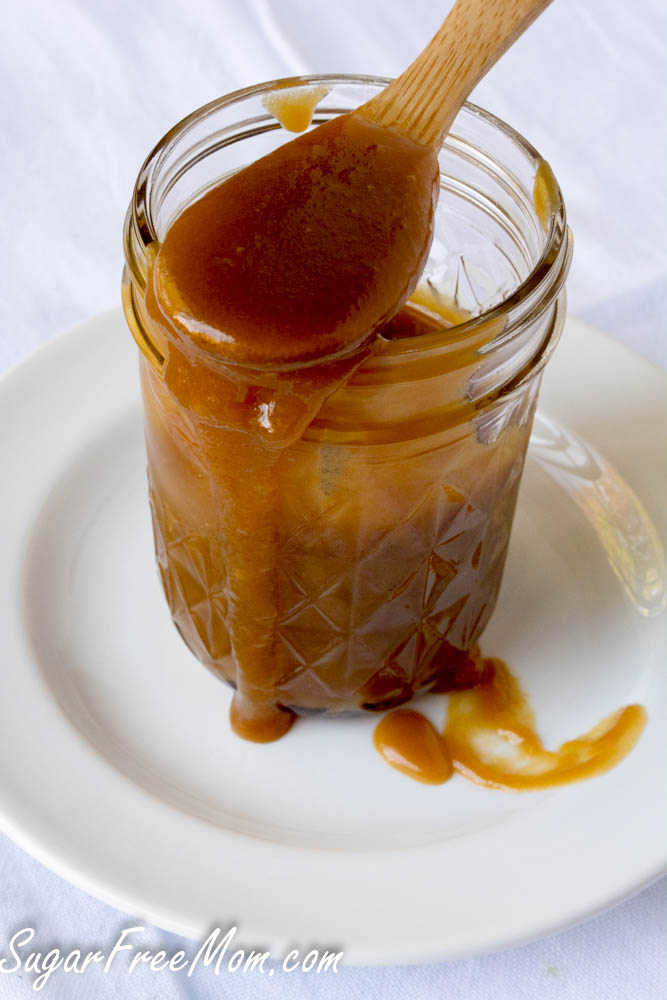 OH the endless, wonderful, exciting possibilities with this sauce!! Enjoy on top of yougrt or ice cream or pie! My picky hubby and children LOVE it!! They enjoyed just dipping some sliced apples into it. I love it has a LOT less sugar than anything you can buy!
Brenda's Notes:
According to My Fitness Pal there is about 24 grams of sugar per serving in typical store bought Smuckers caramel sauce and 30 grams of carbs.
You could replace the light cream for heavy cream to reduce the carbs even more.
If you don't have liquid cinnamon stevia you can use plain liquid or vanilla flavored stevia. You could also use pure stevia extract but just a very little, ¼ teaspoon. Taste and adjust as needed.
I tried this with many different variations with sweeteners. The first time I made it I used too much arrowroot and it was too thick. Then second time I used all maple syrup instead of molasses and the color was too light for my liking. I tried all molasses and stevia but the kids didn't like the flavor. I think the combination as I have it here is perfection! The kids love it, I love it and it's a whole lot better than typical caramel sauce!
It hardens in the fridge so just reheat for 30 seconds in the microwave.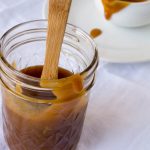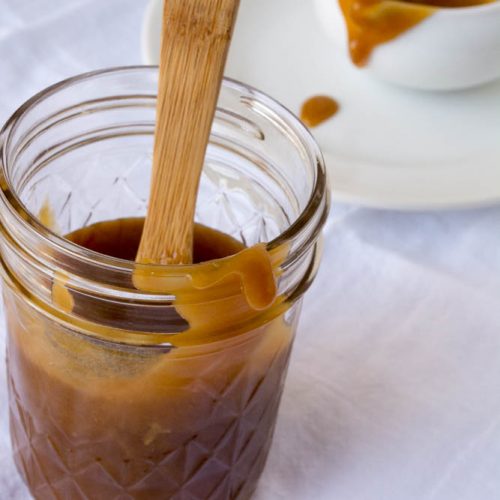 Print
Low Sugar Salted Caramel Sauce
Ingredients
½

cup

butter

1

cup

Swerve or erythritol

1

tablespoon

maple syrup

1

tablespoon

black strap molasses

½

cup

light cream

1

teaspoon

arrowroot powder

1

teaspoon

cinnamon liquid stevia

1

teaspoon

coarse sea salt
Instructions
Melt butter over medium heat in a sauce pan then stir in Swerve, maple syrup and molasses.

Whisk in cream and arrowroot and bring to a boil.

Simmer 3-4 minutes until thickened, turn off heat.

Stir in stevia and salt.

Cool, cover and refrigerate.

This will keep for 1 month in the fridge.

Makes 1-¼ cups.

Reheat by microwaving 20-30 seconds.
Nutrition
Serving:
2
tablespoon
|
Calories:
114
kcal
|
Carbohydrates:
3
g
|
Protein:
0.1
g
|
Fat:
11.6
g
|
Saturated Fat:
5.8
g
|
Cholesterol:
32
mg
|
Sodium:
300
mg
|
Sugar:
1.7
g