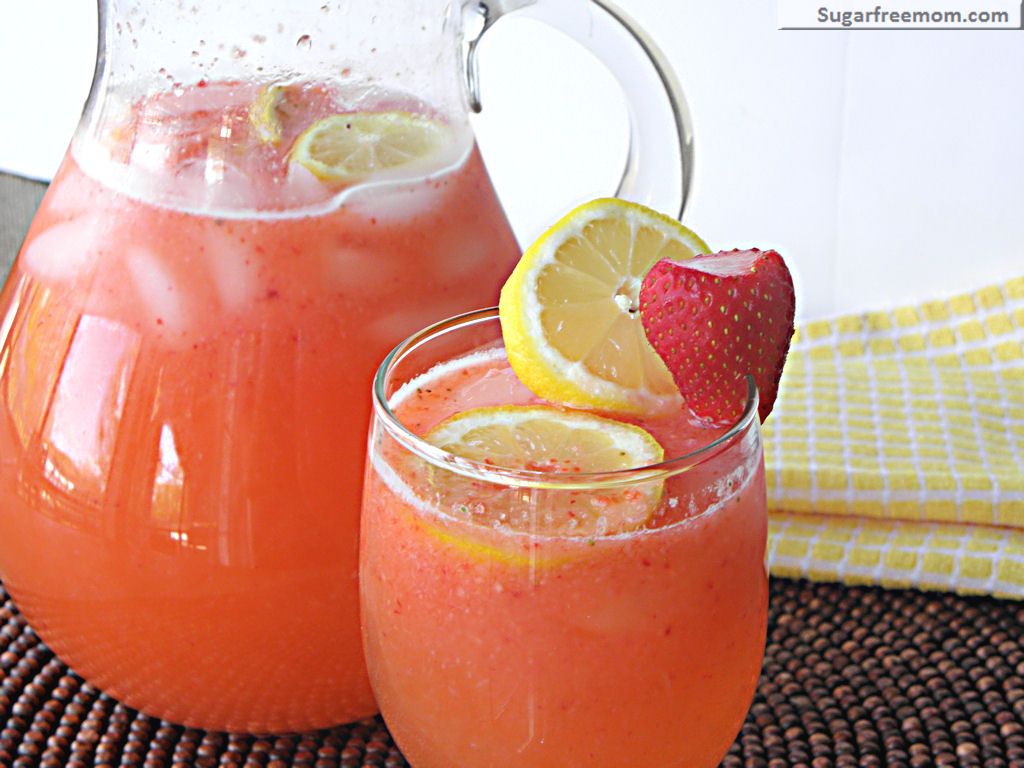 Who wants a refreshing, low calorie drink that isn't water or full of sugar-free artificial junk?? You should all be saying..... me me me!!
Water can get pretty monotonous at times, so when I made Naturally Sweetened Lemonade last week which has practically no calories I knew I wanted to make it again and again.
BUT this time we had some fresh strawberries in the fridge! Of course I figured the kids would love this but how much would it increase the calories was what I was worried about. I am happy to say not much at all!
This is a perfect option for a kids party as they will call it pink lemonade of course.
Here's how you can make it:
Just follow my directions for the Naturally Sweetened Lemonade then simply add 2 cups of fresh strawberries to your blender or food processor. Process until completely smooth. You can add it to the lemon and water or strain it if you don't like pulp. We don't mind it and had it as is.
One Note: I DID have to increase the stevia to 1- ½ teaspoon to get the taste to my kids liking. Start with one teaspoon, taste and adjust.
Easy, refreshing, very few calories and only 1 point! A great choice for anyone watching their weight!
You could also sub the liquid lemon stevia for Watermelon stevia in this recipe!
Nutrition Info
Servings: 8* Calories per servings: 21* Fat: 0* Fiber: 1g* Carbs: 6g* Protein: 0g* Points+: 1*