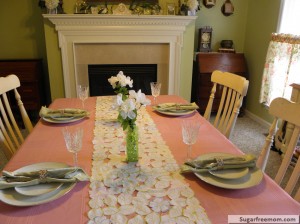 Good Morning! Sundays are the nicest day of the week for us as a family. I hope you enjoy this day as well. We try to slow down, start our day at church then hang out together. I try to get my housework and shopping done other days so I too can relax and rest with my family on Sunday.
Planning my menu is one way I take care of myself. I plan it on Friday or Saturday usually before I head to the market. Otherwise, I'm in constant chaos without knowing what I need to buy and what I have on hand to throw a meal together. I share with you the menu I "plan" to make this week, although sometimes or even most weeks I often need to change when I make the meal.
No days are assigned so I have the choice of what will work on a particular day, depending on the unexpected things that come up and the children's activities. But without this menu I would surely be feeding everyone more processed packaged foods rather than homemade healthier meals.
Planning ahead is the key to keeping my weight maintained. I encourage you to try it if you've never done so. A simple white board and marker next to your fridge is all you need. One side for the shopping list as things are needed and one side for the tentative menu. Even if you have 3 meals planned, you could also double them for enough for left overs on another night. Less money will be spent than buying take out or going out to eat as well. Who doesn't love more money in your pocket right?? I don't know about your family but with a family of 5 we don't have the luxury of eating out every weekend or ordering take out even for that matter. A plan is necessary even if I don't follow it perfectly. 🙂
Here's what where having this week:
Breakfasts
Homemade Whole Wheat Waffles (posting recipe this week)
Hard boiled eggs, fruit, toast
Cereal, berries, yogurt -2x
Dinners
Have a wonderful Sunday and week ahead!
Do you enjoy my recipes? Will you Vote for me please? Thank you!
[Circle of Moms Top 25 Foodie Moms - 2013 - Vote for me!]