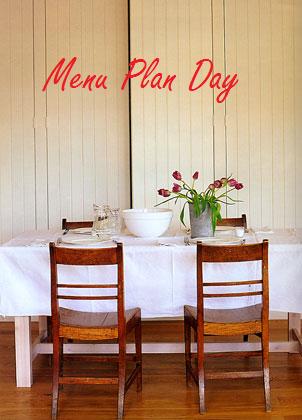 Happy Sunday! It's a snowy morning here in New England, so much snow and wind that church has been canceled! Last weekend we had the blizzard so we are getting hit hard, but it is typical of New England! I'm going to take advantage of not having to leave early for church by adapting my banana bread recipe into muffins for breakfast and making them gluten free for me. 🙂
We have the week off from school as do the public schools here so I'm planning on some fun play dates for the kids, some sleep overs and some plain old relaxing with them!
If the weather cooperates for this afternoon hubby and I will be starting the vacation by taking the younger two kiddies (oldest is 12 and it's not cool for him he says) to see Scooby Doo Live today. I was excited to win some tickets from The MommyHood Chronicles!! I never win anything!
Here's what the menu looks like for the week ahead for us but always subject to change if need be:
You can always check out my Menu Plan page with many many more weekly menu's that you can browse through!
Breakfasts
Banana Bread Muffins (adapting Blueberry Banana bread to GF and into muffins)
Scrambled eggs, toast, turkey bacon
cereal & berries
Oat & Granola with yogurt (adapting granola to be nut free)
Dinners
Spaghetti alla Carbonara (new recipe)
Chicken & Veggie quesadilla's
Crock Pot Burrito Casserole (new recipe)
left overs
over parent's house
Do your children have the week off from school for winter break? What plans do you have ahead?
Have a wonderful Sunday Funday with your family!