Cheesy Zucchini Pasta Quinoa Bake needs only 5 ingredients!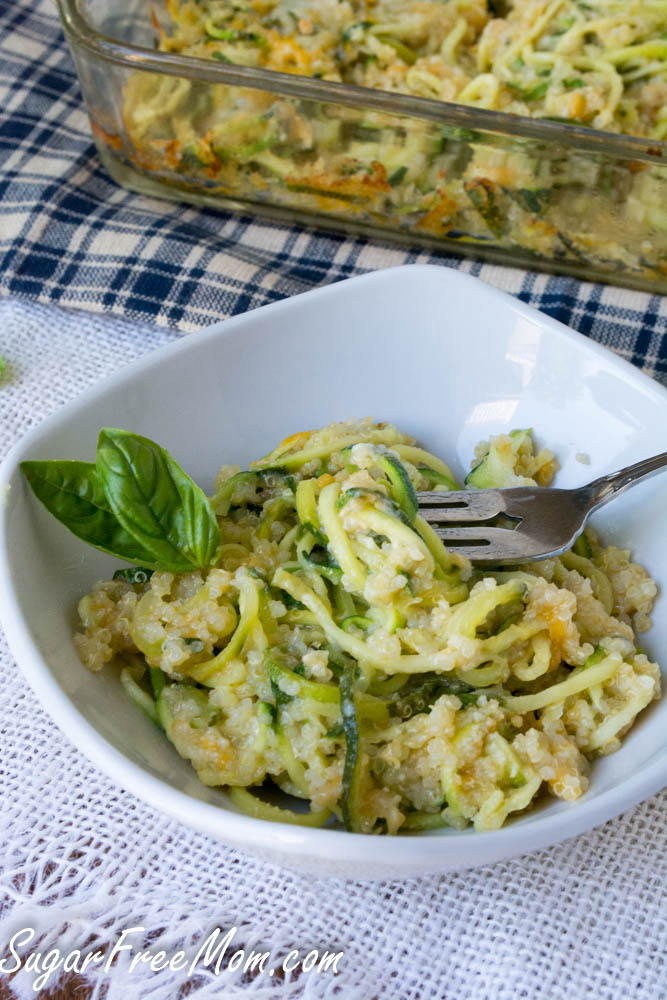 Cheesy quinoa mixed with noodles and topped with a little parmesan to form a crust make this a comfort side dish like no other. You'd probably agree that zucchini isn't much of a comfort food, but using a spiralizer to make zucchini noodles changes them from an ordinary in season summer vegetable to a fake out fantastic pasta dish!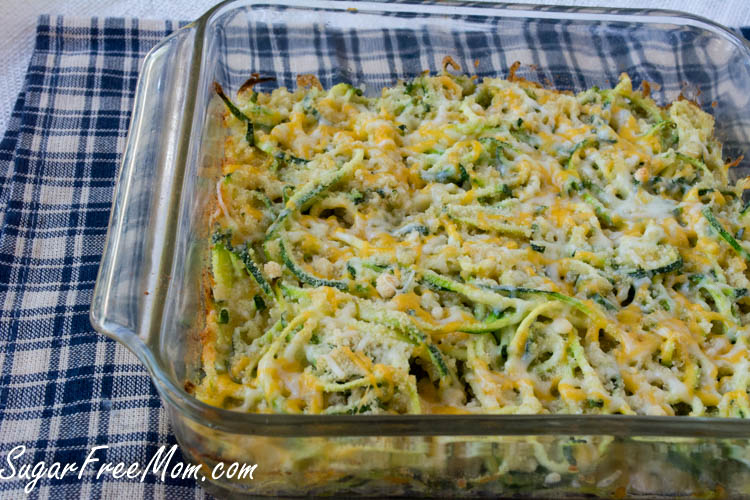 My hubby bought me a spiralizer for Mother's day and I hadn't gotten around to using it until I saw the zucchini at Whole Foods looking quite fabulous. I've made zucchini noodles without a spiralizer as well using my Pampered Chef serrated peeler. It pretty much does the same thing, but the spiralizer will give you longer noodles that look like spaghetti. I must admit this recipe is one of the only ways my kids will actually enjoy zucchini. They aren't fond of quinoa on it's own either but were willing to try this recipe. After it came out of the oven we all took a fork and enjoyed it right from the dish! Gone in minutes!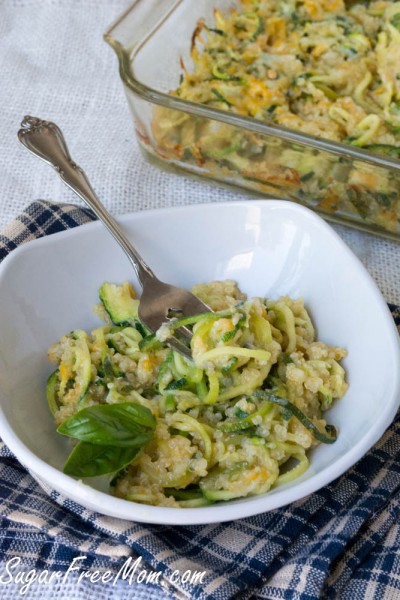 Quinoa is considered a super food with a wonderful amount of protein and fiber and a great substitute to using rice in a dish. It's actually a seed not a grain and gluten free. The problem is my children and hubby just don't like it when they see it in a dish or just served on it's own. I have to hide it within recipes and it works like a charm. Now obviously it can't be hidden too much in this recipe, but because it looks so cheesy they were happy to try it and love it they did!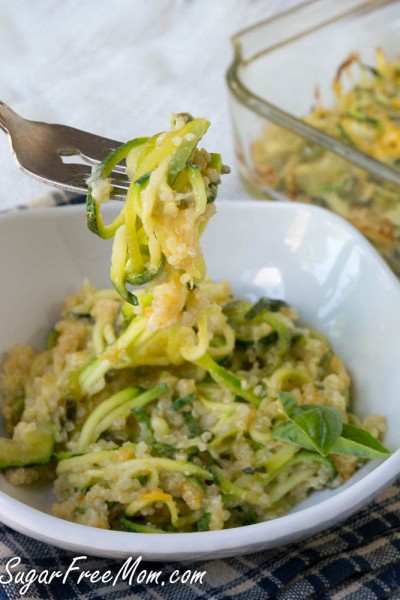 This recipe resembles closely my mini Zucchini Quinoa Cheese Bites with almost the same ingredients, but instead they are made into mini muffins and the zucchini is shredded.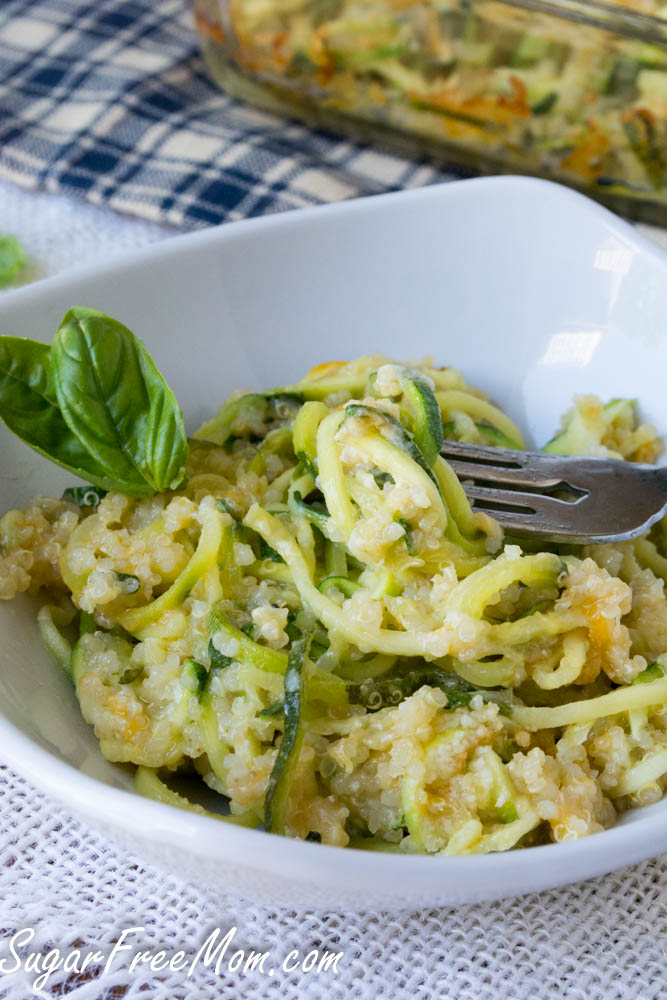 Other Recipes you might like: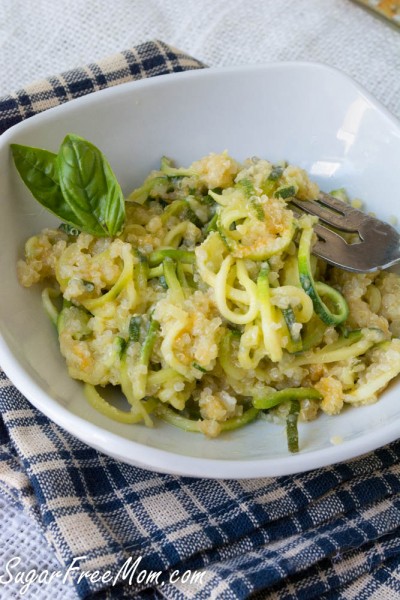 I can't guarantee you're family will eat zucchini or quinoa on their own served plainly at dinner but combining them into this masterpiece they are surely going to want to try at least a bite and that single bite might be enough to win them over. If not you can enjoy it all to yourself for a few days worth!
Brenda's notes:
Add some protein and make this into just 2 servings for a meal or keep as a side dish for 4.
You can use any oil of choice in this recipe as well as cheese of choice.
To make one cup cooked quinoa, add ½ cup dry quinoa to a pot with 1 cup water. Boil 12-15 minutes until all water is absorbed. Fluff with a fork.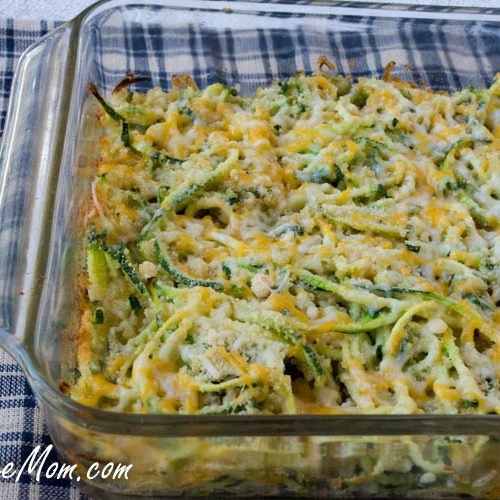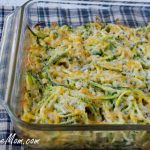 Print
Cheesy Zucchini Quinoa Bake
Ingredients
4

cups

zucchini noodles or 2 medium zucchini

8

ounces

shredded cheddar cheese

1

cup

cooked quinoa

2

tablespoons

extra virgin olive oil

½

teaspoon

salt

2

tablespoons

grated parmesan cheese
Instructions
Preheat oven to 400 degrees.

Toss zucchini, cheddar, quinoa, oil and salt together in a bowl then spread into an 8 by 8 baking dish.

Sprinkle parmesan over the top and bake for 30 minutes until the top is golden.
Notes
Weight Watchers Points Plus: 7*
Nutrition
Serving:
1
g
|
Calories:
246
kcal
|
Carbohydrates:
14.1
g
|
Protein:
10.8
g
|
Fat:
17.4
g
|
Saturated Fat:
6.5
g
|
Cholesterol:
32
mg
|
Sodium:
665
mg
|
Fiber:
2.2
g
|
Sugar:
4.7
g
The Sugar-Free Mom Cookbook has been Released!! Hitting shelves in days and Amazon is selling it at a discount right now!