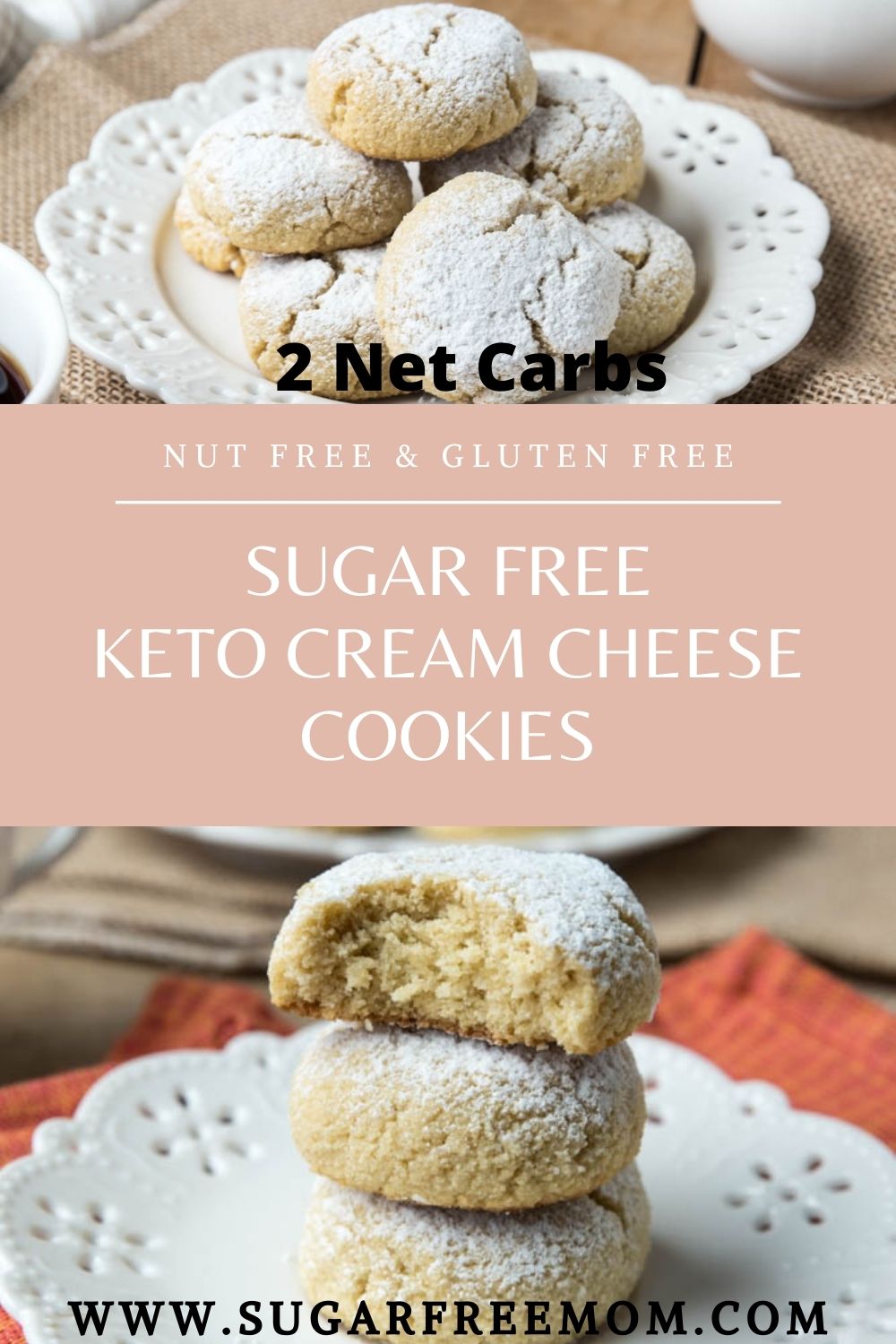 These Sugar Free, Low Carb, Keto, Nut Free Cream Cheese Cookies need just 9 ingredients and are pillowy soft and scrumptious! Be sure to read my helpful, fool-proof tips in the post below.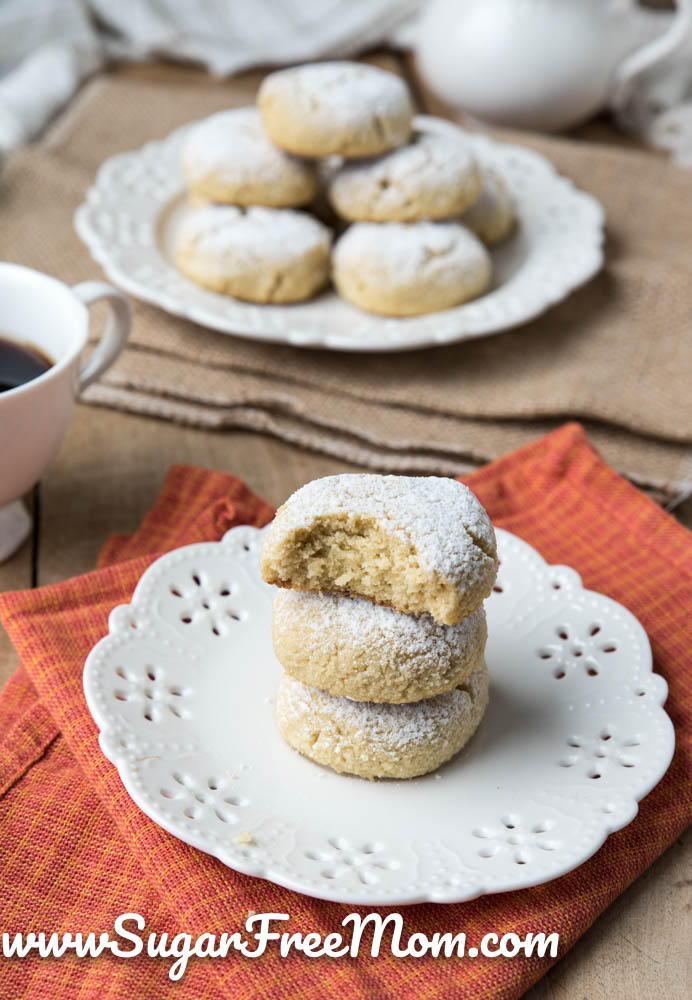 CREAM CHEESE COOKIES
If you have never added cream cheese to cookies before, you are in for something magical! The addition of cream cheese in a cookie adds just the right amount of moisture and tang and creates this beautiful, puffy -pillow- like cookie, which magically melts in your mouth!
When I created this classic keto vanilla wafer back in 2015, I knew was finally perfecting my coconut flour recipes! These classic keto vanilla wafers were nice and crisp, just like I remember eating from my pre sugar free life! That recipe uses egg yolks to create a crisp cookie so I adapted from there with the addition of cream cheese making these keto cookies soft, pillowy and cloud like!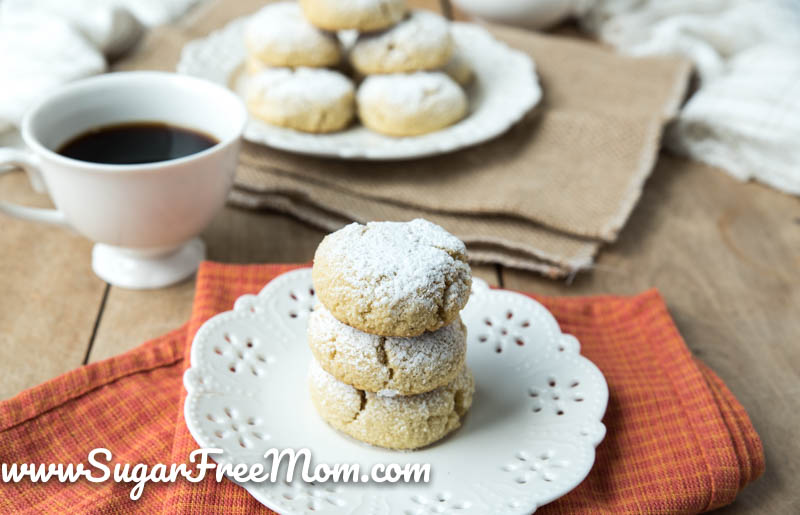 TIPS FOR THE BEST SUGAR FREE KETO COOKIES
Cream Cheese and Butter both need to be at room temperature in order to be mixed smoothly with all other ingredients. Lumps from your cream cheese is not what you want for these cookies, so please make sure your cream cheese has been out of the fridge sitting on the counter for at lest 1 hour or 2.
Room Temperature eggs incorporate better into the batter than cold eggs from the fridge.
Use a cookie scoop to get the perfect amount for each cookie, which ensures they will all bake evenly in your oven.
Use parchment on your baking sheet pan so the cookies won't get overly browned on the bottom while cooking.
FREEZE cookies for one hour before baking or they will flatten like a pancake due to the amount of butter and cream cheese in the cookies.
COOL COMPLETELY BEFORE HANDLING! This is a super important tip because warm or hot out of the oven cookies made without gluten and binders will crumble! They will still cook slightly once out of the oven, but do not remove them from the baking sheet pan. Just let them cool completely on the pan they were baked on.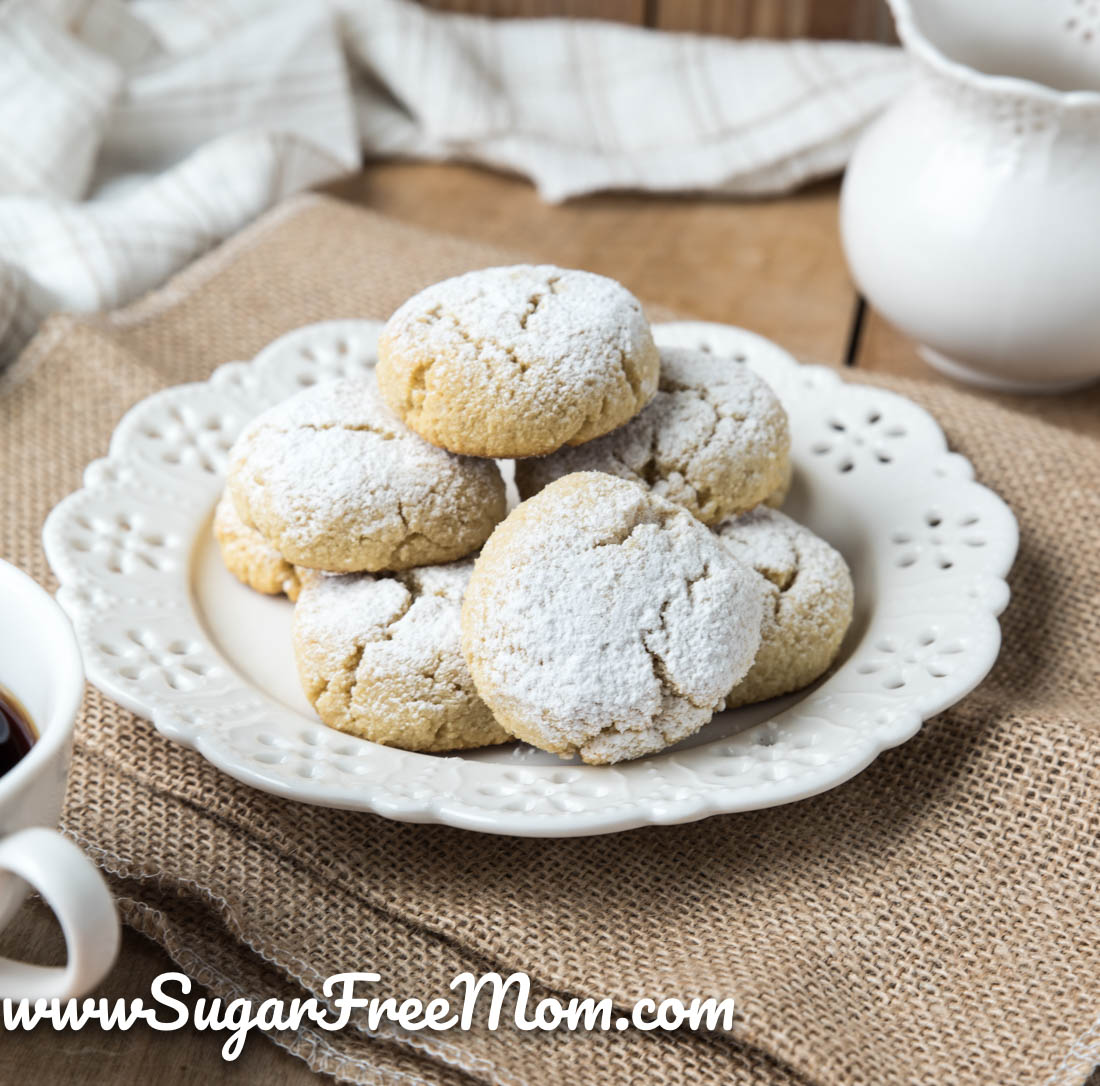 HOW TO MAKE KETO CREAM CHEESE COOKIES
Add softened butter and cream cheese to a stand mixer and blend until smooth. Blend in your eggs, vanilla extract and vanilla stevia. PLEASE NOTE***If you are unsure about the sweeteners being used, wait to add your eggs, just add the sweeteners and taste and see if the mixture is to your sweetness level. If not add more, then mix in your eggs.
Whisk your dry ingredients together then add just half of this mixture to your cream cheese mixture. Blend on low speed until incorporated. Add in remaining dry ingredients and blend once again until combined.
Scoop batter using a large cookie scooper and place onto a parchment lined baking sheet pan. Roll each mound of batter into a nicely shaped ball. Flatten slightly, but not too much so you keep the puffy, pillow like shape.
FREEZE for one hour before baking so they keep their shape! Then Bake for about 20 minutes until the edges are browned and the center has some cracks. COOL COMPLETELY or they will crumble! That is just the nature of gluten free, sugar free baking since there is no gluten being used.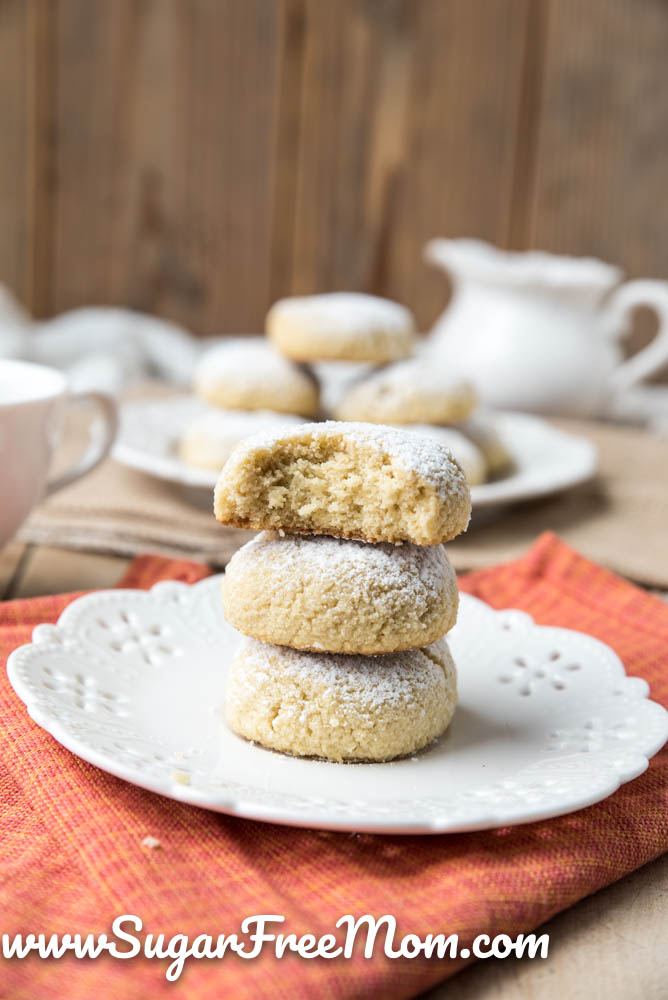 TOOLS TO MAKE SUGAR FREE COOKIES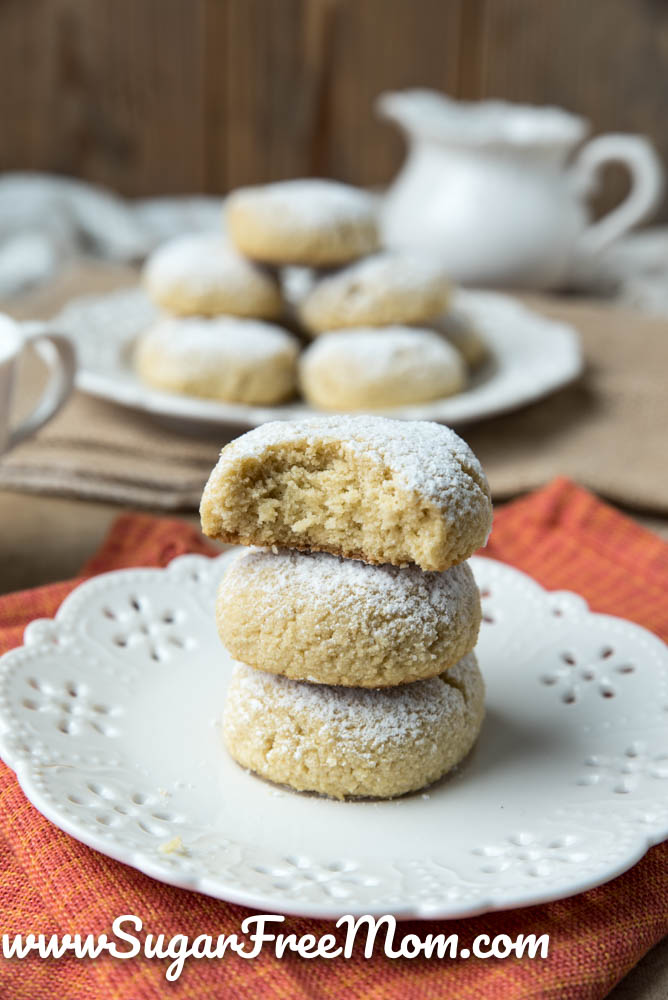 BEST SUGAR FREE FROSTING FOR KETO COOKIES
You can simply sprinkle on a dusting of Sugar Free Confectioners sweetener if you don't want to take the time to make frosting, but you have a couple of options if you prefer frosted cookies.
Dip the cooled cookies in a simple sugar free vanilla icing.
More delicious Sugar Free Keto Cookies:
Learn about how to start a keto diet here with my Free Keto Basics Course which takes just 15 minutes and once complete you get a Free 7 day keto diet meal plan.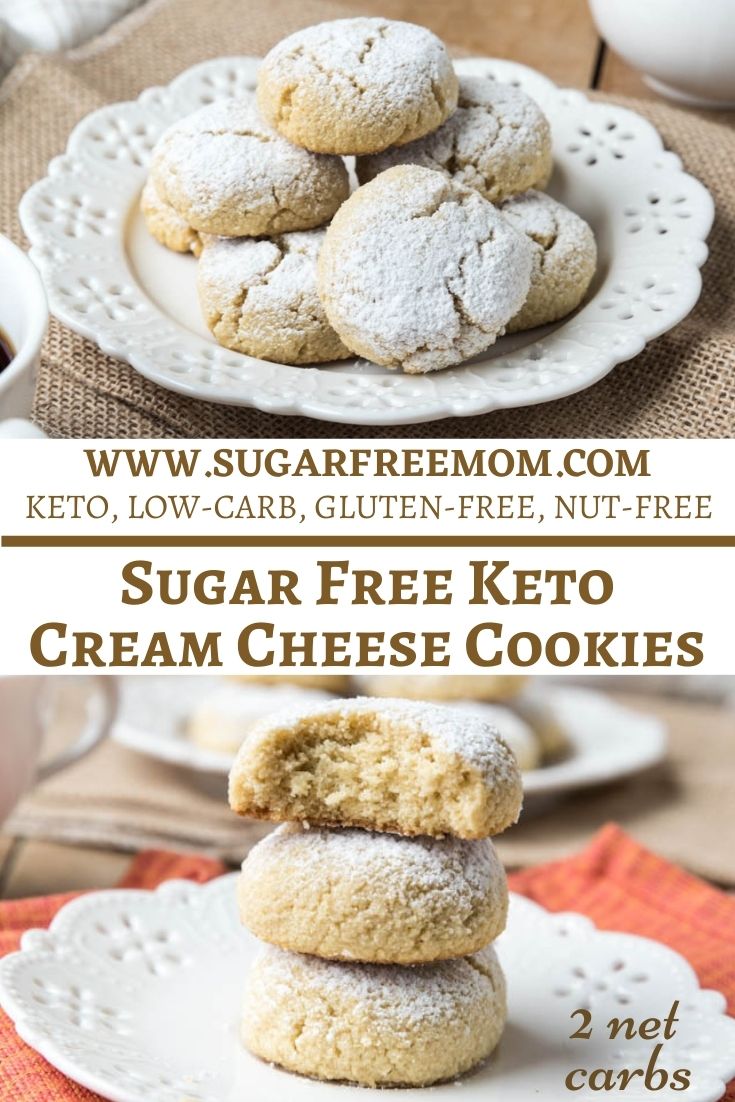 SUGAR FREE KETO CREAM CHEESE COOKIES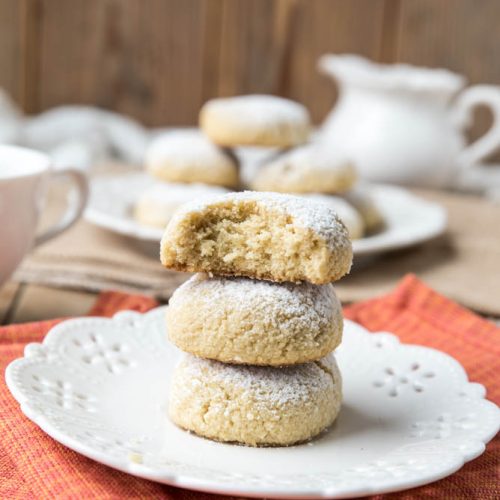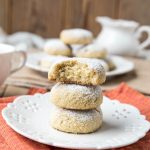 Print
Sugar Free Keto Cream Cheese Cookies (Low Carb, Nut Free, Gluten Free)
Instructions
Place your softened butter and cream cheese into a stand mixer or large bowl and use an electric hand mixer to combine until smooth. Blend in your eggs, vanilla extract and vanilla stevia.

Whisk together the remaining dry ingredients and add a half of this to your stand mixer. Blend until smooth then add remaining dry mixture and blend again.

Place a piece of parchment paper onto a large baking sheet pan. Use a large cookie scoop, or 2 tablespoons to measure out cookie batter and place onto baking pan about an inch apart from each other. You should be able to make 15 large cookies. Use your hands to roll the batter into balls then flatten each ball slightly but keeping a puffy pillow like shape.

Freeze the cookies for 1 hour. Once out of the freezer, preheat oven to 350 degrees F.

Bake 18-22 minutes until slightly browned around the edges and bottoms are browned. Allow to cool completely. Do not attempt to remove them from the baking pan until they are cooled. Enjoy!
Storage
Best if kept refrigerated in an airtight container for up to 5 days.
Notes
Net Carbs: 2g
Brenda's Notes:
If you would like to swap out the vanilla stevia or the Better Than Sugar, use my sweetener conversion chart to help you determine how much to use of your favorite sweetener. 
Nutrition
Serving:
1
cookie
|
Calories:
102
kcal
|
Carbohydrates:
3
g
|
Protein:
2
g
|
Fat:
9
g
|
Saturated Fat:
6
g
|
Trans Fat:
1
g
|
Cholesterol:
47
mg
|
Sodium:
241
mg
|
Potassium:
20
mg
|
Fiber:
1
g
|
Sugar:
1
g
|
Vitamin A:
301
IU
|
Calcium:
11
mg
|
Iron:
1
mg