This carrot cake is low carb, made without sugar, ready in 2 minutes and all in one dish!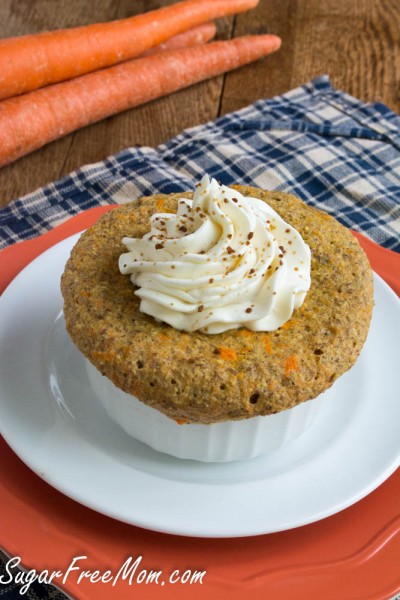 I've been on a pumpkin kick lately and almost all of my recent recipes have including pumpkin, but not today!! Are you happy and relieved or a little sad?
I'm feeling the need to change things up lately and I hate to say it but I might be all pumpkin-ed out. I have two more fantastic recipes including pumpkin that I absolutely must share, one is a no bake recipe and another is in the crock pot, but after that.....we shall see!
This recipe is a spin on my husbands favorite cake, carrot cake. I love making single serve recipes and especially love NOT baking whole entire cakes! I really don't like having the temptation of cake, healthier and sugar-free or not, in the house. Honestly cake is cake and extra indulgent calories puts on weight, am I right? I don't know about you but I certainly don't want to put on ten pounds before Christmas even comes! Not my idea of enjoying the holidays. Also I'm desperately trying to lose the 15 pound weight gain I put on since writing my cookbook. It's as slow as a snail to come off and I'm not quite the patient one, can you notice? Which brings me to this cake is made in 2 minutes!!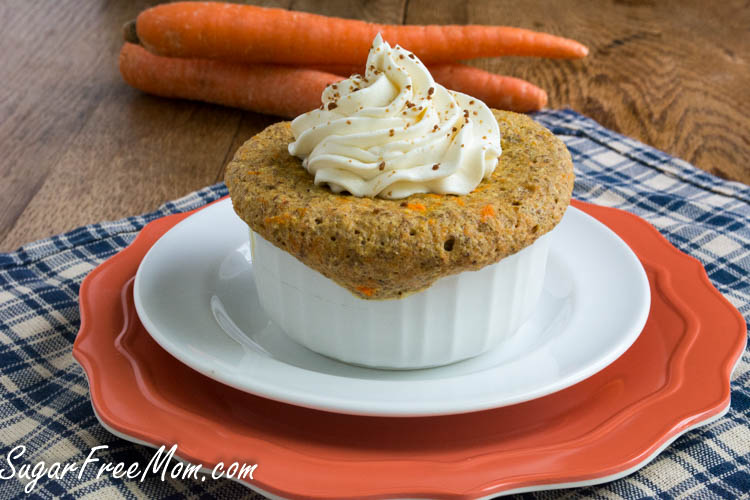 I wish I could have gotten it to cook in a minute but it's pretty hefty and quite the decent serving when it comes to enjoying a piece of cake. All served in a 6 ounce ramekin simply because I love it overflowing, makes me think I'm getting this HUGE piece of cake. You can choose a larger dish but we eat with our eyes and when something looks so small and tiny I feel deprived. I hate feeling deprived. Feeling deprived is not a happy to place to be in. So although I'm watching the calories coming into this body of mine and have to cut some of course to lose the weight I want to, I can enjoy this cake every once and a while and feel perfectly content.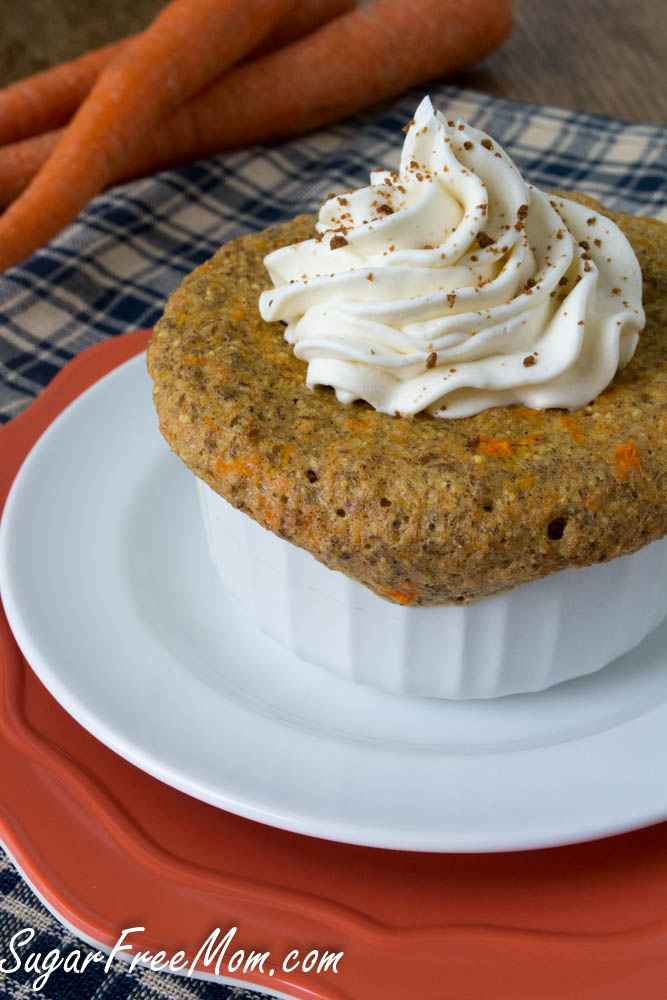 This cake is about 300 calories but is low in carbs and sugar is only 1 gram. The sugar is the natural sugars found in the carrot that is included. You might be able to reduce the calories by subbing the heavy cream for unsweetened almond milk. This is CAKE so I went with the creaminess of heavy cream and feel not one bit of guilt. This is not a muffin, it is a cake should be moist and indulgent and that is what I'm serving you today.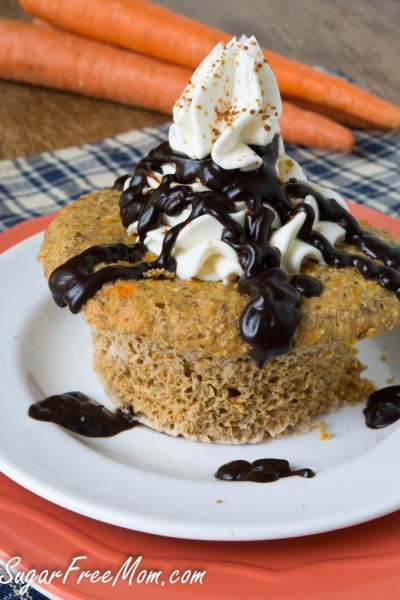 Now of course if you've been following my blog for sometime now, you know I'm a chocolate lover. I just felt this cake needed some color and black is my favorite color which so happens to be in chocolate form on top. Yes some added calories but again when you restrict yourself all week long and just want a dessert, this wins without putting a dent into your goals. I used NuNaturals Cocoa Syrup here to make it quick and easy but I've got a delicious chocolate syrup from my No Bake Peanut Butter Mousse Pie that would work even better!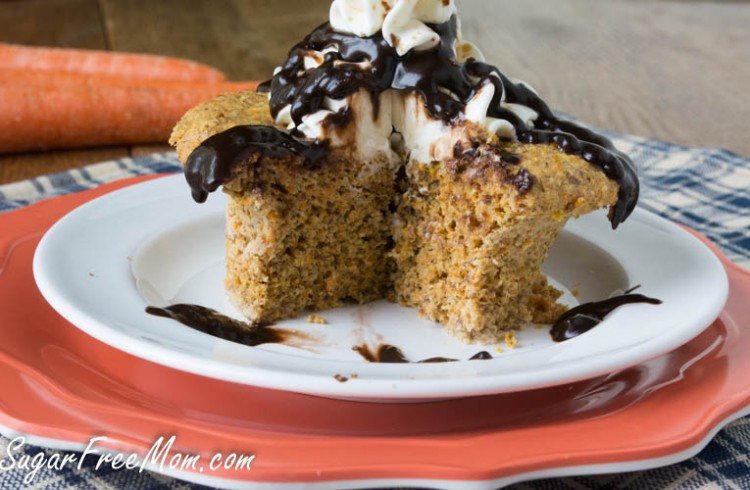 Brenda's Notes:
You can make this dairy free but subbing the heavy cream for unsweetened almond milk or another dairy free option.
For a dairy free whipped topping you can try my Coconut Whipped Cream.
If you don't have cinnamon stevia, simply use what you have on hand. Liquid vanilla stevia would work, plain packets of stevia would work.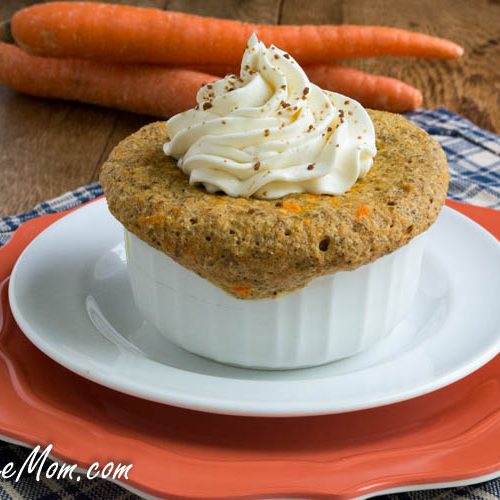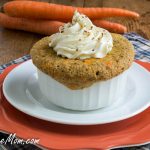 Print
Sugar-Free Carrot Cake Mug Cake
Instructions
Whisk all ingredients together in a greased ramekin or coffee mug.

Microwave 2 minutes and 30 seconds or until toothpick in center is clean.

Top with frosting if desired.

Enjoy!
Notes
Weight Watchers Points Plus: 8*
Net Carbs: 3.4 grams
Nutrition
Serving:
1
g
|
Calories:
318
kcal
|
Carbohydrates:
10.8
g
|
Protein:
10.5
g
|
Fat:
24.3
g
|
Saturated Fat:
12
g
|
Cholesterol:
240
mg
|
Sodium:
84
mg
|
Fiber:
7.4
g
|
Sugar:
1
g