Sugar-Free and made without grains or nut flours, these low carb chocolate chip cookies are the BEST of all grain free recipes!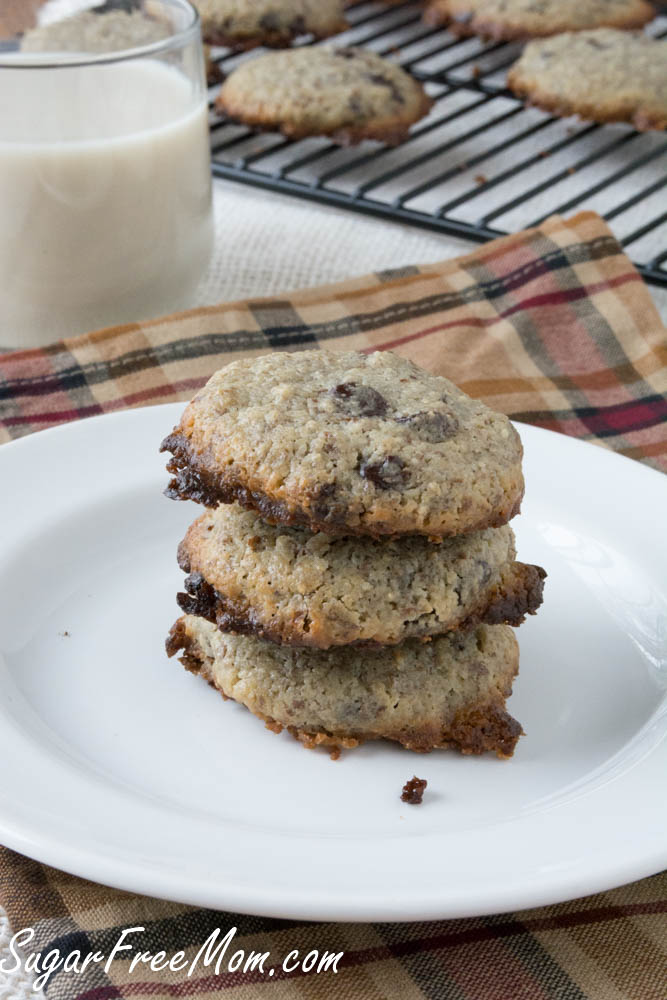 Intimidation from a cookie.
Yep. It's true.
I've been intimated to try and make a successful really good chocolate chip cookie.
Why?
Because chocolate chip cookies are so sacred. It's a classic cookie that has been around for ages and ages and no one messes with tradition right?
Well apparently I do.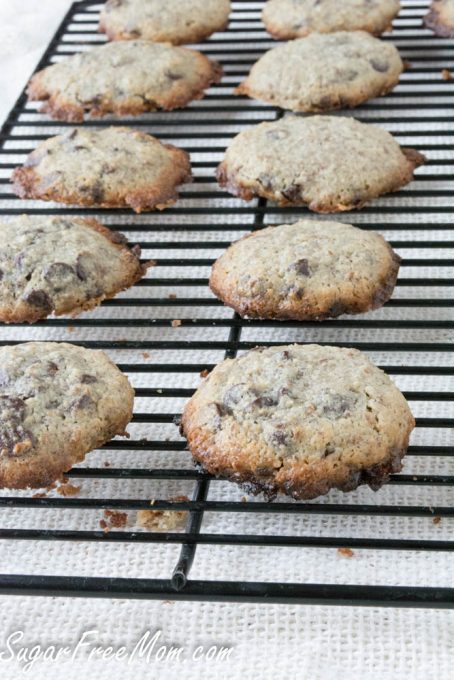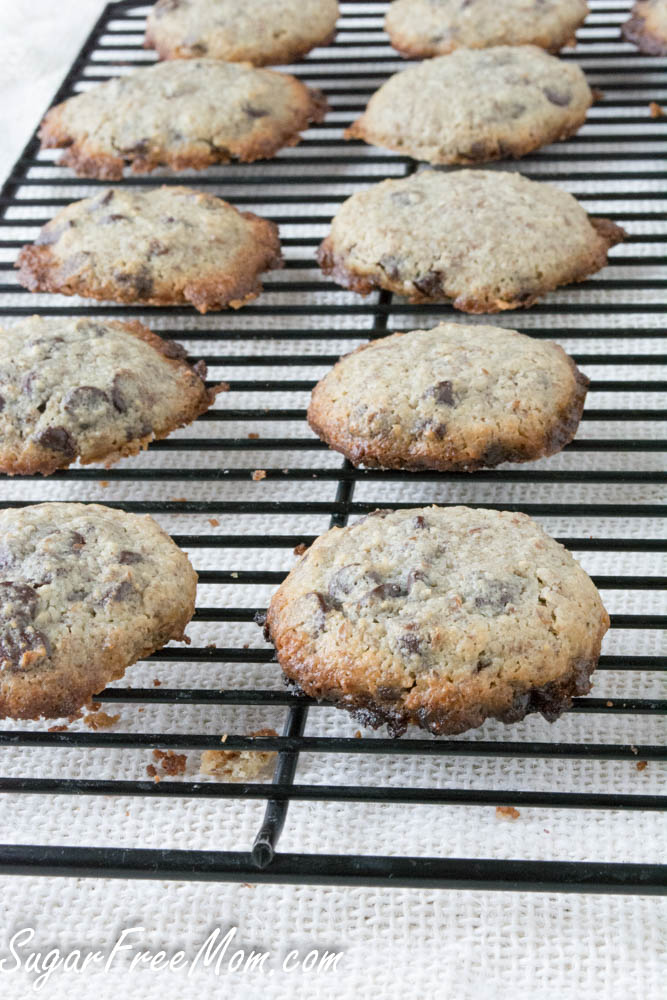 Messing with the classic chocolate chip takes guts because everyone is so super picky about the way a chocolate chip cookie should be.
Because when you finally share this very awesome chocolate chip cookie gone good (meaning super healthier than you'd ever imagine), it makes people want to disagree and argue.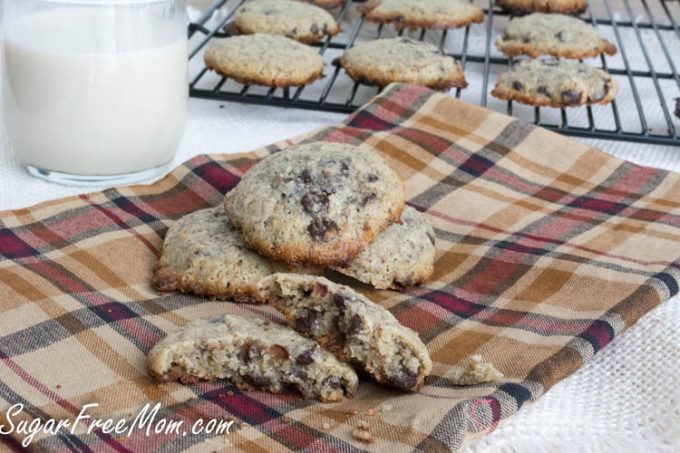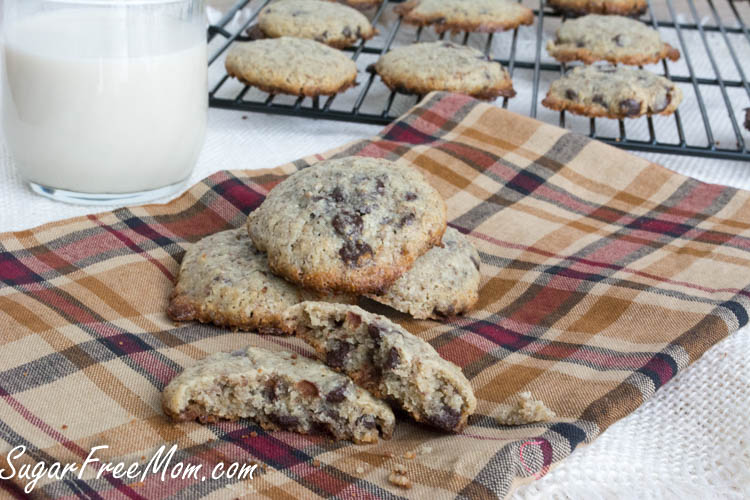 What is your chocolate chip cookie preference? Some might prefer a softer cookie while others want the edges to be crispy.
Might you be able to tell from my pics I like crispy outer edges?
Calling this the BEST grain free and sugar free chocolate chip cookie is very pompous I know.
To you they may not be the best. But in my opinion if you took this cookie and had a blind fold contest of other grain free and sugar free chocolate chip cookies, this one would win hands on.
This one is what I've been waiting for my whole life. Well, maybe not my life but the last 11 years of being sugar free and 3 ½ years of blogging and writing recipes.
I didn't want to mess with the classic, but I'm so glad I did!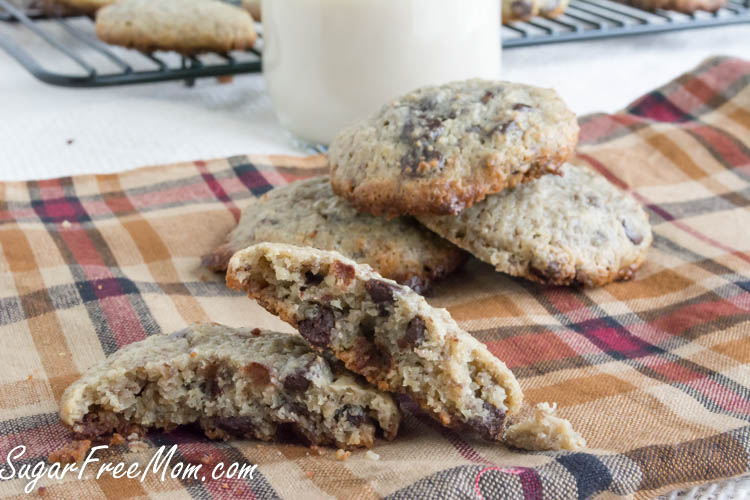 I've made these many times before sharing it with you today. I've given them to friends of my children and family all who do not live a sugar free life. No one even said or questioned that these might be "healthier".
Brenda's Notes:
I use sunflower seed flour because I can not use almond flour due to the allergies of my youngest. If you want to sub almond flour I think that would work just fine. Please come back and let me know if you try it.
I like to add flaxseed because it helps bring up the fiber content in my baked goods. You could replace this with more flour if you prefer but that would increase your carbs possibly depending on the flour you use.
If you aren't watching your carbs you could use gluten free flour or whole wheat flour in place of the sunflower seed flour.
I purchase raw, unsalted sunflower seeds and grind them myself in my food processor. 1 cup of raw seeds equals about 1 ¼ cup ground. You can purchase sunflower seed online all ready ground for you. Keep your seeds in the freezer becuase they have oils and can go rancid in your pantry.
Swerve sweetener is erythritol. It is not as sweet as sugar or other granulated sugar free substitutes and that's why I also add some stevia to make up the difference.
Other recipes you might like: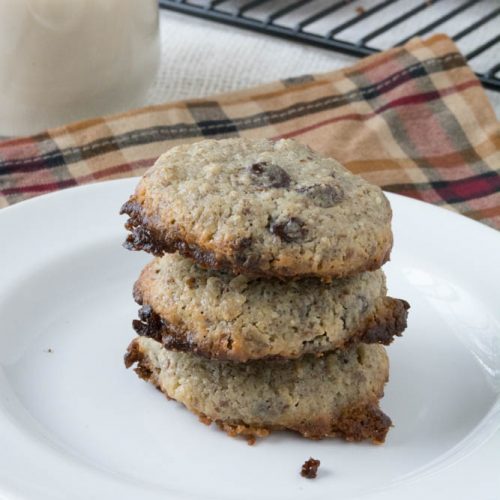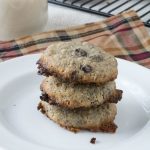 Print
Sugar-Free Grain Free Chocolate Chip Cookies
Instructions
Preheat oven to 375 degrees F.

In you stand mixer add the eggs, swerve, and butter and blend until combined.

Blend in the rest of the ingredients except chocolate chips.

Slowly stir in the chocolate chip.

Using a cookie scoop or a tablespoon measuring spoon, scoop batter onto cookie sheet. (use a good nonstick cookie sheet or use parchment). Make 24.

Bake for 13-15 minutes until crisp around the edges.
Notes
Net Carbs is 10.5 for 2 cookies. (To reduce your carbs even more down to 6.5 net carbs, use ½ cup chocolate chips instead of 1 cup)
Weight Watchers Points Plus per serving: 6*
Nutrition
Serving:
2
g
|
Calories:
199
kcal
|
Carbohydrates:
15
g
|
Protein:
7.3
g
|
Fat:
15.4
g
|
Saturated Fat:
8.6
g
|
Cholesterol:
50
mg
|
Sodium:
205
mg
|
Fiber:
4.5
g
link
link