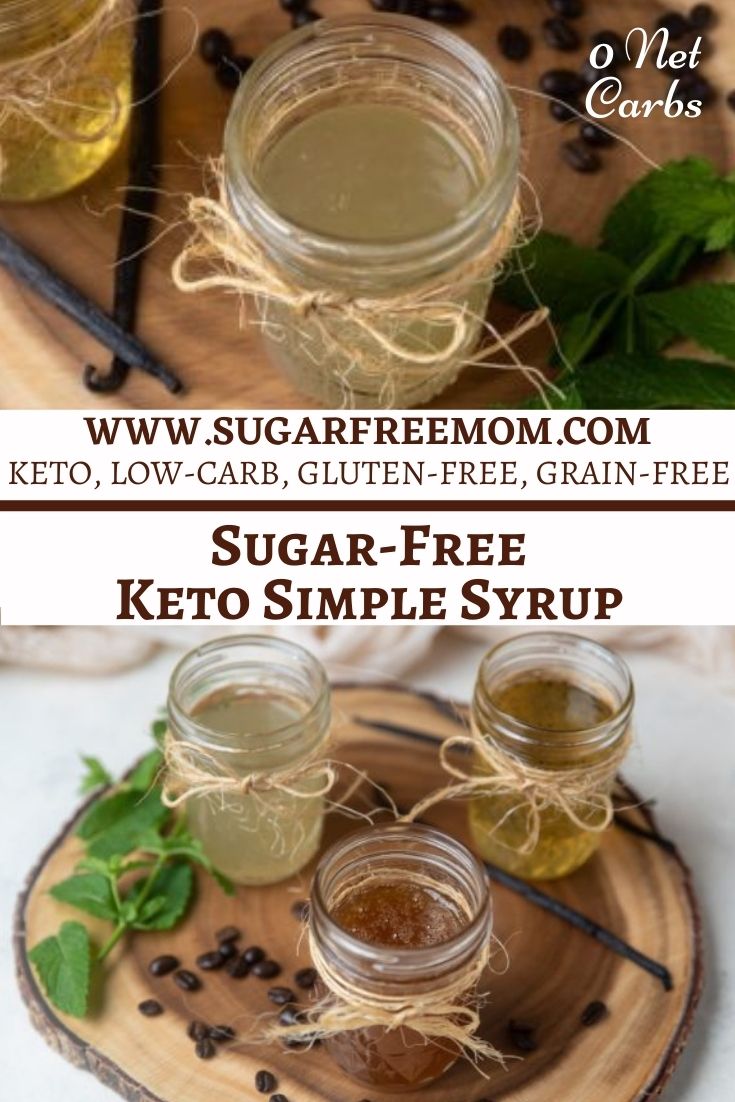 This easy sugar free keto simple syrup recipe can be made in less than 5 minutes with Allulose, Monk Fruit or Stevia! Perfect for the keto diet, with no carbs or calories, you can use this sugar-free syrup as you would traditional simple syrup for all your keto cocktails and cold drinks.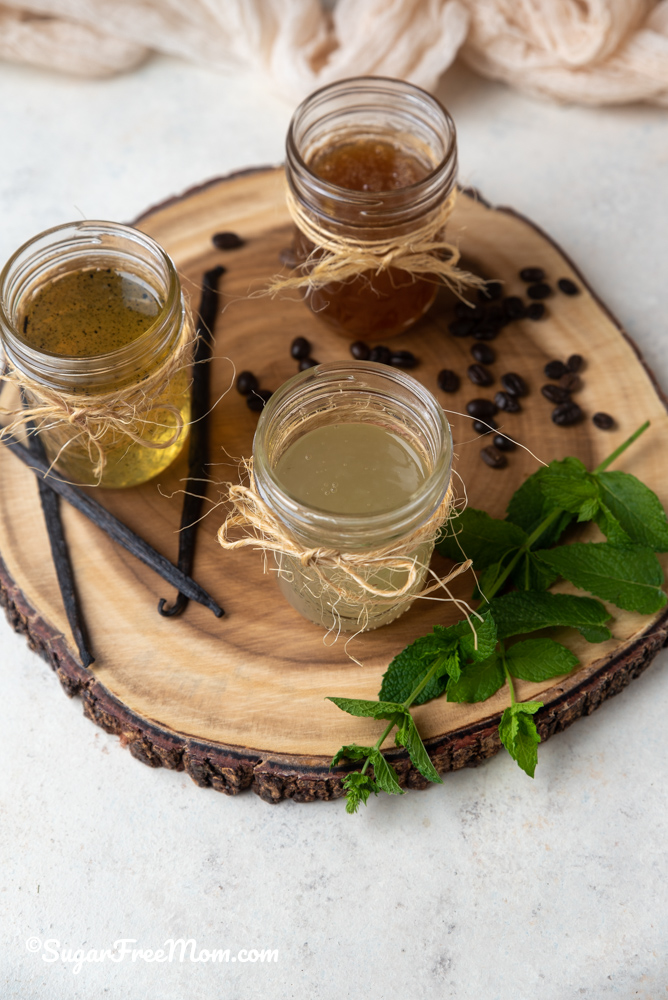 What is Simple Syrup?
Classic simple syrup is made with regular sugar and is used as a liquid sweetener most often to sweeten your favorite drinks. It's made with equal parts water and table sugar boiled until the sugar dissolves, leaving a liquid sugar syrup that mixes well in your favorite cocktails.
Is Simple Syrup Keto Friendly?
The problem with regular simple syrup is that it is pure sugar and will spike blood sugar and kick you out of ketosis so it is not keto friendly.
If you following a low carb diet and not a keto diet, this spike in blood sugar is still problematic because spiking your blood sugar will most definitely cause sugar cravings.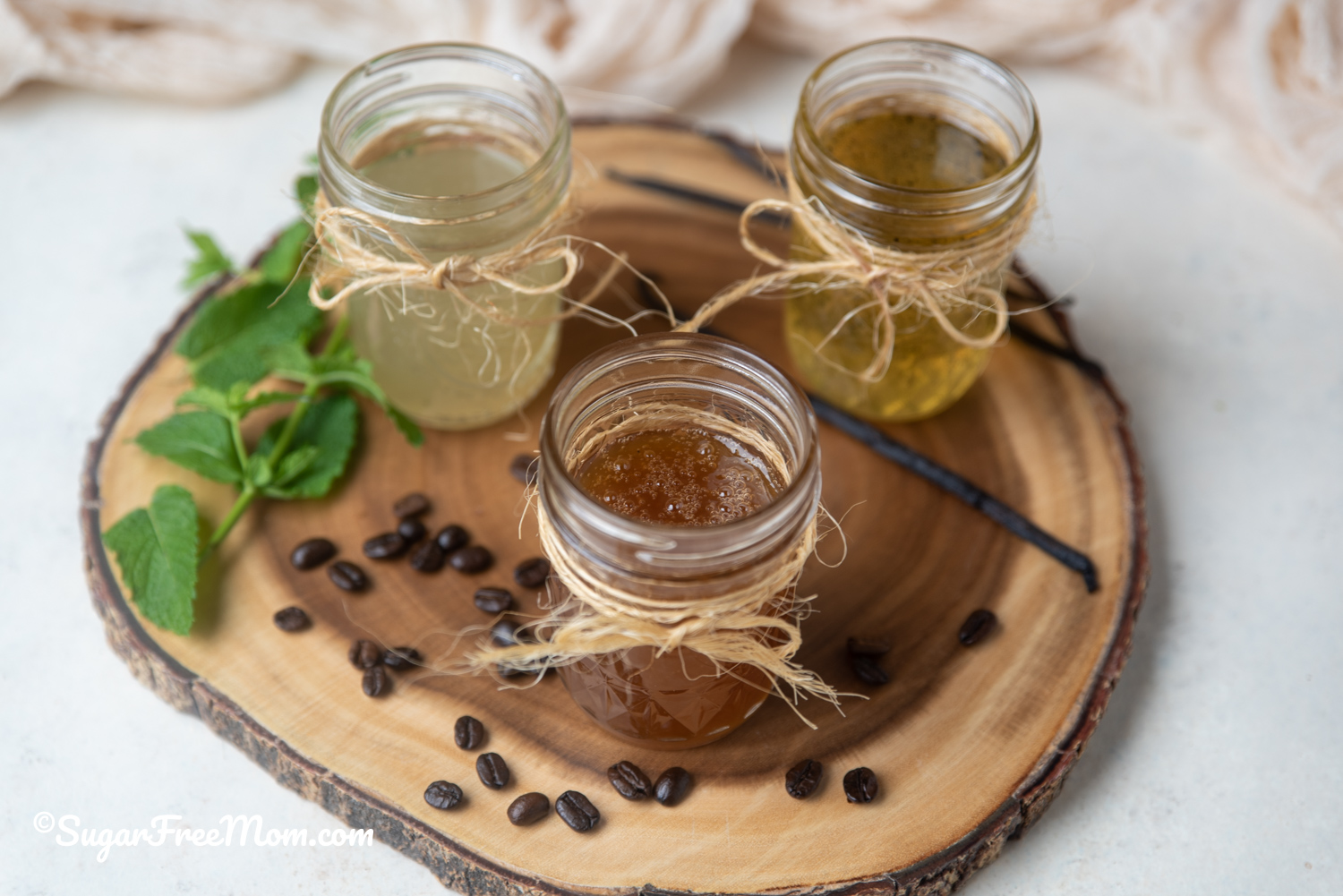 The Best Sugar-Free Sweetener
The best keto sweetener to make this keto syrup is Allulose in my opinion. It is a great replacement to real sugar as it dissolves perfectly in boiling water.
I do not recommend using erythritol because of it's cooling effect on the tongue and since it's a sugar alcohol it tends to crystalize.
Allulose Low Carb Sweetener
Allulose occurs naturally in only a few foods, such as wheat, raisins, and figs. The body isn't able to metabolize allulose.
Instead, nearly all of it passes into the urine without being absorbed, thereby contributing negligible carbs and calories. It works wonderfully in homemade ice cream to keep the texture smooth and soft rather than hard after freezing.
Replacing Allulose with Monk Fruit
Monk fruit extract comes from the monk fruit, luo han guo, a cousin of the cucumber and melon that's native to China and Thailand.
Monk fruit is rarely used fresh but more often is dried and used as a sweetener. It is 300% sweeter than sugar, but is calorie-free and does not raise blood sugar levels.
It is sold as a pure liquid concentrate and also can be found combined with erythritol to swap cup for cup with sugar. I love the Lakanto brand Monk fruit.
To replace the Allulose used to make the keto simple syrup, I used 2 tablespoons of Pure Organic Monk fruit Powder, which does not have any erythritol in the mixture. If you use a Monk Fruit blend that contains erythritol, please note that it can cause crystallization.
Replacing Allulose with Stevia
Stevia comes from the stevia plant, typically grown in Paraguay. Its leaves are boiled down to produce the liquid form on the market today. Stevia leaves are also dried and sold as pure concentrated extract with no added fillers.
A calorie-free option, it is 300 times sweeter than sugar and does not cause digestive issues, does not raise blood sugar or spike insulin.
The type of stevia I use the most in my recipes is the liquid form from the brand Sweetleaf. depending on the extraction process used, some brands may be sweeter or more bitter than others.
To replace the Allulose used to make the keto simple syrup, I used 4 packets of Organic Stevia, which does not have any erythritol in the mixture. If you use a Stevia blend that contains erythritol, please note that it can cause crystallization.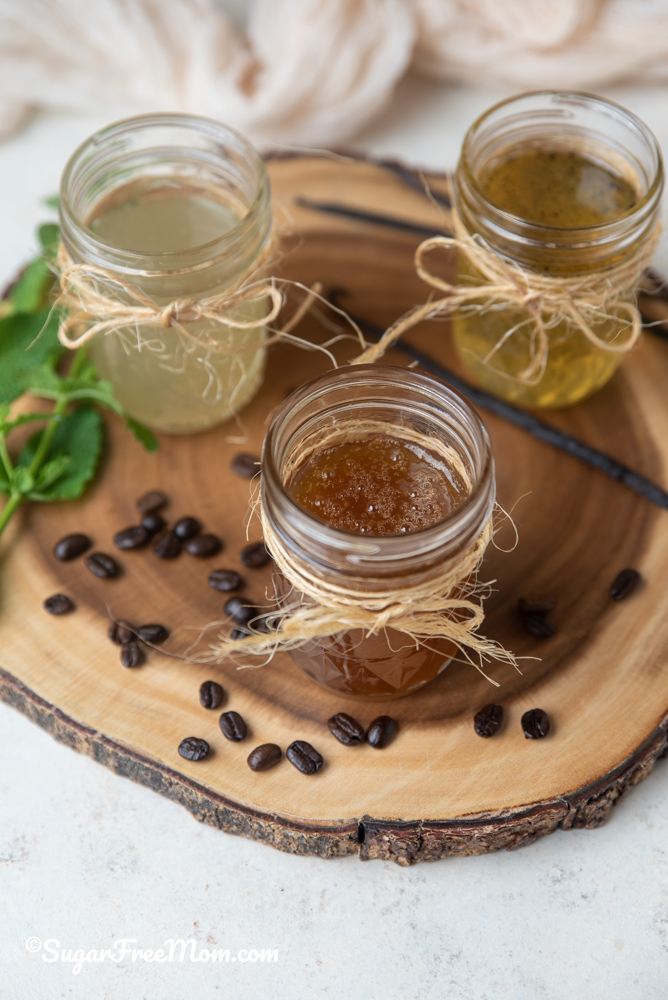 2 Simple Ingredients Homemade Keto Simple Syrup
You just need a cup of water, filtered or distilled water and a cup of a natural sweetener as I mentioned above.
How to Make Keto Simple Syrup
Please view the recipe card at the very bottom of this blog post which is where you can also print this simple recipe.
Add your water and low carb sugar substitute to a small saucepan and bring to a boil.
Remove from the heat and add any flavor options below. Once it comes to room temperature, pour into a glass jar to finish cooling. Do not cover until it's cooled completely.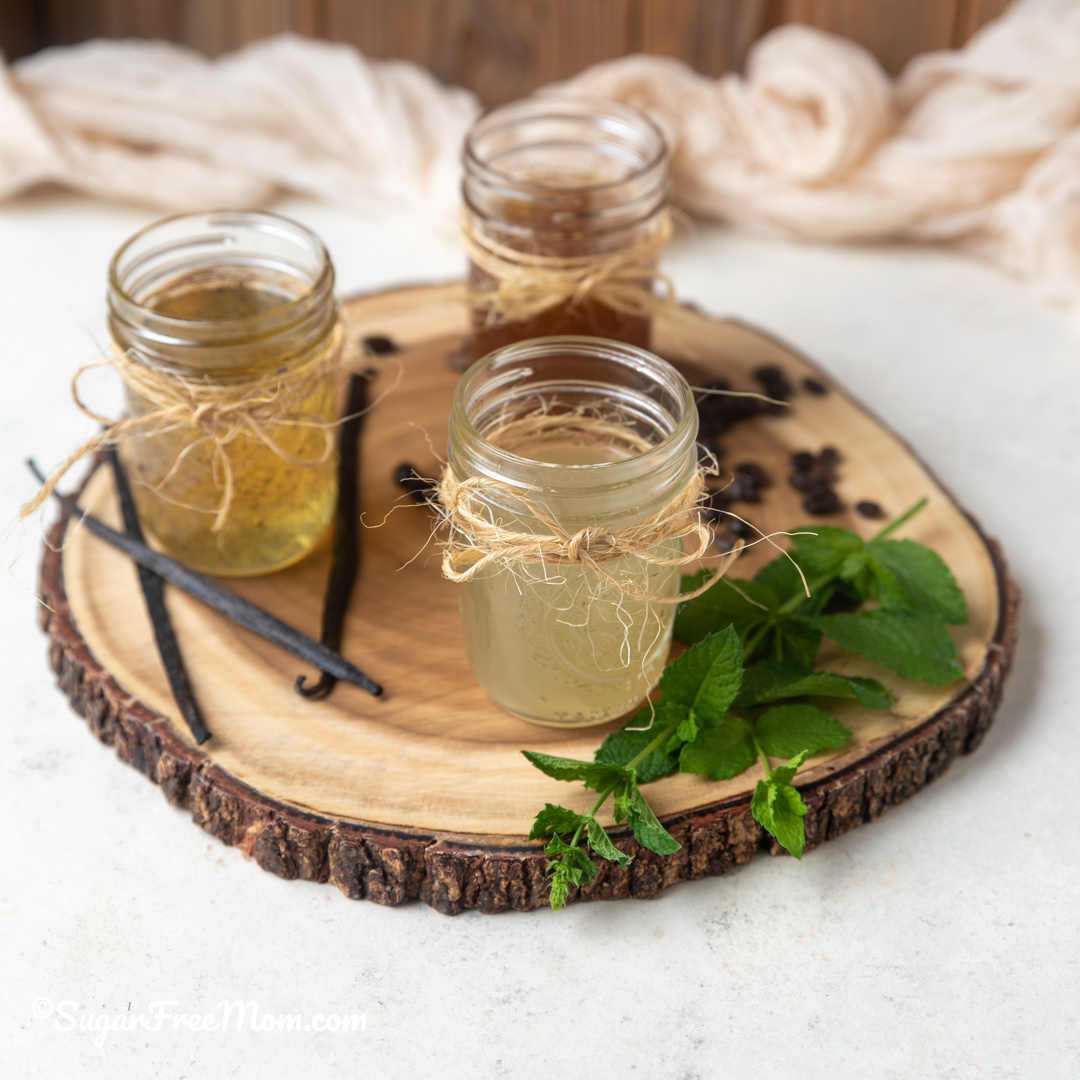 How to Use Sugar Free Keto Simple Syrup
The vanilla flavored homemade sugar-free simple syrup is delicious in your morning coffee, as well as the coffee flavored simple syrup option to add to your iced coffee!
The base keto simple syrup is great for homemade lemonades, iced tea, cold drinks, like seltzer's or any keto drinks you love. Of course it's a great addition to any low carb cocktails!
Use Keto Simple Syrup in my Dairy Free Bread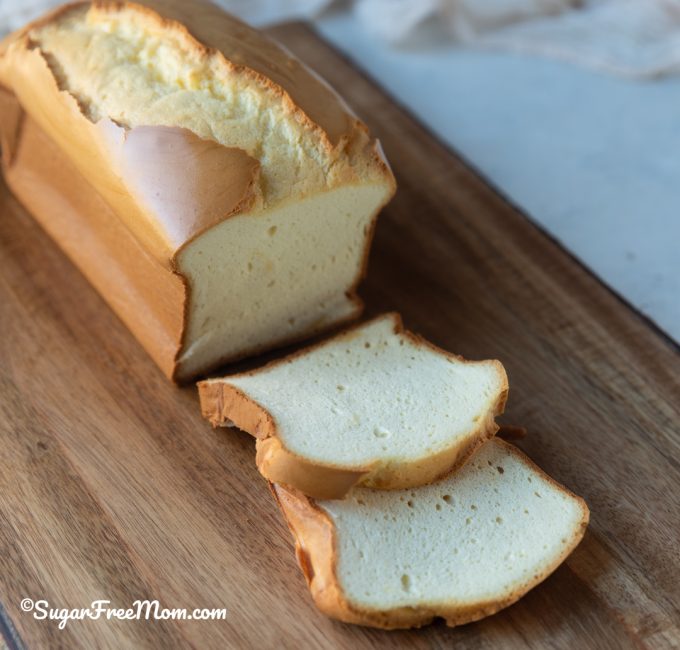 You can use the Base Keto Simple Syrup recipe below to replace the liquid Allulose in my Dairy Free Cloud Bread Loaf or Rolls!
Shelf Life and Storage
Store in an airtight container on the counter for up to one month or refrigerate for up to 6 months.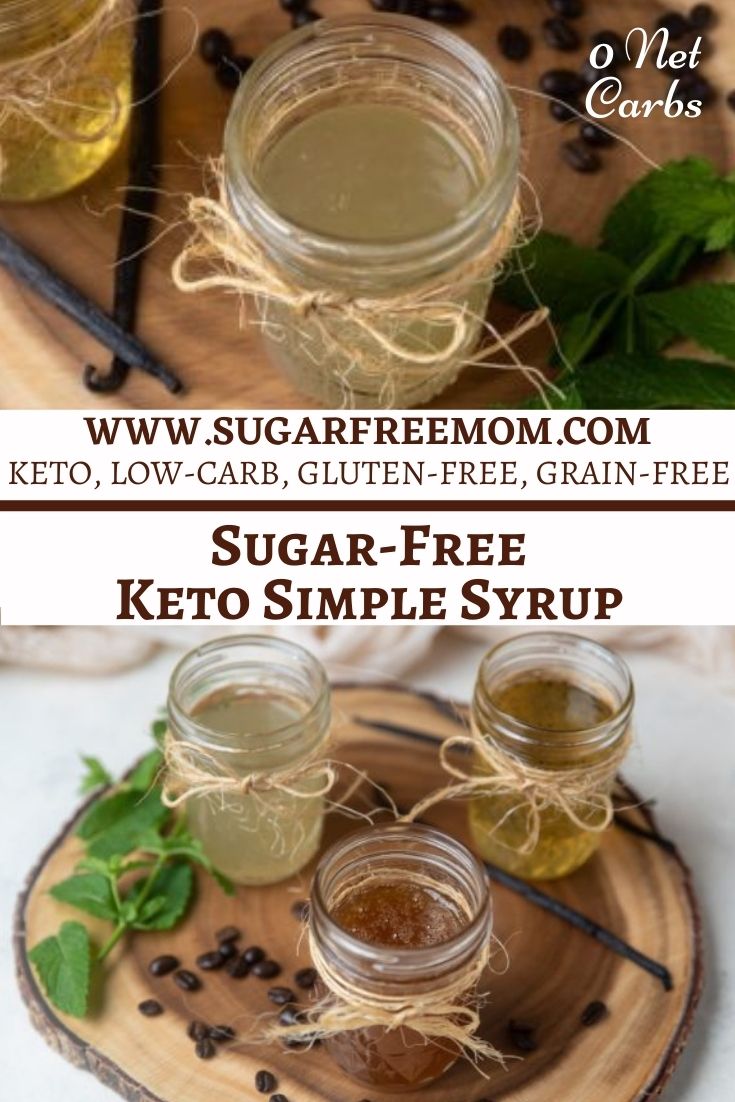 Best Sugar-Free Simple Syrup Recipe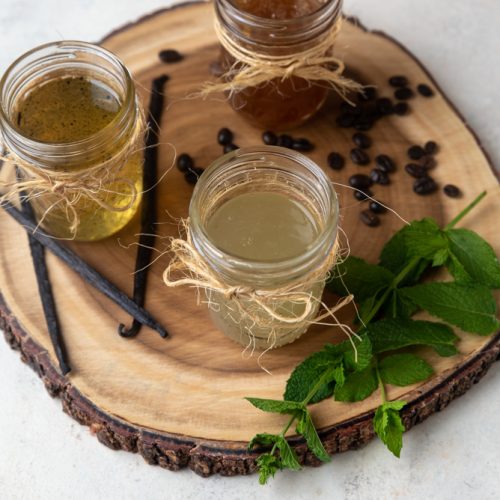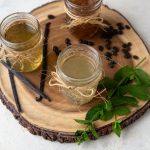 Print
Sugar Free Keto Simple Syrup
Ingredients
Mint Simple Syrup
4

fresh mint leaves

or ½ teaspoon peppermint extract
Instructions
Pour water and sweetener into a small saucepan over medium heat on stove.

Bring to a boil and continue to simmer and stir for 3-5 minutes until sweetener is dissolved.

If you want to thicken, sprinkle in xanthan gum and whisk until dissolves and thickens, just needs 1-2 minutes.

Remove from heat and whisk in any flavorings you like. If using fresh mint leaves, add them to the water while its simmering then remove.

Cool then pour into mason jars for storing.

Storage: Covered on counter for 1 month or in the fridge for 6 months.
Notes
Nutrition info is based on using xanthan gum and vanilla bean. If you use neither there are no calories or carbs per serving.
Nutrition
Serving:
1
tablespoon
|
Calories:
1
kcal
|
Carbohydrates:
0.1
g
|
Fat:
0.03
g
|
Sodium:
3
mg
|
Potassium:
0.2
mg
|
Fiber:
0.05
g
|
Calcium:
1
mg