These Sugar-Free Low Carb Grain Free Granola Bars are the BEST Homemade bars you will have have! They're crunchy, chewy, salty and sweet and shelf stable!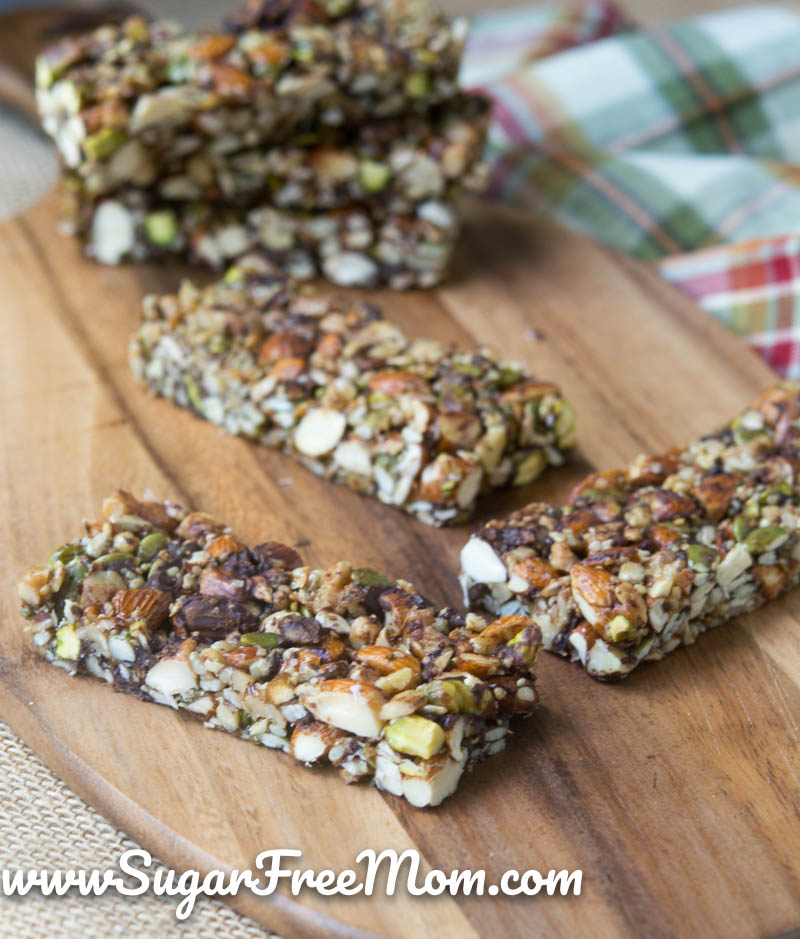 When it comes to snacking in my house, I'm always looking for those easy to grab snacks that don't need refrigeration. Something I can throw in my purse and eat at some point without worry if I forgot it in my bag a day or too!
My Crock Pot Granola Recipe is a winner so I decided to adapt it into a bar form, with a new liquid sweetener I absolutely am in love with!.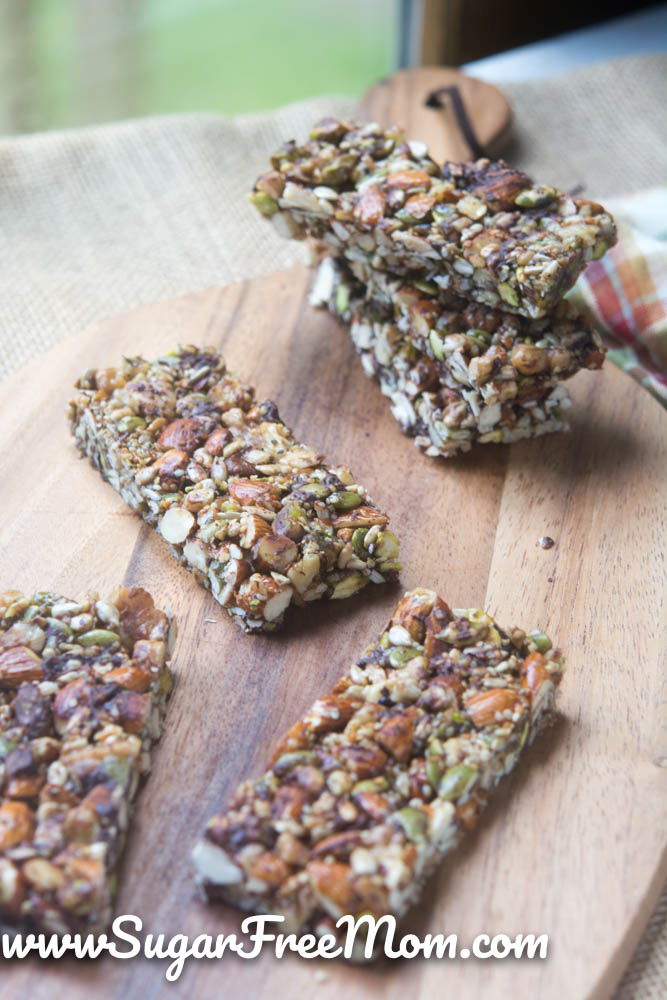 Before trying this new liquid sweetener, I was at a loss as to how to keep a granola bar held together without requiring some sort of sugar, like honey or maple syrup. If you're not low carb you might enjoy these Cocoa Granola Bars or these Cherry Pie Nut Granola Bars both are refined sugar free and no bake!
Needless to say making a grain free and sugar free granola bar isn't easy. But with the help of Sukrin sweeteners, I'm learning to make some pretty awesome recipes that easily are just as good if not better than traditional recipes made with sugar and no one can tell the difference.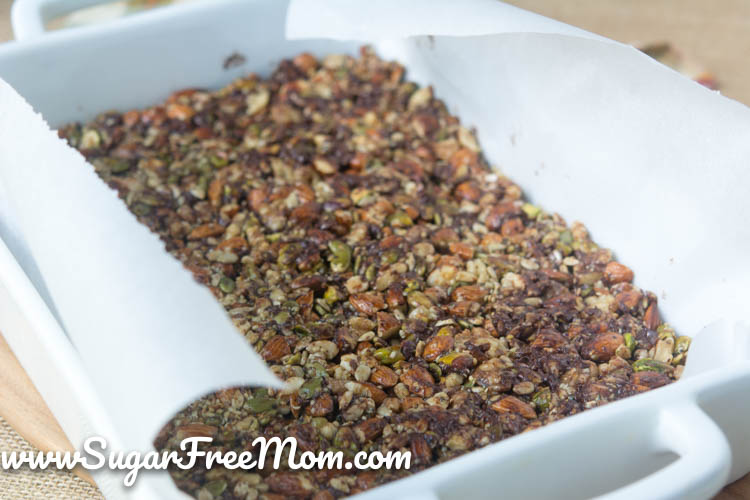 I've been using Sukrin Gold as my primary brown sugar substitute in a few recipes like my Apple Cheesecake Muffins. The Fiber Gold Syrup is out of this world for my Microwave Caramel sauce recipe!
But I hadn't done much with their Clear Fiber Syrup and thought these granola bars would be the best way to use it since I wanted the nuts and seeds to be seen and not masked if I used the brown fiber syrup . It's about 60% the sweetness of honey or maple syrup. The difference between the Gold and Clear syrup is that the Gold has gluten free malt extract and a little stevia (steviol glycosides) so it is sweeter than the clear syrup and can be used 1 to 1 like honey.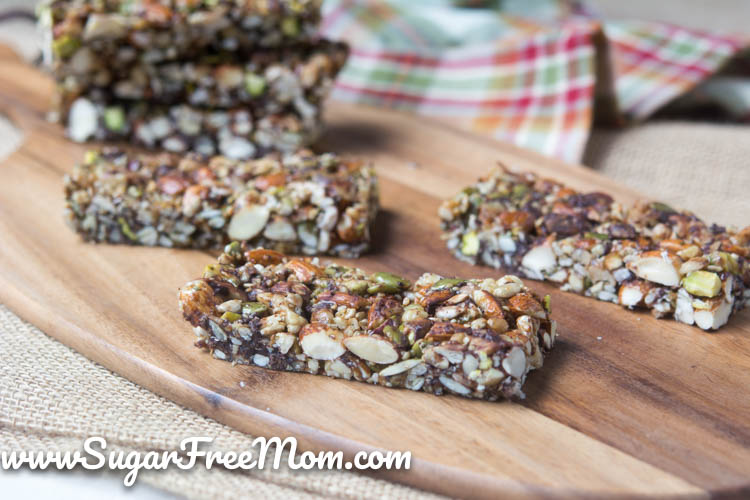 Both syrups are made of a plant fiber called isomaltooligosaccharide (IMO).
Isomaltooligosaccharides are naturally occurring prebiotic plant fibers found naturally in foods such as honey. They have a sweet taste, but behave like fibers in the body. Instead of increasing blood sugar like ordinary syrup, isomaltooligosaccharides become a food source for the beneficial bacteria in the digestive system. This is known as prebiotic fiber. The body contains more bacteria than cells, and these bacteria play an important role. Eating prebiotic fiber stimulates beneficial bacteria, which perform important functions in the body, while also helping to suppress more harmful bacteria.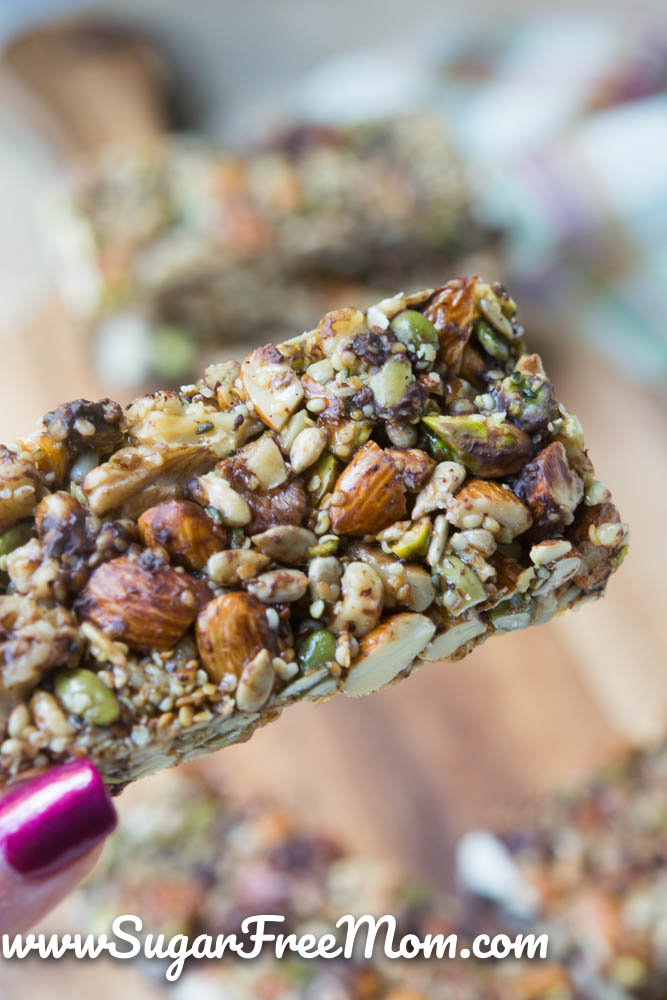 I did add some optional Sugar Free Chocolate Chips because I knew my kids would be enjoying some of these as well. You could also throw in some dried fruit if you're not worried too much about the carb content.
The very best part about these bars is that they do not need to be kept refrigerated! They are perfectly shelf stable! We wrapped them individually in plastic wrap then in an air tight container in my pantry for a grab-n-go snack anytime!
Hope you enjoy these as much as we do!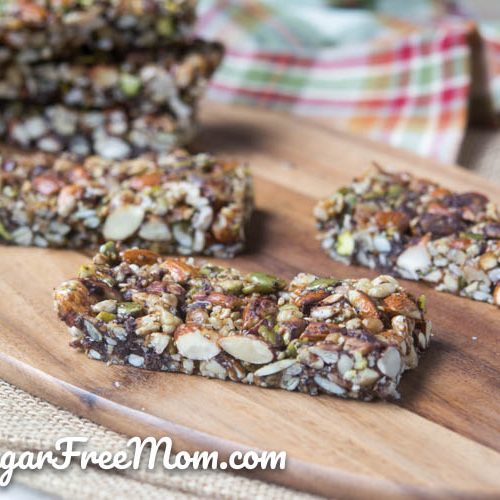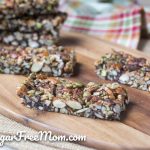 Print
Sugar-Free Low Carb Granola Bars
Instructions
Roughly chop the almonds, walnuts and pistachios. Place into a dry skillet on stove.

Add the pumpkin seeds, sunflower and hemp seeds to the skillet and stir together. Cook over medium heat until fragrant. Remove from heat and set aside.

In a small sauce pan melt butter then add Sukrin syrup, vanilla, cinnamon, salt and Sukrin Gold. Stir together and boil for 2-3 minutes until it thickens slightly.

Stir into the nuts and seeds mixture until thoroughly coated.

Spread mixture into a parchment lined 9 by 13 baking dish. Place another piece of parchment over the top and use your hands to press mixture well into pan to even the top and spread to corners. Remove the top piece of parchment and let cool about 10 minutes.

Refrigerate for 15 minutes then slice into 14 bars.

Refrigerate for another 15 minutes then wrap individually and store in an airtight container. Shelf stable for 3-4 weeks.
Nutrition
Calories:
265
kcal
|
Carbohydrates:
8
g
|
Protein:
9
g
|
Fat:
23
g
|
Saturated Fat:
3
g
|
Cholesterol:
4
mg
|
Sodium:
98
mg
|
Potassium:
274
mg
|
Fiber:
4
g
|
Sugar:
1
g
|
Vitamin A:
95
IU
|
Vitamin C:
0.5
mg
|
Calcium:
74
mg
|
Iron:
2.1
mg