Soft Grain Free Gingerbread Cookies made without sugar, gluten, flour or nuts!
Soft gingerbread cookies are the perfect addition to your holiday goodie table! Made without flour or grains or nuts or sugar was a difficult task, but I'm always up for a challenge, and these challenged me for sure!
When you see many low carb recipes almost always it contains almond flour. As a mom who wants to keep to a low carb lifestyle and reduce the grains for her children as well, when one child has a tree nut allergy as my youngest does, everything is just a little bit harder to make grain free.
My substitute of choice has been sunflower seeds as a replacement for almond flour. It tends to work somewhat the same, but because of the chlorophyll in the sunflower seeds, if you use baking soda, you will end up with a green tint to most anything you bake. I avoid the baking soda and use baking powder and have had great success.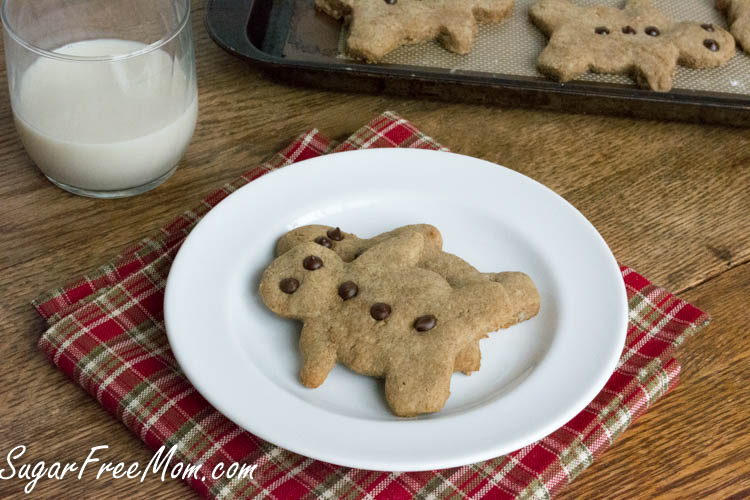 I've been wanting to make gingerbread men cookies for a long time but just finally got around to them over the last week or so when I had some time to experiment.
I think the biggest reason I thought I couldn't make these sugar free was because to make them authentic I needed to use molasses and I was reluctant for years, but finally decided a little is necessary in order to get that nice brownish color. It's such a small amount and with the 24 cookies this recipes makes, my nutritional data came up with no trace of sugar in the cookies.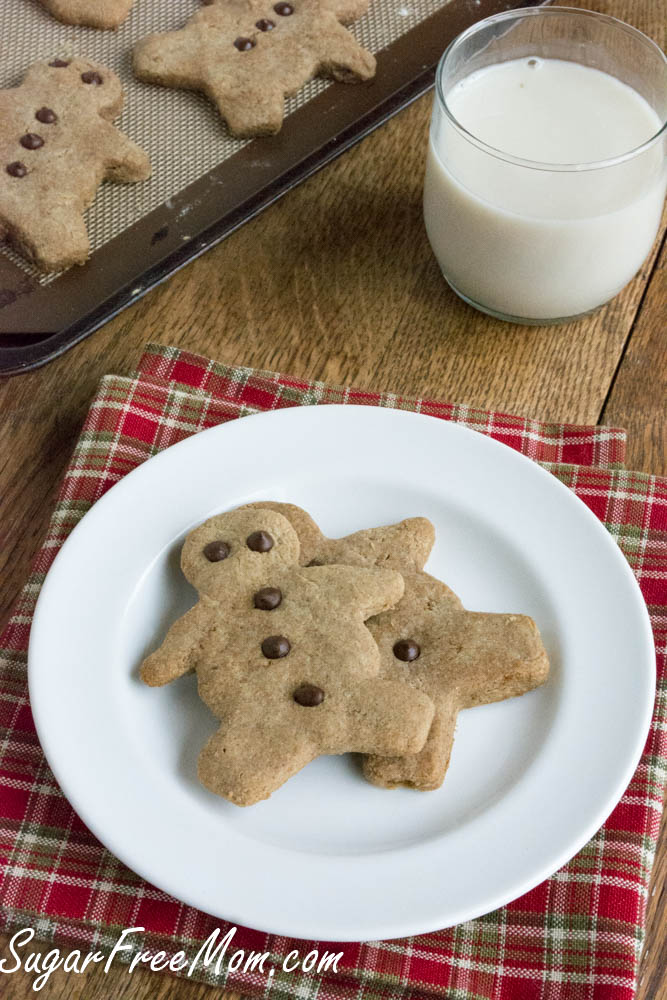 I let my kids add the eyes and buttons to the gingerbread men because: 1. I didn't feel like making sugar free buttercream frosting again and 2. We had all ready made frosted sugar cookies and needed something different for our cookie tray. 🙂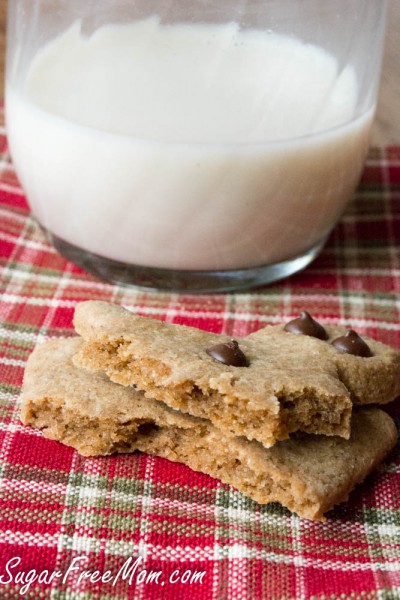 They are quite delicate so watch out if you do decide to frost them because the little legs may break easily. But with delicateness comes a tender and perfectly textured cookie. By far this is my families favorite cookie yet! Even the picky hubby was impressed!
Brenda's Notes:
I've often just ground unsalted raw sunflower seeds in my food processor for many of the recipes I've made so far, but have found buying it all ready ground is better and I've purchased it on Amazon. I live in RI so I am not allowed to receive Amazon affiliate sales from mentioning it or if you purchase it. You can still just grind sunflower seeds but if you overground you can end up making it into sunbutter like the texture of peanut butter so try to just pulse the seeds until they are as fine as you can get them without over processing.
If you had have the cinnamon stevia, you could use plain liquid stevia or toffee flavor or vanilla flavored stevia would work nicely too.
Because of my youngest sons tree nut allergy I will not bring home almond flour nor have I made this recipe with almond flour, but I do believe it would work well as a substitute for the sunflower seed meal. Please let me know if you try it.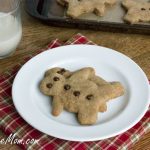 Print
Sugar Free Grain Free Soft Gingerbread Cookies
Instructions
Preheat oven to 350 degrees.

Place the first 6 ingredients into a stand mixer and blend on high until incorporated.

Whisk the rest of the ingredients together in a bowl.

Slowly pour the dry ingredients into the wet in the stand mixer.

Blend until combined. It will be sticky so place dough in plastic wrap and refrigerate for at least and hour.

Flour surface of counter with gluten free flour and your hands with flour then pat down dough or use a rolling pin until it's ½ inch in thickness.

Use cookie cut outs for gingerbread men and place on a silpat lined baking sheet.

Add chocolate chip eyes and buttons if desired.

Bake for 12 minutes.

Allow to cool for 10 minutes before removing gently from pan.

Makes 2 dozen.
Nutrition
Serving:
1
cookie
|
Calories:
126
kcal
|
Carbohydrates:
4
g
|
Protein:
3
g
|
Fat:
11
g
|
Saturated Fat:
3
g
|
Cholesterol:
23
mg
|
Sodium:
69
mg
|
Potassium:
106
mg
|
Fiber:
1
g
|
Sugar:
1
g
|
Vitamin A:
145
IU
|
Vitamin C:
0.2
mg
|
Calcium:
22
mg
|
Iron:
0.7
mg