This scrumptious Sugar Free, Low Carb Blueberry Coffee cake is also nut free, keto and gluten free!

Keto Blueberry Coffee Cake
Coffee cake is typically a cake with a streusel topping and served with coffee or tea. It rarely has any sort of frosting but occasionally can have an icing or glaze served over the top. The cake can be flavored with coffee, but it's not required to make a delicious, tender, comforting cake. Berries are also optional, but add a nice, sweet punch of color and burst of flavor in each bite. Making a keto coffee cake not only delicious, but nut free was no easy task, but with this fool proof method, you will have no trouble creating this masterpiece at home!
Is Coconut a Nut?
I'd like to clear up this constant question get asked almost daily about whether coconut is a nut. While the US Food & drug Administration (FDA) claims that coconut is a tree nut becomes it comes from a tree, it is in fact a FRUIT. People who have tree nut allergies may be allergic to coconut as well, but being allergic to coconut is not the same as having a tree nut allergy.
My own son was diagnosed with a Peanut and Tree Nut allergy at the age of 2. He has safely eaten coconut all these years without issue and he is now 14. Coconut is a fruit, called a drupe. It's like a peach with a pit.
The American College of Allergy, Asthma and Immunology says it well: "Coconut is not a botanical nut: it is classified as a fruit, even though the FDA recognizes coconut as a tree nut. While allergic reactions to coconut have been documented, most people who are allergic to tree nuts can safely eat coconut. If you are allergic to tree nuts, talk to your allergist before adding coconut to your diet."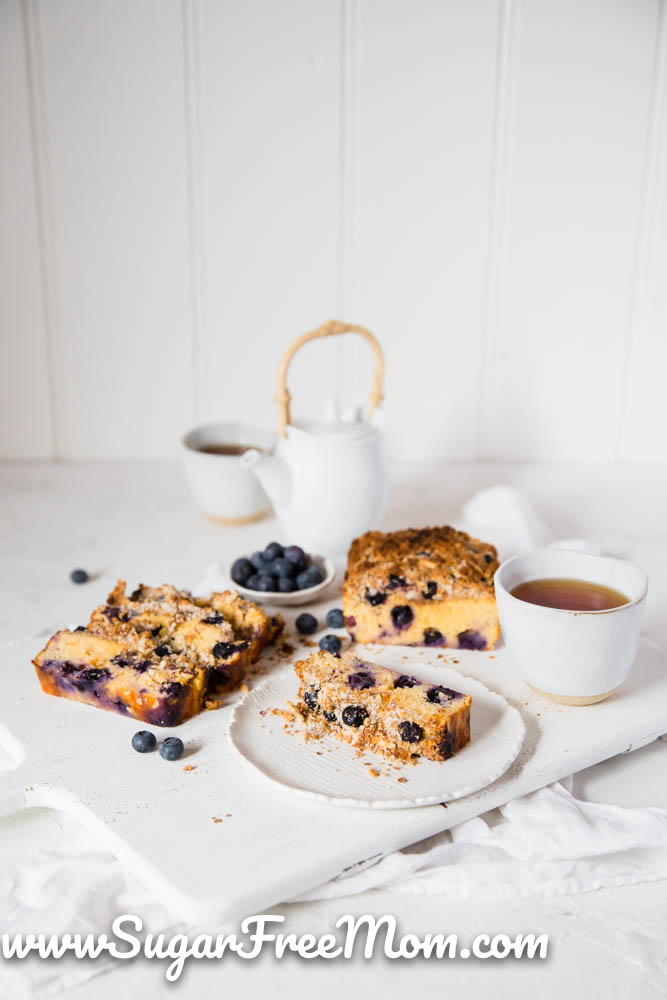 Keto Nut Free Coffee Cake
Now that we got the issue about coconut not being a nut, using coconut flour for this recipe was the best decision. You see if you've had a bad experience with coconut flour then of course, you'll be hesitant to try this. But I can tell you that you just had a crappy recipe and the ratios of liquid was off if you had a dense and dry outcome with coconut flour. Once you successfully use coconut flour in a recipe, you'll wish you had all along. Don't believe me? read the rave reviews for the following coconut flour recipes here on my blog. This Coconut Flour Bread tastes like a honey wheat bread. This Coconut Flour Pie Crust is an amazing, flaky crust you can use for sweet or savory recipes. These Coconut Flour Chocolate Chip Muffins are light, and airy and everyone loves them. I can guarantee, this Coconut Flour Coffee Cake is also going to get rave reviews!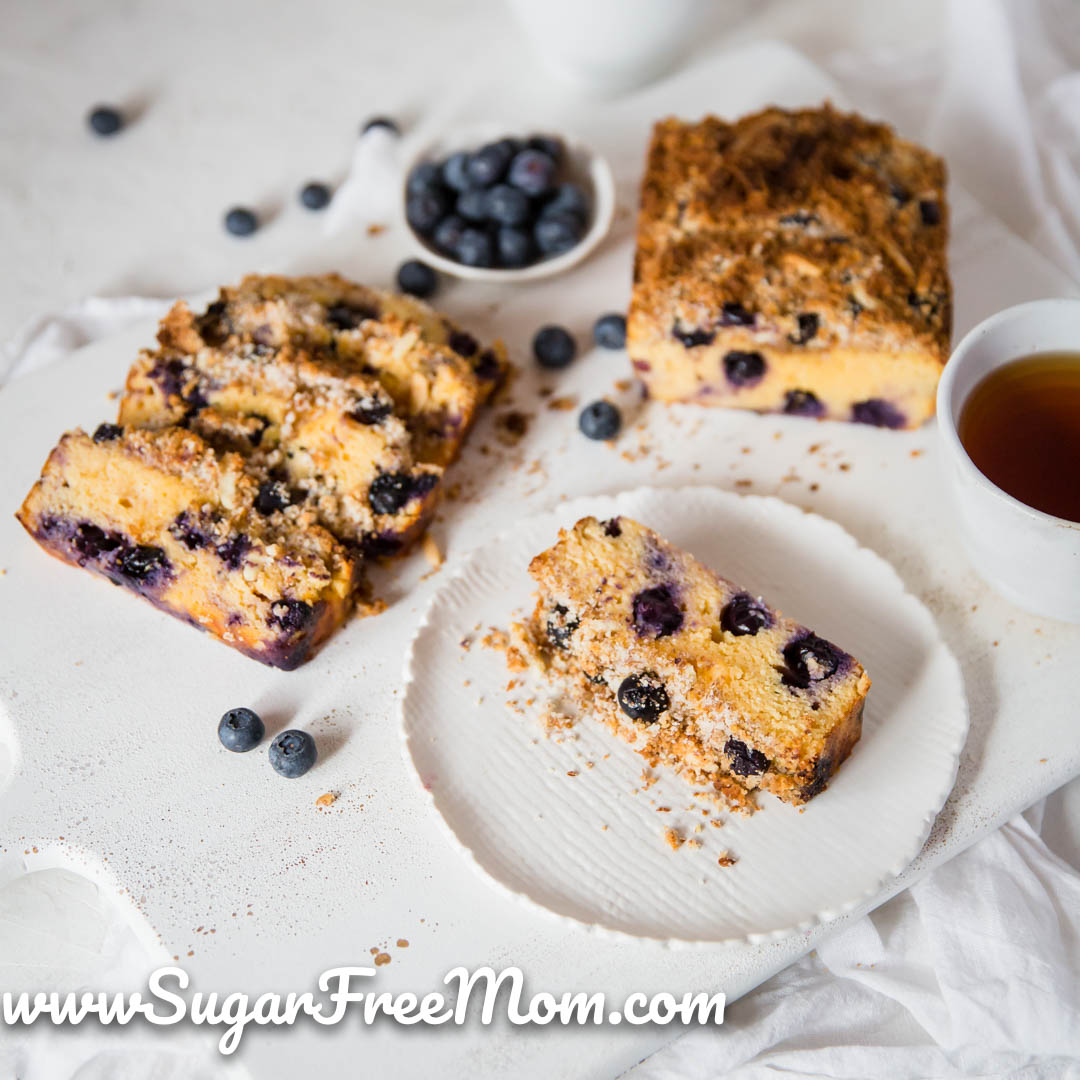 Meal Planning
Our membership is simple. You can subscribe for a month to try it out or you can subscribe for a yearly membership. Each Friday you will get a meal plan that comes to your email. You'll have that early in order to go food shopping before the meal plan begins on Sunday. You will be able to view and print the meal plan and the shopping list. If you don't like a meal, simply delete it and swap it with another meal you like. The shopping list will automatically adjust. It's the best software available out there for a customizable menu plan. Not many other low carb or keto meal plans allow you the option to remove, add, start with a blank menu and create your own if you so wish. Learn More about our meal plans!
Sugar Free Keto Blueberry Coffee Cake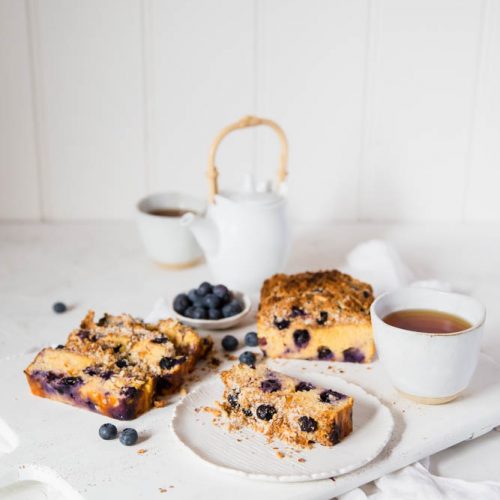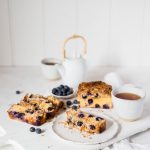 Print
Keto Blueberry Coffee Cake
Perfect to serve warm alongside a cup of coffee any time of the day. This coffee cake is not only keto, it's nut and dairy free too.
Ingredients
Streusel:
¼

cup

coconut flour

1

ounce

flaxmeal

golden

1

tablespoon

Swerve granulated

1

tablespoon

coconut oil

1

tablespoon

slivered almonds

optional
Instructions
Place the egg whites and cream of tartar into your stand mixer bowl and add the whisk attachment. Whisk until stiff peaks form.

In a separate bowl, beat the maple syrup, Swerve and coconut oil together until they're creamy.

Gently mix in the egg yolks.

Add coconut flour, vanilla, apple cider vinegar, baking soda, salt and zest to the mixture. Beat until combined.

Fold the egg whites into the batter very gently, working in batches.

Spoon half of the batter into the loaf pan and scatter half of the blueberries on top.

Pour the remaining batter over the top and smooth the top down. Scatter the rest of the blueberries on top.

Place the streusel ingredients into a small bowl and rub the coconut oil through with your fingertips until it resembles large crumbs. Scatter over the top of the cake.

Bake for 45 minutes until cooked in the center.

Store, wrapped in cling wrap or foil, for up to five days. Cake will soften over time but can be lightly toasted to freshen. Can be sliced, wrapped and frozen.
Nutrition
Serving:
10
servings
|
Calories:
148
kcal
|
Carbohydrates:
7
g
|
Protein:
4
g
|
Fat:
11
g
|
Saturated Fat:
8
g
|
Cholesterol:
74
mg
|
Sodium:
141
mg
|
Potassium:
106
mg
|
Fiber:
4
g
|
Sugar:
2
g
|
Vitamin A:
108
IU
|
Vitamin C:
1
mg
|
Calcium:
18
mg
|
Iron:
1
mg