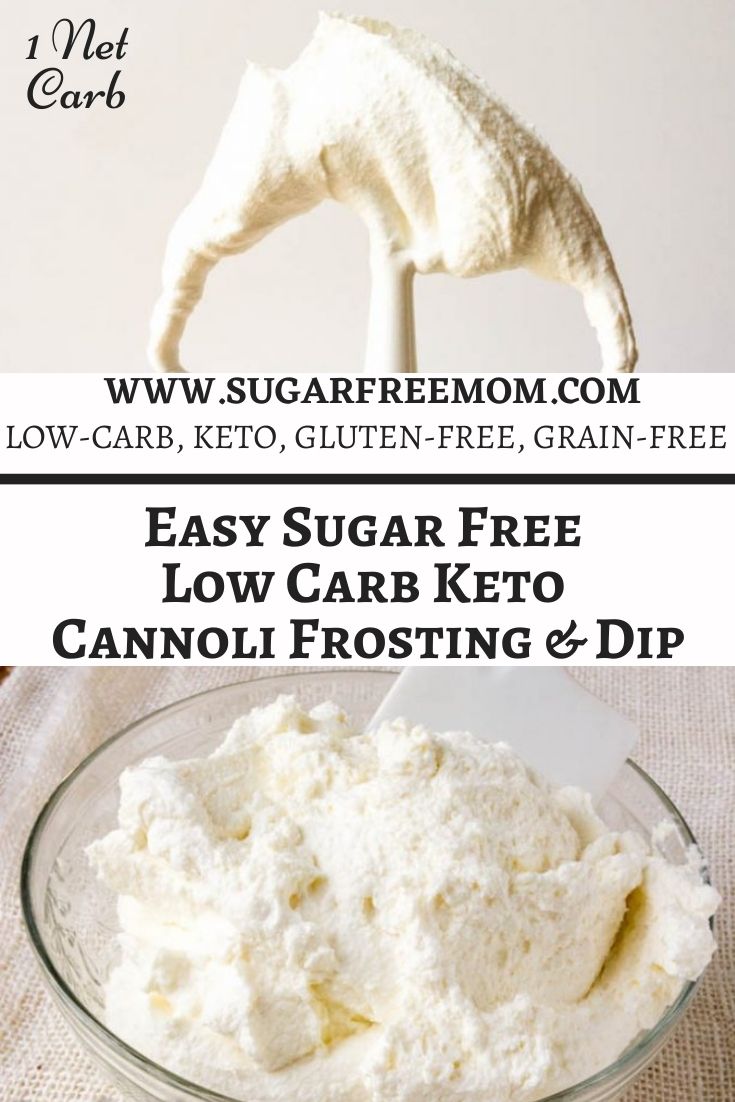 Sugar Free Low Carb Cannoli Frosting is a fabulous combination of two kinds of cheeses, with whipping cream and low carb sweetener, just 4 ingredients! The carb count is just 1 gram for a 1 ounce serving!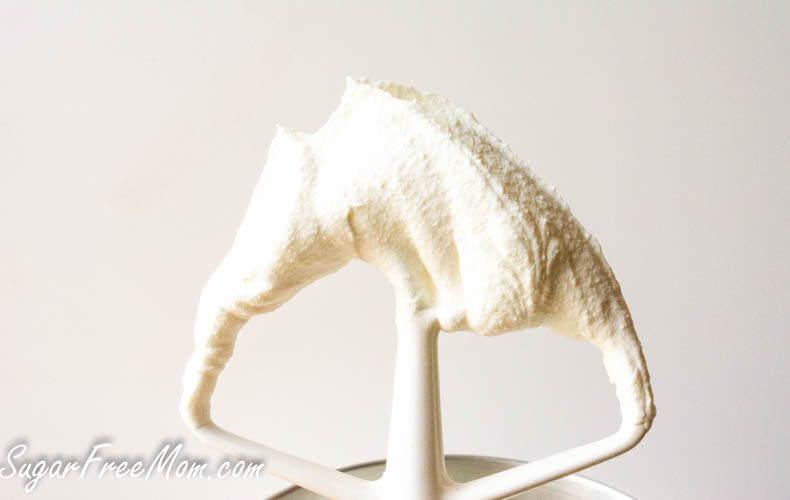 Sugar Free Cannoli Frosting
All things creamy, cool and smooth is what makes the low carb dessert world turn, especially when decorating keto cakes and sugar free filling for luscious pastries!
Whenever I head to my local grocery store, I always pass the pastry aisle on my way to the fresh vegetables, I think they have the market set up like that on purpose for those impulse buys.
It's a good thing, I'm never tempted but I do like to look which gives me ideas to create keto versions.
I have noticed that they now sell the pizzelle cookies with a cannoli dip. So once I saw that, I knew that sweet ricotta dip needed to be made sugar free!
Carbs in Classic Cannoli's
According to the app Cronometer, a 3.5 inch long cannoli, about 85 grams has 29 g total carbs.
Carbs in outer shell only, no cream, for a 1 ounce piece or 28 grams has 14.8 g total carbs.
The cannoli pastry cream alone would have 14.2 grams of total carbs.
Our keto cannoli pastry cream has just 1 g of carbs for one ounce, which is amazing!
I'm Sicilian Italian so cannolis are featured at most holidays. Once I stopped eating sugar and refined carbs in 2006 I knew that I wouldn't "cheat" because having just a little, once in a while, didn't ever work for me.
I had tried to moderate for years, but becoming an abstainer worked much better for me to stay the course and in the end, my cravings were finally gone. The key with this lifestyle is to find what works best for you.
You can read all about my story in my new book, The 30 Day Sugar Elimination Diet which also offers a 30 day sugar free meal plan with delicious foods!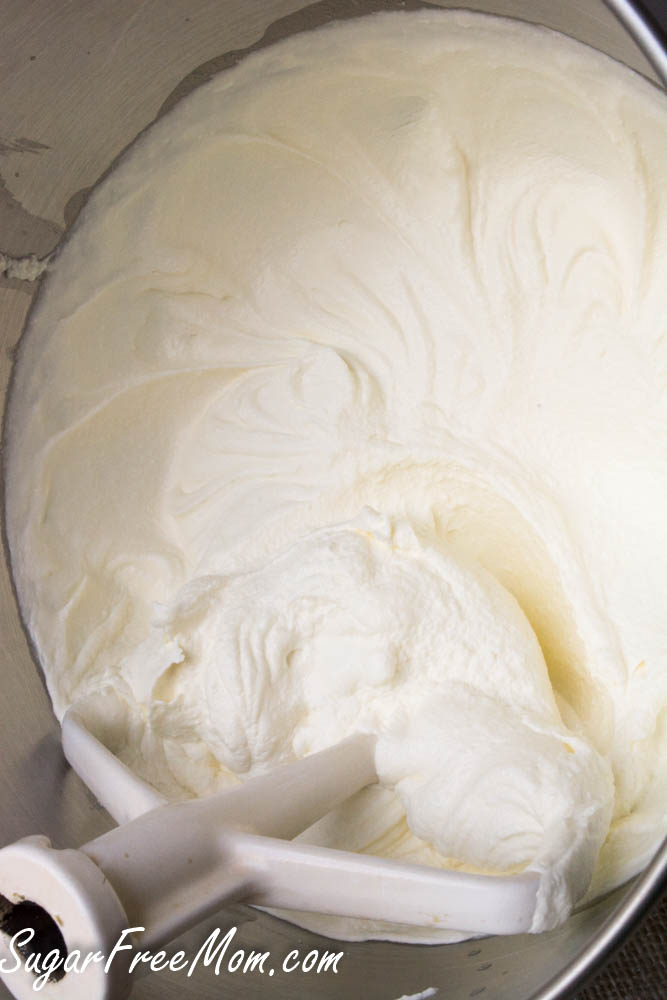 Keto Cannoli
This sugar free frosting is a little twist on a cannoli filling made sugar free, keto and low carb, of course.
You can enjoy it as a festive dip with low carb cookies or use this pastry cream recipe in low carb cannoli shells or use for decorating cupcakes and cakes.
Since adopting a low carb lifestyle, I really wanted to adapt all my Italian favorite desserts so I never feel FOMO (fear of missing out).
I have finally conquered making a traditional cannoli shell, sugar free and low carb, but I saved this amazing keto cannoli recipe for my cookbook, Naturally Keto.
You will also be happy to know, I did not use almond flour since my youngest son has a tree nut allergy and I know many of you appreciate my tree nut free recipes.
I even made pizzelle cookies for my cookbook, Naturally Keto. I do have cannoli mug cake recipe that will blow your mind.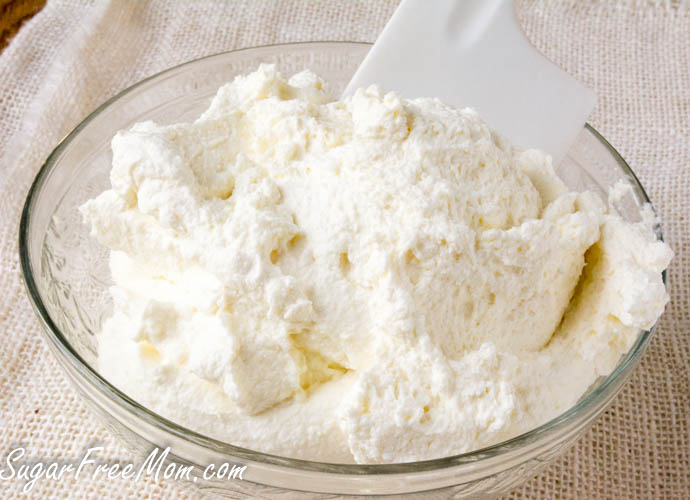 But I decided to share this delicious creamy filling on my blog for everyone to enjoy! With this frosting even non bakers will be making this without trouble and I believe even those not on a keto diet will also love this great recipe!
Best part is, I took the mug cake and frosting as a sweet snack to a family dinner party with many of my Italian relatives. No word of a lie, they said it tasted just like traditional Italian cannoli cream! Score!!!
What to Serve with Cannoli Dip
You can really use this on anything you want and in fact you could eat a small serving in a bowl like a dip and top with some fresh berries or sugar-free chocolate chips and call that dessert if you like, no cake needed lol!
Use like a dip with low carb cookies!
Probably not so fair to just share this awesome frosting today but it needed it's own page, it is THAT good. It definitely hits the spot when your sweet tooth is calling! Here's the Cannoli Mug Cake I'm placing it on!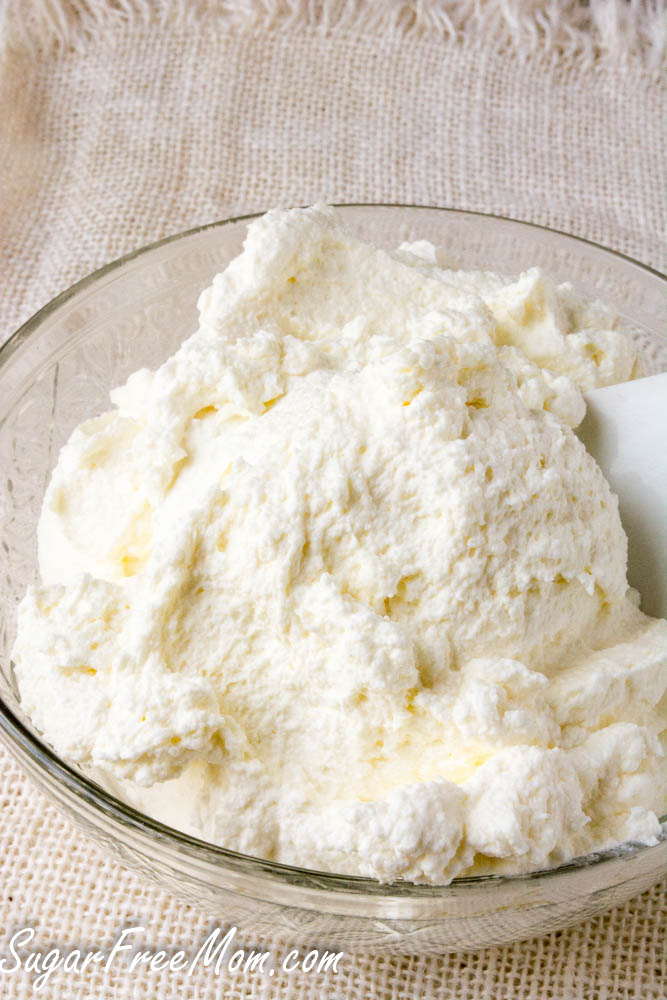 FAQs
Can I use Part-Skim Ricotta?
You could swap the full fat ricotta with part skim ricotta if you prefer. I don't think it will alter the texture of the dip, but I do think it will taste more like delicious cannoli cream if you use full fat ricotta.
Can I use fat free cream cheese?
As i mentioned with the ricotta, you could swap out the mascarpone with a low fat cream cheese but I don't think it will be as tasty of a sweet treat classic cannoli cream recipe if you make it lower in fat.
Can I swap the ricotta with cottage cheese?
You could probably do that, thought it won't have the same consistency, but it will add more protein. I'd recommend using full fat cottage cheese.
Can I replace the heavy whipped cream with almond milk?
No I would not recommend swapping the heavy cream with almond milk because it doesn't have enough fat like heavy cream and the result would not be a thicker dip as with ricotta cream.
Can I replace the vanilla stevia?
If you don't like stevia, you can use another low carb sweetener. I'd recommend Swerve sweetener, but in the confectioners style, not granulated which will make the cannoli cream mixture grainy and unappetizing.
More Easy Keto Frosting Recipes
Strawberry Whipped Cream Frosting
2 Ingredient Chocolate Frosting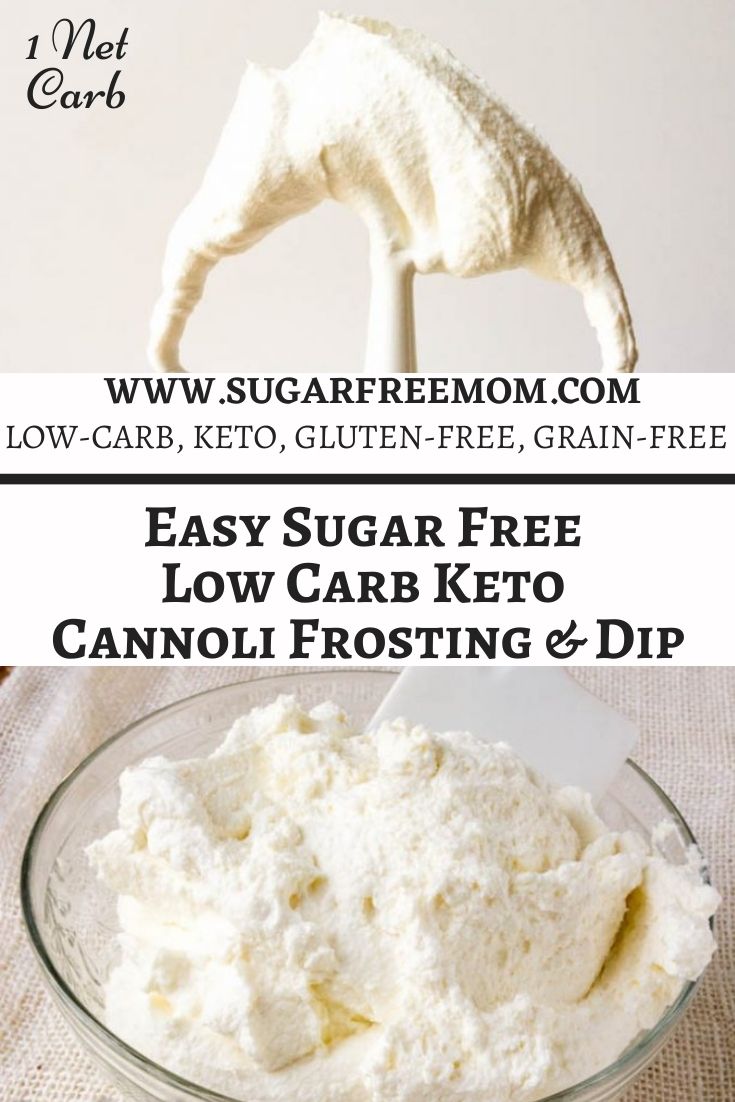 Sugar Free Keto Cannoli Dip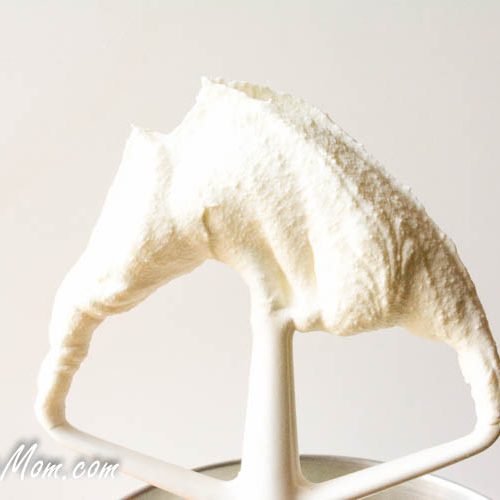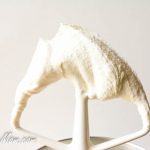 Print
Sugar Free Cannoli Frosting Dip
Ingredients
8

ounces

ricotta cheese

8

ounces

mascarpone cheese

or cream cheese

4

ounces

heavy whipping cream

vanilla liquid stevia

to taste
Instructions
Place all ingredients into a stand mixer.

Blend on high until mixture is a thickened smooth consistency.

Taste and adjust the stevia or sweetener of choice.

Makes 3 cups.

Decorate or keep refrigerated until ready to use.
Notes
Recipe makes 24 ounces. Serving size is 1 ounce.
This recipe was first published in August 2015.
Nutrition
Serving:
1
ounce
|
Calories:
67
kcal
|
Carbohydrates:
1
g
|
Protein:
1
g
|
Fat:
6
g
|
Saturated Fat:
4
g
|
Cholesterol:
11
mg
|
Sodium:
15
mg
|
Sugar:
0.3
g
|
Vitamin A:
132
IU
|
Calcium:
28
mg