Easy Sugar-Free, Keto, Nut Free, Low Carb Blueberry Scones!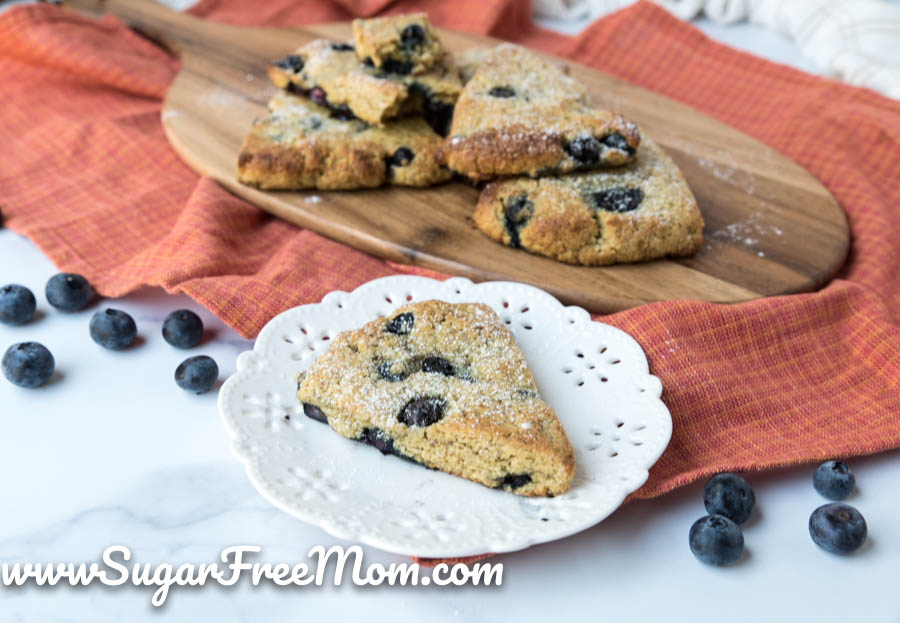 Keto Blueberry Scones
Scones scream brunch and relaxing weekends to me! I'm all about a great cup of coffee and a perfectly tender, slightly sweet but not too sweet, freshly baked, warm scone with a bit of butter over the top once out of the oven! If you're into decadent breakfasts like this, you are going to drool over these keto blueberry scones. Once you make these nut free, keto scones, you will never feel like you're missing out on anything from your previous high carb days!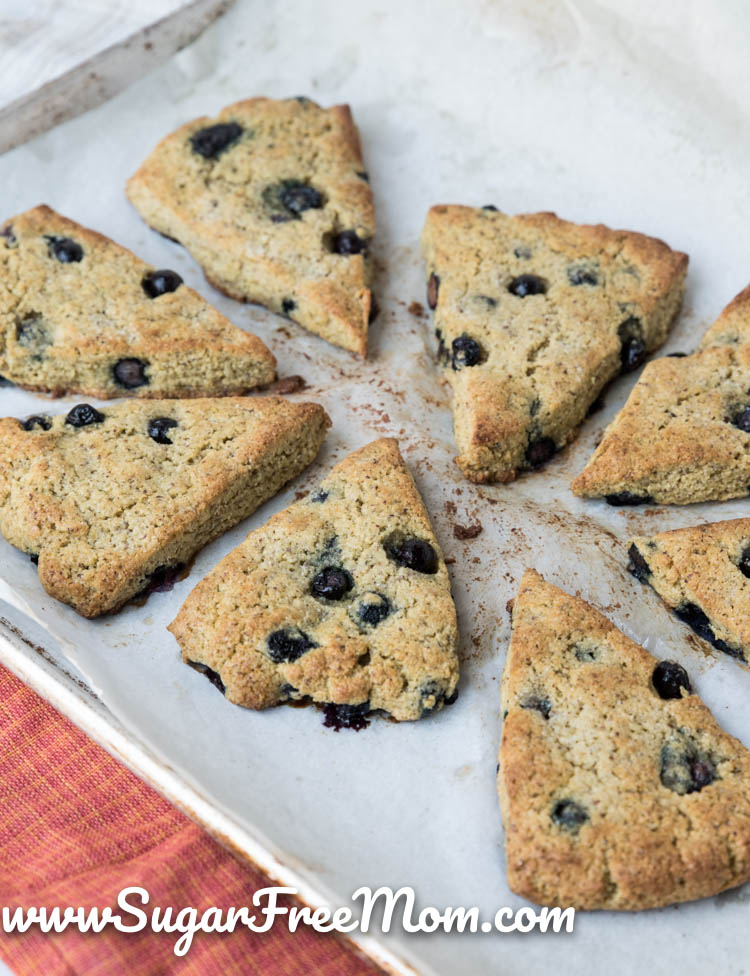 Sesame flour versus Almond Flour
Creating keto recipes that are also nut free, has been a long time quest since we discovered my youngest had a peanut and tree nut allergy. Using coconut flour works well in many recipes but is difficult to swap for those who still want to use almond flour instead. Often only ¼ cup coconut flour will equal 1 cup almond flour and you also need to adjust eggs and liquids to make it work. But once I started using sesame flour, it opened up a whole new world of possibilities with my keto recipes. Often sesame and almond flours can be equally swapped without having to increase or change out eggs and liquids. You can also use sunflower seed flour but the only trouble with that is when working with a recipes that requires baking powder and baking soda, it will cause a chemical reaction due to the natural chlorophyll in the sunflower seeds and can produce a green tint to you baked goods. I prefer sesame and this keto scone is the perfect texture. This recipe was adapted from my Vanilla Bean Scones from my cookbook Naturally Keto.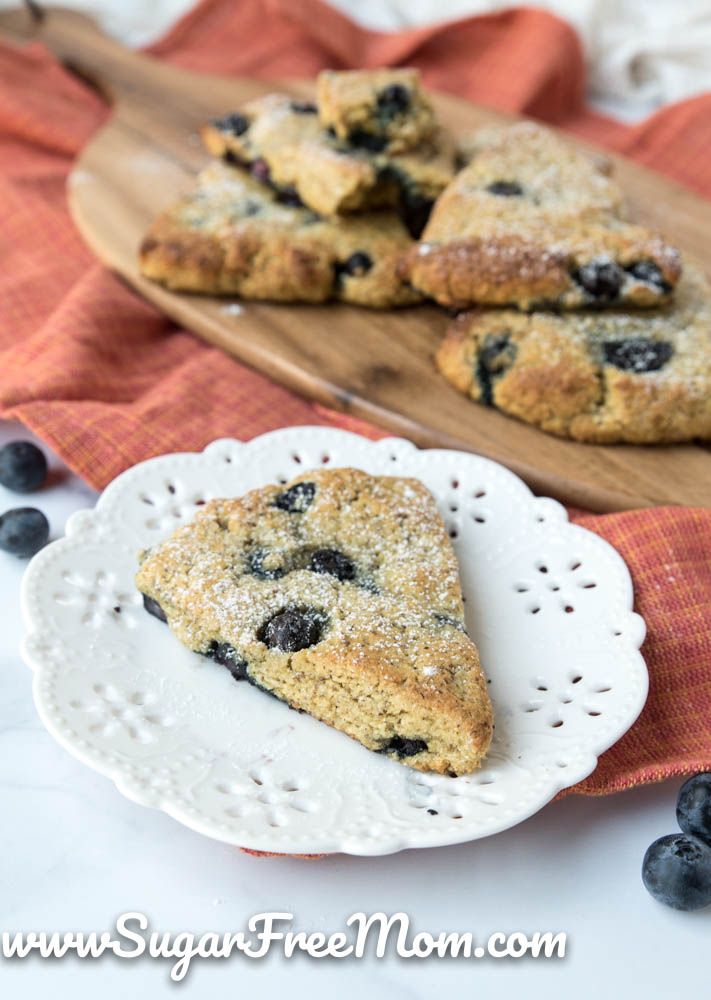 Tools to Make Keto Scones
Food Processor- This processor makes it quick and easy to combine and cut the cold butter quickly into the batter for these tasty keto scones.
Baking Sheet Pan- A large baking sheet is best for this keto scone recipe so have enough room to separate the triangles when they bake.
Mixing Bowl- After using the processor it's best to mix in the blueberries by hand so you don't mash them as the processor would do.
Pizza Cutter- Greasing your pizza cutter helps to easily slice the keto scones into triangles.
Spatula- Lift each scone away from each other using this flat square spatula. Grease it as well for easy lifting and no sticking!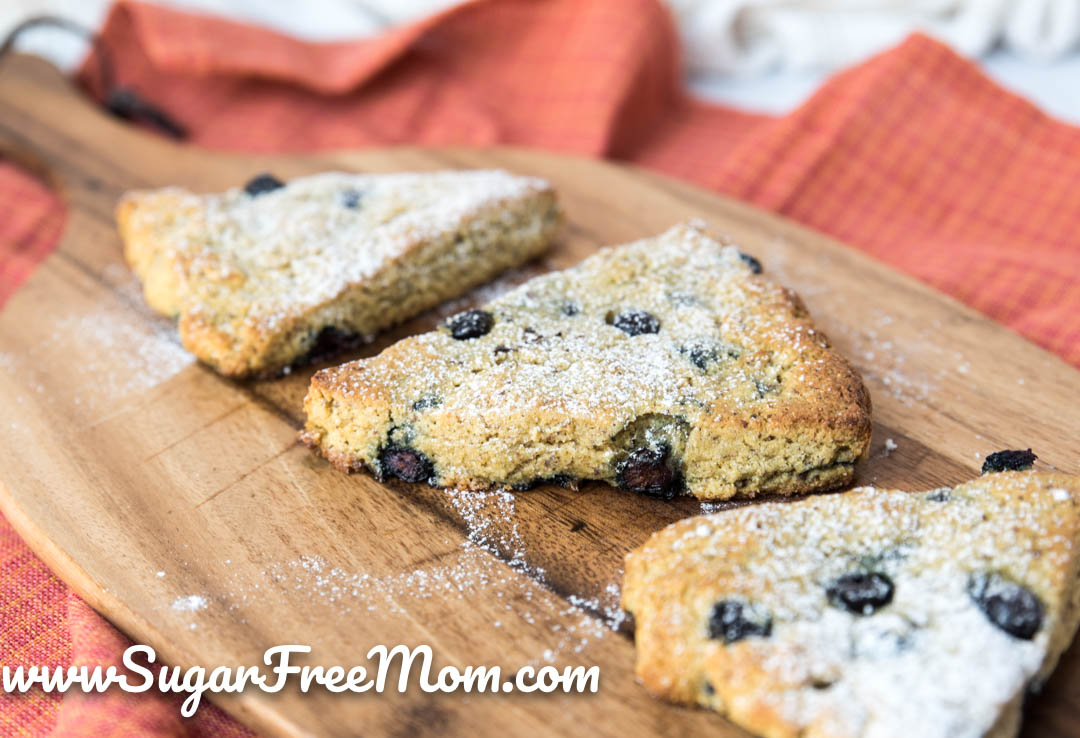 Low Carb Keto Meal Planning
Our membership is simple.
You can subscribe for a month to try it out or you can subscribe for a yearly membership. Each Friday you will get a meal plan that comes to your email. You'll have that early in order to go food shopping before the meal plan begins on Sunday. You will be able to view and print the meal plan and the shopping list. If you don't like a meal, simply delete it and swap it with another meal you like. The shopping list will automatically adjust. It's the best software available out there for a customizable menu plan. Not many other low carb or keto meal plans allow you the option to remove, add, start with a blank menu and create your own if you so wish. Learn More about our meal plans!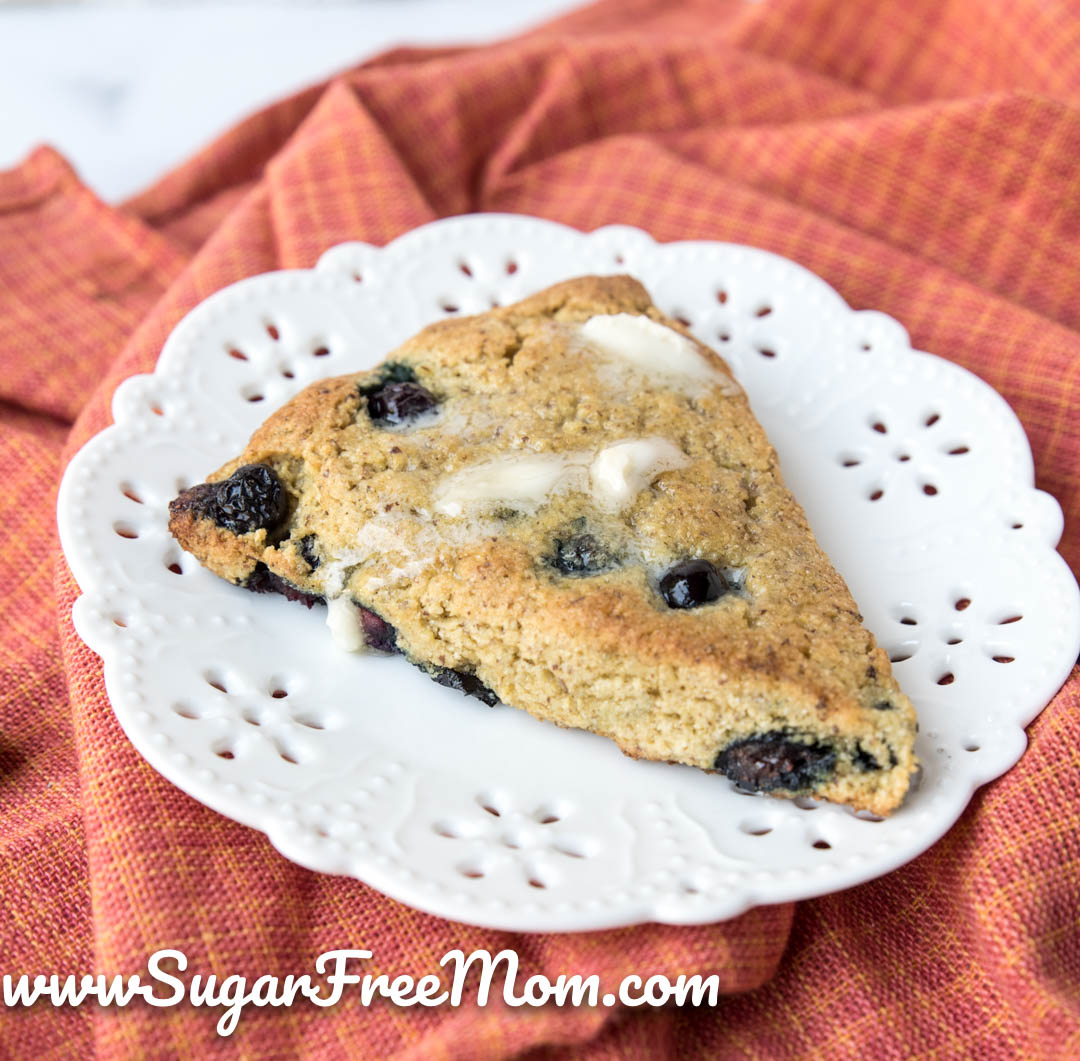 More Breakfast Recipes you might like:

Keto Blueberry Lemon Scones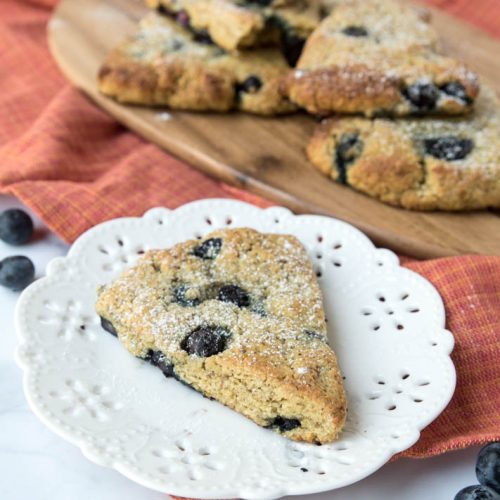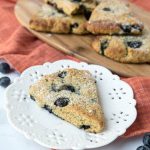 Print
Keto Blueberry Lemon Scones (Nut Free, Gluten Free)
This recipe is an adaption from my Vanilla Bean Scones in my cookbook, Naturally Keto.
Instructions
Preheat the oven to 375 degrees F. Line a sheet pan with parchment paper.

Place the sesame flour, swerve, flaxseed, gelatin, baking powder, baking soda, xanthan gum, and salt in a food processor and process until combined.

Add the butter to the processor and pulse until the mixture looks like crumbs.

Add the cream, eggs, lemon juice, and lemon stevia and process until a dough forms. Remove from the processor and place in a bowl. Stir in the blueberries by hand then place on lined sheet pan.

Wet your hands with water and form the dough into a circle about an inch thick. Lightly grease a pizza cutter or knife and cut the circle into 8 triangles. Grease a spatula and use it separate the triangles so they are not touching.

Bake 15-17 minutes, or until slightly golden. Let cool for about 10 minutes and enjoy with a dusting of confectioners erythritol over the top if desired.
Nutrition
Serving:
1
scone
|
Calories:
159
kcal
|
Carbohydrates:
7
g
|
Protein:
10
g
|
Fat:
11
g
|
Saturated Fat:
6
g
|
Cholesterol:
56
mg
|
Sodium:
317
mg
|
Potassium:
178
mg
|
Fiber:
3
g
|
Sugar:
1
g
|
Vitamin A:
244
IU
|
Vitamin C:
2
mg
|
Calcium:
73
mg
|
Iron:
1
mg