These Scrumptious Low Carb Blueberry Muffins are Dairy Free, Gluten Free, Grain Free, Keto and perfect to make ahead for breakfast on the go!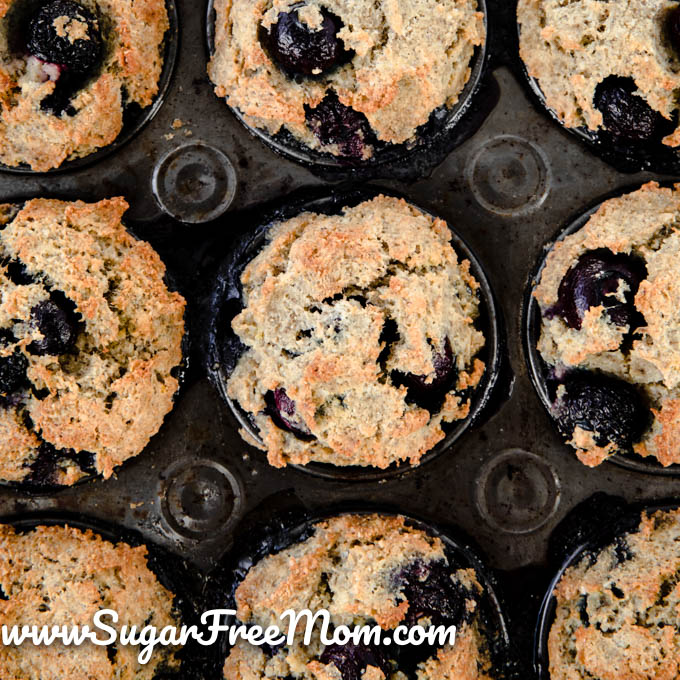 Low Carb Blueberry Muffins
What better way to start the day than with a delicious breakfast muffin! I love these keto muffins so much because not only are they sugar free, but you also don't need to add any sweetener if you don't want to.
The fruit is enough to sweeten them naturally, meaning they're one of the healthiest breakfast options.
Don't fancy for breakfast? They make a mean on- the- go snack for work! These low-carb blueberry muffins are made with coconut yogurt for a dairy free keto alternative, but feel free to use high fat greek yogurt if you prefer.
A classic you'll want to make time and time again.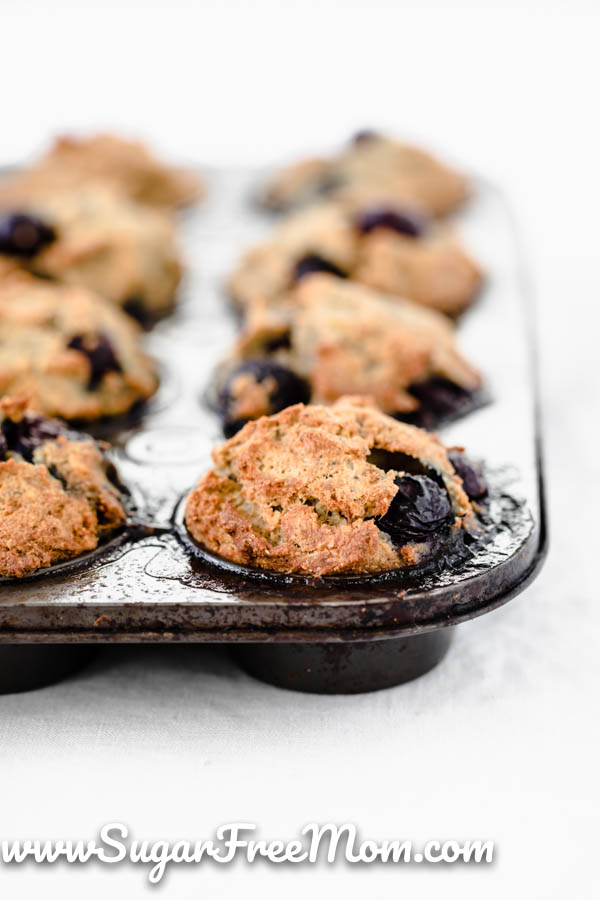 Dairy Free Muffins
I've got another great low carb muffin recipe on my blog as well but it's not dairy free. My Chocolate Chip Muffins are pretty fantastic but having sour cream in them makes it difficult for those, even my own daughter to enjoy them.
Over the last year my daughter has been dealing with stomach issues so one of the first things we did was remove dairy as I know it is usually the culprit. It worked for her so adjusting my meal plans and recipes for her has been a big deal in our house.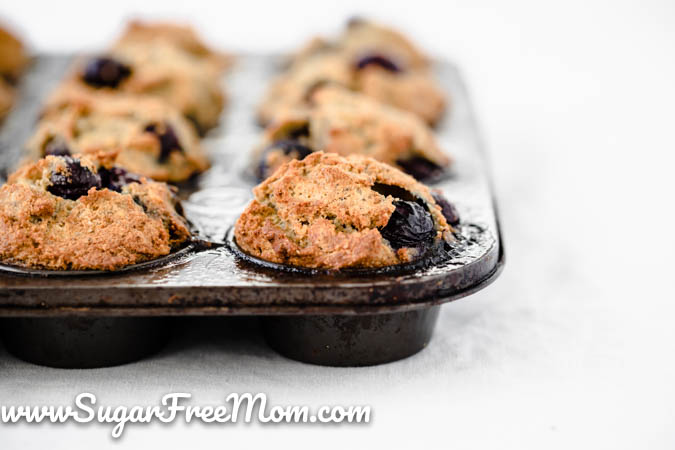 We're learning that some cheeses, like Manchego has very little lactose in it and that is one cheese she can tolerate. It's all a testing process when it comes to foods. You try one new thing or bring it back and see how it effects you then add something else after that. The key is one thing at a time or you'll never know what is the problem. The body is so complex but each obstacle we come through is more knowledge about ourselves just like myself dealing with the diagnosis of Chronic Epstien Barr and hypothyroidism.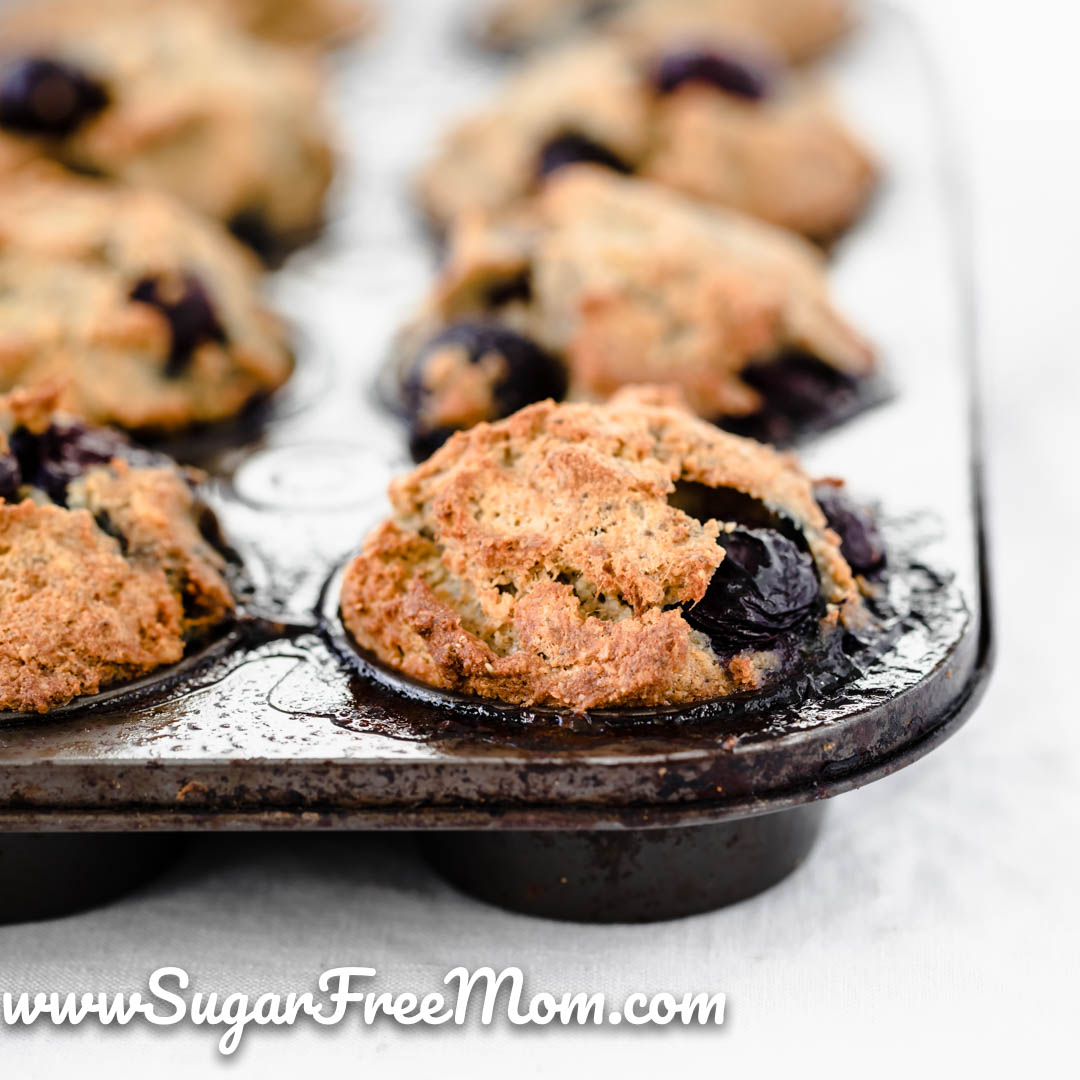 These are a perfect recipe to make on a Sunday as a meal prep idea to enjoy for the rest of the week ahead. These muffins as well as many other recipes are in my new meal planning feature on my website. Each week I send a dinner meal plan to your email if you sign up then you can look it over and decide if you'd like any changes. This software will allow you to swap out meals you don't really like, it will allow you to change serving sizes to fit your needs, and the entire shopping list will adjust even after you make those changes. There truly are not meal plan memberships out there that will allow you to make all these changes. Right now for just a few more days, the meal plan membership is 25%! I hope you'll take advantage of this amazing feature on my website.
Low Carb Blueberry Muffins (Dairy Free, Gluten Free, Keto)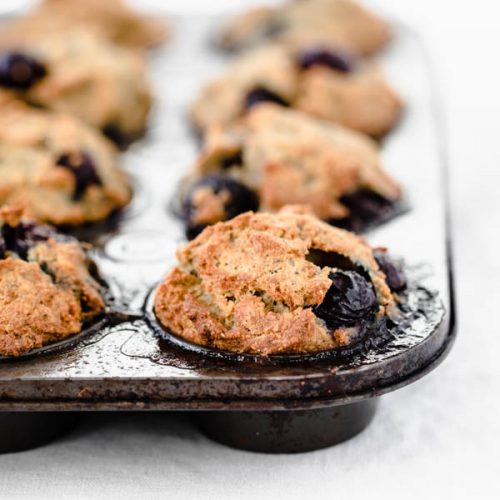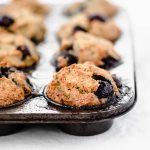 Print
Low Carb Blueberry Muffins (Dairy Free, Gluten Free, Keto)
Instructions
Preheat the oven to 175C / 350F / 155C fan assisted.

Separate the egg yolks from the eggs whites.

Mix the egg yolks, melted coconut oil (room temperature), lemon zest, juice and optional erythritol together in a mixing bowl.

Blitz the chia or flax seeds in a high speed blender. Add the almond and coconut flours, ground chia or flax, baking soda, coconut yoghurt and salt to the eggs. Mix to combine.

Whip the egg whites, either in a food processor or using an electric whisk. After 30 seconds add the cream of tartar or apple cider vinegar until light and fluffy with stiff peaks.

Fold the egg whites into the dough. Careful not to overwork as you don't want to flatten the mixture. Fold through the blueberries.

Line a non-stick muffin tray with a little coconut oil or if using muffin cases grease with a little oil to prevent sticking. Alternatively, you can use silicone cases.

Bake in the oven for around 30 - 35 minutes until golden on top and you can insert and remove a skewer without any crumbs sticking.

Allow to cool, approximately 10 minutes, then remove from the tin before serving.

Storage : room temperature for up to 4 days or freeze for 2 months
Nutrition
Serving:
1
muffin
|
Calories:
208
kcal
|
Carbohydrates:
10
g
|
Protein:
7
g
|
Fat:
17
g
|
Saturated Fat:
7
g
|
Cholesterol:
65
mg
|
Sodium:
158
mg
|
Potassium:
98
mg
|
Fiber:
4
g
|
Sugar:
3
g
|
Vitamin A:
105
IU
|
Vitamin C:
2
mg
|
Calcium:
61
mg
|
Iron:
1
mg
Jo is the creative food photographer and stylist behind the healthy eating blog, Modern Food Stories. Jo's a testament that once you find the right approach for you, you can overcome chronic illness through the healing power of food. She believes the secret to radiant health starts and ends with a healthy gut so all her recipes are grain, gluten and refined sugar free. Many are also dairy-free.