Keto Sugar Free Coconut Lime Bars made low carb and grain free!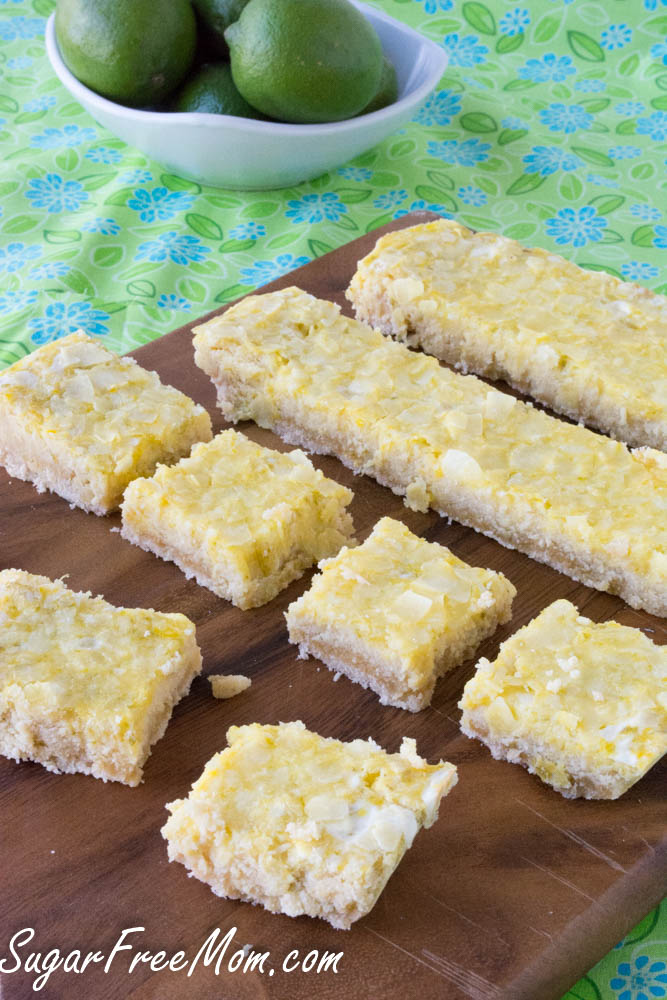 Coconut Lime Bars
OH the joys of moving.
It's so much fun to have to take your many years worth of STUFF and decide what you want to keep and what to let go of. Totally NOT fun in the least because we WANT to keep it all.
Our 7 years young house that we built on land we owned is on the market. Not because we don't absolutely love the house either.It's all about the location.
We don't have the acres of land my husband has always dreamed of and I don't have the chickens I'd love to have for the many dozens of eggs I go through on a weekly basis.
Speaking of eggs, this recipe just need a few ingredients and you've got yourself a fabulous, "take me away to a tropical island" kind of dessert!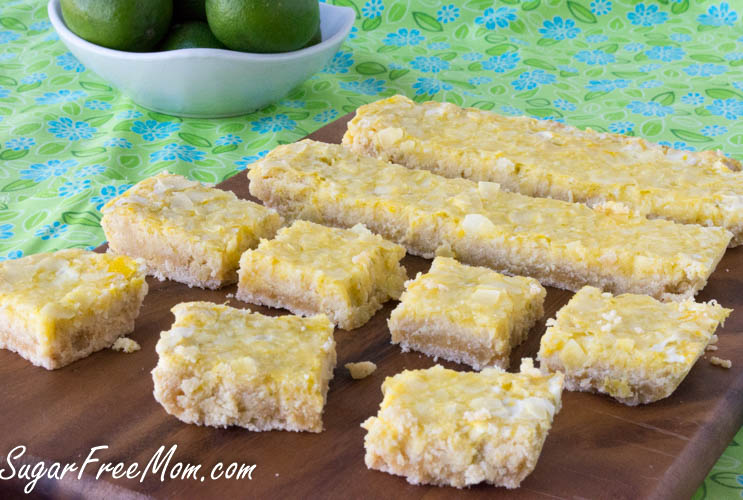 Location is everything. We wish we could pick up this house we love and move it to a different place.
We haven't yet found that place, but most likely we are not moving out of the state of Rhode Island. It's my hometown, born and raised here. My hubby has no family left other than his sister who lives with us. It's just my side of the family and my side lives in RI. I'm not ready to leave them or let my kids be without grandparents close by to see often.
So we're packing things up to declutter the house and hope and pray it sells so we can find a piece of property with some good amount of land.
A little piece of paradise, a little bit of heaven on earth.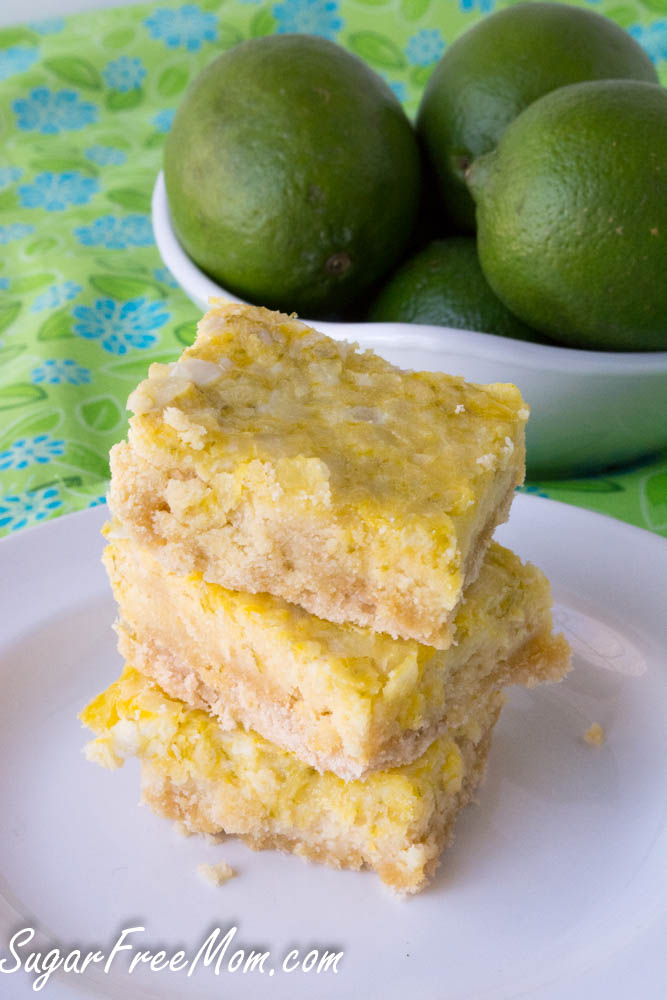 A country setting, a peaceful quiet location. That's what I want.
A place where I can sip my coffee on a cool, brisk morning or on a hot afternoon enjoy some freshly squeezed lemonade on my porch swing like I did when I was a little girl with my grandmother.
That's what I need. So my kids can ride their bikes without worry of traffic.
That's my hope and prayer.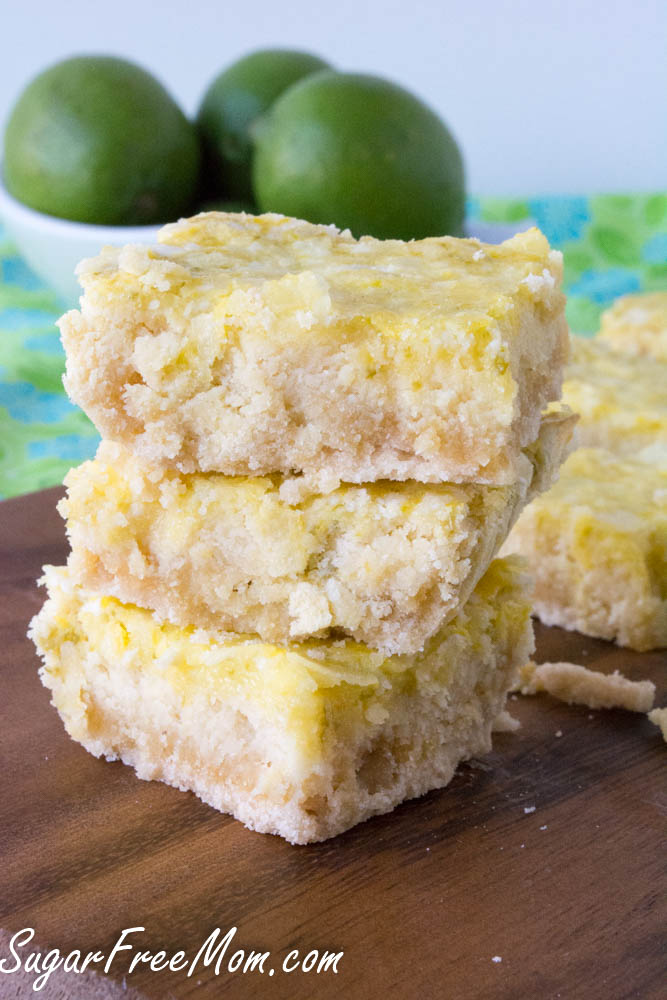 Until then making recipes like this one might bring you a little piece of the tropics in your mind. In just one bite of these sweet and tart bars you will be transported to tropical place.
It's a little like a shortbread cookie crust on the bottom with a soft top layer.
A match made in heaven.
That's all we want on a low carb diet isn't it? .
Other Lime Desserts you might enjoy:
Sugar Free Coconut Lime Bars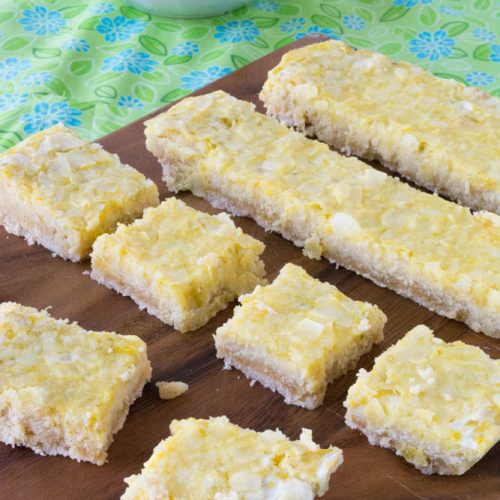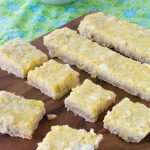 Print
Sugar Free Coconut Lime Bars
Instructions
Preheat oven to 350 degrees.

Line an 8 by 8 baking dish with parchment paper.

Whisk the coconut flour, sesame flour, ¼ cup Swerve together and salt.

Cut the coconut oil into the dry ingredients with two butter knifes or use food processor and pulse until combined.

Press this mixture onto the parchment paper and spread as evenly as you can with your hand.

Bake for 10 minutes.

While the crust is cooking, beat the eggs, lime juice, zest, remaining 1 cup Swerve and coconut stevia.

Once the crust is done, remove from oven and pour this egg mixture onto the crust.

Sprinkle coconut flakes evenly over the top and bake for 12-15 minutes or until the center is set.

Allow to cool for 10 minutes then remove by lifting the ends of the parchment paper and place onto a cutting board.

Slice into bars and enjoy!

Best if kept refrigerated.
Notes
This recipe was first published in April 2015 and updated with video in April 2019.
Net Carbs: 2g*
Nutrition
Serving:
1
bar
|
Calories:
86
kcal
|
Carbohydrates:
4
g
|
Protein:
3
g
|
Fat:
6
g
|
Saturated Fat:
4
g
|
Cholesterol:
40
mg
|
Sodium:
63
mg
|
Potassium:
31
mg
|
Fiber:
2
g
|
Vitamin A:
65
IU
|
Vitamin C:
2.4
mg
|
Calcium:
7
mg
|
Iron:
0.2
mg