This Sugar-Free Low Carb Sponge Cake is also keto, gluten free and nut free with all the traditional flavors and textures of a sponge cake.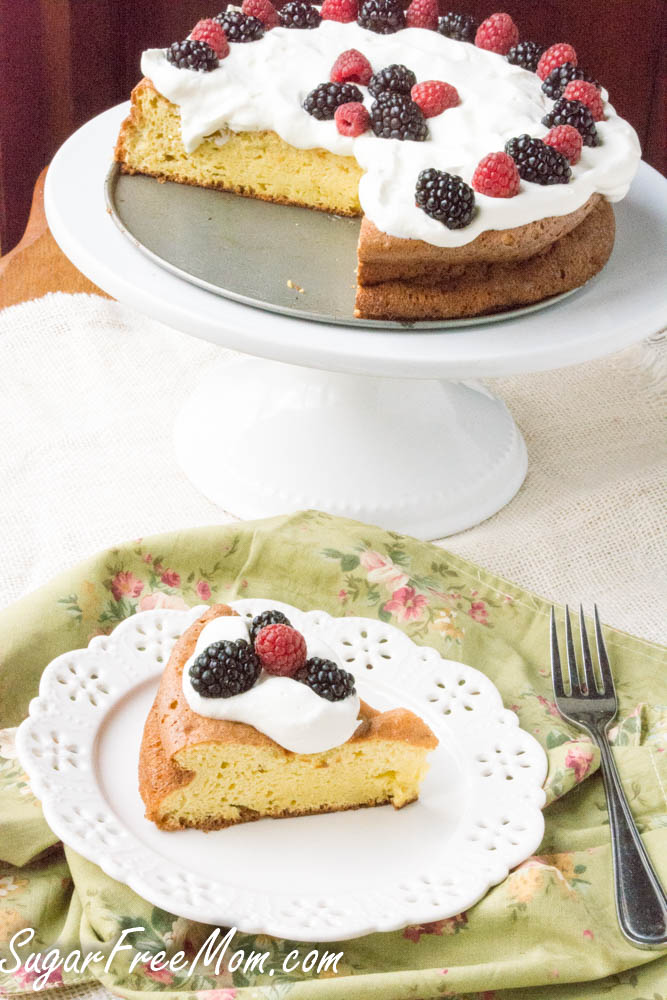 Low Carb Sponge Cake
A sponge cake is basically just a very light and airy cake made with eggs, flour and sugar, but this recipe is low carb and just as delicious as it's higher carb cousin!
This Low Carb Cake is a masterpiece made grain free, gluten free, nut free and just around 100 calories per slice with less than 1 gram of carbs!!!!!
Funny thing is, making this sponge cake was never my intention. I was trying to make an angel food cake. And after 4 attempts of it deflating I just gave up and adapted my recipe to include yolks and turn a failed recipe into a winning one!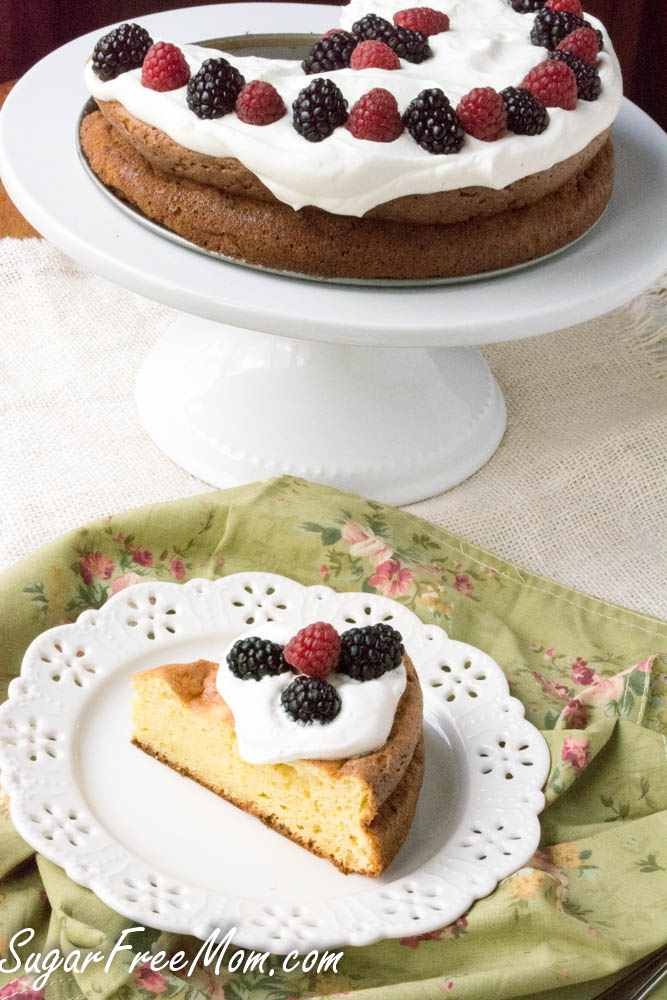 Don't you love when the unexpected happens and turns out better than you would have thought or imagined?
Yep. Some recipes are like that for me. This one is beyond good.
Better than I would have expected considering it's made without grains and gluten and sugar.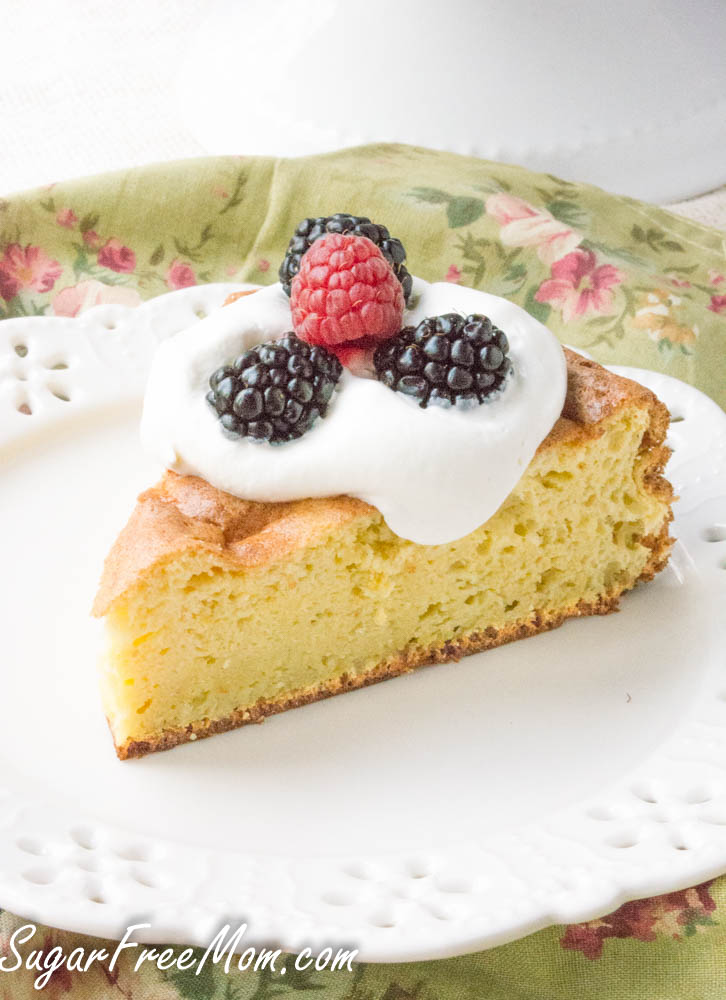 I want to note that although the angel food cake had 4 failing attempts, the family still ate it all up. The taste was incredible. The height was another story. But I will attempt again!
So with that I set my heart on the sponge cake and of course it came easily and without any angst on my part. No height needed in this beauty. It is perfect as is. A soft, light, and airy sponge cake.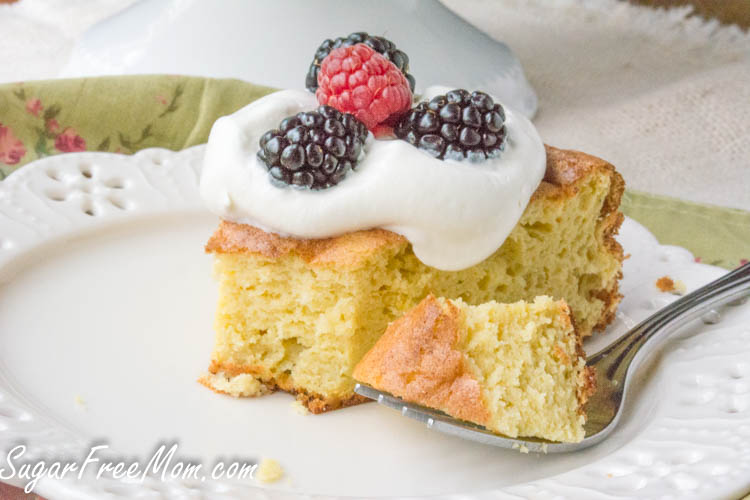 After completely cooling I added some sugar-free whipped cream and fresh berries. Since there were left overs after each of my 3 kids and hubby and I had a piece, I needed to refrigerate it. If I hadn't added the topping I probably could have left it out on the counter.
Guess what? It tasted even better the next day.
In fact these last two pics are straight from the fridge. The chilling time made it a bit more dense but the spongey texture was still just perfect.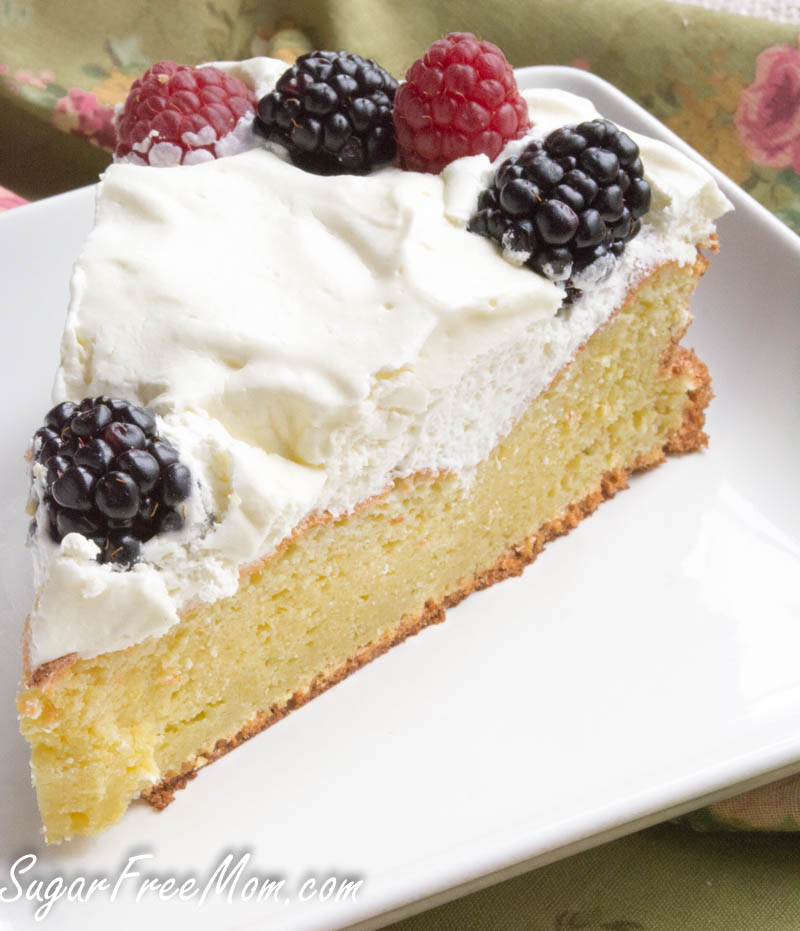 Tools to Make Keto Sponge Cake
Stand Mixer- Helps whip egg whites to perfect stiff peaks in no time at all!
or Electric Hand Mixer- If you don't want to spend the money on the stand mixer, this is the next best thing to whipping up egg whites in no time!
8 inch Spring Form Cake Pan-This spring form pan is not only helpful for this cake recipe and easier removal of it than using a regular cake pan, but it works well forLow Carb Cheesecake and my Carrot Cake and just about any other dessert you want to make.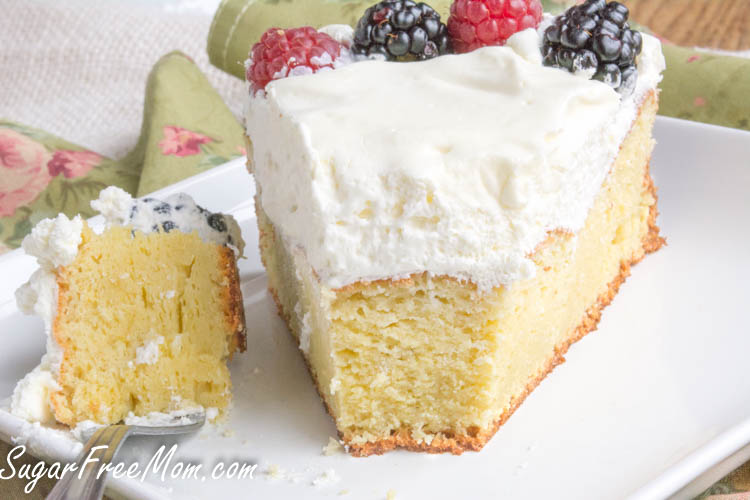 It's an easy cake, don't let egg white whipping scare you. This comes together without a problem and the batter is light enough to fold the egg whites into.
Wonderful idea for Mother's Day I think!
Brenda's Notes:
If you don't have Swerve and are using another granulated or confectioners sugar free sweetener I would eliminate the vanilla stevia. Swerve is much less sweet than most other sugar free substitutes.
You don't need to use a vanilla protein powder, plain is fine, that is just what I had in my cupboard.
Other Mother's Day recipes you might like: Carrot Cake Cheesecake, Almond Ricotta Cake, Coffee Cheesecake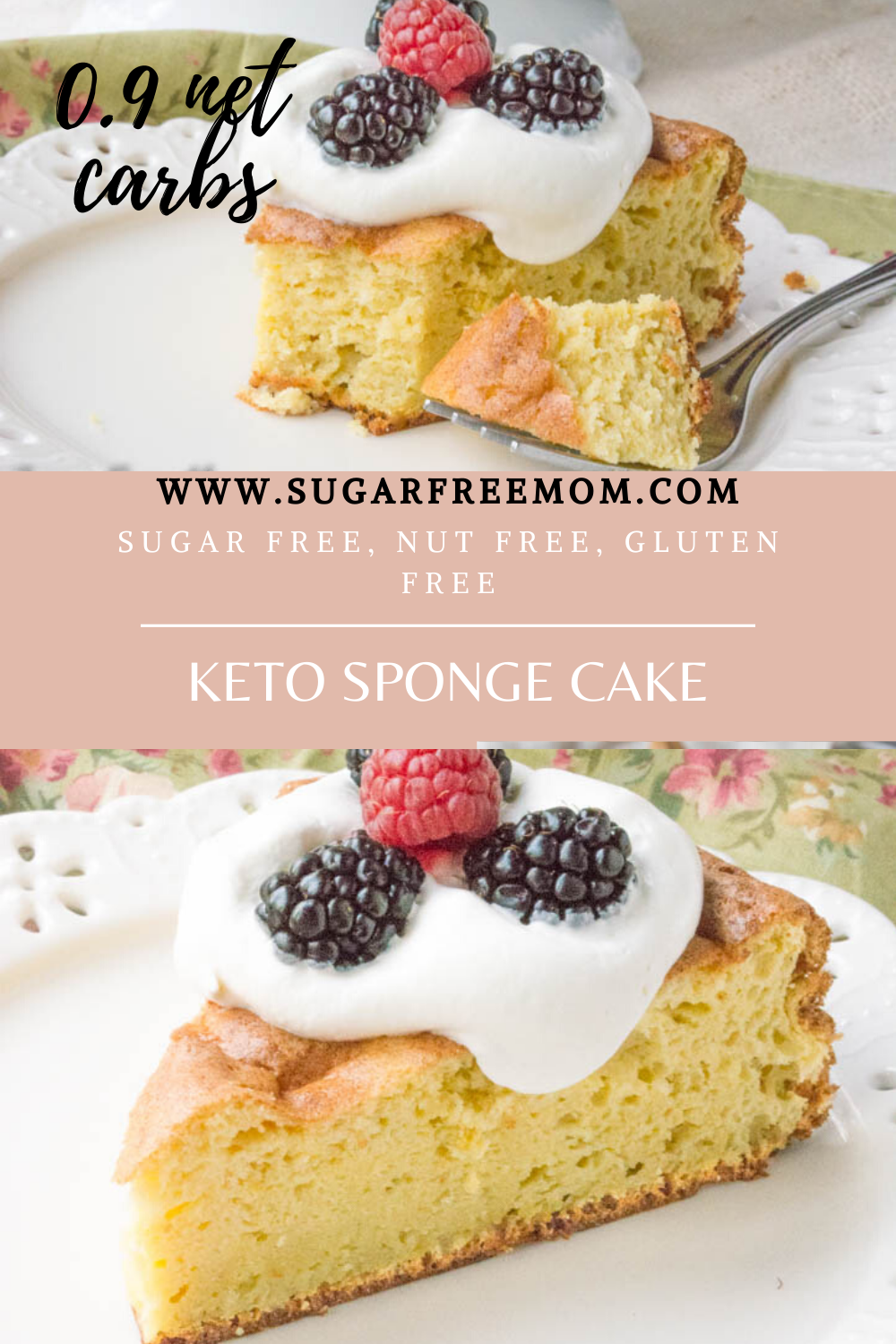 Sugar-Free Low Carb Sponge Cake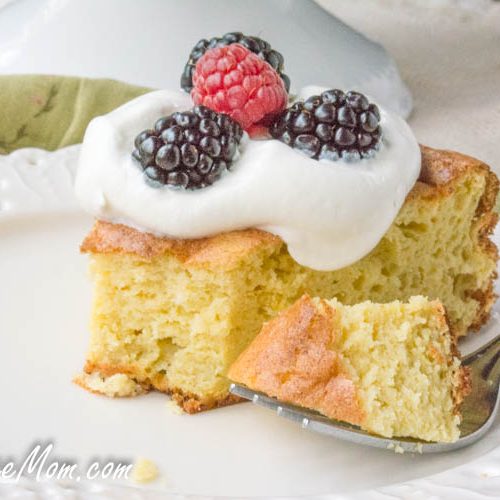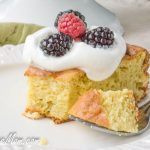 Print
Sugar-Free Low Carb Sponge Cake
Instructions
Grease an 8 inch spring form pan and preheat oven to 350 degrees.

Place your egg whites and cream of tartar in a stand mixer and mix until stiff peaks form. Set aside.

Place your yolks in another bowl and whisk with vanilla extract, liquid stevia and lemon zest.

In another bowl whisk together the remaining dry ingredients.

Combine the yolks and dry ingredients together until smooth.

In small portions a little at a time, fold the egg whites into the yolk and flour mixture, be careful not to over mix and deflate your egg whites.

Drizzle the melted, cooled butter on the side of the bowl to slowly fold it into the batter.

Pour batter into pan and bake 30 minutes or until golden on top and a toothpick in center comes out clean.

Allow to cool completely before removing and adding optional toppings.

Keep refrigerated.
Notes
Net Carbs: 0.9g
This recipe was first published in April 2016 and updated with video in May 2020.
Nutrition
Serving:
1
slice
|
Calories:
107
kcal
|
Carbohydrates:
1.9
g
|
Protein:
7.3
g
|
Fat:
7.1
g
|
Saturated Fat:
2.9
g
|
Cholesterol:
145
mg
|
Sodium:
133
mg
|
Fiber:
1
g