This post and photos may contain Amazon or other affiliate links. As an Amazon Associate I earn from qualifying purchases. If you purchase something through any link, I may receive a small commission at no extra charge to you. All opinions are my own.
What I Ate Wednesday on Thanksgiving!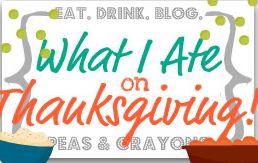 Did you all have a wonderful Thanksgiving feast with family and friends? We did! We went to my mom's and also celebrated my birthday which has been a  tradition since I was born. Every 7 years my birthday falls right on Thanksgiving! Hubby and I made lots of sides and I made my own birthday cake which was quite the labor of love. Many issues ensued the day before Thanksgiving and I wasn't in the best of moods because of it. Things did not go well for me, but the cake was made, the sides were finished on Thanksgiving and we actually made it on time to my parents house! The day went beautifully and I reminded myself that it's not about the food as much as it's about spending time with the ones you love and creating happy wonderful memories.
As far as my own eating throughout the day, I can't say I stuffed myself but I certainly ate way more than usual. In the making of the cake and taking the pics I also ate a slice after taking the pictures because I was praying it would taste as good as it looked as the first cake was not sweet enough. So in the end I ate a second piece after everyone sang Happy Birthday to me. I tried to watch the picky foods and not staying around the kitchen island and munching on the munchies available. Leaving the room to sit in another with the children was the best choice for me. When I don't see the stuff, it's not an ever present thought to want to eat it.
In out Italian home, no food gets put away after the meal. It's pretty much left out for anyone to eat,  ALL.DAY.LONG. So often our afternoon 1:30pm lunch is eaten, then desserts, then more of the same whenever you want to enjoy more. I tried to just choose the things I loved and leave the rest. It worked for me and I didn't feel bloated, uncomfortable or sick to my stomach. I also didn't eaten anything with wheat or gluten so that too causes terrible tummy sickness for me. I made the cornbread and the cake and the mashed potatoes and butternut squash were made by the hubby! I passed on the stuffing because my mom made it with regular white bread. I have my own version but didn't get time to make it with all the trouble I had with the cake. It was a good deal of work fixing so many sides, but knowing I had food I could enjoy made me happier on Thanksgiving. 🙂
Breakfast Thanksgiving Morning: Hubby made the children pancakes and I was chose some cream cheese and naturally sweetened jam over toast.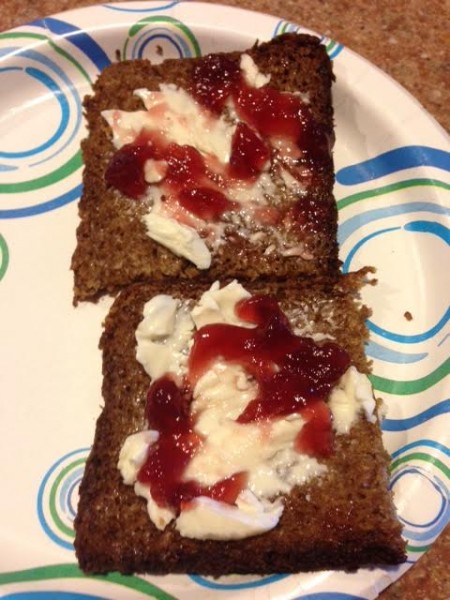 Many of you who follow me on FaceBook know I also had my first ever horrible UTI right around my birthday! I was still recovering on antibiotics and decided a cranberry cleanse smoothie was in order before we headed out to my Mom's. I had this sometime around noon as our Thanksgiving feast with family was around 1:30pm. I haven't posted this recipe yet but I will get to it because it really helped me!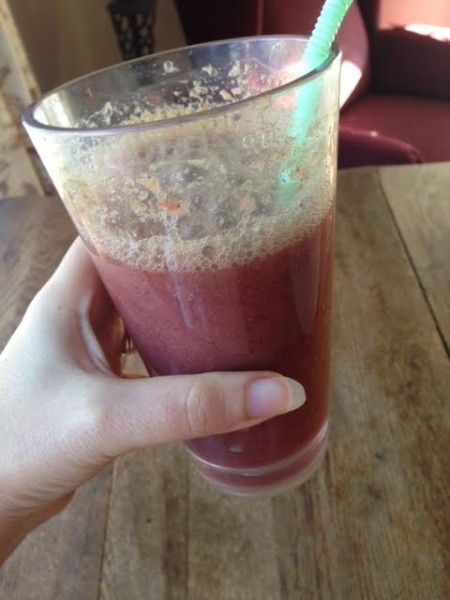 THANKSGIVING MEAL: As you can see there is no turkey on my plate LOL! Yep I like it but I like ham better so that's what I chose. Some mashed potatoes, butternut squash, and my Butternut Squash & Apple risotto. I subbed out the butternut squash with sweet potatoes and everyone loved it! I brought my own cornbread. The recipe was for my Pumpkin Cornbread but the hubby thought the rest of my family would only want traditional cornbread. So I just eliminated the pumpkin and it was still perfect!
 BIRTHDAY CAKE TIME: This is a Chocolate Layered Cake with fudge frosting. The cake still needs some work and it didn't have that spongey texture I was hoping for but it was nice and moist thank God! The fudge frosting was my recipe and I just tripled it to have enough for the entire cake.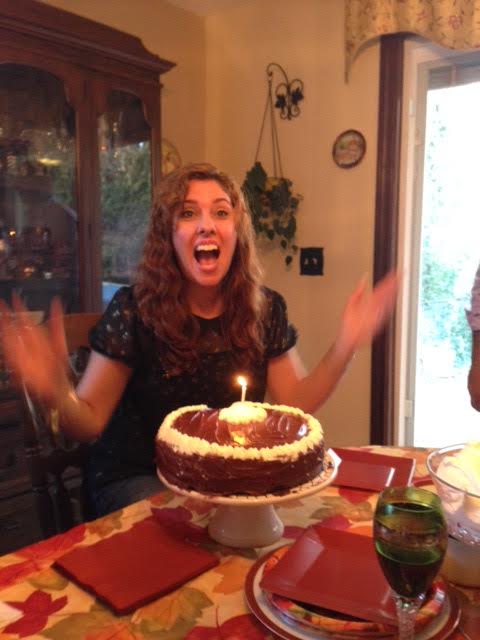 Yes even at the age of 42 my parents and the rest of the family sang Happy Birthday to me! I guess you are always a kid when home with your parents no matter what the age! Who am I kidding? I loved it!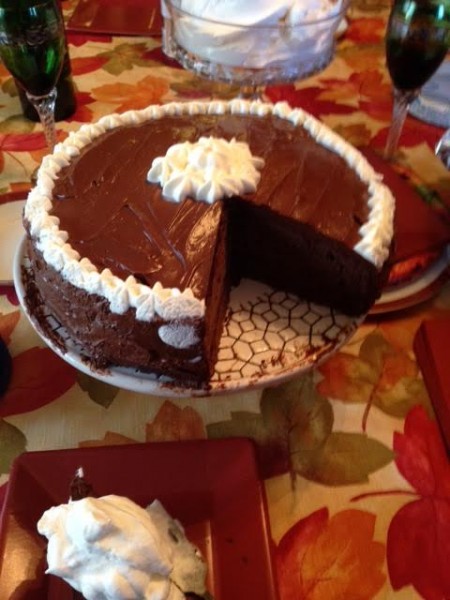 So like I said earlier, this cake wasn't up to being blog worthy yet and I certainly hope I have the desire to try again, but it did certainly look decadent and delicious.
My goal next year is either to perfect that darn cake or try a new flour-less one. My plan will also be to make it sooner than later in order to work out the mistakes before the stress of getting it ready for Thanksgiving. Live and learn, that's my motto! How did your Thanksgiving go?