Pizza dough just got a healthier twist made with 100% whole wheat flour and coconut sugar!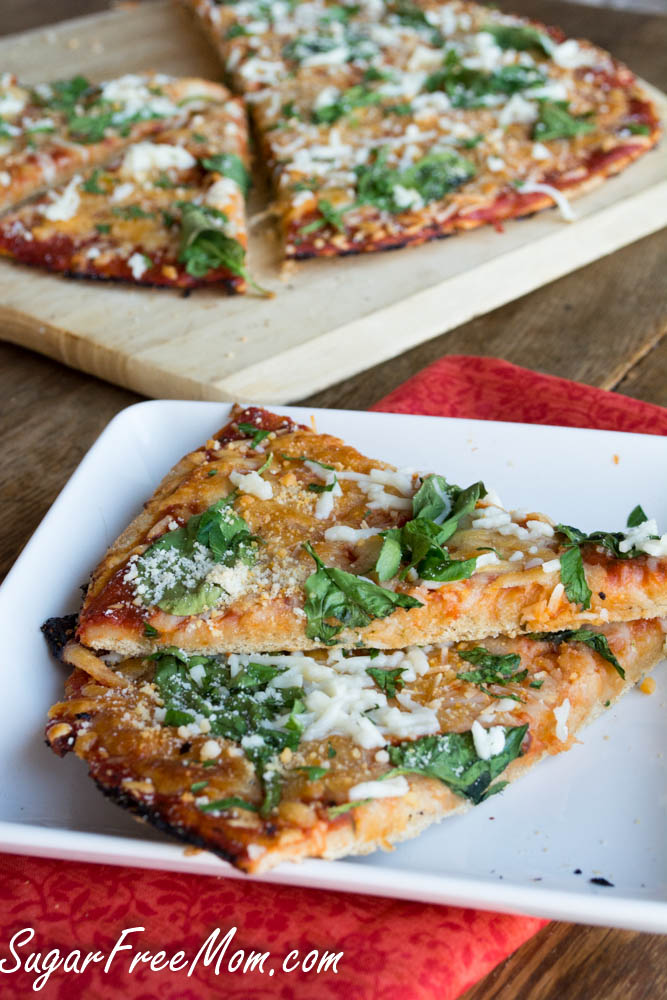 Making a healthier pizza dough is within your grasp and doesn't require a lot of effort. With this recipe you make it once and get two dough's for the one time effort in the kitchen. Easily freezable or refrigerated for up to a week.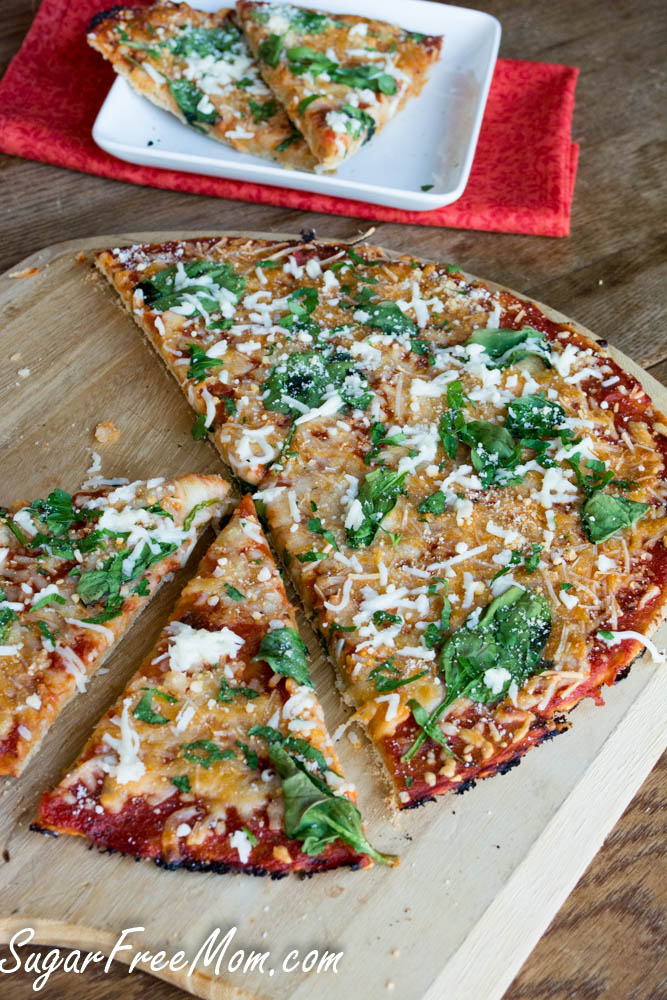 This recipe was originally posted back in Dec. of 2011. I wanted to adapt it to make my time and effort for making homemade dough more enjoyable by being able to walk away with two for the price of one!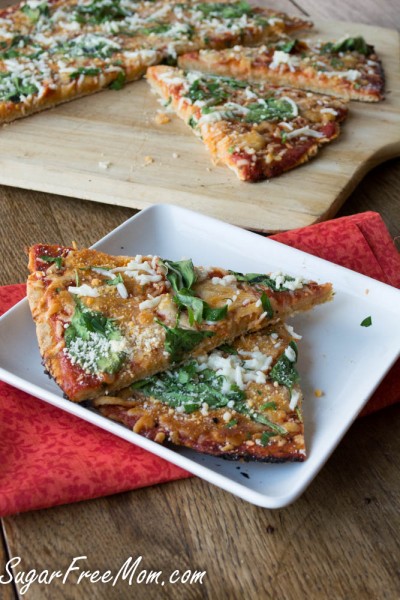 I also wanted to update the pics of my earlier blogging years as you will see below!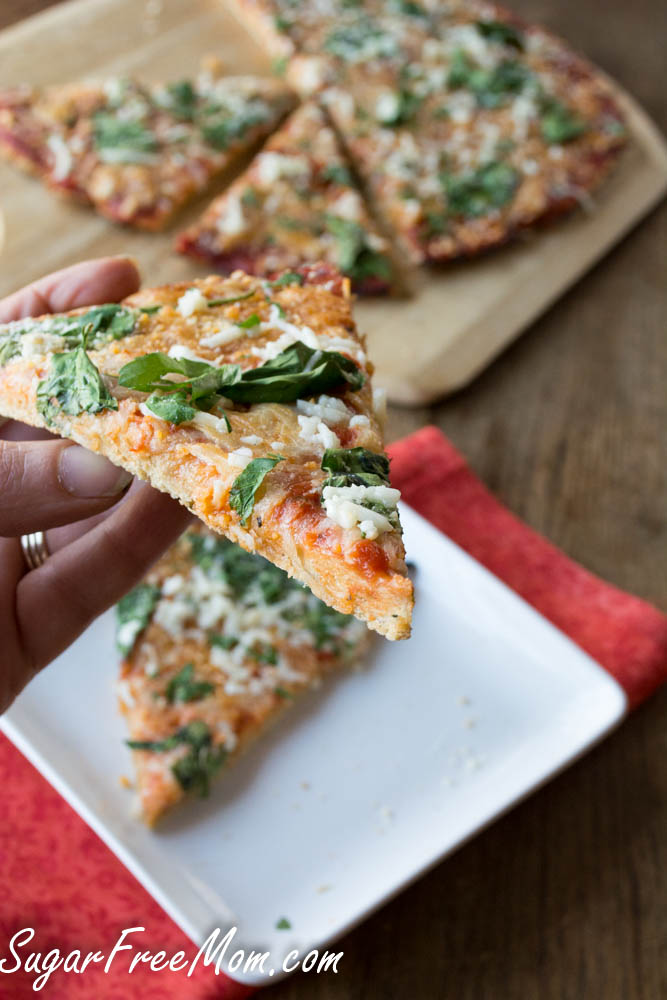 I have tried a billion and one recipes for whole wheat pizza dough. The problem with many of them is they contain sugar as well as a mix of white flour and whole wheat. I've found a few that were purely whole wheat, but the texture was either really dense or just not pliable enough to make into calzones or pizza, to my liking anyway.
OLD PIC!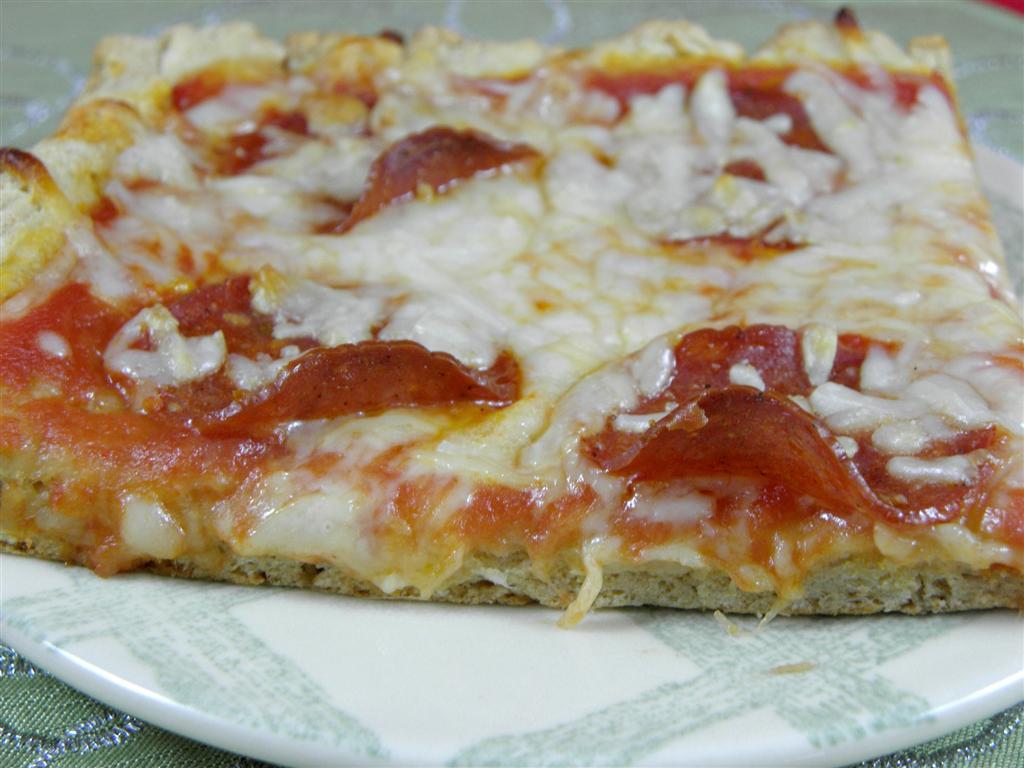 I'm not a gluten free girl, but I know there are plenty of gluten free flours out there I could have tried. The problem with those recipes was that I would have had to buy an assortment of other ingredients to make the dough work well, which to be honest was not something I wanted to spend the extra money on especially since I don't have a gluten allergy. I do however have a dislike, allergy, whatever you want to call it, to using white flour and refined sugar in my cooking and baking so they are a no go for me. Making dough with half whole wheat, half white flour was not going to make me happy.......ever!
My sweet friend Allison, who has no Italian in her blood whatsoever (not that that's a prerequisite for good dough making, but you get my point) makes a delicious calzone with homemade dough. I asked for her recipe and tweaked it! I am super happy with the results being as there is absolutely no white flour in the dough at all and only a bit of honey to make the yeast work well. Two out of three kiddies liked the pizza, which is a win in my house since my oldest, almost a teen, is the pickiest eater who dislikes all things healthy!
I used my stand mixer for this, so you would have to knead it by hand if you don't have a bread machine or mixer with a dough hook. I LOVE mine which was a gift from my father-in-law almost 15 years ago for our wedding and its still working just as well!
OLD PIC!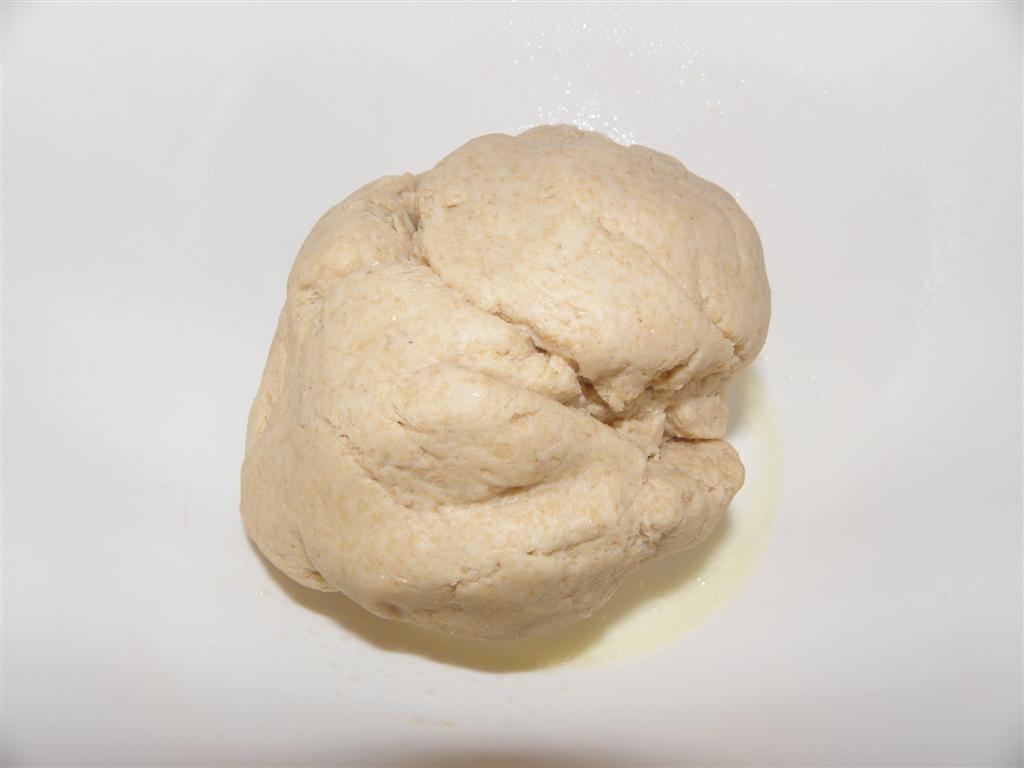 Of course if you are comparing this dough to the texture of a white flour pizza you will probably be just as disappointed as my preteen was. BUT if you are looking for a delicious, healthy dough made with whole ingredients for a healthier version of something you love and don't want to give up just because you may be trying to lose weight, than this dough is the dough for you! This makes a small pizza so double the recipe for two small pan pizzas.I prefer to not have any left over pizza as I love it too much and have a hard time saying no to eating it! I made a small square pizza, but you could use a round pizza stone if you have one. I grew up with Sicilian style square pan pizza's and this is how we like them.
OLD PIC!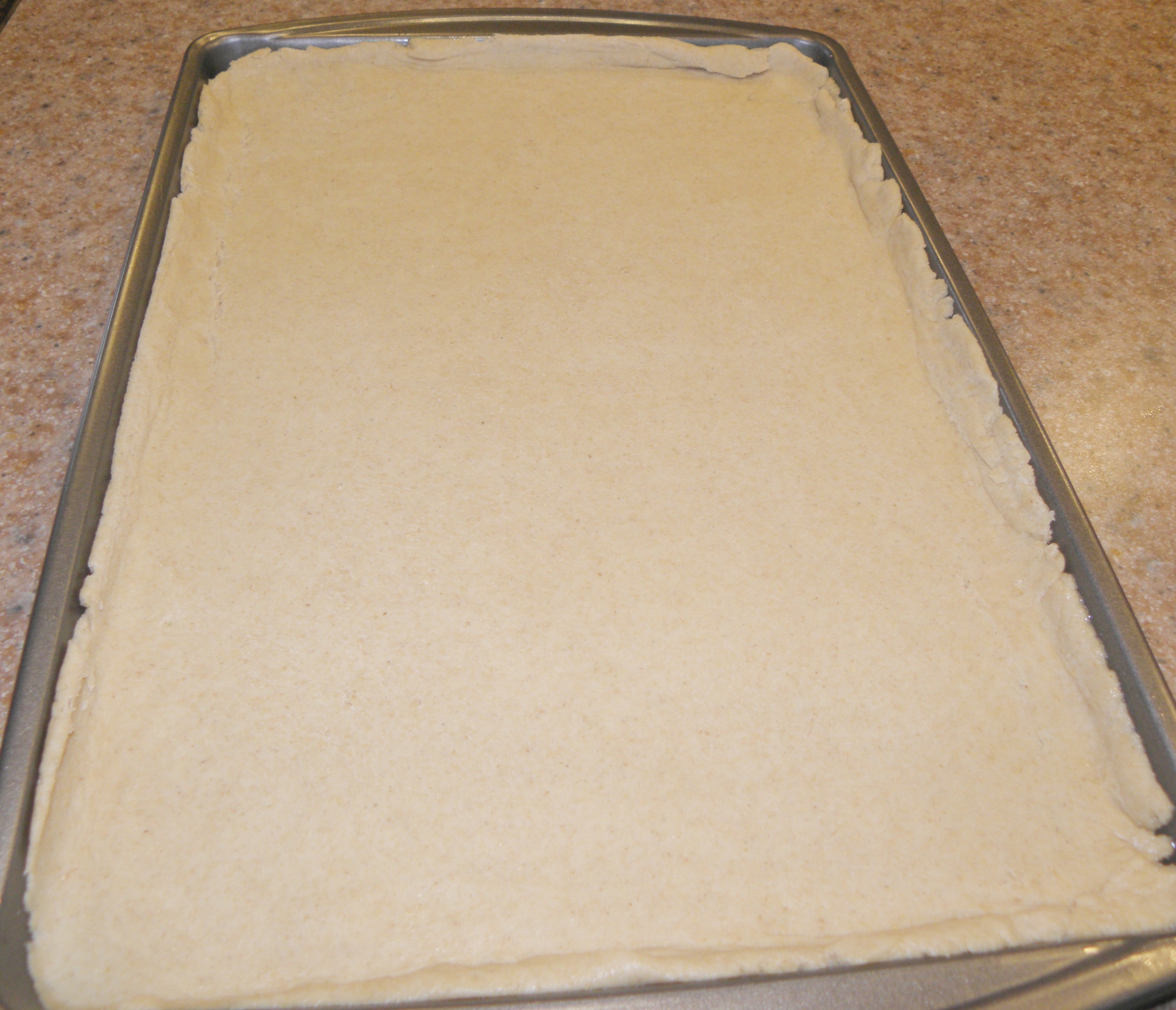 OLD PIC!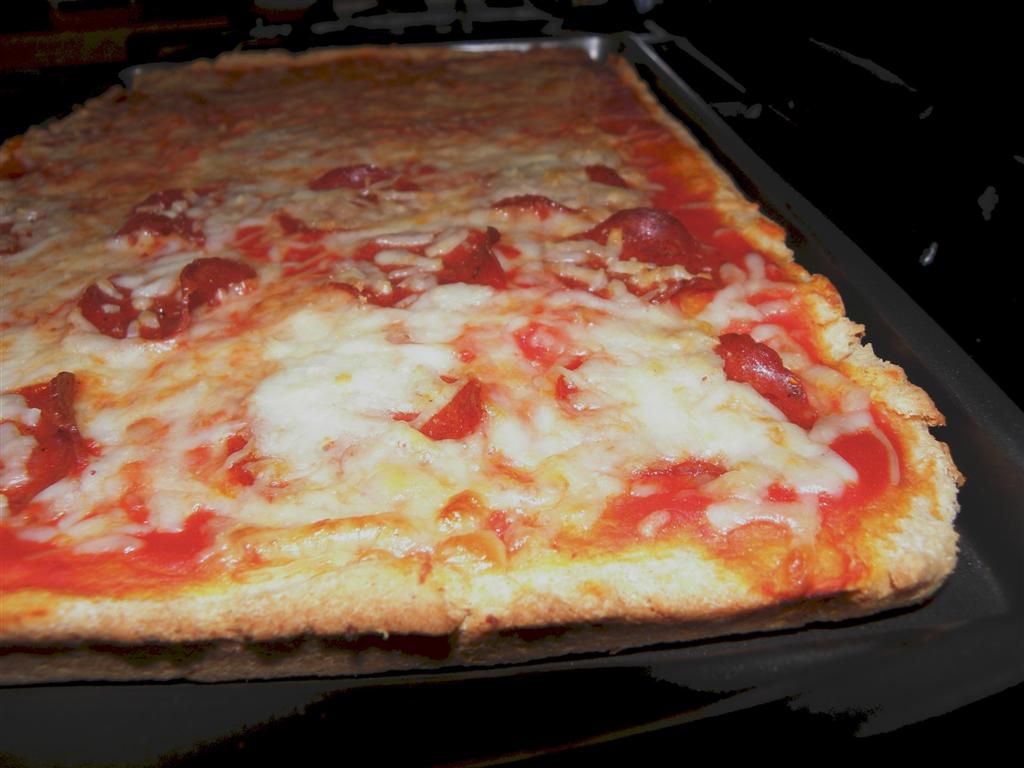 Substitutions:
brown rice syrup, honey, or erythritol. (I have not tried making this with stevia, but if you do please let me know!)
I think you could easily swap out the whole wheat flour for a gluten free blend and add a teaspoon of xanthan gum if the blend doesn't contain it.
UPDATE: March 28, 2014
I doubled the original recipe so I could freeze one dough and thaw it whenever I want. Just cut ingredients in half if you only want one dough.
I subbed the honey I used originally for 2 tablespoons coconut sugar just to see the difference if there was any in texture. Family thought it was still fantastic so not much difference in using that.
I followed the recipe until number 6 and after kneading then separated the dough into two balls. I wrapped one in plastic wrap and then in a plastic Ziploc bag to store in the freezer.
I greased a 12 inch round pizza pan and rolled the dough out onto the pan with a rolling pin. I also used a fork and forked the dough all over to prevent it from creating air pockets in the dough when baking.
On this new pizza pan I bought at Bed & Bath my pizza cooked a bit longer, 20-25 minutes, but I didn't think the pan allowed it to get as crispy on the bottom as using a regular pizza stone or typical baking sheet. I did end up returning the pizza pan LOL!
Nutrition Info is for the dough only, not toppings seen here. I was able to make 8 large slices.
Just for your info the toppings used in the new pictures above was 1 cup marinara sauce, 1 cup shredded mozzarella, ¼ cup grated parmesan and 1 cup fresh chopped spinach along with some fresh basil.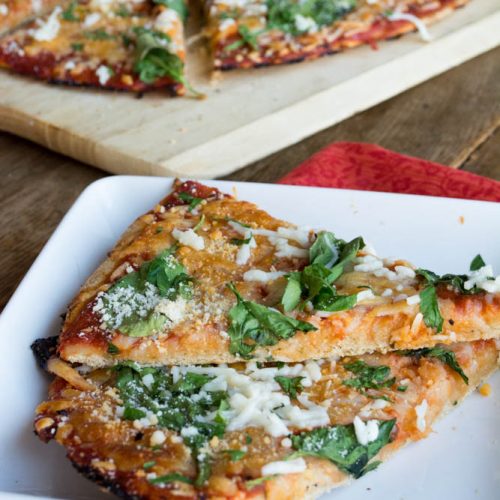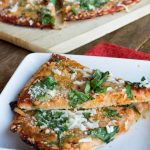 Print
Whole Wheat Thin Crust Pizza Dough
Instructions
In your stand mixer bowl, combine the flour, salt and baking powder. Make a well in the center of the dough.

In a separate small bowl mix oil, honey, warm water. Add yeast but don't stir it and let it sit for about 10 minutes until you see some foam form from the yeast.

Pour the wet mixture into the dry ingredients and mix until well combined at setting 2 for about 2-3 minutes.

Once combined change to your dough hook and keep setting at 2 and let the machine go for about 10 minutes or knead by hand for 10 minutes.

Remove your dough and place into a bowl sprayed with nonstick cooking spray. Cover with a towel and let rise for at least half an hour, but an hour is better.

Once risen, knead by hand for a minute or so then separate the dough into two balls.

Wrap one in plastic wrap and store in the refrigerator or freezer.

Use the other to spread by hand onto a baking sheet sprayed with nonstick cooking spray or grease and use a rolling pin.

Add your choice of toppings and bake in a 400 degree preheated oven for 15-20 minutes until crust is golden brown.
Notes
Weight Watchers PointsPlus: 3*
Nutrition
Serving:
1
g
|
Calories:
122
kcal
|
Carbohydrates:
19
g
|
Protein:
2.6
g
|
Fat:
3.9
g
|
Saturated Fat:
0.5
g
|
Sodium:
146
mg
|
Fiber:
2.5
g
|
Sugar:
2
g