Print Friendly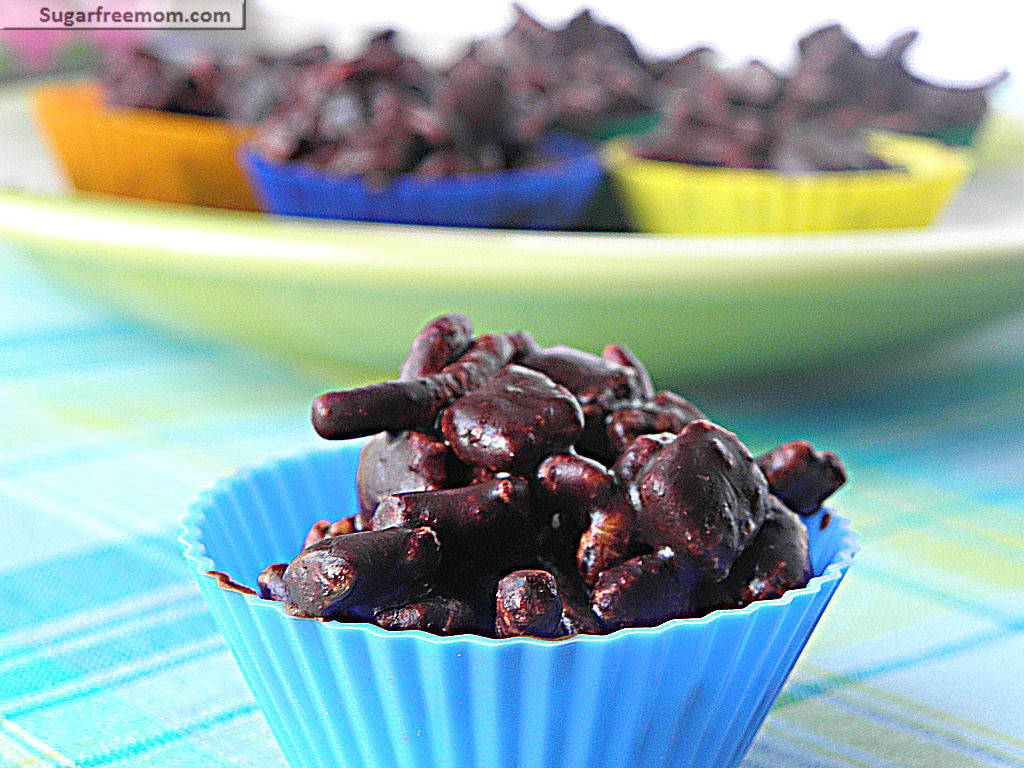 You can make these little chocolate crunchy babies in 5 minutes and you only need 5 ingredients!
This little creation of mine came from my desire to replicate a little treat my grandmother used to make. It was a chocolate cluster like this but using crunchy Chinese noodle things, melted chocolate, raisins and peanuts. So quick and easy but not the healthiest and my boys are allergic to nuts.  So I re-created it in a healthy way.
They were a HUGE success with the kids and for only 50+ calories, pretty good in my book too!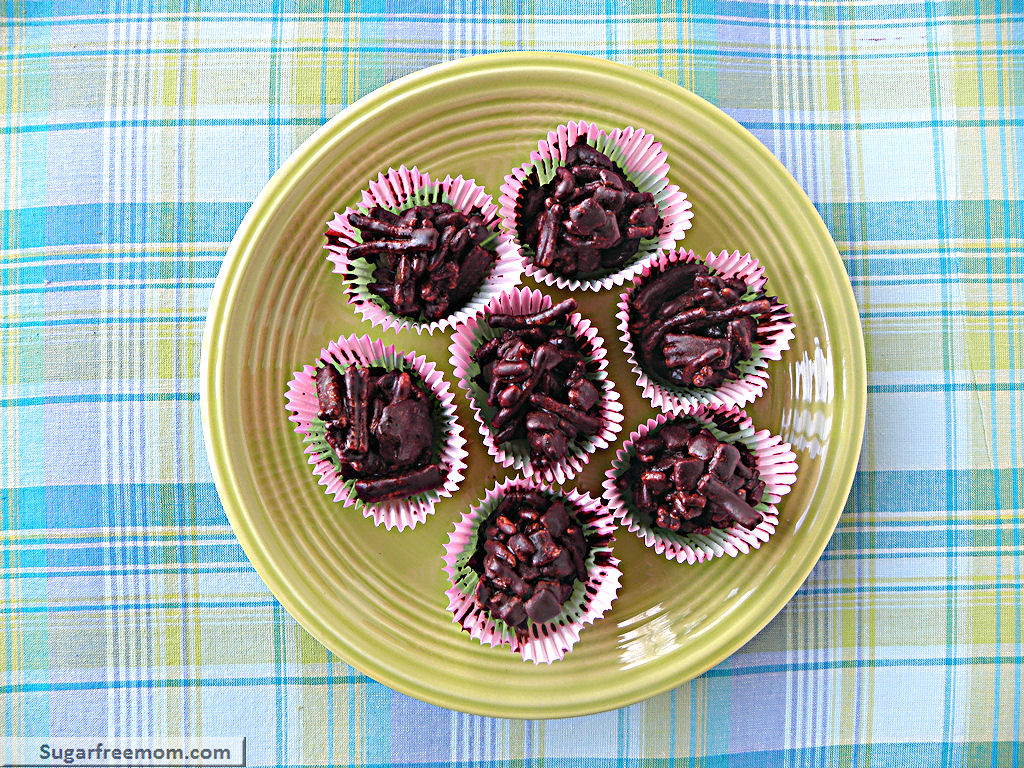 My kids and I thought these were delish! The hubby thought they weren't sweet enough. We only used 2 teaspoons of stevia and it was good, but you may need to increase to suit your families taste buds.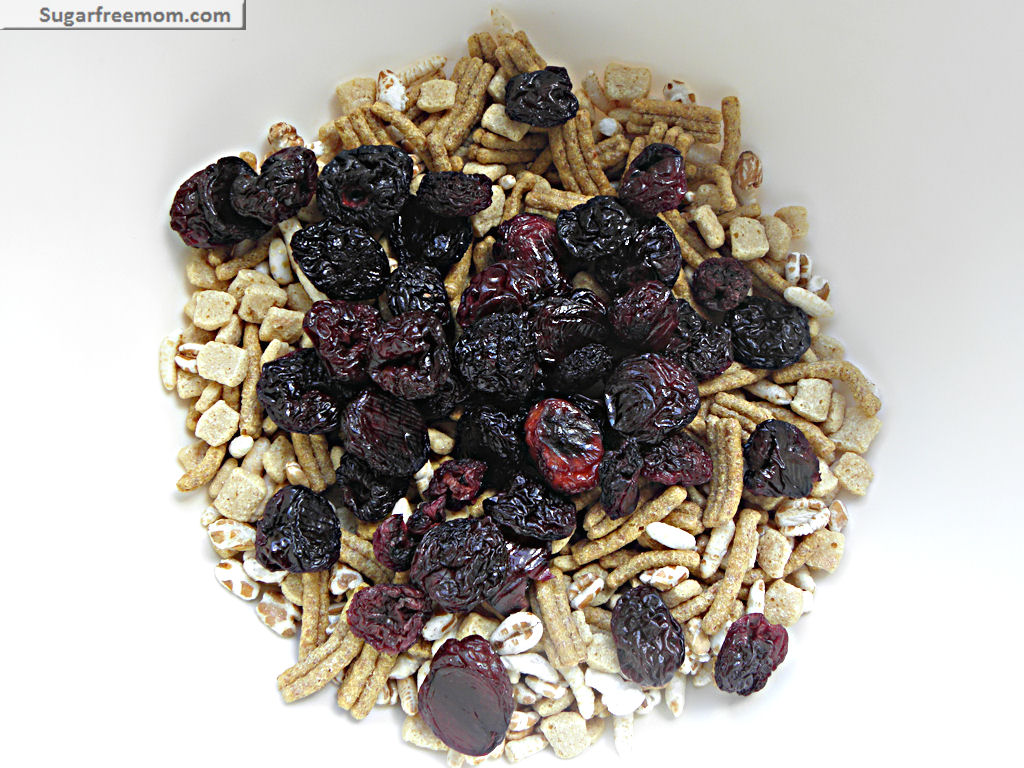 Pour the chocolate in the bowl with the cereal and fruit and mix until all incorporated.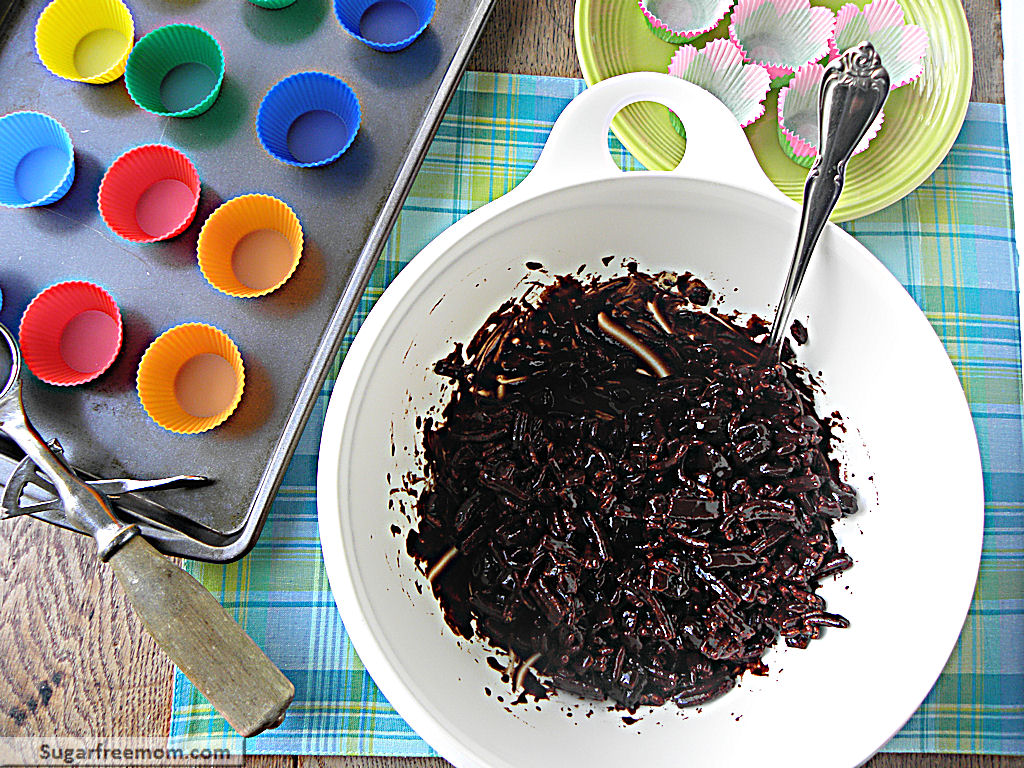 Drop by spoonfuls into mini silicone baking cups or paper cups. Here are mine:

Kitchen Collection Silicone Mini Baking Cups Set of 12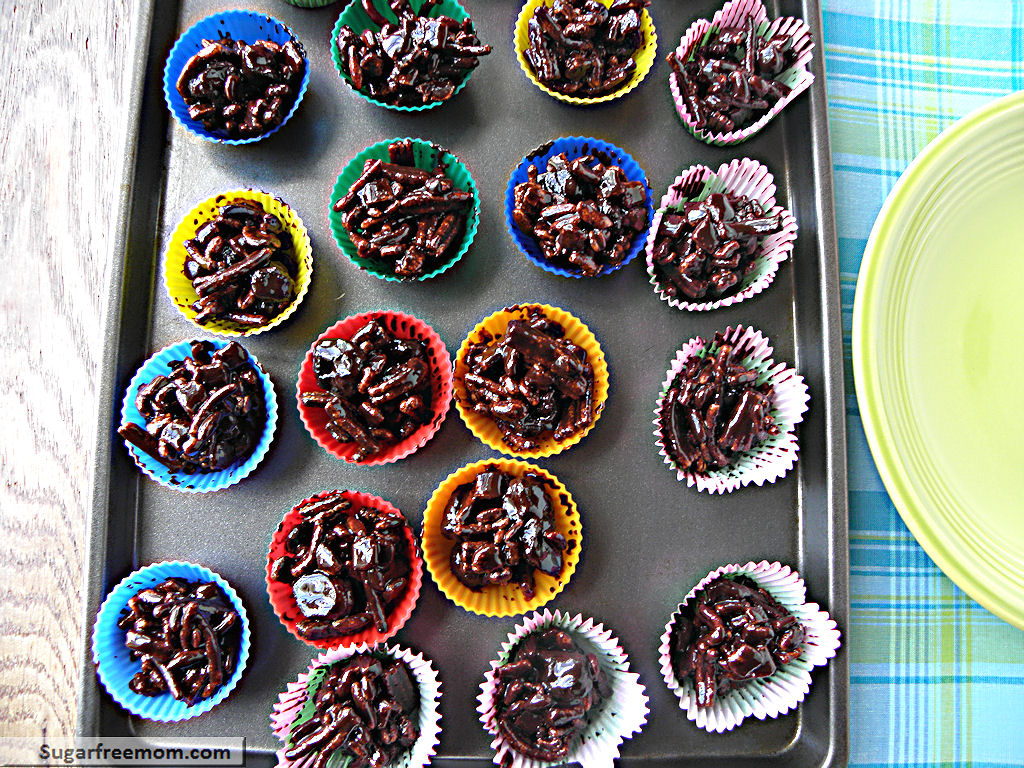 Place in the refrigerator for 30 minutes and enjoy one! or two or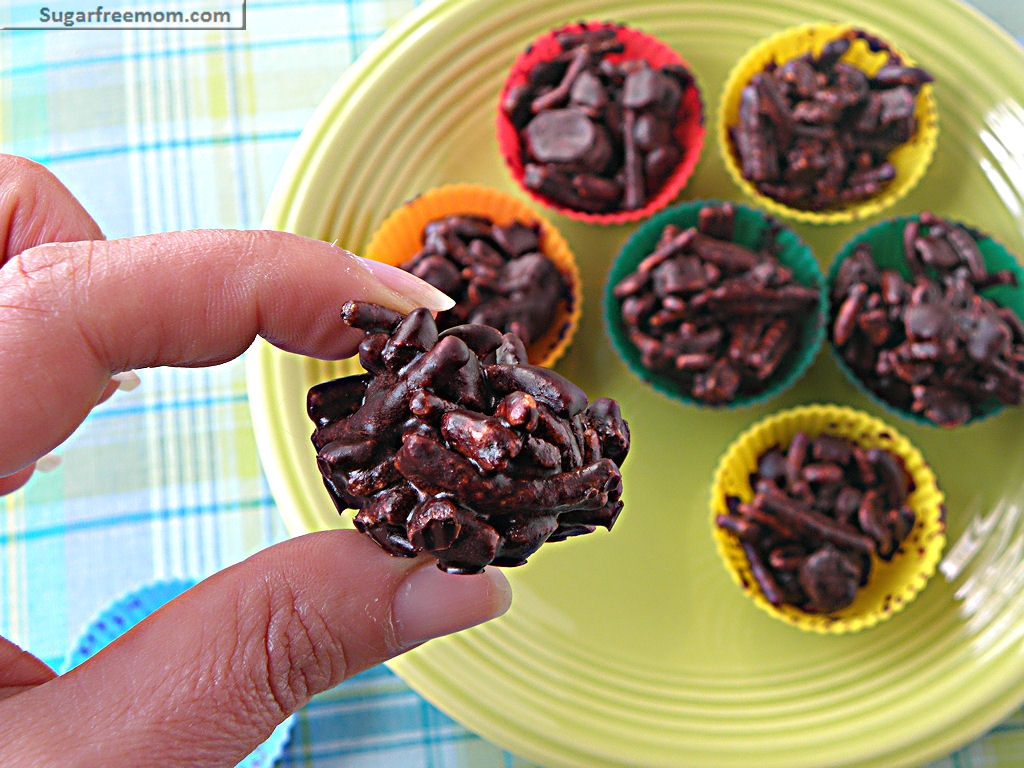 They hold together just fine when cold and refrigerated. They need to stay refrigerated until you are ready to eat them or serve them. They will easily fall apart a bit once left out on the counter, especially if its warm out.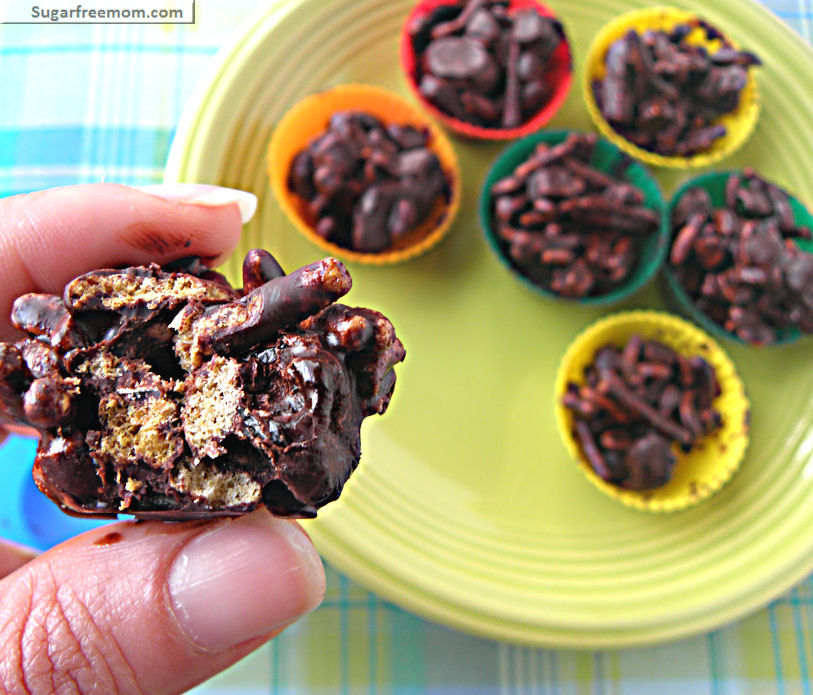 If you're family is not allergic to nuts some delicious add -in's to this would be peanuts!
My kids actually didn't even know the dried cherries were dried cherries! They thought they were chocolate covered mini marshmallows!
I just smiled
Chocolate Cereal Crunchies: Naturally Sweetened, Nut & Dairy Free
Nutrition Information
Serving size:

1

Calories:

54
Fat:

3g

Carbohydrates:

7g

Fiber:

2g

Protein:

1g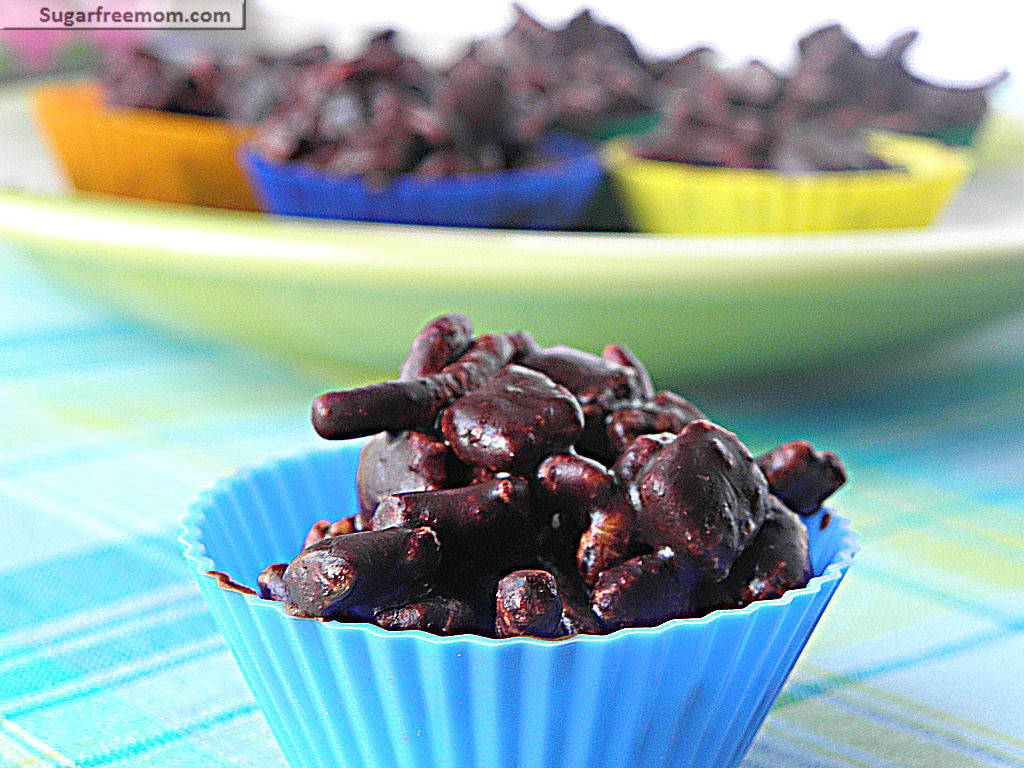 Ingredients
4 tablespoons coconut oil, melted
½ cup cocoa powder, unsweetened
2-4 teaspoons liquid Stevia, Chocolate
½ cup dried cherries, unsweetened
1½ cups no sugar added crunchy dry cereal or granola
Instructions
Mix the melted coconut oil in a bowl with the cocoa and stevia. Taste and see if it is sweet enough to your liking. If not, add ½ teaspoon at a time to increase.
In another bowl mix the cereal and dried cherries.
Pour the chocolate in the bowl with the cereal and fruit and mix until all incorporated.
Drop by spoonful's into mini silicone baking cups or paper cups.
Place in the refrigerator for 30 minutes and enjoy one! or two or
Notes
[I used Kashi Go Lean, 1 cup is140 calories, 1 fat g, 10 fiber]
Weight Watchers PointsPlus: 1*