I LOVE using up left overs. I find it wonderfully challenging to make them into something phenomenal my family and I will love. Chicken is really just so versatile and can be made so many different ways. As I've said before, my family rarely helps me eat the breast meat as they always go for the dark meat. I usually have enough breast meat to do as I choose with and that's exactly what I did the other day.
I really wasn't interested in just using the breast meat for sandwiches so I created this lovely left- over stew with items I had on hand in my pantry. You could use any beans you prefer, but I just really love those butter beans in this recipe. I also think hominy is pretty awesome and hearty in stew, but unfortunately I didn't have any on hand or I would have gladly used it. I had to resort to corn, but if you use hominy I think you will like this stew even more! And of course if you don't have a crock pot you could just heat everything up on your stove, but having a slow cooker is truly a wise investment for anyone!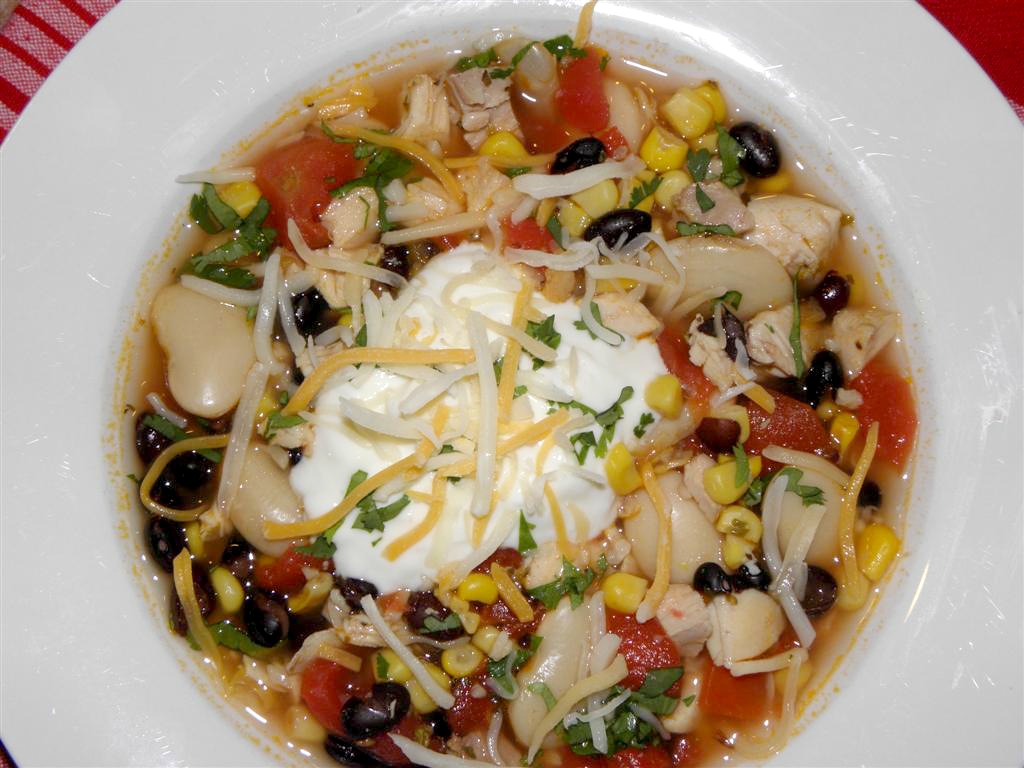 Nutrition Info
Servings: 12* Calories per serving: 169* Fat: 7g* Fiber: 3g* Carbs: 12g* Protein: 15g* Points+: 4
Crock Pot Chicken & Bean Stew
Ingredients
2 c. shredded, cooked chicken
4 c. chicken broth, low sodium
3 tsp. minced garlic
1/2 tsp. salt
2 tsp. cumin
 1/2 tsp. oregano
1 can of hominy, drained and rinsed or corn
1 can black beans, drained and rinsed
 1 c. salsa or 1 can of diced tomatoes
1 can of butter (Lima) beans or cannelini beans, drained and rinsed
1/2 c. lite sour cream
optional toppings: shredded cheese, fresh cilantro, sour cream, chives
Directions
Combine all ingredients in the crock pot , except sour cream and optional toppings.
Cook on high for 3 hours. Add sour cream to crock pot and mix well.
Cook additional 1/2 hour to hour on low.
Done! Add favorite toppings and enjoy!