Just 4 Ingredients needed to make these Flourless Keto Low Carb Vanilla Ricotta Pancakes! They're gluten free too!
When all you need is just 4 ingredients to make a quick and easy breakfast, you never have to feel deprived on a sugar-free, low carb diet. Simple recipes like these are what can keep you feeling satisfied and happy and ready to take on the day ahead!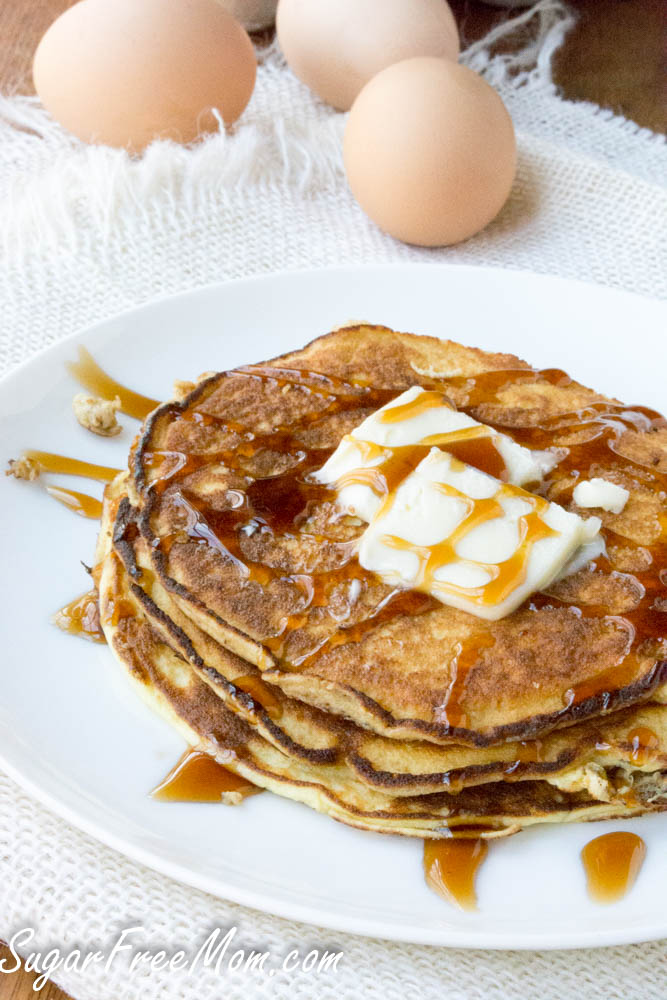 I've never been much of a pancake girl myself, not sure why but it's just not a breakfast I often crave. But lately I've been eating eggs and eggs and more eggs and just felt kind of tired of the same old breakfast.
I've got a few pancake recipes here on the blog and one I absolutely love that's in my cookbook made with coconut flour, but this recipe was created on a day where I just didn't feel like getting fancy. A day when I just wanted to make a simple, yummy, "feels like a carb" kind of breakfast without too much fuss.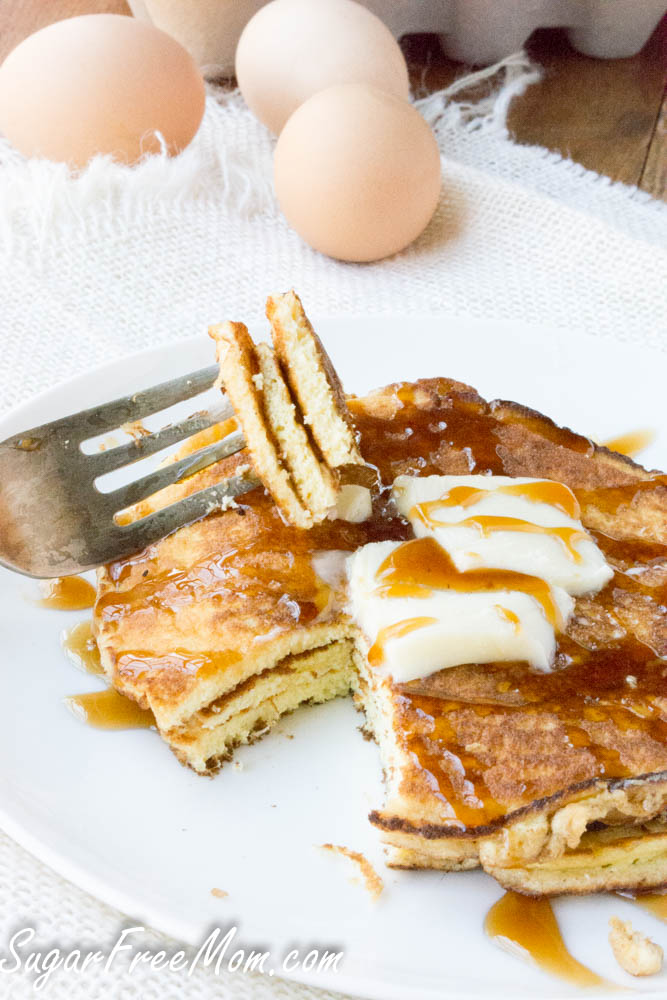 I've been experimenting a lot with protein powder lately, using it for my Cloud Bread Loaf and rolls, grilled cheese and French Toast so I knew a little protein powder might just work with eggs for a pancake, even without typical flour being used. Cream cheese is used a lot in many low carb recipes and many times I'm just not a fan of it. That's why I adapted my Cloud Bread with sour cream instead. I've also tried my friend Melissa's very popular Cream Cheese Pancakes when I tried an egg fast a while back. They were delicious and perfect if you can't have protein powder, but I wanted to eat so many of them because they just weren't filling me up.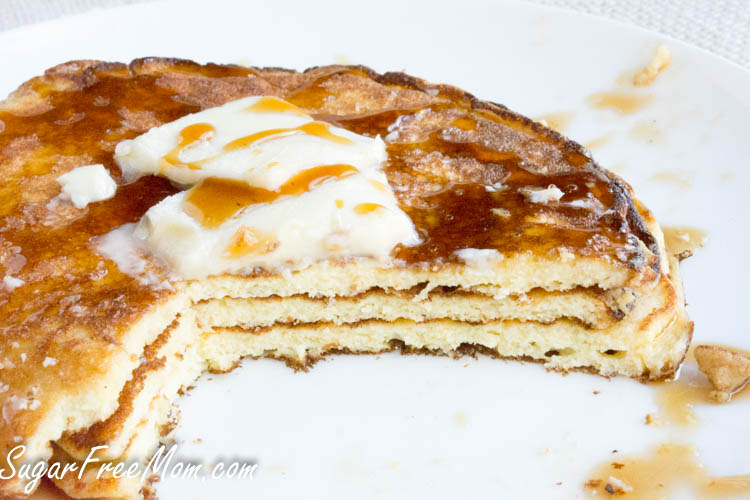 If you're looking for a thick and fluffy kind of pancake, these will not be what you want. Try my Coconut Flour Pancakes in my cookbook for that kind. But they are spectacular for a quick light breakfast when you don't don't want the typical eggs you've been eating.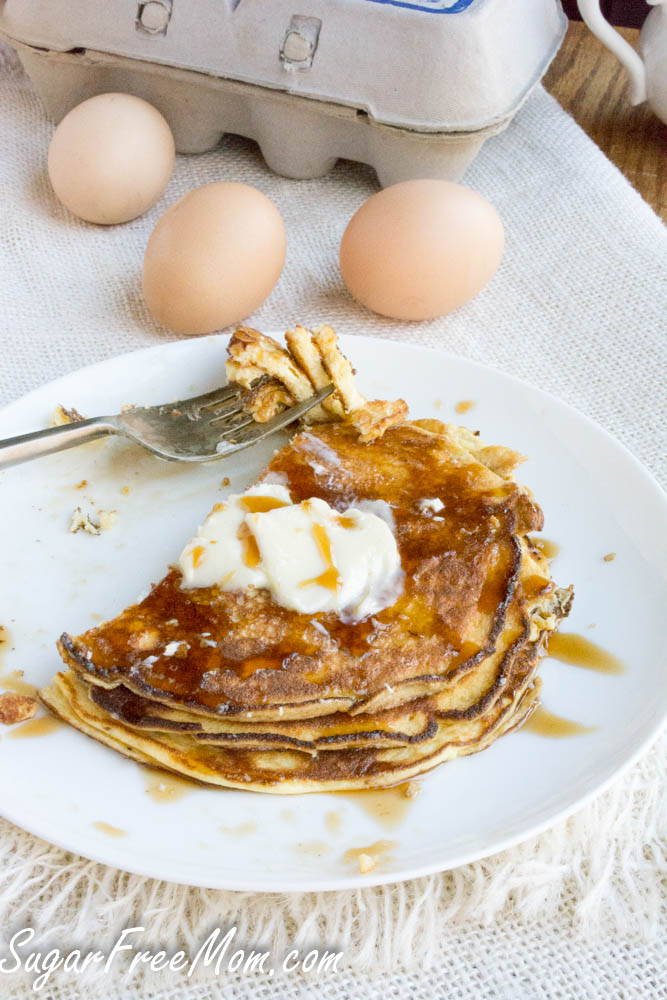 The brown syrup you see on top is actually sugar free syrup made by Sukrin, called Sukrin Gold Fiber Syrup. I love it and so do the kids!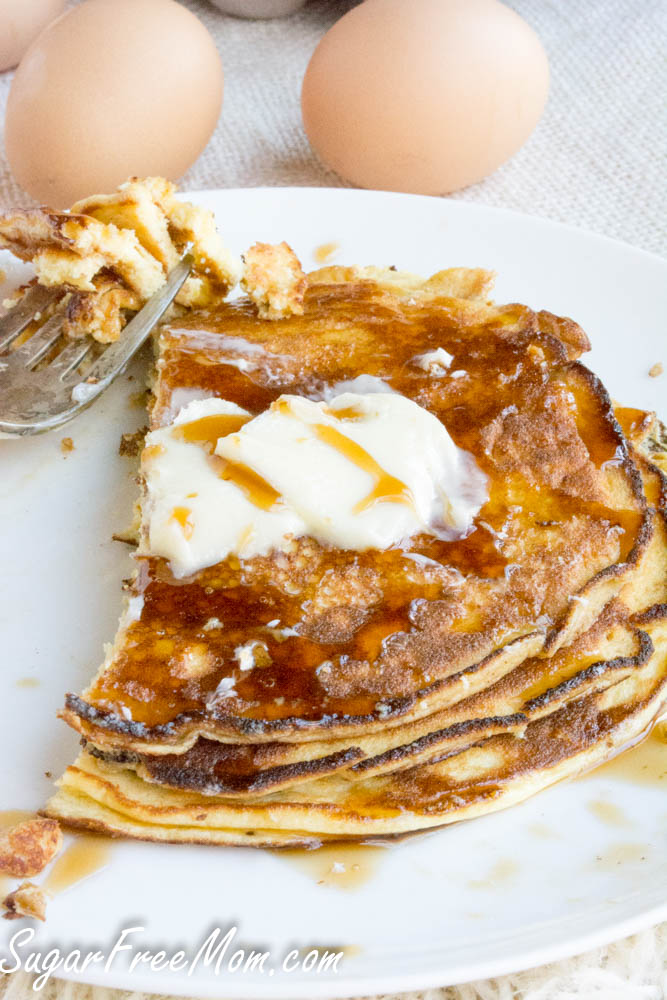 You could even make these as a wrap with some crumbled cooked sausage and cheese in the middle, YUMMO! Brenda's Notes:
You don't need to make these as large and flat as I did. You could pour batter in an English Muffin ring mold to make them perfectly round and a little thicker if that's what you like. You could also try using mason jar lids as forms as well.
You really don't need any sweetener since the protein powder will have sweetener in it. But me and the kids do like it better sweeter so we use vanilla stevia, but feel free to refer to my conversion chart for a substitute amount of another sweetener to use.
You can use butter instead of coconut oil to fry pancakes if you prefer.
You can even skip the sweetener if you don't care for sweet pancakes.
If you're on a very low carb diet or can't do protein powder you may be able to sub the protein powder with some almond flour although I haven't tried that.
Nutrition info does not include oil to fry pancakes.
This recipe was first published in July 2016.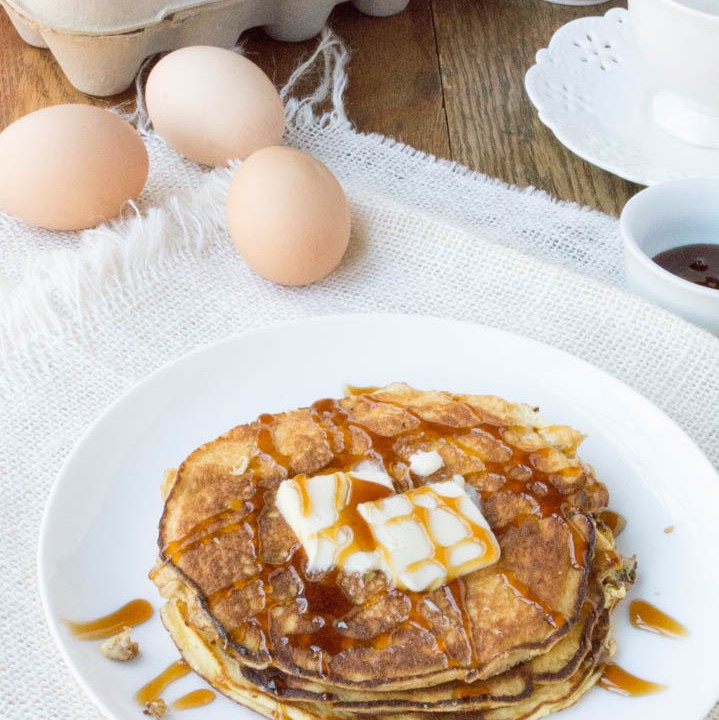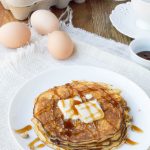 Print
4 Ingredient Keto Low Carb Vanilla Ricotta Pancakes
Instructions
Add all ingredients to a blender or whisk together by hand.

Heat coconut oil in a skillet on medium high heat.

Use ¼ cup to measure batter for each pancake.

Free form pancakes or use an english muffin mold in skillet to form pancakes.

Allow to cook 2-3 minutes on one side or until you see bubbles forming around edges and center. Flip and cook 1-2 minutes more on other side. Makes a total of 8 pancakes, serving size is 2.

Enjoy immediately!
Nutrition
Serving:
2
pancakes
|
Calories:
117
kcal
|
Carbohydrates:
1
g
|
Protein:
8
g
|
Fat:
8
g
|
Saturated Fat:
3
g
|
Cholesterol:
179
mg
|
Sodium:
88
mg
|
Potassium:
156
mg
|
Vitamin A:
375
IU
|
Calcium:
115
mg
|
Iron:
0.9
mg