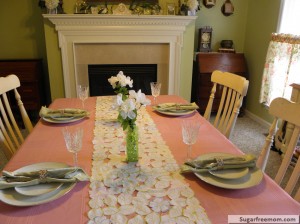 Good Sunday Morning to you! I woke up with joy in my heart and gratefulness for many things this morning!
Here are just a few:
The man responsible for the awful bombings in Boston was caught!
My family & friends in MA are safe and well!
We de-cluttered in the attic & basement filling 8 bags of trash and 20 boxes ready for a yard sale!
The weather is getting warmer and warmer each day here in little RI and it makes me happy! Love the Spring time!
We have a short week ahead (just 3 days) for school this week since we'll be attending a home school convention on Thursday and Friday. I made some new recipes this weekend so I won't be making anything new during the week ahead, (well at least I don't plan on it but sometimes I'm spontaneous LOL!)
Here's what we'll be eating this week:
Breakfasts
Dinners
Enjoy your Sunday friends!