Keto Cheese Crackers made with Coconut Flour, Gluten Free, Low Carb, Almond Flour FREE are the perfect snack for the whole family! These Coconut Flour Keto Cheese Crackers taste just like Cheez-Its!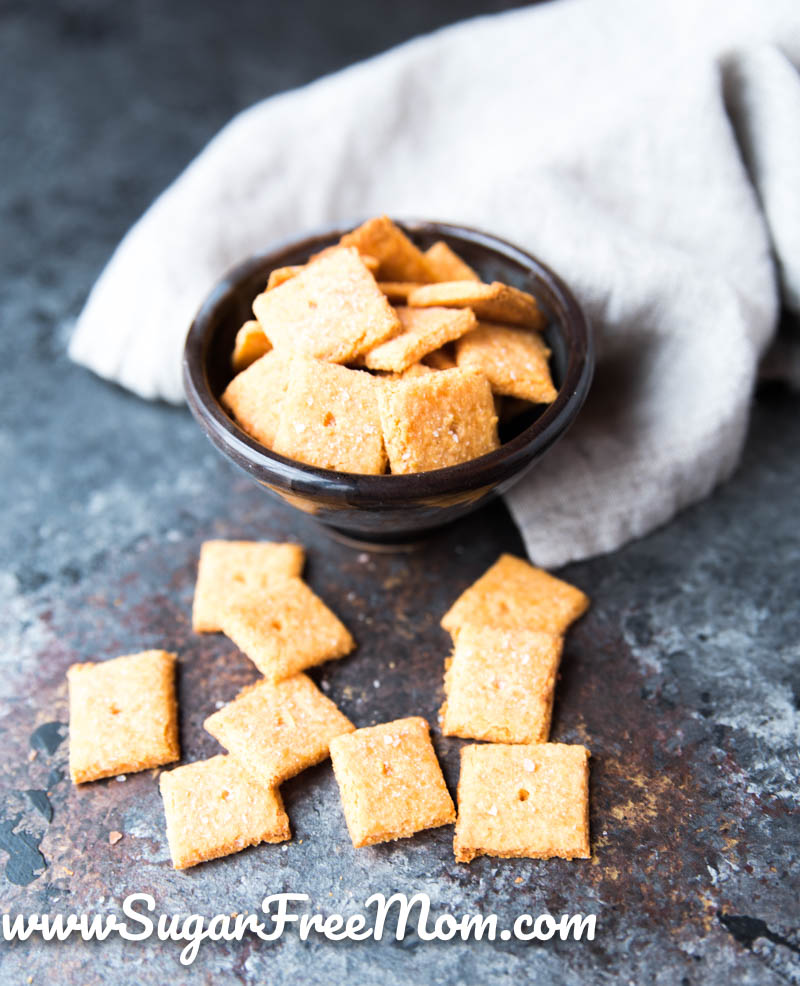 Keto Cheese Crackers
A favorite snack I used to love before going keto, sugar free and low carb, Cheez-It crackers! Today friends I give you my copycat version of a cheddar cheese cracker made without nut flours, no gluten, no grains, keto, easy and all YUM!
These crackers have been on my mind for a long long time. I've attempted so many versions to try to get just the right texture and that traditional crunch factor that I almost gave up! But as my kids have seen and watched me over the years, sometimes 3 times isn't the charm, it's more like 4 or 5 times is the charm in my house. This 5th attempt equals divine deliciousness.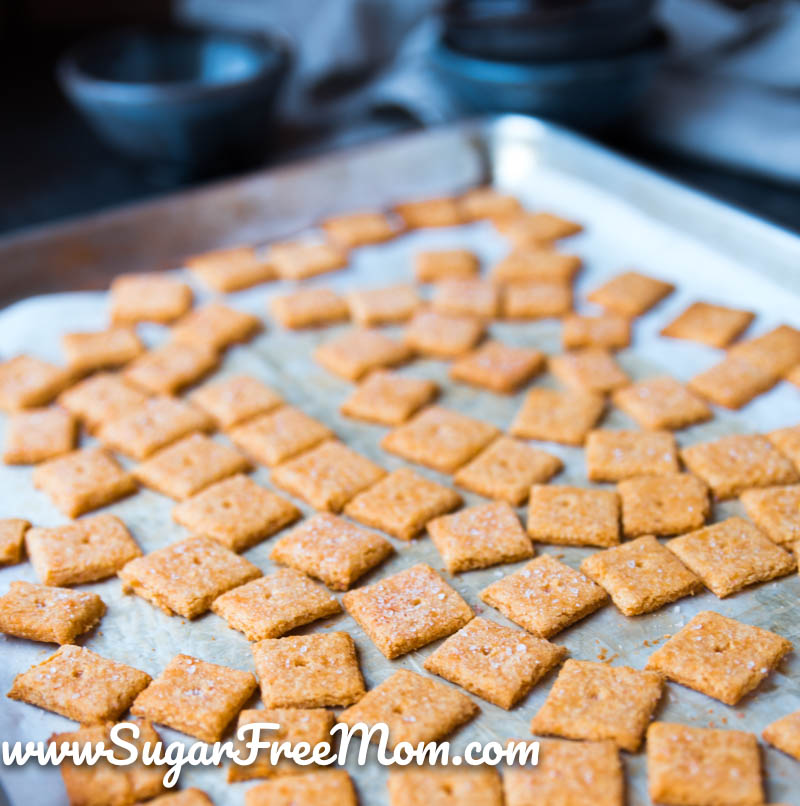 How to Make Keto Cheese Crackers
While typical fat head dough takes a bit of time to melt the cheese then incorporate all the remaining ingredients, I have simplified this recipe by using the food processor. This is one of the best ideas I have ever had to simply to place all ingredients into the food processor and then roll it out. It has worked fabulously for my other fat head dough recipes as well like my Strawberry Cream Cheese Cinnamon Rolls. Once the dough has processed you easily roll it out between parchment, slice into tiny squares, add that hole in the center and bake!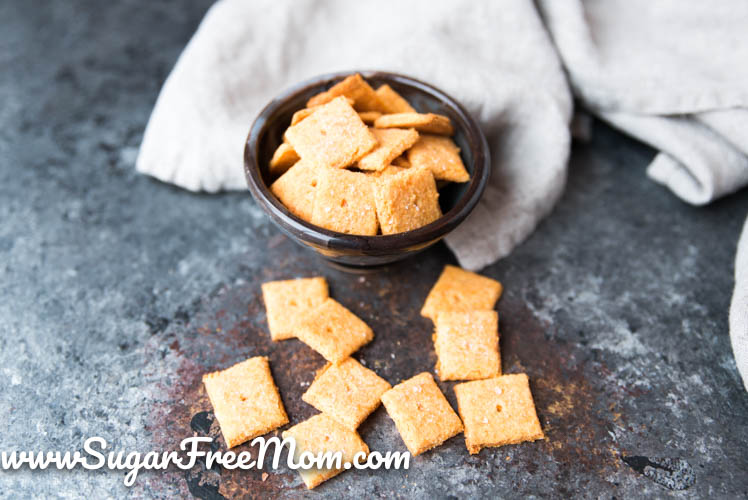 Crunchy, salty, perfect little zippy flavor of some spices and you've got an awesome little snack on your hands, quite literally! It was my kids idea to add coarse salt on top before baking and the hole in them to make them look identical to the classic "Cheez-It" cracker. What do you think?
My youngest son could not wait to get his hands on this dish and run away with them. He happily obliged to holding this little bowl while I snapped some pics. These keto cheese crackers are super simple to make but I'm not going to lie, it's an arm work out to get the dough rolled out thin enough to make these crisp. Just do it. You'll thank me later.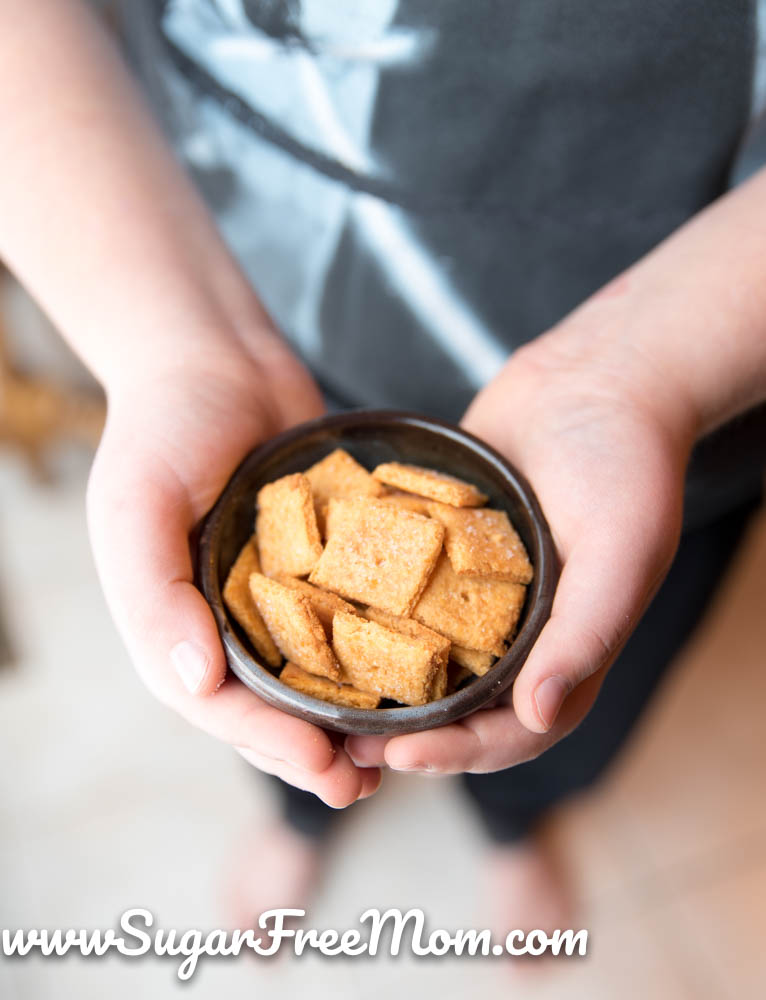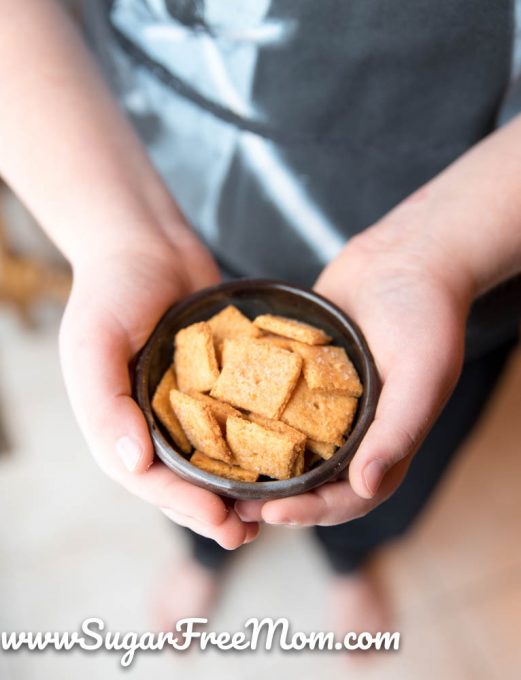 Tools to Make Keto Cheese Crackers
Food Processor- Using this method to add all ingredients and process, is one of the easiest and quickest ways to work with fat head dough to make keto cheese crackers.
Baking sheet pan- Add some parchment paper to make your clean up even easier on this sheet pan.
Pizza Cutter- This is the best way to score the cheese crackers before they bake.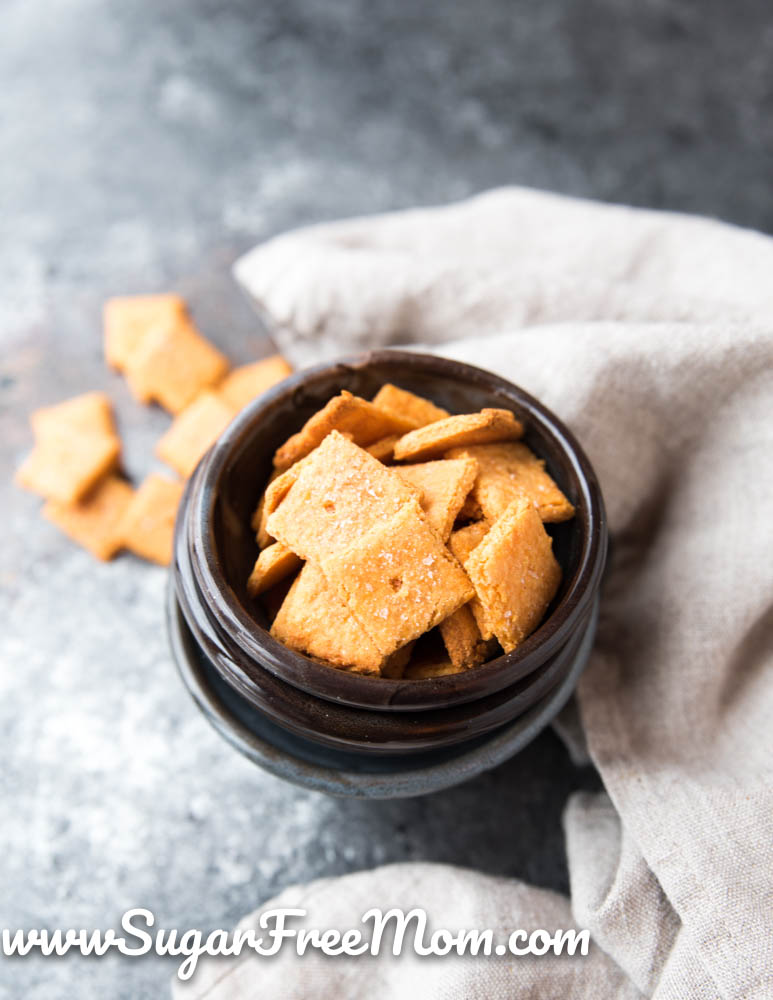 How Many Carbs in Keto Cheese Crackers?
You can enjoy 14 keto cheese crackers for just 2 net carbs!
Brenda's Notes:
My first attempt included almost half of the cheese amount using grated parmesan. They just didn't look like cheez-its, I wanted that nice color so I went with all cheddar jack on my further attempts.
If you're into other spices go ahead and change out what you like, maybe even some chili powder or cayenne.
If you can't find Cheddar Jack cheese, regular cheddar is fine and then shred it.
These are worth the trouble in rolling them out, I promise you!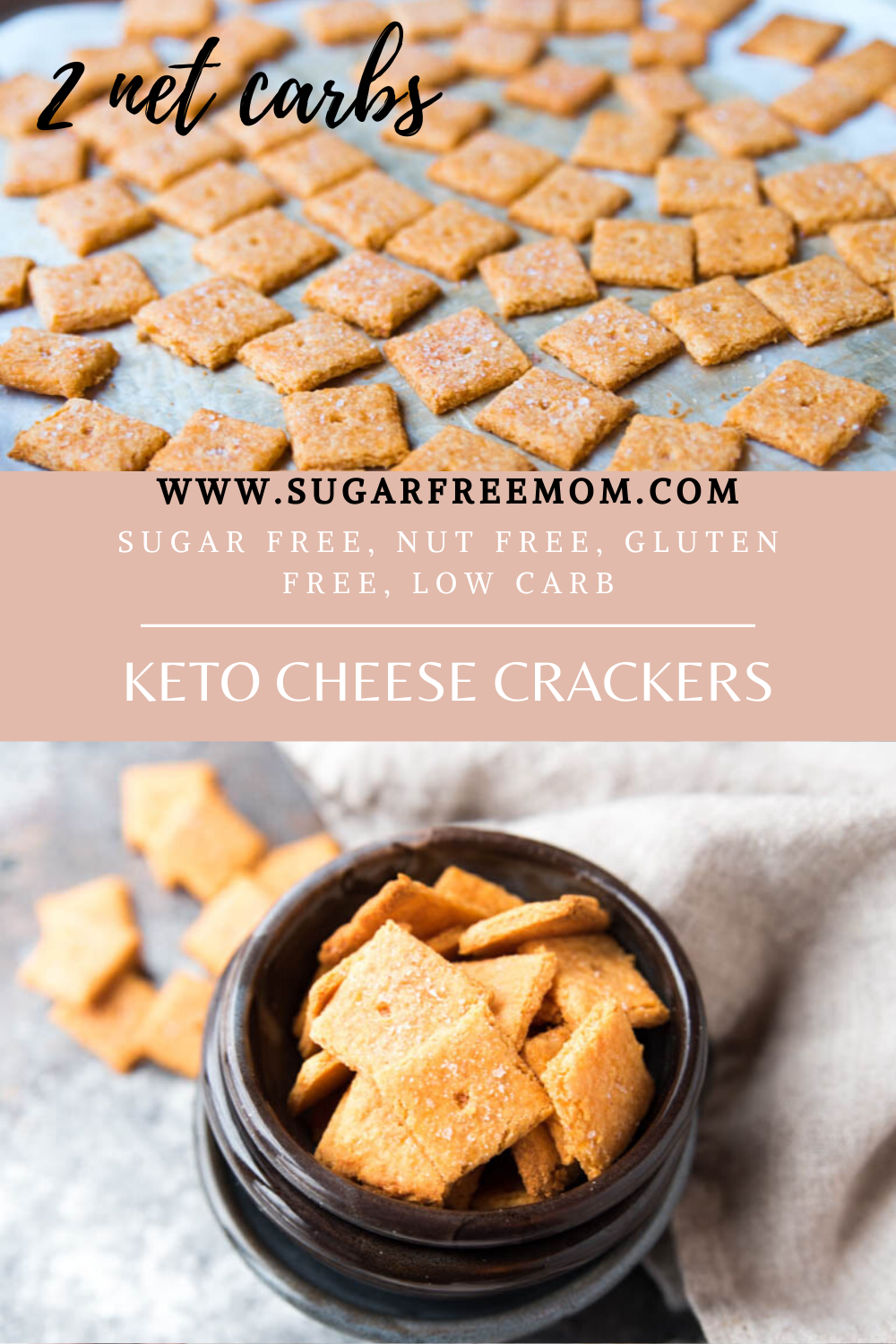 Coconut Flour Keto Cheese Crackers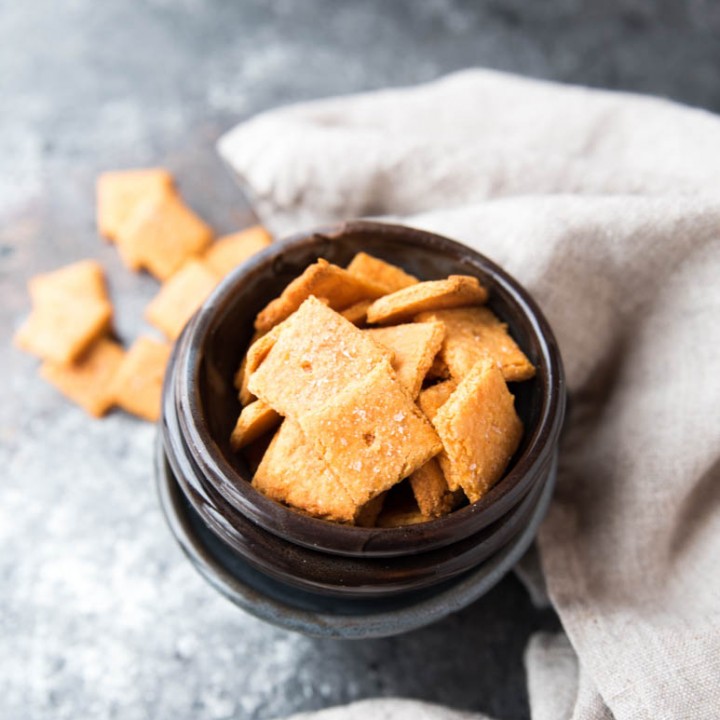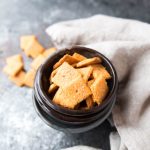 Print
Coconut Flour Keto Cheese Crackers (Gluten Free, Low Carb)
Servings
9
@ 14 crackers each
Instructions
Preheat the oven to 350 degrees F.

Place all the ingredients into a food processor and process until well combined.

Flatten dough onto a parchment lined baking sheet. Cover with another piece of parchment and use a rolling pin to spread out 14 by 9 inches.

Score with a pizza cutter, 1 inch squares. Total was 126 crackers. Poke a hole in center of each cracker if desired.

Sprinkle coarse sea salt over crackers if desired.

Bake 15 minutes then score again and try your best to separate crackers without tearing them. Bake another 5-10 minutes until browned and crisp. Cool completely then store in an air tight container.
Notes
Net Carbs: 2g
This recipe was first published in January 2018 and updated with video and content in May 2020. 
Nutrition
Serving:
14
crackers
|
Calories:
181
kcal
|
Carbohydrates:
4
g
|
Protein:
8
g
|
Fat:
14
g
|
Saturated Fat:
9
g
|
Cholesterol:
58
mg
|
Sodium:
284
mg
|
Potassium:
40
mg
|
Fiber:
2
g
|
Vitamin A:
495
IU
|
Calcium:
190
mg
|
Iron:
0.5
mg