Crock Pot Baked Oatmeal Bars are the best idea for a busy family! Personalize with different toppings and in the morning wrap them, grab them, and go!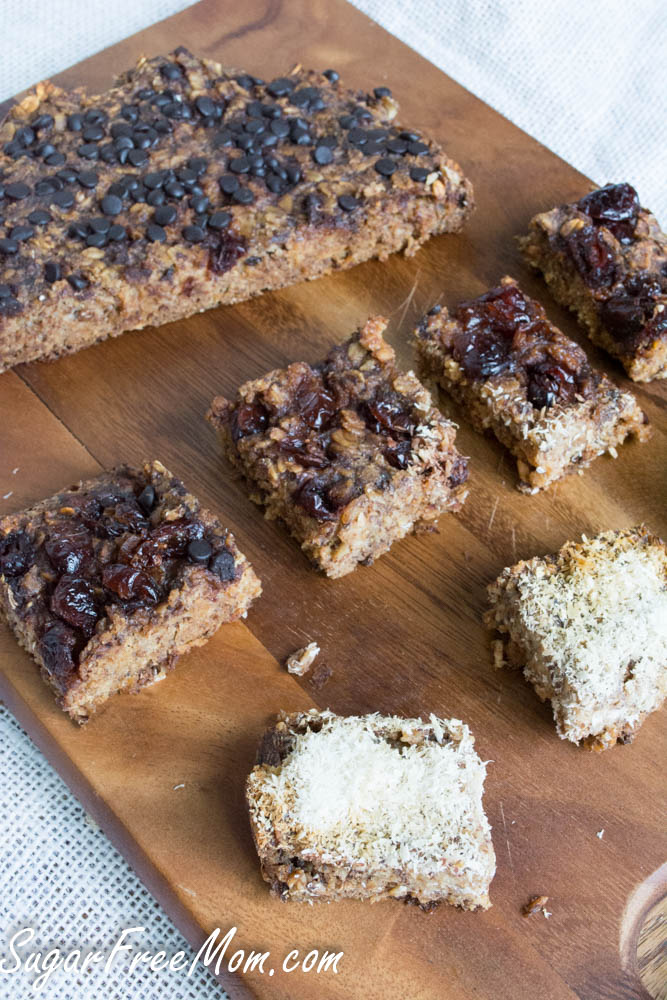 Making a breakfast that everyone enjoys in a large family is always a challenge. Take baked oatmeal for example. If you bake a 9 by 13 dish all with blueberries or with cherries or with coconut there will be at leas one or two who won't eat it. That's the problem making baked oatmeal right? This was my dilemma as I loved baked oatmeal and way back in February or 2012 I devised the recipe that put my blog on the map, went crazy viral, continues to be the landing page where most of my visitors come from and continues to be my top pinned and shared recipe to this day, Personal Sized Baked Oatmeal with Individual Toppings. That was the first time a recipe had ever gone viral and I pray it won't be the last!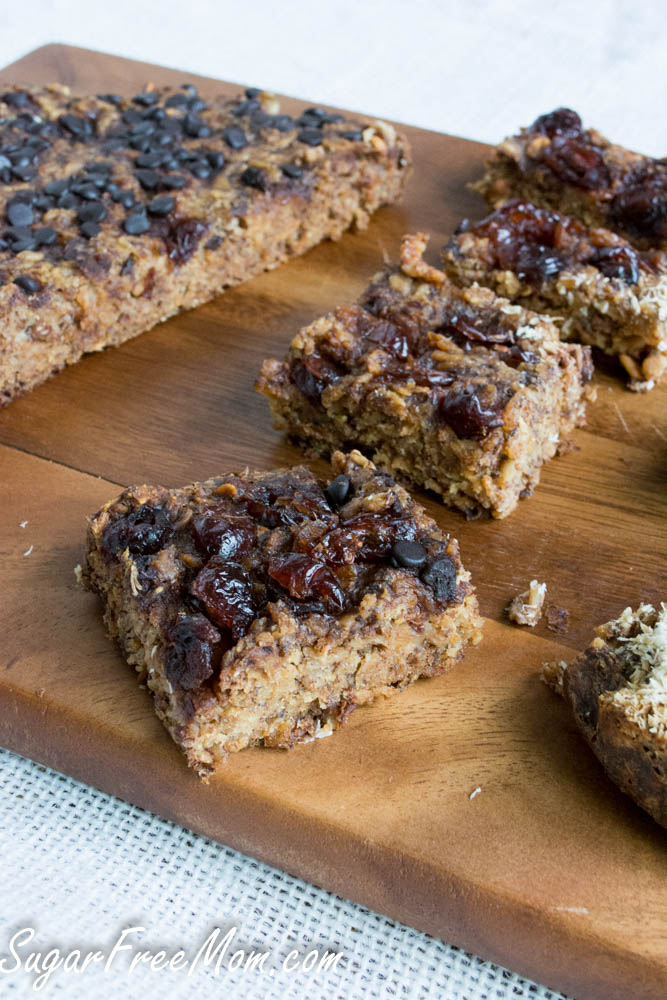 Since it's still the summer season here I've been all about making crock pot recipes. Recently I shared my Chocolate Quinoa Brownies for the crock, fabulous right?! Sadly though I've been thinking I need to get in the swing of things with breakfasts again before school begins in a few weeks. Boom, the idea for oatmeal bars in the crock pot came to be! BUT again the infamous issue of what will everyone like in the bars! Then I remembered my beloved viral recipe of them with individual toppings! I wasn't quite sure if it would work as well being in one oval shape in the crock pot, but it sure did! All that's needed is to sprinkle the toppings over sections of the batter. The first time I made it I sectioned off one half with chocolate chips for the kids, down the middle I place some dried cherries and then some shredded coconut. Now of course once you slice these into bars, some of the toppings may in fact be in combination with other toppings. Hopefully your children won't care much. I heard one child of mine, no names mentioned to conceal the Teen's identity, "Why is there a dried cherry mixed in with my coconut topping? But it's ok, mom, I still like it!"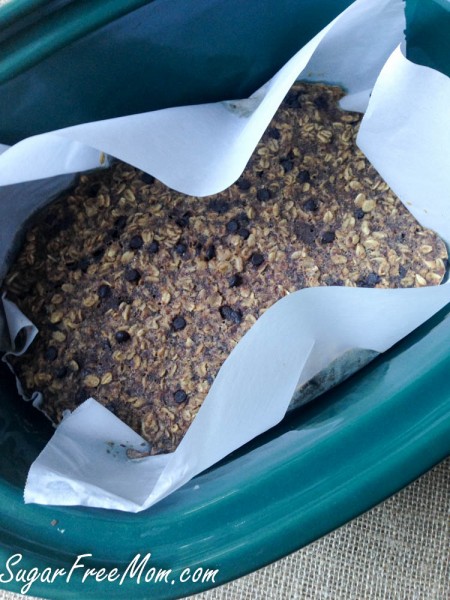 It's best to use parchment for easier lifting. The second time I made it, we just used chocolate chips mixed in the whole thing and that of course, makes everyone happy!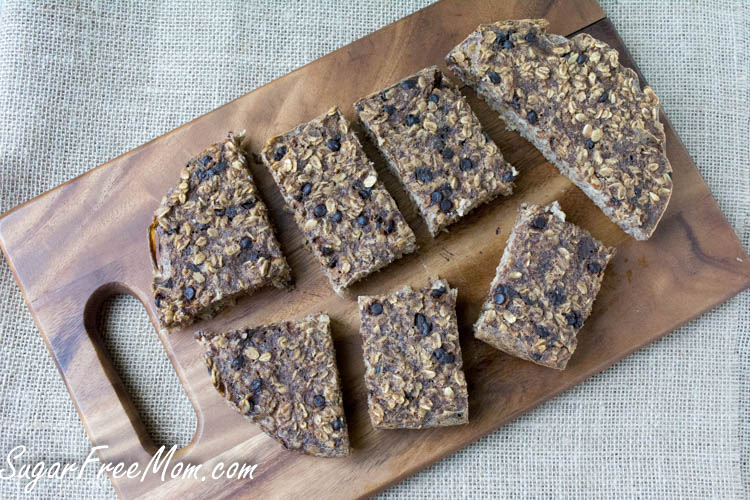 As far as portions go, I say 8 is best. That way you only need one piece and it's filling and you won't need a second piece because you'll be too full. My nutrition info is for 8, but if they are too big and you don't have an 8 year old, a preteen girl, a teenage boy and a hungry hubby living in your home, half the size of these might be just enough for you.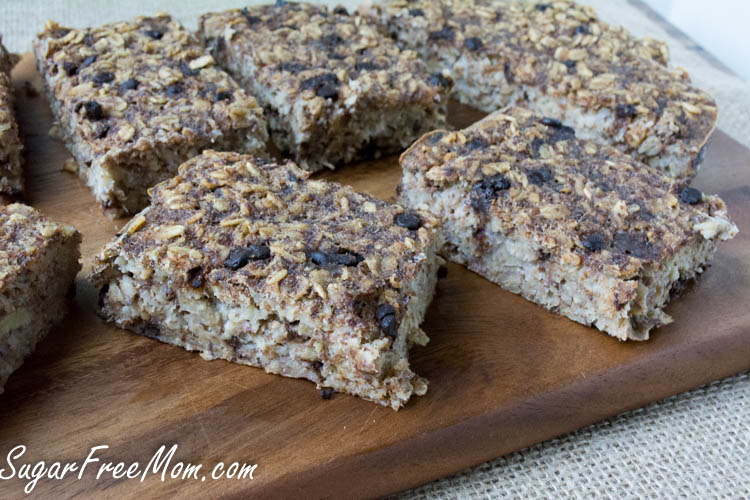 I do want to share some differences and variations in texture that's I've suggested in my notes. The first time I made them, I loved the dense type texture it produced, more sturdy to hold, more like a granola bar to me. Unfortunately the family thought they were good but liked the second version which is the recipe I'm sharing below. Reasons for the love for the second version was because they liked the moister, softer texture then the denser one. Lucky for you, I've suggested two ways on making these depending on your preferences. 🙂 Now go and enjoy the rest of this short summer season, but keep this recipe on hand for those soon to be school rushed mornings!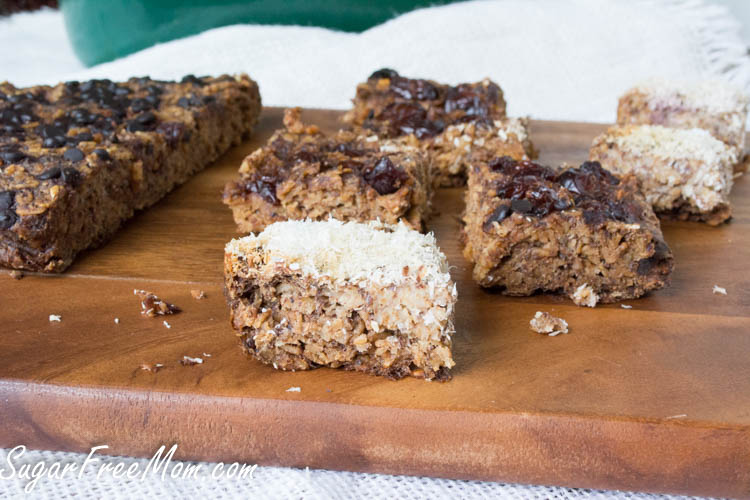 Brenda's Notes:
Nutritional Information is without optional toppings.
If you want a denser texture, less moist, reduce to 1 egg and remove ½ cup of milk.
If the pieces are too big for your crew, cut the the bars into 16 instead of 8 which will reduce your nutritional information per serving by half.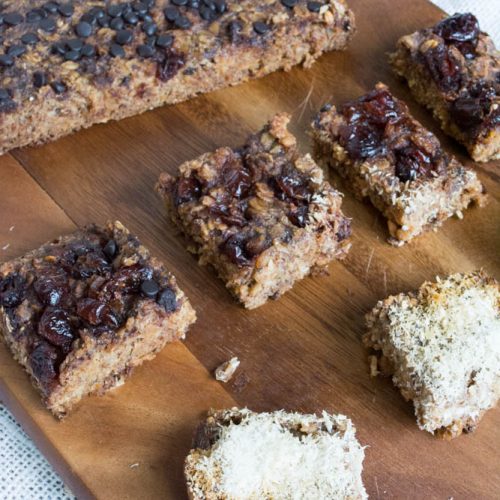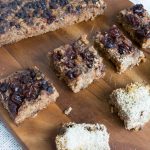 Print
Crock Pot Personalized Baked Oatmeal Bars
Ingredients
2

eggs

½

teaspoon

vanilla extract

1

teaspoon

vanilla liquid stevia

1

large banana or 1 cup mashed

1 ½

cups

milk

I used 1%

2

cups

rolled oats

½

cup

ground flaxseed

2

teaspoons

ground cinnamon

1

teaspoon

baking powder

½

teaspoon

salt

Optional toppings: chocolate chips

raisins, fresh blueberries, dried cherries, trail mix, shredded unsweetened coconut, frozen raspberries
Instructions
In a stand mixer blend the first 5 ingredients until combined.

In a separate bowl whisk together remaining ingredients except optional toppings.

Pour the dry ingredients into the wet and blend until incorporated.

Lay parchment paper to extend up sides of a 6 quart crock pot/slow cooker.

Spread the batter onto the parchment and level it off on top,

If desired sprinkle different toppings on sections of the top of the batter and press toppings into batter if using fresh or frozen fruit.

Cook on low 8 hours.

Hold ends of parchment paper and lift out onto a cutting board.

Cut into 16 bars.

Wrap individually or store in an airtight container.
Notes
Weight Watchers PointsPlus: 4*
Nutrition
Serving:
1
g
|
Calories:
168
kcal
|
Carbohydrates:
25.1
g
|
Protein:
7.9
g
|
Fat:
4.6
g
|
Saturated Fat:
0.6
g
|
Cholesterol:
2
mg
|
Sodium:
247
mg
|
Fiber:
5
g
|
Sugar:
2.8
g