These Chocolate Fudge Cookies don't look gluten or sugar free or that there is a hidden veggie inside. Once tasted, they will happily surprise even the pickiest haters of zucchini and all things healthy!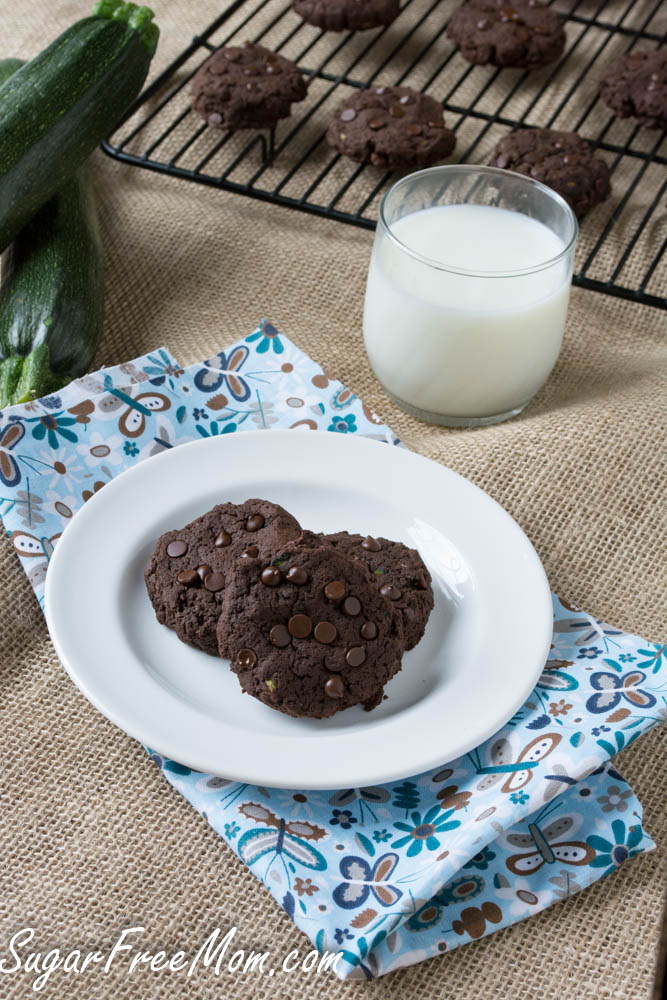 What's the key to get your kids to eat zucchini or any veggie they think they don't like? Pulverize the veggies so they can't see them and hide them in chocolate! My kiddies rarely refuse a chocolate cookie! Making these include zucchini was just an idea to use up some zucchini I had left over from another recipe. The moistness from the zucchini provides a wonderful cake like cookie texture that won over my children and their friends!
When I think of dessert I always think of chocolate first. Once I had made the decision to live a sugar free life about 10 years ago, I cried and cried. I was mourning the thought I probably would never have chocolate again or chocolate cake on my birthday or cupcakes or cookies! But as I began learning how to live without the addiction to sugar and eventually bring back desserts with sugar free alternatives, I discovered I would never have to give up chocolate completely. Store bought packaged chocolate and the like made with refined sugars wouldn't touch my lips again and I was fine with that. Learning to make my own treats and goodies and even chocolate bars that tasted as good to me as store bought was a challenge that fueled me and created this passion to help others as well. Hence this blog in existence today!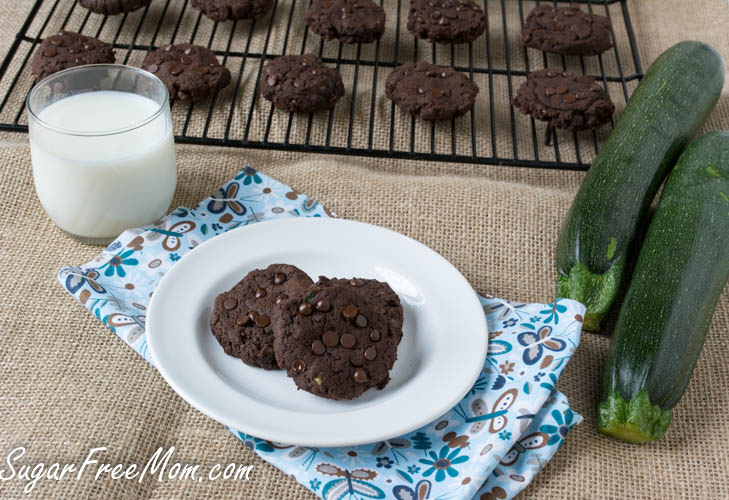 When I began my sugar free baking all those years ago I was still using whole wheat flour without issues. In fact I still have many recipes on my blog today of whole wheat baked goods, like my Chocolate Zucchini Bread that are on my To DO list to make gluten free. But with anything, as time goes on and especially when eliminating certain foods in your diet, your body lets you know what it likes and what it doesn't. For me and having digestive issues I knew I had to figure out the cause on my own through trial and error.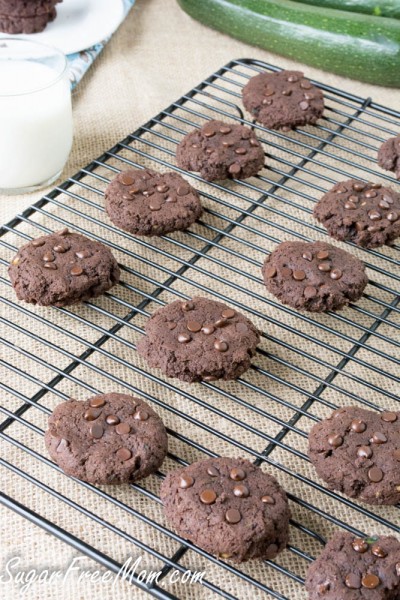 I took away gluten for a 6 weeks then got tested. I was shocked when I received the news of negative testing. Go figure, I wonder why right? I had already had it out of my system so of course it wouldn't have come up positive with gluten sensitivities. What I do know though is with eliminating it, I feel better and when I do occasionally have some whole wheat bread or something I can feel those digestive issues return. I rarely make anything these days with whole wheat. Although my family can still have it, since I don't want to, they all just happily enjoy my gluten free creations.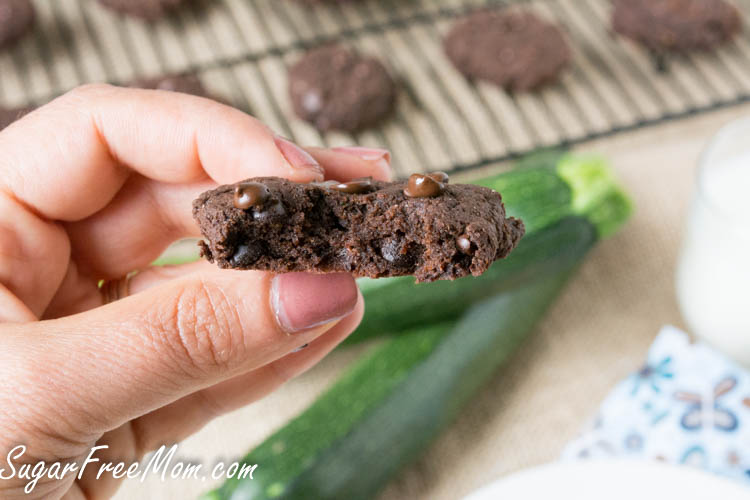 I mean seriously, look at these from the inside view!! No green is evident or most certainly I would hear complaints from one of the kids. Even the hubby was surprised when I shared zucchini was part of the line up. Not even a slight taste of zucchini is in these cookies. The chocolate takes over and wins the race to your taste buds. 🙂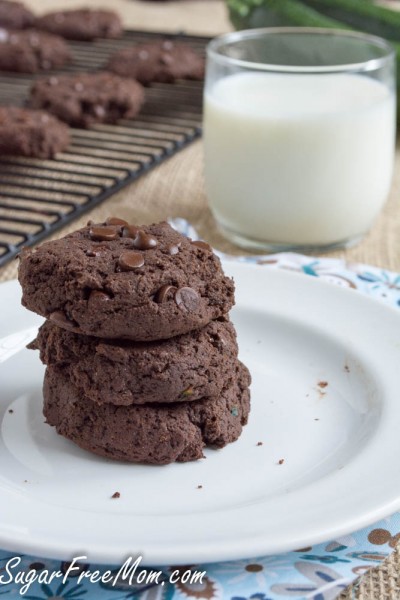 When I was contacted by Bob's Red Mill to try their newest of gluten free flours, I was thrilled to experiment. I've always been of fan of all their products and use them regularly all the time. This flour worked wonderfully in my Blueberry Muffins as well as my strawberry scone recipe. But of course since I'm a chocolate lover I knew a new recipe using this flour had to be combined with chocolate. I find often in baking without sugar and gluten, cookies are the biggest challenge to get just the right texture. A chocolate cookie would be the ultimate test for this flour and obviously as you see here, it passed with flying colors.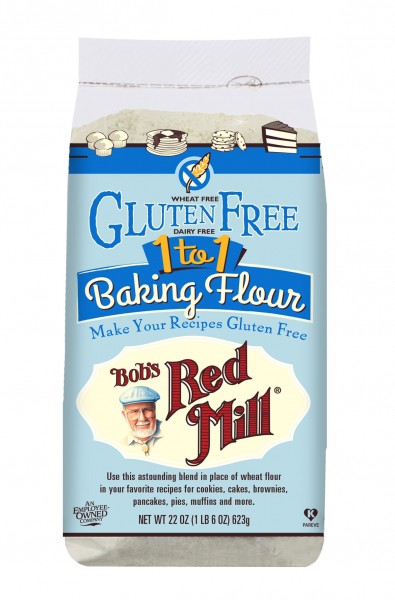 The joy of this flour is that you can take any traditional recipe and convert it to gluten free. It contains a special blend of brown rice flour, sorghum, potato starch, tapioca flour and xanthan gum so you don't need all those ingredients on hand to make fabulous gluten free baked goodies your family will love!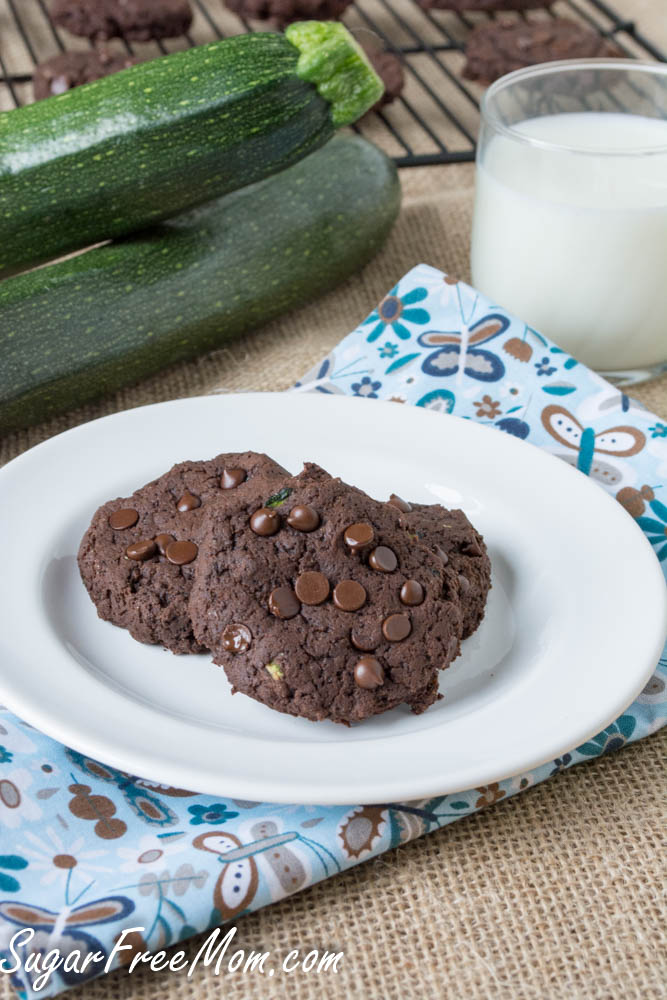 Yes you may be able to see a few pieces of green speckled in that cookie but that didn't stop my children and their friends from eating these up! These have just the right fudgey consistency, soft and satisfying so 2 will subdue that chocolate craving easily!
Brenda's Notes:
You could use shredded zucchini but I knew my kids would not like to see any strings of green zucchini in their cookies. I shredded it first in my food processor then added it to my blender and pulverized it!
It is a super thick batter but don't worry, this is the way it is supposed to be. The zucchini makes them more cake like than crunchy cookies.
I often use Lily's Brand for my sugar free chocolate chips which is stevia sweetened and I found them at Whole Foods. If you can't find those, for my children with allergies I often use Enjoy Life which is dairy, soy and nut free.
I like to use the brand Swerve for the erythritol because it seems to incorporate the best and they also have a powdered sugar substitute. I've found it at Whole Foods and my local market or you can buy online.
I used Bob's Red Mill 1-to-1 gluten free baking flour which can be replaced with whole wheat flour in this recipe if you have no gluten issues.
To make Dairy free sub the butter for vegan butter.
To make vegan, use a flax egg and sub for vegan butter.
If you db't have liquid vanilla stevia you will need to increase the erythritol or they won't be sweet enough. You could also replace the erythritol with honey if desired.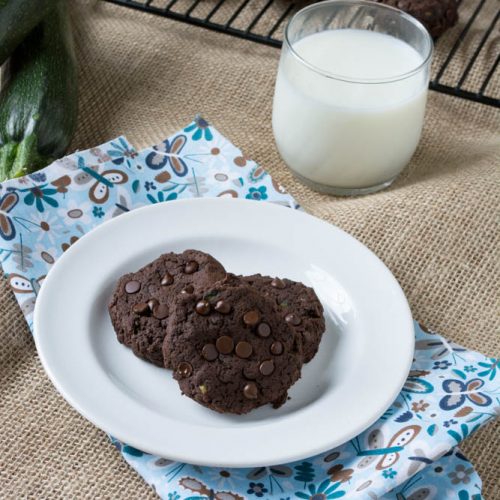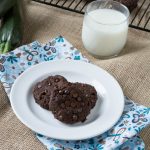 Print
Sugar- Free Chocolate Fudge Zucchini Cookies
Instructions
Preheat oven to 350 degrees.

Sift together the first 5 ingredients in a bowl.

In a stand mixer, blend the butter, applesauce, extract, stevia, egg, and zucchini until well combined.

While the mixer is on low, slowly pour in the dry ingredients into the wet until mixed well.

Stir in chocolate chips if desired.

Using a small cookie scoop, make 24 mounds and place on two silpat lined or parchment lined baking sheets.

Flatten mounds slightly and bake for 12 minutes.

Cool 5 minutes then place on a wire rack to complete cooling.
Notes
Weight Watchers Points Plus for 2 cookies=4*
Nutrition
Serving:
2
g
|
Calories:
128
kcal
|
Carbohydrates:
17.1
g
|
Protein:
2.5
g
|
Fat:
6.2
g
|
Saturated Fat:
2.9
g
|
Cholesterol:
25
mg
|
Sodium:
134
mg
|
Fiber:
1.8
g
|
Sugar:
0.4
g
Disclosure: This post has been sponsored by Bob's Red Mill. All opinions are always my own. Thank you for supporting the brands I enjoy working with.