If you're looking for an authentic yet Low Carb Tortilla, try these nut free, keto, paleo and gluten free tortillas! These are the most legit keto tortilla you will ever have! Just 1 net carb per tortilla! This recipe comes from my cookbook Naturally Keto!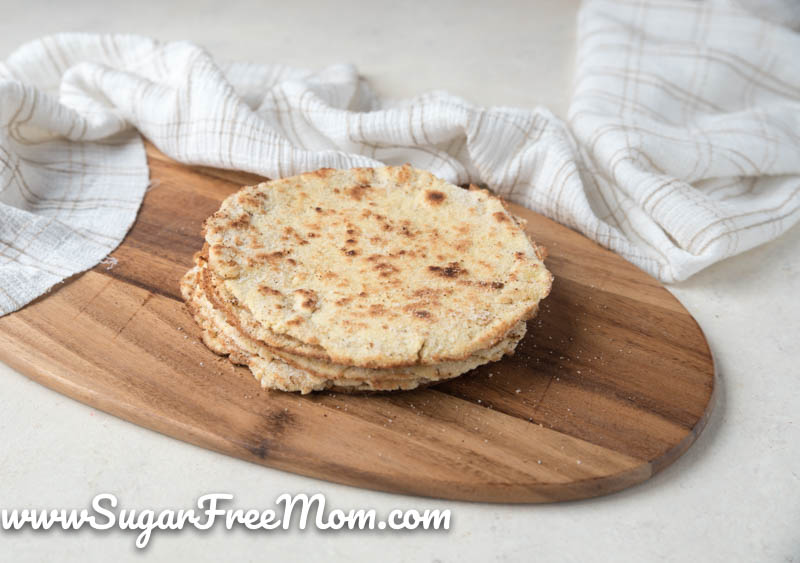 THE BEST LOW CARB KETO NUT FREE TORTILLAS
A traditional tortilla is a type of flatbread made from corn or wheat typically filled with savory fillings. When you start a low carb or keto diet, those are something you might often miss since they are higher in carbs and may not fit into your macros. You can most certainly find store- bought low carb tortillas, but often they have other ingredients that include preservatives to keep them shelf stable. If you're eating a whole food approach, then you may want to steer clear away from those packaged low carb tortillas. Creating a homemade and authentic keto tortilla was no easy feat, but I have found the best combination of flavors and ingredients that will keep you happy on your new keto or low carb lifestyle. You can still enjoy your enchiladas and tacos using these amazing keto nut free tortillas that are just 1 net carb each!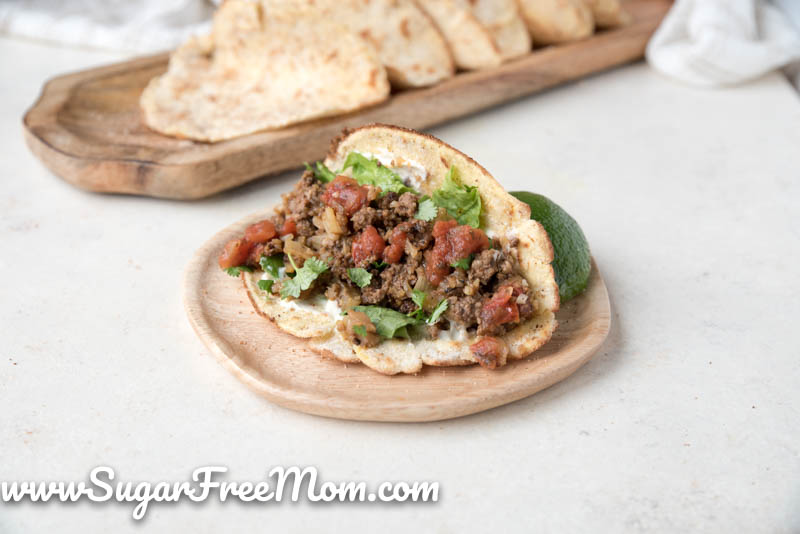 HOW TO MAKE LOW CARB TORTILLAS
Most keto tortilla recipes you may find online often use almond flour as the main ingredient for making keto tortillas. My youngest son has a tree nut and peanut allergy so almond flour is not something we can use. I've also seen coconut flour tortillas and have tried them myself but felt they just didn't provide the texture and authenticity of a real tortilla I remember enjoying prior to my low carb days. I set out on a mission to create the most authentic, pliable without breaking apart once you fold them and paleo, dairy free keto tortilla for my cookbook, Naturally Keto!
After what felt like a billion attempts with different ratios, I feel I perfected the most legitimate For Real Keto Tortilla! A combination of two types of nut free keto flours and delicious bone broth and this recipe came to be!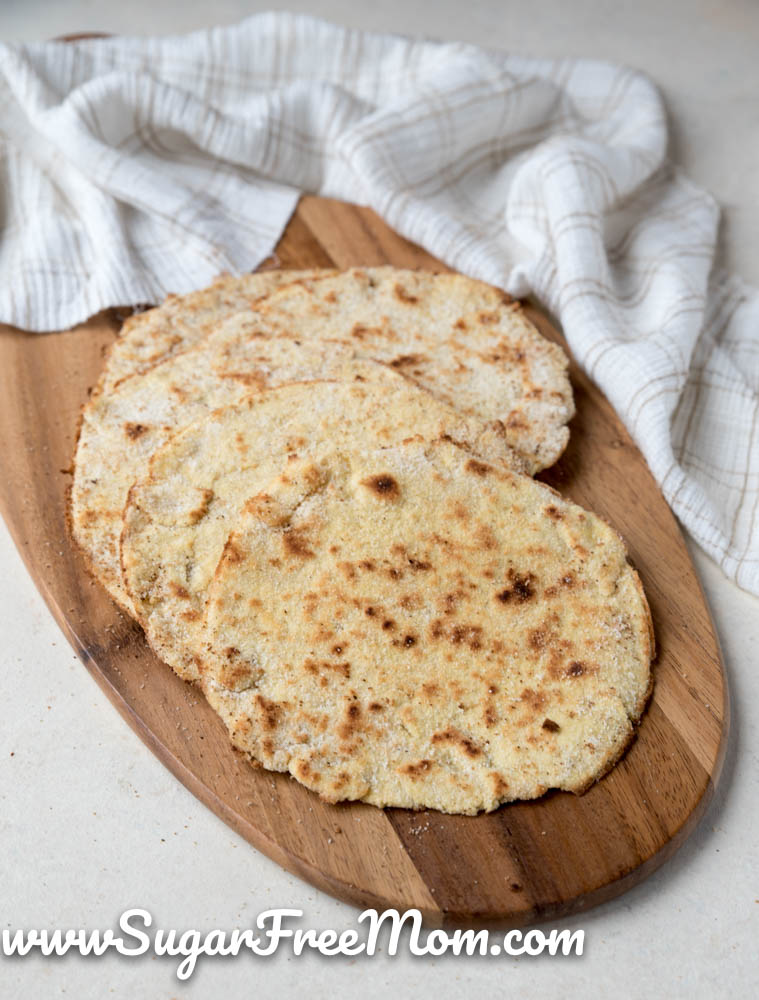 TOOLS TO MAKE LOW CARB TORTILLAS
Food Processor- I love my Cuisinart food processor because I can blend anything so quickly! Perfect for pie crusts, cookie dough, and these tortillas!
or Blender- If you don't want to invest in a food processor, a high powered blender should do the trick for most recipes.
Small Nonstick Frying Pan- A nice non stick small frying pan, 6 inch or 8 inch will work well for cooking these tortillas.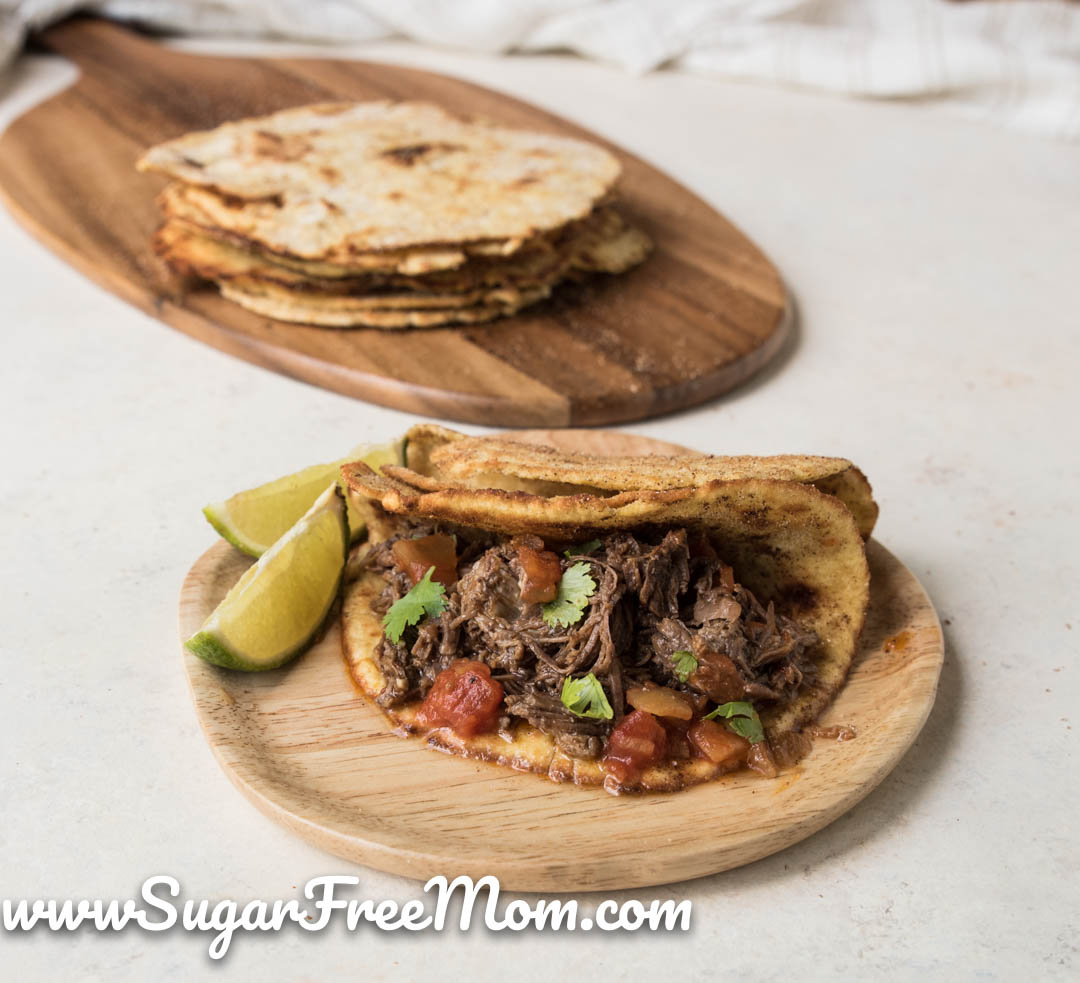 FILLING FOR LOW CARB TORTILLAS
I've used these tortillas for taco filling and my Copycat Chipotle Beef recipe. You could enjoy these for any filling really! Even just a roll up with deli meat. You could even make these Breakfast tacos and use my filling from these Taco Stuffed Tomatoes! Not into beef? Use my Slow Cooker Chicken Taco Filling instead!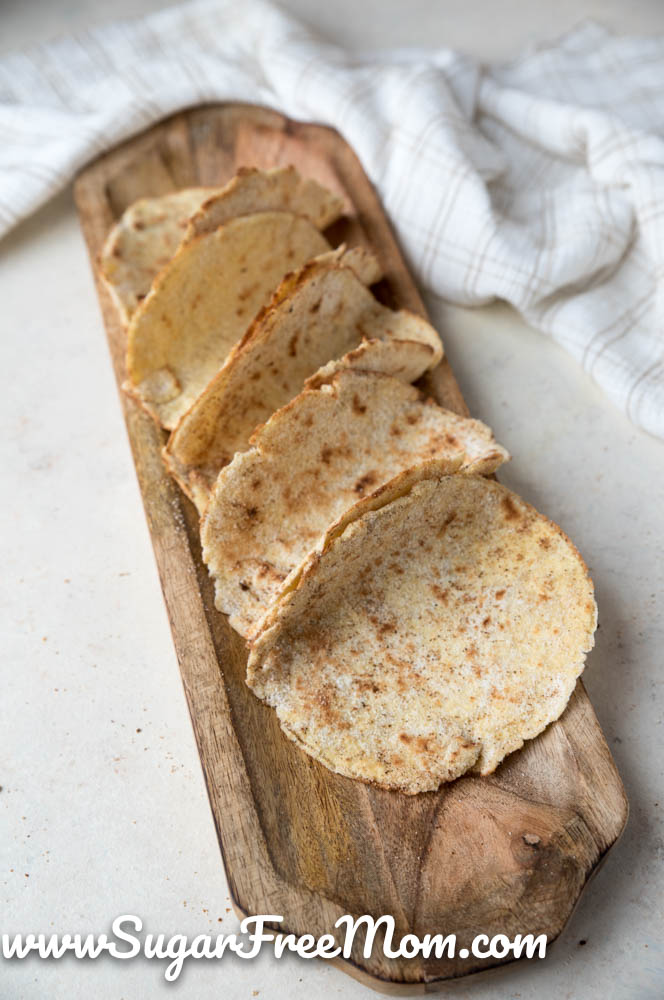 HOW TO STORE LOW CARB KETO TORTILLAS
Once cooked and cooked, I would layer them between pieces of parchment paper and then in an airtight container. Store in the refrigerator for up to a week or freeze in a ziploc freezer storage bag for up to a month.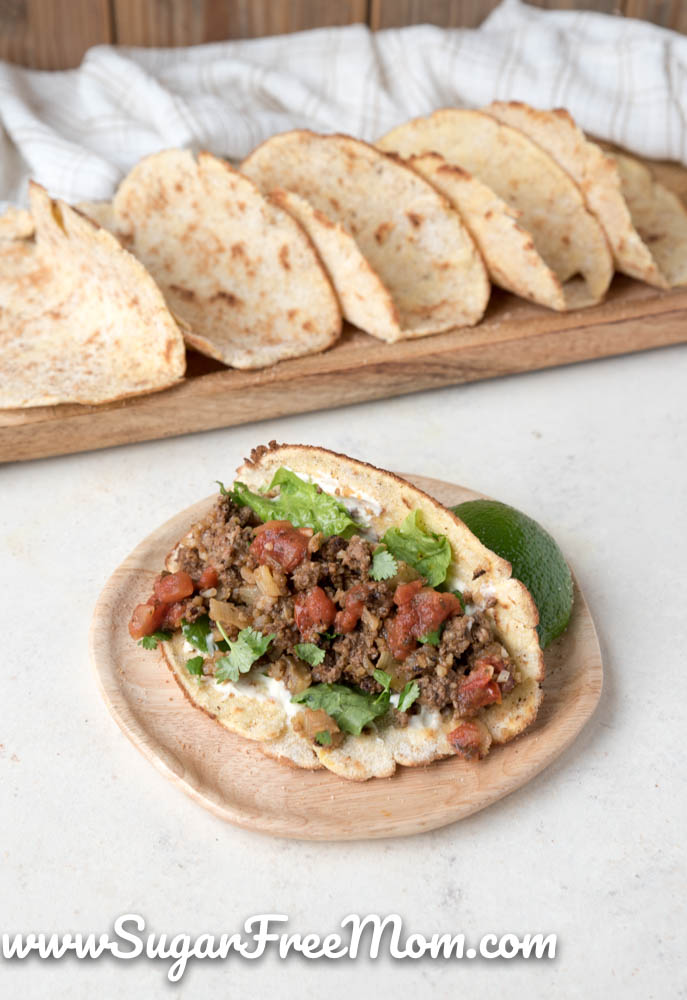 NATURALLY KETO
My cookbook Naturally Keto came out last October 2019. It's been one year since its release and so many people have left lovely comments and review on Amazon. I feel incredibly blessed I have had this book be a staple in so many families home.
If you're just starting the keto diet or have been doing it a long time, this whole foods approach, family friendly recipe cookbook will be everything for you! Even if you're not actually on a keto diet, you will love the recipes in this cookbook! Real meals for families, nothing too complicated and flavor filled and satisfying! There are pictures for every single recipe! Not an easy task but I know how worth it is for even me, to be able to see a final product of a written recipe and I wanted to make that happen for this cookbook.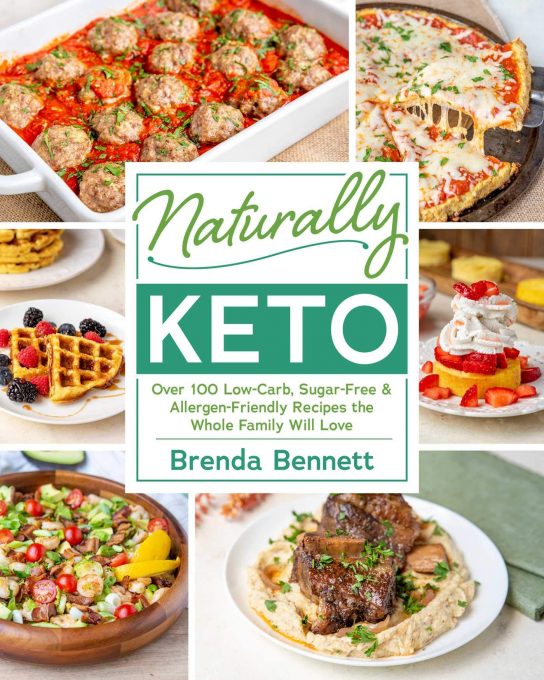 EVERYONE WHO ORDERS MY NEW COOKBOOK THIS MONTH, WILL RECEIVE MY Everything But the Turkey EBOOK FOR FREE AS A THANK YOU FOR ORDERING!
IF YOU WRITE AN AMAZON REVIEW YOU ALSO GET THIS EBOOK FOR FREE! JUST EMAIL ME A COPY OF YOUR RECEIPT TO [email protected] AND I WILL SEND YOU A COPY OF THESE EBOOK FOR FREE!

FOR REAL KETO TORTILLAS (NUT FREE, PALEO)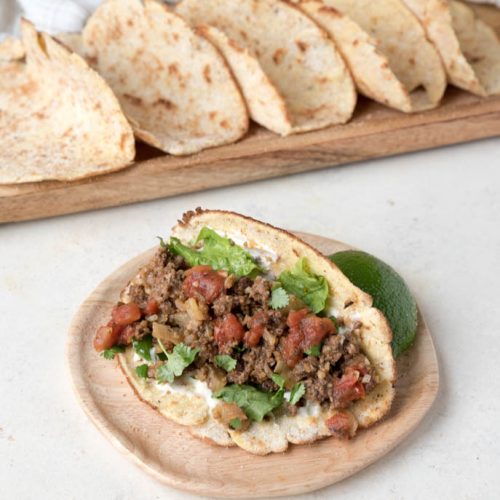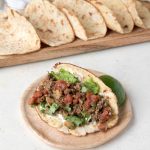 Print
For Real Keto Tortillas (Nut Free, Paleo)
This awesome recipe comes from my new cookbook, Naturally Keto and is printed with permission. Naturally Keto is available at Barnes and Noble and Amazon.
Instructions
Add all ingredients to a food processor or a blender. Process until smooth and dough forms.

Separate dough into 10 balls. Sprinkle some coconut flour onto a clean counter surface or on parchment paper. Add some flour to the top of the dough before rolling. Flatten each ball into a 6 inch circle using a rolling pin. Set aside on a plate to finish the rest.

Heat about a teaspoon of oil in a small skillet over medium high heat. Lay one tortilla in the skillet. Spray the top of the tortilla with oil cooking spray before flipping. Once the edges are brown, carefully flip over. Just needs 1-2 minutes on each side. Generously spray the pan or oil or butter the pan each time you make the next tortilla.
Notes
This recipe was first published in January 2020 and updated with video in October 2020.
Nutrition
Serving:
1
tortilla
|
Calories:
62
kcal
|
Carbohydrates:
4
g
|
Protein:
4
g
|
Fat:
2
g
|
Cholesterol:
32
mg
|
Sodium:
161
mg
|
Potassium:
12
mg
|
Fiber:
3
g
|
Vitamin A:
45
IU
|
Calcium:
5
mg
|
Iron:
0.2
mg