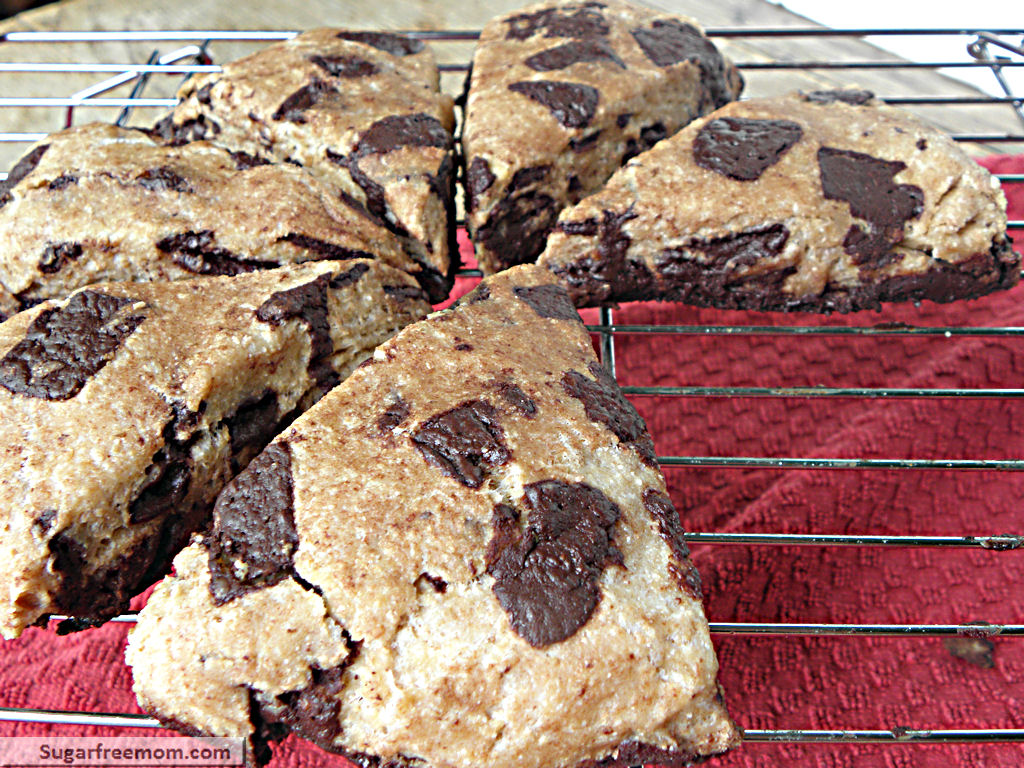 Are you a scone lover? Or do you avoid them like the plague because of the thought of super high calories? How about if I told you this scone above is only 171 calories?! Yep. 'Tis true!
Scones are a special treat we don't have often around my house. Usually I would make my Strawberry Scones for breakfast. BUT these were made simply to try out another new recipe: Naturally Sweetened Dark Chocolate Chunks!
I was hoping for good results when they were baked and I was not disappointed. Warning though, it gets a little messy making them and baking them!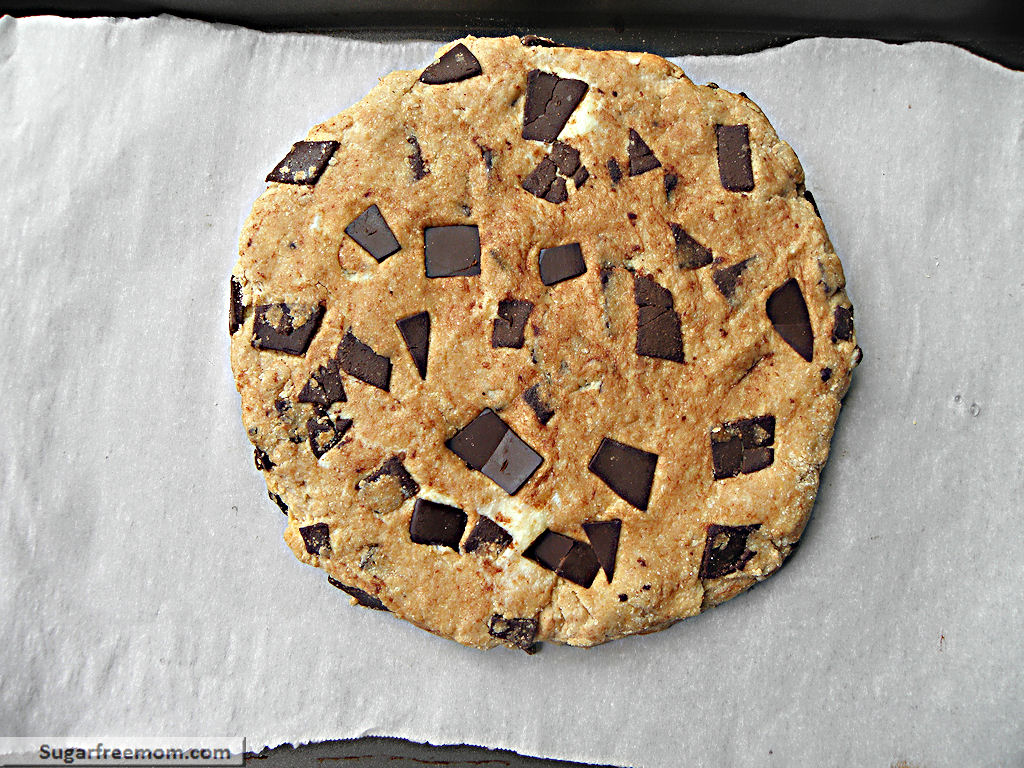 Your hands will most certainly become quite chocolate covered forming this round circle of chocolate goodness! It almost looks like a giant chocolate chip cookie doesn't it?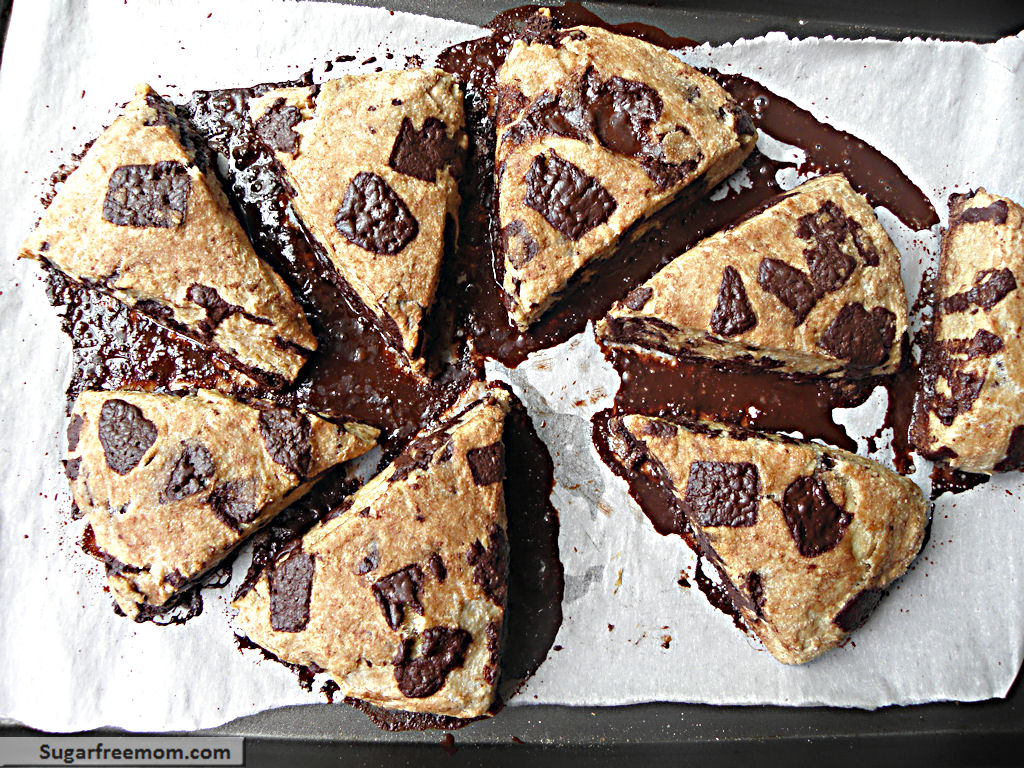 This is what I was talking about as far as messy baking goes. Lining the baking sheet is a must and it looks like all the chocolate seeped out of them right? Not so.......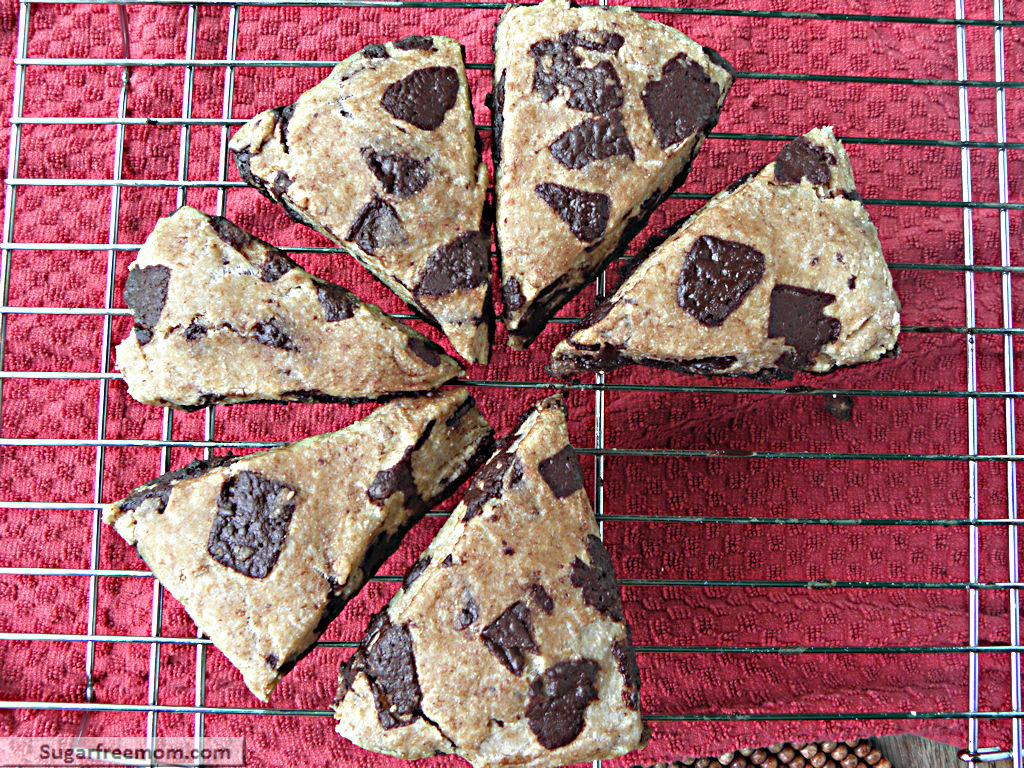 You just lay them on a wire rack with a cloth towel under it for the chocolate to drip on and they are just fine!
Expecting that these Naturally Sweetened Chocolate Chunks are going to behave the same way as standard sugar filled chocolate chips when baked is just not realistic. They get pretty melted........but it's all good!
Healthier Chocolate Chunk Scones: No Sugar Added
Author:
Prep time:
Cook time:
Total time:
Ingredients
2 cups white whole wheat flour
1 teaspoon baking powder
½ teaspoon salt
1 tablespoon [url href="http://www.iherb.com/p/5270?at=0&rcode=yaj035" target="_blank"]stevia powder[/url]
4 tablespoons cold butter, sliced
1 egg
1 teaspoon vanilla extract
¾ cup milk [ I used 1 %]
½ cup [url href="https://www.sugarfreemom.com/recipes/naturally-sweetened-dark-chocolate-chunks-dairy-free-diabetic-friendly/" target="_blank" title="Naturally Sweetened Dark Chocolate Chunks: Dairy Free & Diabetic Friendly"]Naturally Sweetened Chocolate Chunks[/url] or your favorite chocolate chips
Instructions
Preheat the oven to 375 degrees.
In a bowl combine the flour, baking powder, salt and stevia.
Using two knives, cut the butter into the flour mixture.
In a separate bowl, lightly beat the egg then add the vanilla and milk.
Pour the wet mixture into the dry and mix well then add in the chocolate chips. Form a ball.
Line a baking sheet with parchment paper and shape the ball of dough into an 8 inch circle onto the baking sheet.
Flatten with hands then use a pizza cutter to slice into 8 triangular pieces. Separate them using a spatula.
Bake at 375 degrees for 15-20 minutes.
Serving size:
1
Calories:
171
Fat:
14g
Carbohydrates:
11g
Fiber:
2g
Protein:
4g
Notes
Weight Watchers PointsPlus: 5*
*These are higher in fat due to the chocolate chunks made with coconut oil, but much healthier than traditional chocolate chips scones full of sugar for sure!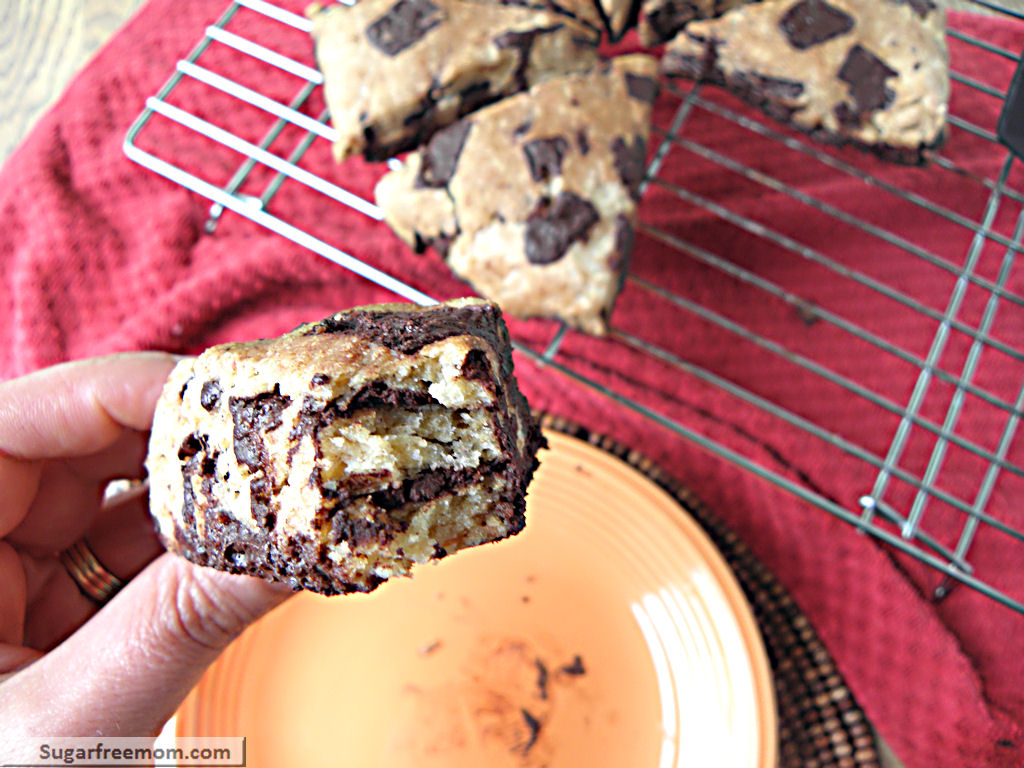 If they don't get all eaten coming out of the oven once baked (which I would be very surprised if they didn't) then you can easily reheat them in a small toaster oven for a few minutes.
You might also enjoy my Strawberry Scones made with honey!