Creamy egg salad.......mmmmmm......but usually it means lots of mayo right? Well it doesn't have to be.
I never think about egg salad much except after Easter when we have an enormous amount of hard boiled eggs! My children aren't fans, but the hubby and I love it. I set out to make it healthier without effecting taste. The hubby loves Hellman's mayo so I chose to keep just a little in there to balance out the Greek yogurt. Worked like a charm! I didn't tell him till AFTER he ate it and said he loved it! SUCCESS!
Additional notes:
I like my egg salad pretty creamy and not dry. If you're not sure about the amount of mayo and yogurt, just mix in the yogurt first, you can reduce the yogurt to 3 tablespoons if you like. Then add the mayo a tablespoon at a time, mix well before adding in more. I chose not to go strictly all yogurt simply because I knew the hubby wouldn't eat it like that. You also might be fine with adding in only 2 tablespoons of mustard, but I use 3 because I love the flavor!
Ingredients
4 eggs, hard boiled, chopped ( I use Egglands eggs)
2 egg whites, hard boiled, chopped
¼ cup Greek yogurt, plain, nonfat ( I use Chobani)
3 tablespoons mayonnaise, light ( I use Hellman's)
2 scallions, chopped
3 tablespoons mustard
1 tablespoon capers
salt and pepper to taste
Directions
Mix all ingredients together in a bowl and enjoy over lettuce or on a healthy whole grain bun! Top with some red onions if you like!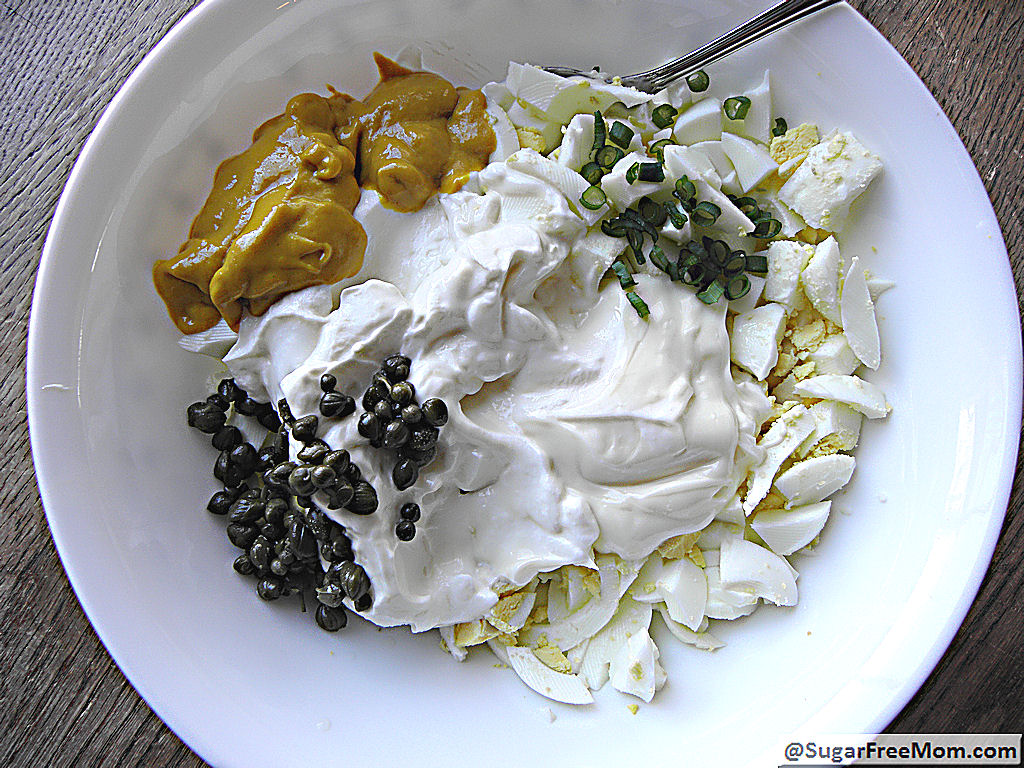 Nutrition Info
Servings: 4* (½ cup) Calories per serving: 130* Fat: 9g* Fiber: 0g* Carbs: 2* Protein: 10g* Points+: 3*
Just so you know this is much healthier than 6 whole eggs and all mayo, I calculated it so you could see it for yourself!
Calories: 257* Fat:22g* Fiber: 0*Carbs:5g* Protein: 10g* Points+: 7*
I'll make my version any day of the week 🙂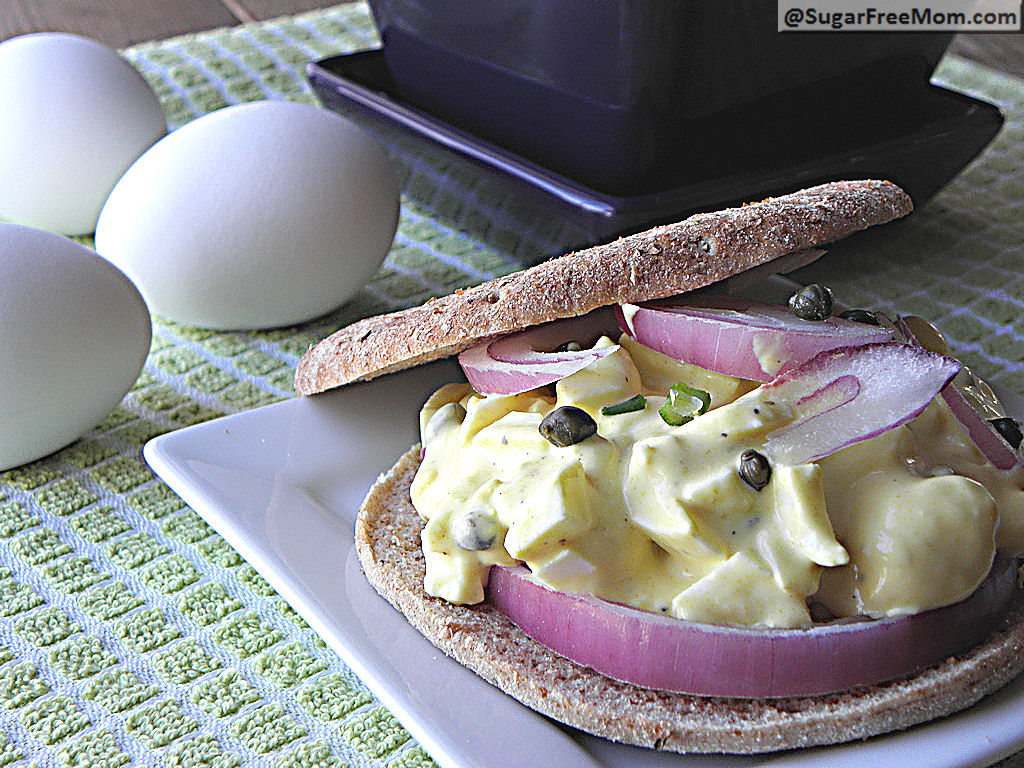 Are you making egg salad today from all the left over painted eggs from Easter yesterday?