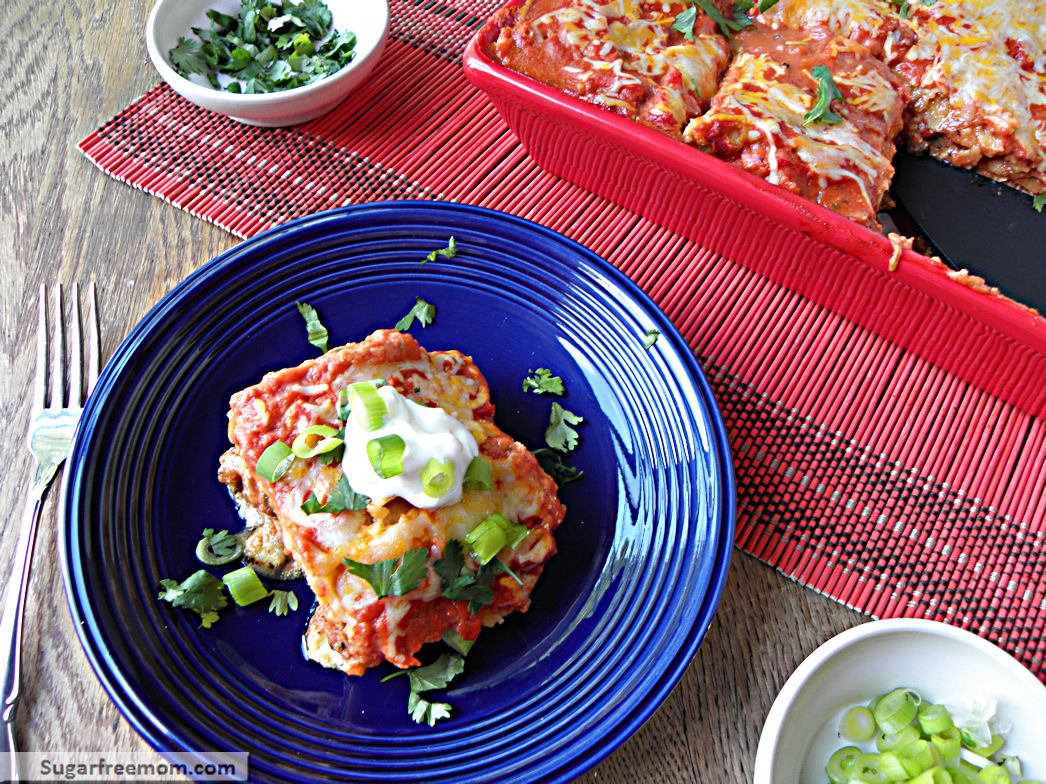 Traditional lasagna and tacos got married and made this!!! This is a cross of flavors and ingredients that make this unique and a big hit with kids!
My kids are not crazy about regular lasagna, but they LOVE tacos! So calling this a taco lasagna with the familiar flavors of a taco is what hit this recipe out of the park! Removing the typical lasagna pasta and replacing it with corn tortillas makes this scrumptious and healthier!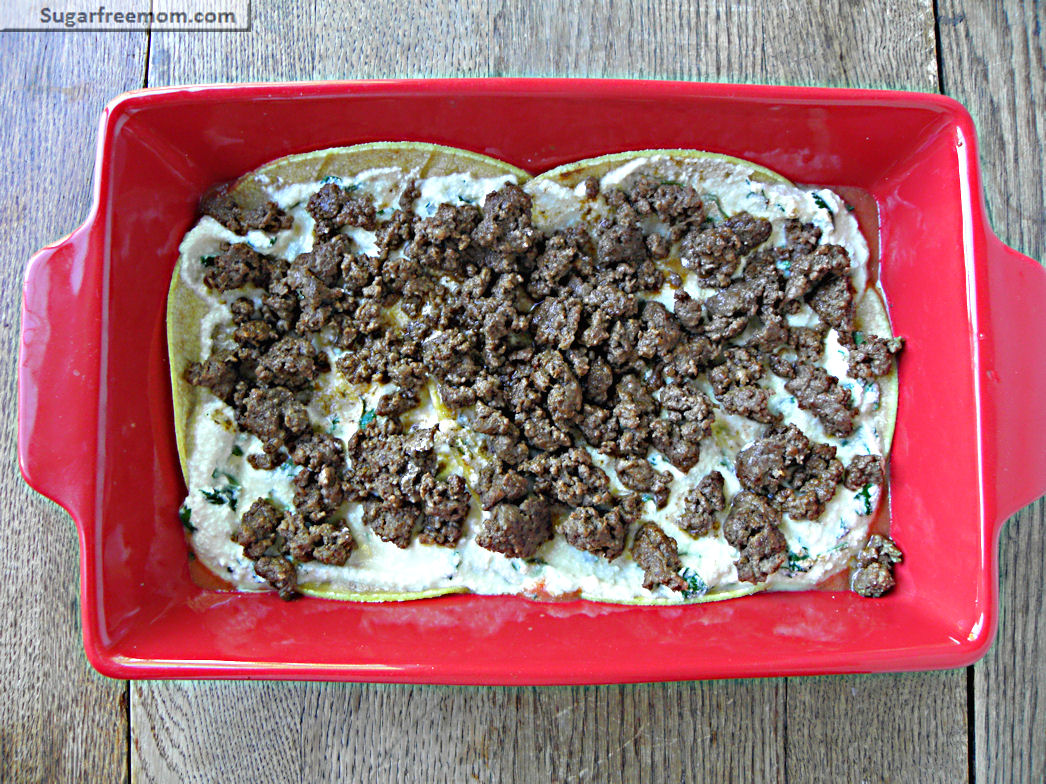 Layered just like a lasagna with corn tortillas, ricotta, meat and "sauce" create a hearty piece of deliciousness in every bite!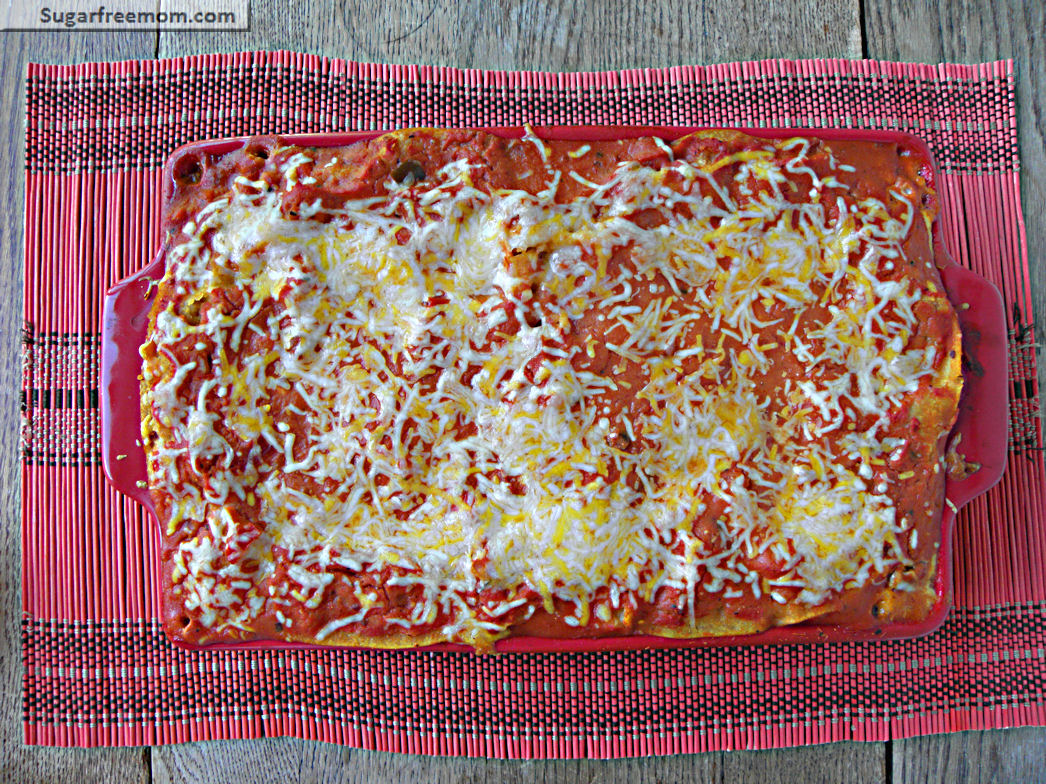 Shown here topped with a special mixture as the sauce and a small amount of shredded cheese. This is so quick and easy to assemble. It's the perfect dish to make for company or even make ahead and freeze for a busy night during the week.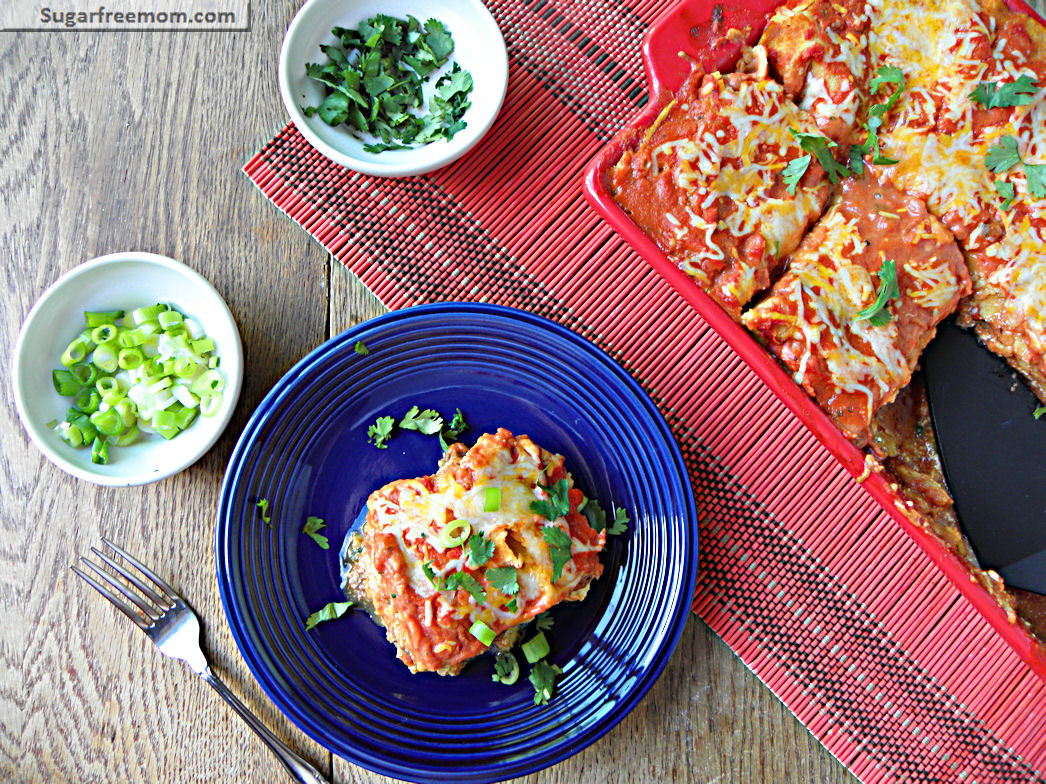 Add some cilantro and chopped scallions if you like. I told my kids it was a mashed taco and they ate it up!
This recipe was inspired by my Healthy Enchilada Bake and my kids favorite food.... tacos AND my crazy desire to get the kids to eat a lasagna......ha!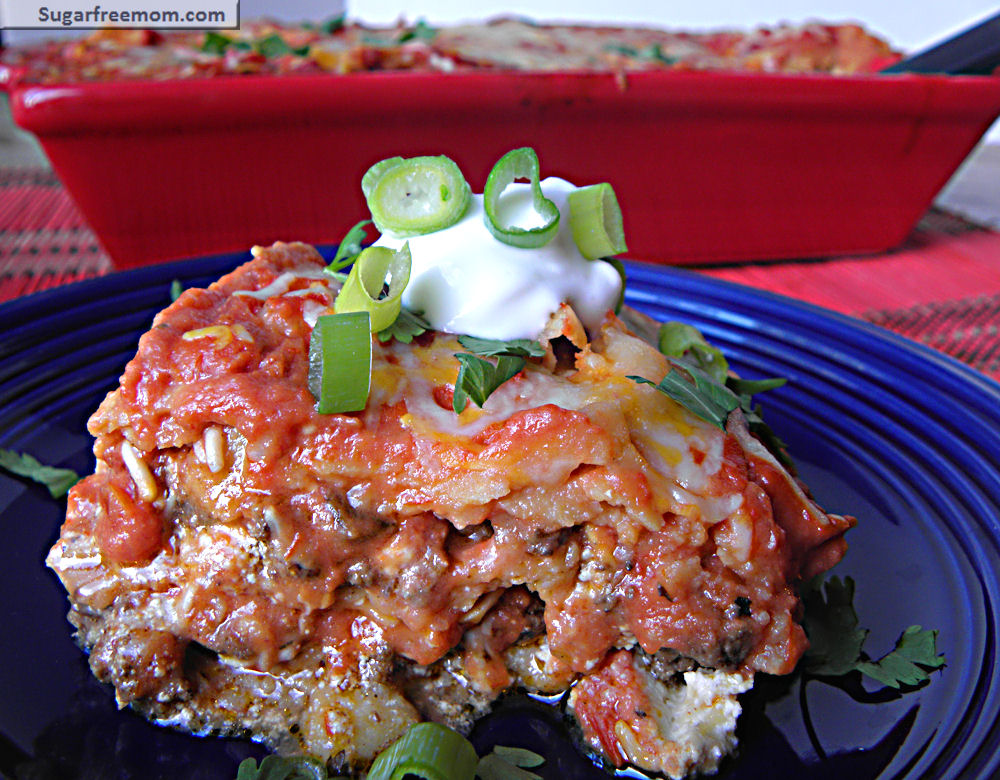 Healthier Mexican Taco Lasagna
[sc:Ziplist]
Ingredients
1 pound of lean ground beef or turkey
½ cup water
2 teaspoons cumin
2 teaspoons chili powder
2 cups ricotta cheese, part skim
2 eggs, beaten
½ cup chopped fresh cilantro
½ can (28 ounce) crushed tomatoes ( I used Tuttorosso with basil)
1 jar (16 ounce) mild or medium chunky salsa
1 cup sour cream, lite*
1-½ cups Mexican blend shredded cheese, lite
6 large corn tortillas or 12 small
optional toppings; chopped scallions, sour cream, cilantro
* You could eliminate the sour cream if your family likes the spice from salsa. I mix the sour cream in to tone down the spice.
Directions
In a large skillet brown your meat then drain fat. Add water, cumin and chili powder to the meat and bring to a boil. Reduce heat and simmer for 5 minutes. In a bowl mix together ricotta cheese, eggs and cilantro. In another bowl stir together tomatoes, salsa and sour cream. Preheat oven to 400 degrees. In a 9 x 13 baking dish, spread some sauce to cover the bottom of the dish. Top with 2 large tortillas overlapping slightly. Spread half the ricotta mixture over the tortillas. Spread half of the meat over the ricotta. Add half a cup of shredded cheese. Pour more sauce to cover then add 2 more tortillas. Repeat with remaining ingredients. Top final layer with 2 more tortillas and the rest of the sauce. Cover with aluminum foil and bake for 40 minutes. Uncover and add the last ½ cup of cheese and bake for another 5-10 minutes until cheese is melted.
Nutrition Info
{Using Ground Beef}
Servings: 6* Calories per serving: 442* Fat: 21g* Cholesterol: 163mg* Sodium: 824mg* Carbs: 35g* Fiber: 5g* Sugars: 7g* Protein: 31g* Points+: 12*
{Using Ground Turkey}
Servings: 6* Calories per serving: 423* Fat: 20g* Cholesterol: 174mg* Sodium: 824mg* Carbs: 35g* Fiber: 5g* Sugars: 7g* Protein: 29g* Points+: 11*
Other Recipes you might like: