Asian Chicken Meatballs made nut free, flour free, keto, low carb, paleo and easy for a satisfying meal or appetizer!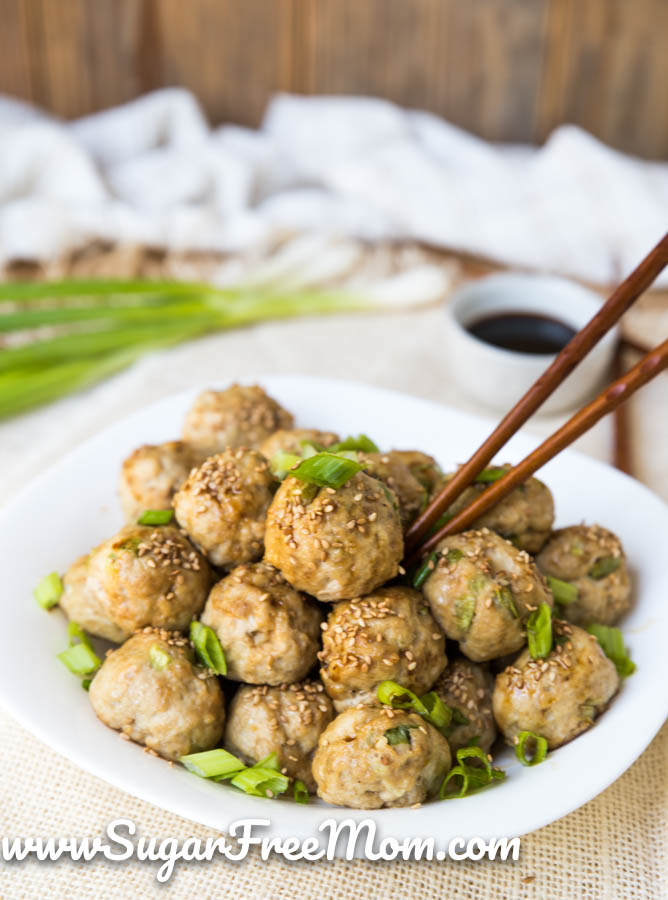 Chicken Meatballs
When you're looking for a change of pace from the traditional beef meatball, chicken is a fabulous option. While ground chicken can often be bland, adding in the right amount of spices can make for a pretty tasty meatball!
This recipe can be made in under an hour and is perfect to serve for a party as an appetizer or just add a keto side dish, like my Slow Cooker Cabbage, or Mashed Cauliflower and you've got an easy meal any night of the week.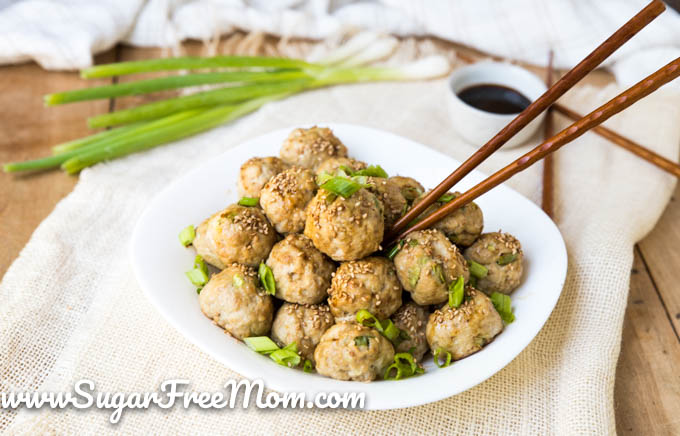 Baked Meatballs
Baked meatballs just make life easier. You can certainly pan sear these if you prefer a more crispy outer coating, but baking means you can just forget about them and move on to something else. These baked meatballs are tender and juicy and full of Asian flavor!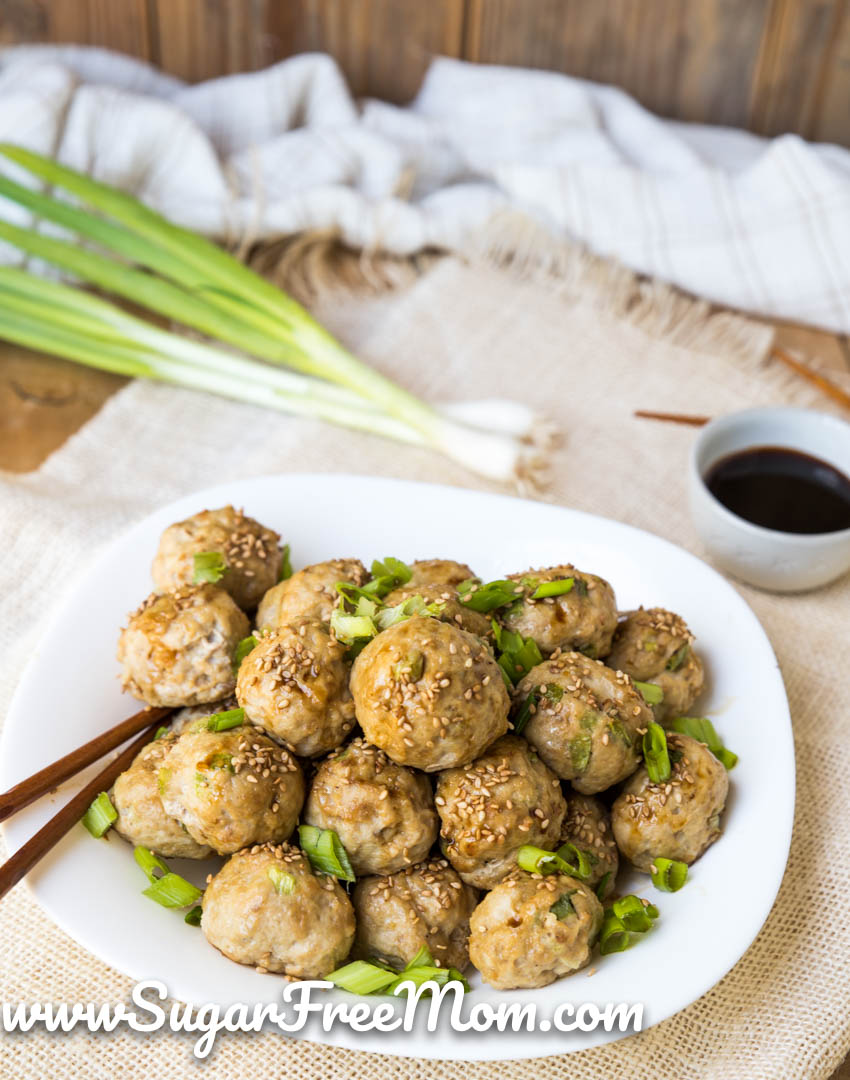 Coconut Aminos
My family loves all kinds of meatballs, but if you've got a few picky kids in the bunch, throw them some chopsticks and a side of Coconut Aminos and watch them go at it. For my kids it's always about the chopsticks really. You could also swap the coconut aminos with soy sauce but since my oldest has a soy allergy, we choose coconut aminos instead. Taste just like soy sauce, but not as salty in my opinion.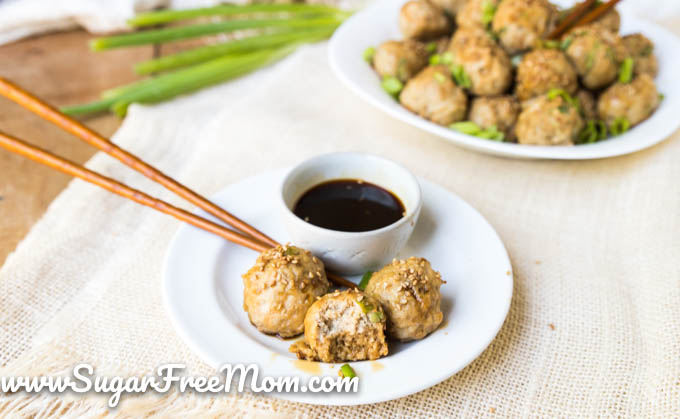 Asian Meatballs
The ingredients of most Asian recipes I've seen always include fresh ginger, garlic, sesame and green onion or scallions. So of course these are included in this recipe. Don't skip on buying fresh ginger and use a ground or dried ginger, it just won't be a fresh and tasty. You can actually freeze fresh ginger for 2-3 months and you can also use it frozen right out of the freezer using a really good grater. I'd suggest peeling the fresh ginger before freezing it though, that way you can easily grate the frozen ginger and not have to worry about defrosting it to peel the skin.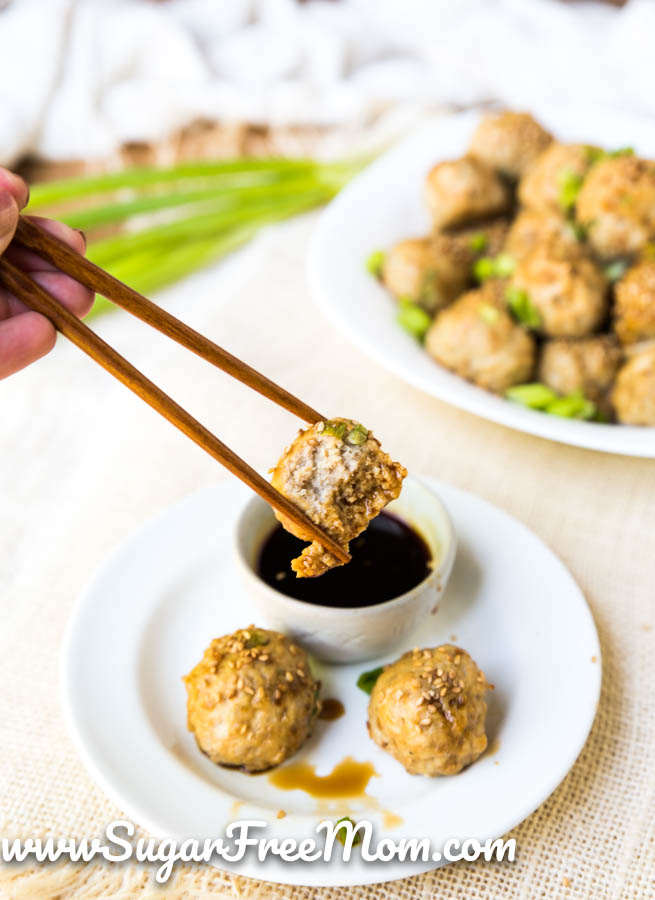 Hope you enjoy these as much as my family did!
Meal Planning
If you love recipes like this for yourself and family, you might be interested in my meal planning membership. Weekly low carb keto dinner meal plan sent to your inbox every Friday with shopping list. The best part about my meal planning feature is that if you aren't interested in one of the dinner meals you can swap it out for something else! You can even change serving sizes and the shopping list will adjust! It pretty amazing software and I hope you'll take advantage of it. You can have a sustainable low carb/keto lifestyle when you're well prepared and planning meals is the key! LEARN MORE TODAY!
Keto Asian Chicken Meatballs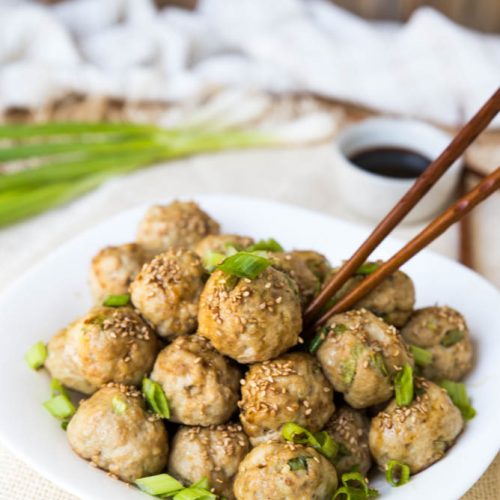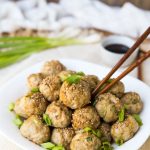 Print
Keto Asian Chicken Meatballs (Nut Free)
Servings
10
@ 3 meatballs
Ingredients
2

pounds

ground chicken

½

teaspoon

onion powder

¼

teaspoon

salt

¼

teaspoon

pepper

¼

cup

coconut aminos

or soy sauce

2

teaspoon

minced garlic

1

tablespoon

fresh grated ginger

2

scallions

or ¼ cup chopped

optional toppings: sesame seeds, chopped scallions, coconut aminos
Instructions
Preheat oven to 425 degrees F. Grease a large baking sheet and set aside.

In a large bowl add all ingredients except optional toppings and mix until combined.

Using a greased large cookie scoop, or measure 1 ounce (35grams) each of chicken and roll into balls. Place onto baking sheet. Top with sesame seeds if desired.

Bake meatballs for about 20 minutes or when they are slightly browned on bottom and edges. Serve with a drizzle of coconut aminos, chopped scallions and more sesame seeds if desired.

Serve as an appetizer or if a main meal serve over sautéed shredded cabbage.

Store left overs in a covered container in the refrigerator for up to 3 days.
Nutrition
Serving:
1
serving @ 3 meatballs
|
Calories:
154
kcal
|
Carbohydrates:
2
g
|
Protein:
16
g
|
Fat:
9
g
|
Saturated Fat:
2
g
|
Cholesterol:
82
mg
|
Sodium:
269
mg
|
Potassium:
480
mg
|
Fiber:
1
g
|
Sugar:
1
g
|
Vitamin A:
25
IU
|
Vitamin C:
0.7
mg
|
Calcium:
8
mg
|
Iron:
0.8
mg