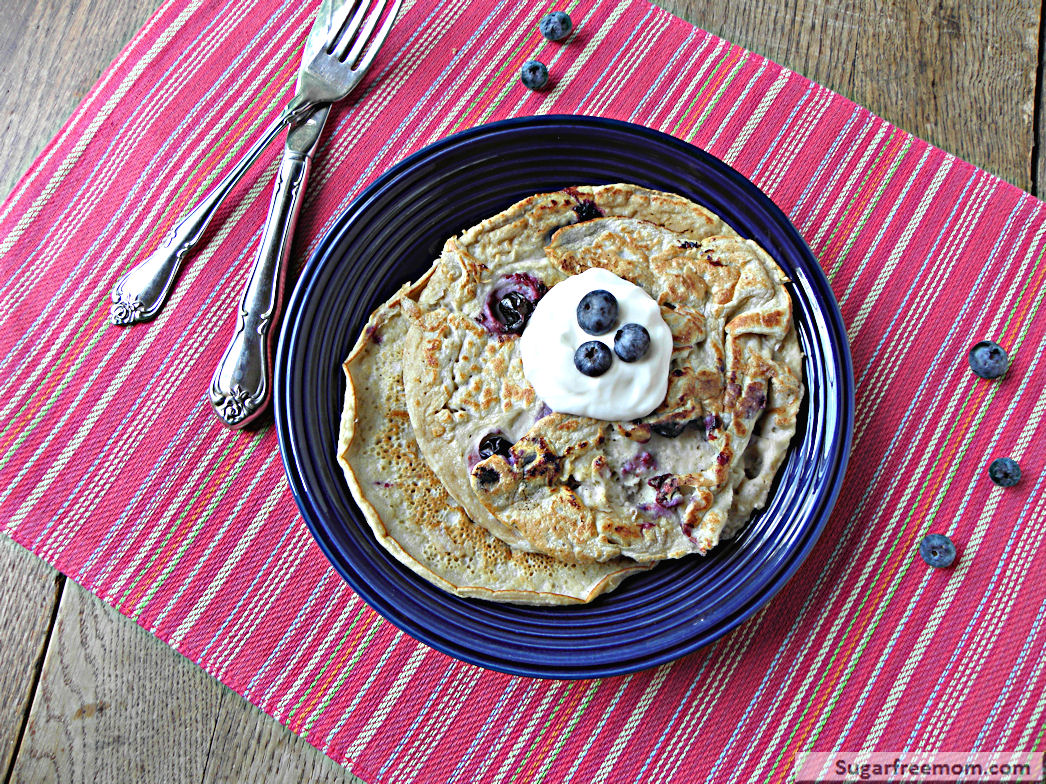 Any pancake lovers here? You either love them or hate them, but they can certainly be a load of carbs and sugar if you get them at a restaurant rather than making healthier ones at home.
To be honest with you I've never been a fan, not even as a kid. Just not interested. But I started recently trying to increase my protein as well as still add in a healthy carb at breakfast. So besides making an egg and having oatmeal every morning, a pancake like you see here is the perfect easy, fast, meal-on- a- mission- all- in -one -recipe and I'm hooked.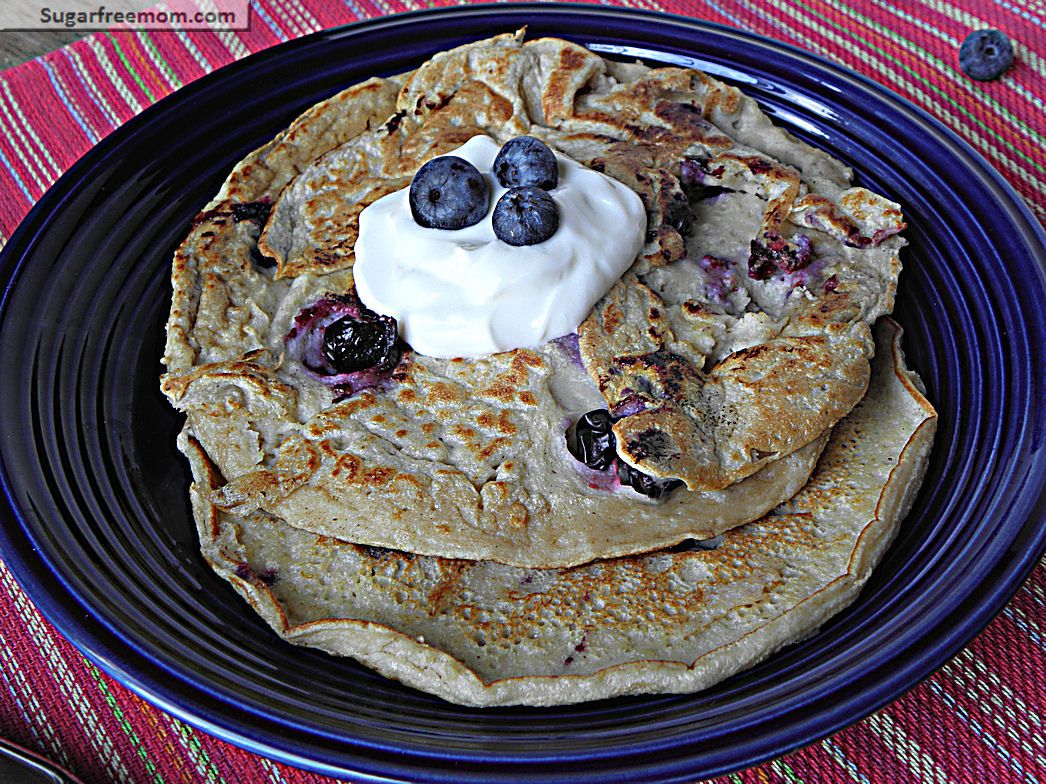 It has a balanced combination of healthy oats and egg whites, all made in under 10 minutes! It's filling, healthy and REALLY tasty! My liquid egg white carton had a pancake recipe on it using cottage cheese. If you follow my blog and saw my High Protein Chocolate Smoothie then you know I'm not a fan of eating cottage cheese. Since the hubby of mine is a fan and always has some in the fridge I knew I had to try it for this pancake. I slightly adapted my Chocolate Oat Peanut Butter Stuffed Pancake Recipe adding in the cottage cheese and am super happy with the results.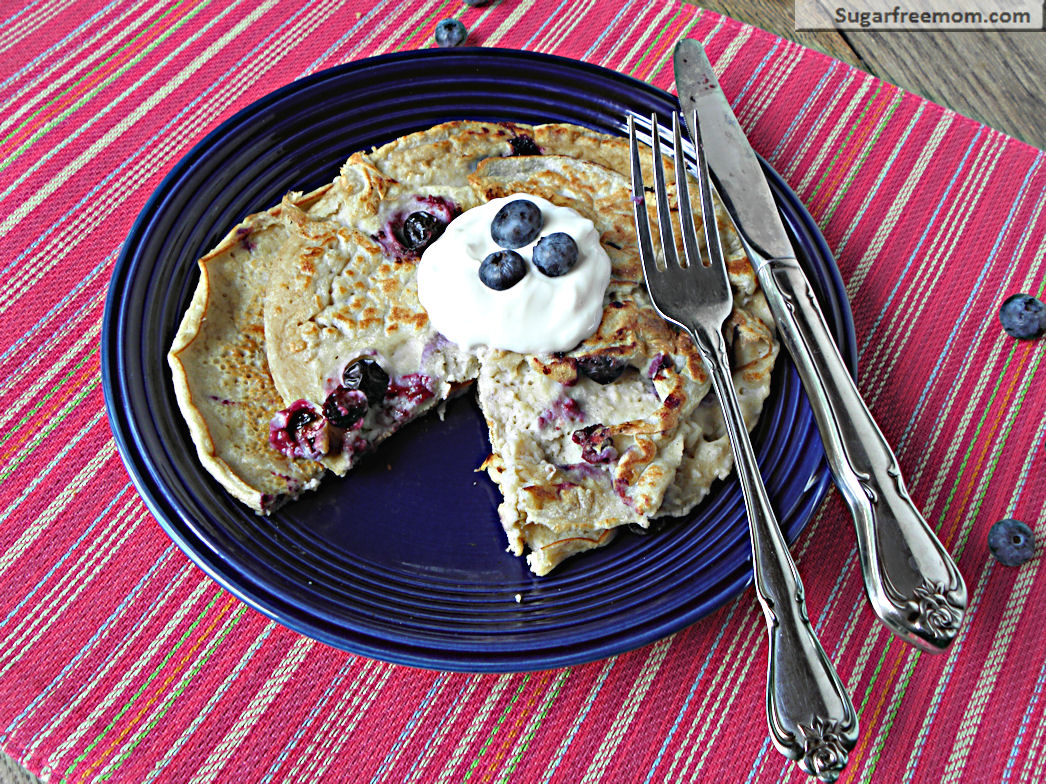 Two LARGE pancakes for under 200 calories and an equal amount of protein and carbs is a heavenly meal! You can add some nonfat plain Greek yogurt on top or add some honey too. Nutrition info is without toppings.
The stevia amount makes for only slightly sweet pancakes here because I like to add some honey on top. You may need to increase your sweetener within the batter if you prefer your pancake plain without toppings like honey or maple syrup. But if you are planning on using honey or maple syrup on top, the stevia amount is just right and doesn't need to be increased. Increase stevia to 1 teaspoon or 2 packets within the batter if you like sweet pancakes.
I have also substituted the cottage cheese with part skim ricotta and although it was still good I find the cottage cheese make for a fluffier pancake. The ricotta will also increase nutrition info, but it can be a choice if you don't have cottage cheese on hand.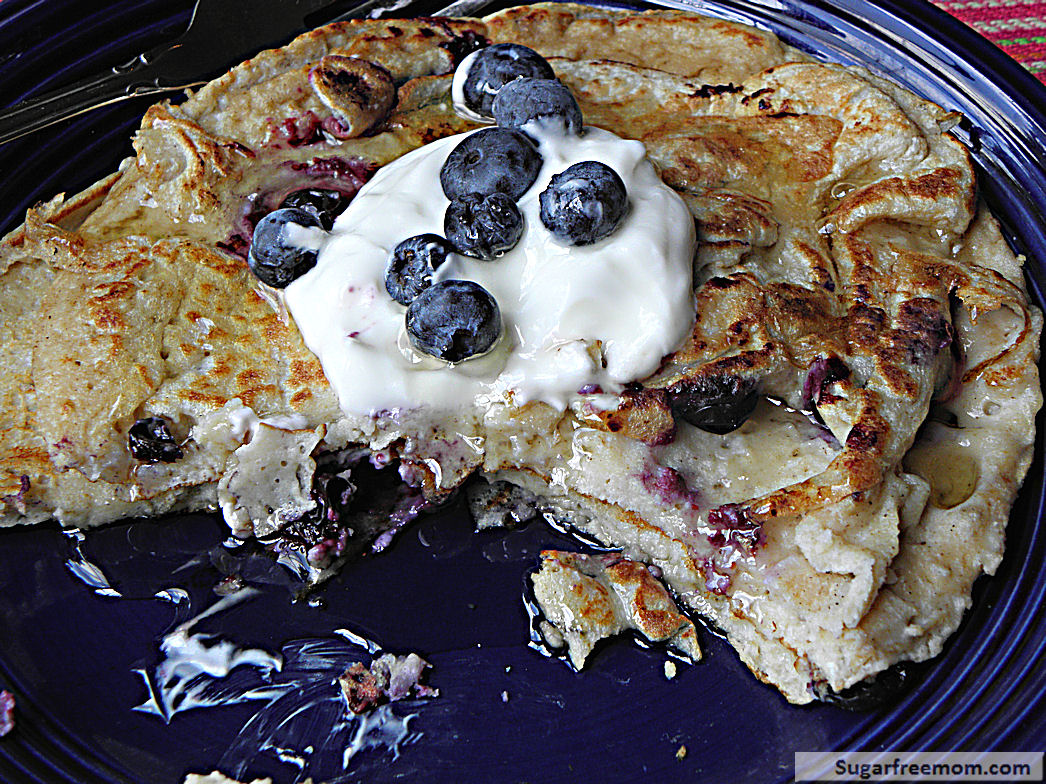 Healthy Blueberry Oat Pancakes: No Sugar Added
Author:
Cook time:
Total time:
Ingredients
½ cup egg whites
¼ cup rolled oats
¼ cup cottage cheese, low fat
1 teaspoon vanilla extract
½ teaspoon [url href="http://iherb.com/p/15940?rcode=yaj035" target="_blank"]vanilla liquid stevia [/url]or 1 stevia packet
¼ cup blueberries
Instructions
Blend all ingredients using your blender or hand mixer, except blueberries.
Spray a nonstick small saute pan.
Pour half the batter into the pan, add half the blueberries and cook until edges are dry and bubbles on top have formed.
Flip and cook for 3-5 more minutes. Set aside on a plate.
Spray the saute pan again and add the rest of the batter, top with the rest of the blueberries and cook as before.
Serving size:
2 large
Calories:
197
Fat:
2g
Carbohydrates:
22g
Sugar:
6g
Sodium:
433mg
Fiber:
3g
Protein:
23g
Cholesterol:
2mg
Notes
Weight Watchers PointsPlus: 5*
TO MAKE THIS INTO FAMILY STYLE AMOUNTS: