The Instant Pot is the best method for the easiest peeling of your hard boiled eggs!
EASY PEEL FARM FRESH EGGS
The way to cooking perfect easy peel hard boiled eggs, where the shells come off easily without destroying the white while peeling, and with a delicious, silky yolk, has been debated for years. If you've tried boiling and steaming and still have terrible issues with the peeling, I can so relate! We have chickens so farm fresh is what we use, but that doesn't mean they've been easier to peel then store bought. I've even tried using older eggs as opposed to fresher ones, but no attempts have been successful until now! The Instant pot is the key to perfect hard boiled eggs that peel easily without fear of losing the delicious custardy whites when peeling the shell!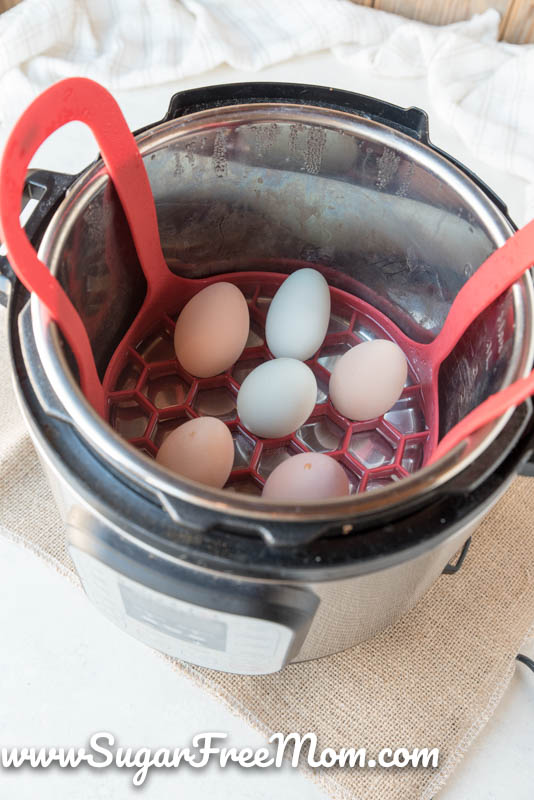 INSTANT POT VERSUS EGG STEAMER
While steaming eggs is a much better option than boiling, it is still not my preferred method for easy peeling. Steaming does produce a more tender cooked egg and less cracking as opposed to boiling, but if you truly don't want to fight that peel every time you make hard or soft boiled eggs, invest in an Instant Pot. It's quicker then steaming or boiling with just 3 minutes to cook! You will need a wire rack or egg rack like this to level your eggs in the pot.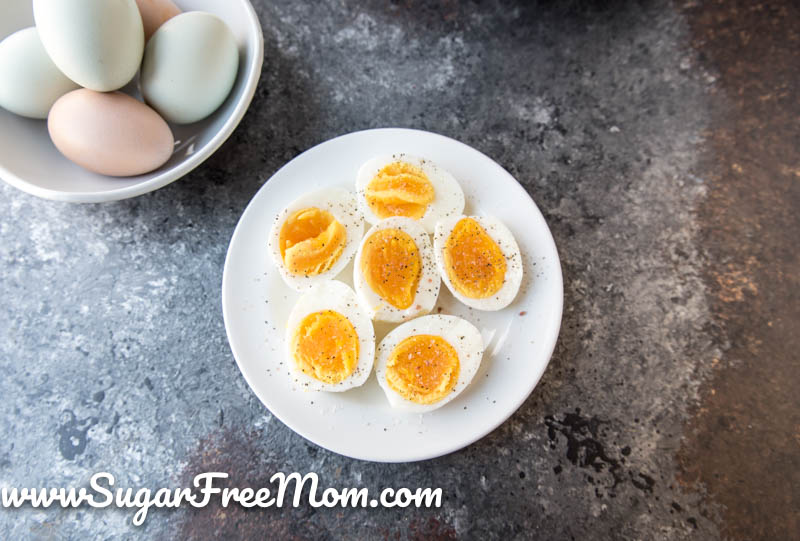 CAN I SKIP THE ICE WATER BATH?
One thing remains the same for all the different methods for hard or soft boiling eggs and that is ICE WATER! Yes! As soon as your eggs are done, they need a quick little bath in icy cold water for just about 30 seconds. If you leave them any longer, your hard boiled eggs will be cold and unappetizing. Do not forgo this step! It makes all the difference in the world to perfect hard boiled eggs.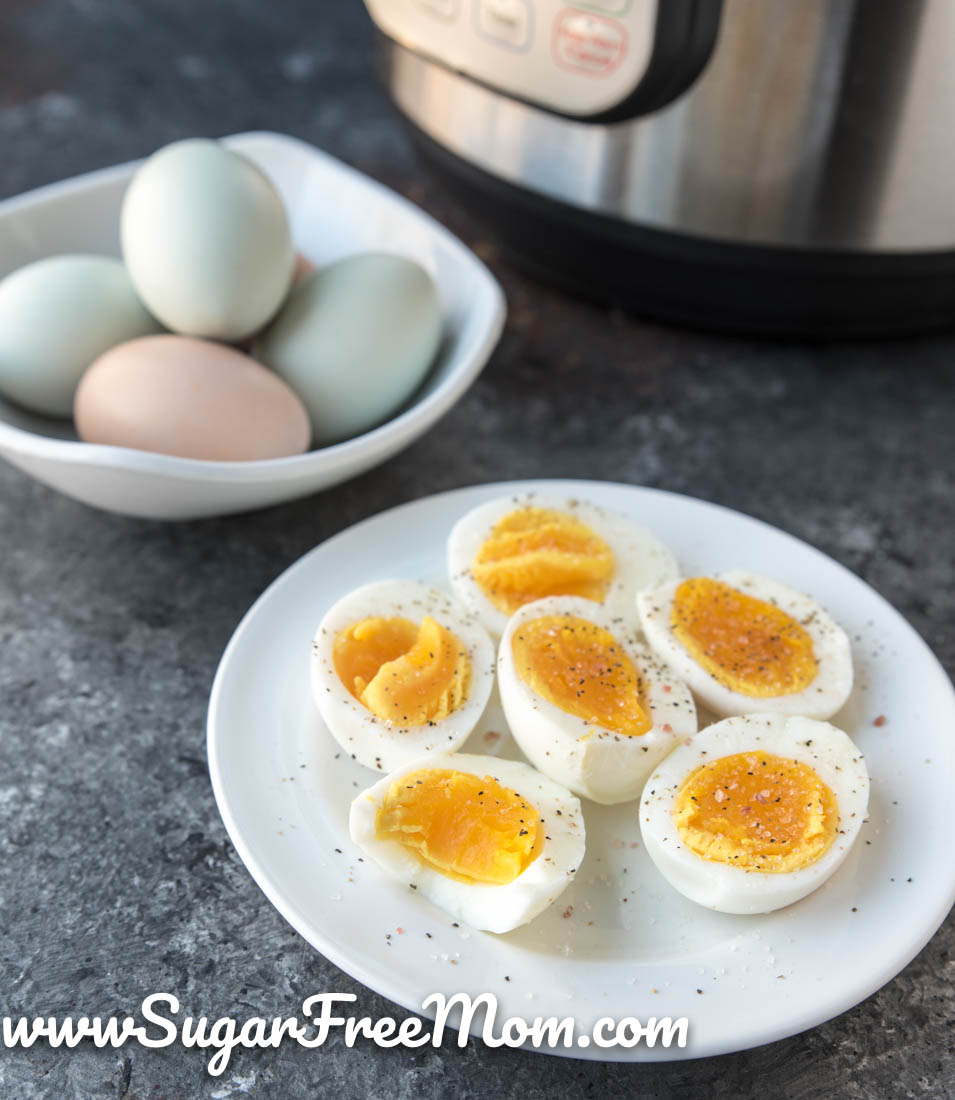 EGG SIZES MATTER
The size of your eggs will be the determining factor for time in the Instant pot. If you have small store bought eggs, just 5 minutes cook time will be enough. If you have large eggs, 6 minutes cook time is needed. But extra large eggs will need about 7 minutes.
We like our yolks cooked but not dry so with our farm fresh chicken eggs that are pretty large than typical store bough eggs, we opted for 6 minutes. If you want very dry yolks cook your small to large eggs for 7 minutes.
Wanting soft boiled, runny yolks? Check out this recipe for Instant Pot Easy Peel Soft Boiled Eggs!

HOW TO COOK EGGS IN THE INSTANT POT
COLD WATER- Place 2 cups of cold water into your Instant Pot.
RACK- Place a silicone or wire rack into the pot to level the eggs and keep them from moving.
EGGS- Place no more than 6 clean, organic eggs on the rack with some distance between them.
COVER- Make sure your cover is sealed well and valve is set to "sealing".
SETTINGS- Press "manual" and set timer for 5-7 minutes (depending on the size of your eggs) at low pressure. Once it's done, leave in the pot for 1 minute then quick release by switching valve to "venting". When pin has dropped, carefully remove lid.
ICE BATH- Quickly remove your eggs using tongs and place into an icy cold bowl of water. Leave them there for just 30 seconds and remove. Peel and enjoy immediately!

INSTANT POT EASY PEEL HARD BOILED EGGS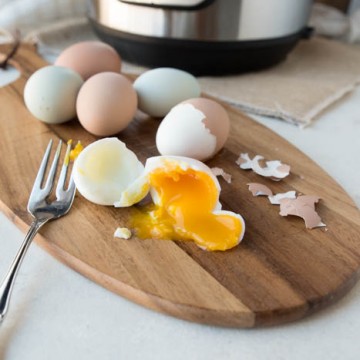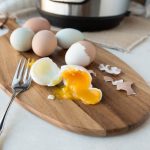 Print
Instant Pot Easy Peel Hard Boiled Eggs
Equipment
6 quart Instant Pot

Instant Pot Wire Egg Rack
Ingredients
6

large

eggs

2

cups

cold water
Instructions
Close lid. Make sure valve is set for sealing. Press "manual" and set timer for 6 minutes with low pressure. (If you have small eggs, set timer for 5 minutes.)

Once timer beeps, press "cancel" and wait 1 minute. After 1 minute, use a long wooden spoon to move valve to "venting" for quick release.

Once pressure is down and pin has dropped, carefully remove the lid. Be careful of steam. Remove eggs with tongs and place into a bowl of ice water for 30 seconds.
Nutrition
Serving:
1
serving @ 2 eggs
|
Calories:
143
kcal
|
Carbohydrates:
1
g
|
Protein:
13
g
|
Fat:
10
g
|
Saturated Fat:
3
g
|
Polyunsaturated Fat:
2
g
|
Monounsaturated Fat:
4
g
|
Trans Fat:
1
g
|
Cholesterol:
372
mg
|
Sodium:
142
mg
|
Potassium:
138
mg
|
Sugar:
1
g
|
Vitamin A:
540
IU
|
Calcium:
56
mg
|
Iron:
2
mg