This recipe for easy peel soft boiled eggs made in the Instant Pot is fail proof, providing you perfect soft boiled eggs every time!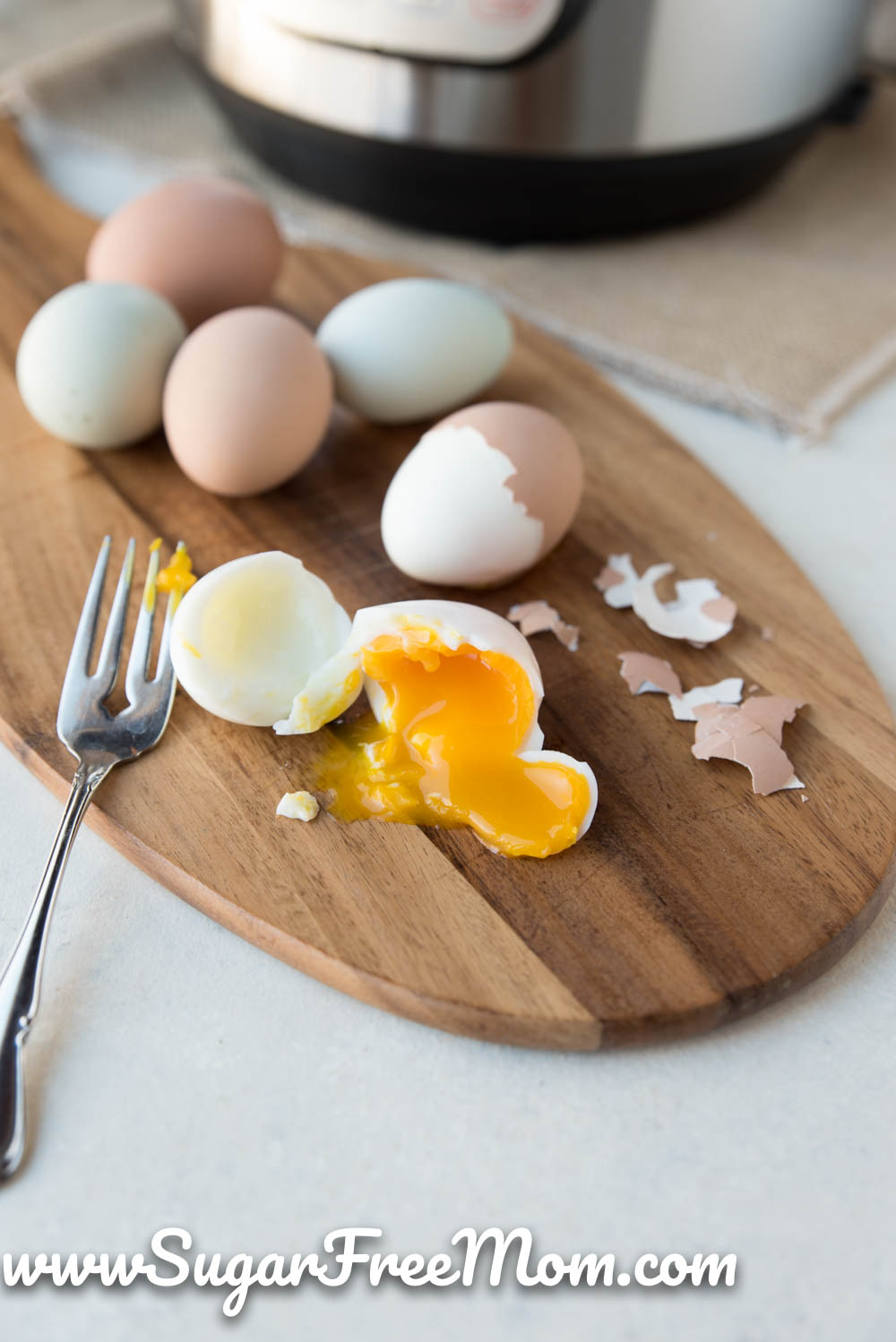 PERFECT SOFT BOILED EGGS
The way to cooking perfect soft boiled eggs, where the shells come off easily without destroying the white while peeling, and with a delicious, oozing, silky, yolk, has been debated for years. If you've tried boiling and steaming and still have terrible issues with the peeling, I can so relate! We have chickens so farm fresh is what we use, but that doesn't mean they've been easier to peel then store bought. I've even tried using older eggs as opposed to fresher ones, but no attempts have been successful until now! The Instant pot is the key to perfect soft boiled eggs that peel easily without fear of losing the delicious custardy whites!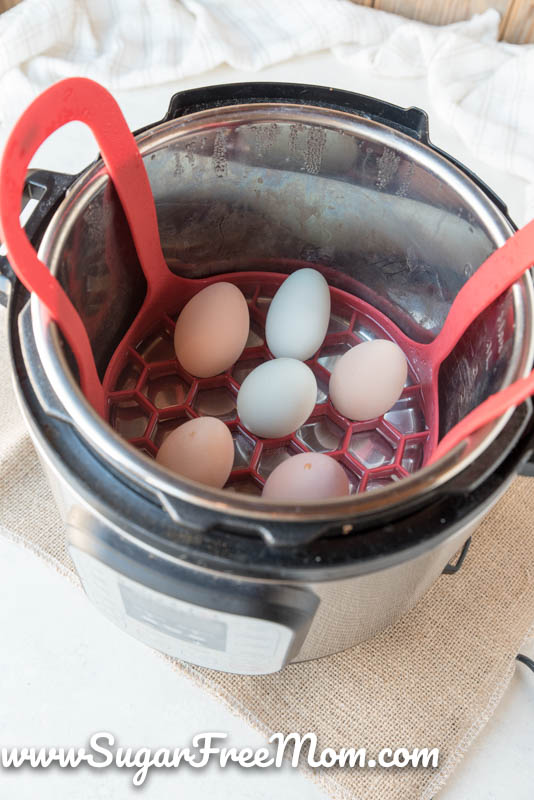 HOW TO COOK EGGS IN THE INSTANT POT
COLD WATER- Place 2 cups of cold water into your Instant Pot
RACK- Place a silicone or wire rack into the pot to level the eggs and keep them from moving.
EGGS- Place no more than 6 clean, organic eggs on the rack with some distance between them.
COVER- Make sure your cover is sealed well and valve is set to "sealing".
SETTINGS- Press "manual" and set timer for 3 minutes at low pressure. Once it's done, leave in the pot for 1 minute then quick release by switching valve to "venting". When pin has dropped, carefully remove lid.
ICE BATH- Quickly remove your eggs using tongs and place into an icy cold bowl of water. Leave them there for just 30 seconds and remove. Peel and enjoy immediately!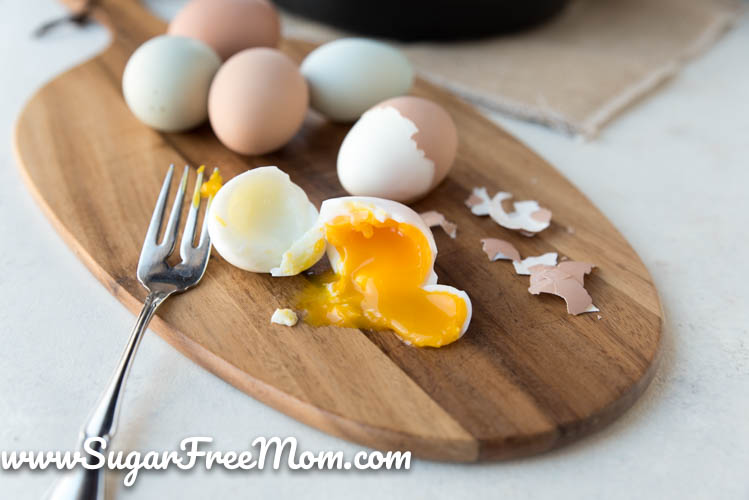 EGGS ARE A PERFECT PROTEIN SOURCE
Whole eggs are one of the most nutritious foods you can consume. Eggs are an excellent source of quality protein, vitamins and minerals! They are rich in selenium, Vitamin B6, Vitamin B12, Vitamin A, Vitamin D as well as zinc, copper and iron. The cholesterol hypothesis of heart disease is dead. Dietary cholesterol does not in fact raise blood cholesterol in most people. Here's a youtube video from Dr. David Diamond if you'd like to learn how cholesterol is needed in the body and how it does not cause heart disease.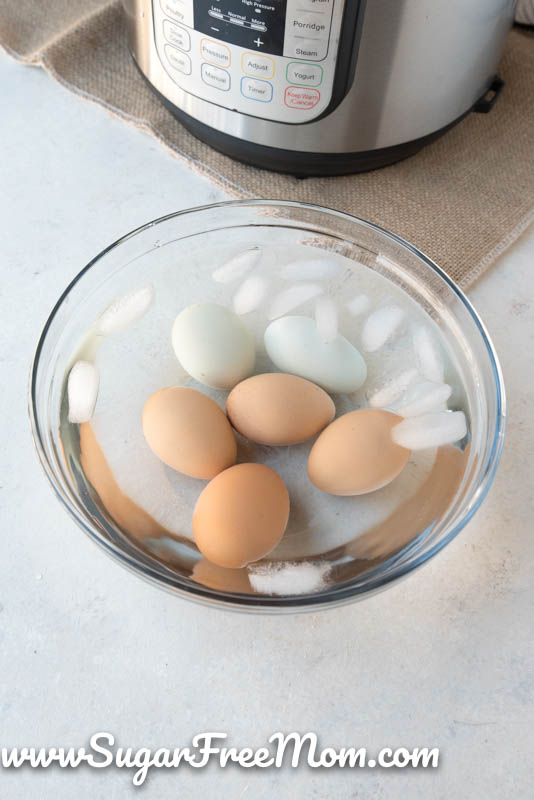 THE TRICK FOR EASY PEELING
One thing remains the same for all the different methods for soft boiling eggs and that is ICE WATER! Yes! As soon as your eggs are done, they need a quick little bath in icy cold water for just about 30 seconds. If you leave them any longer, your soft boiled eggs will be cold and unappetizing. Do not forgo this step! It makes all the difference in the world to perfect soft boiled eggs.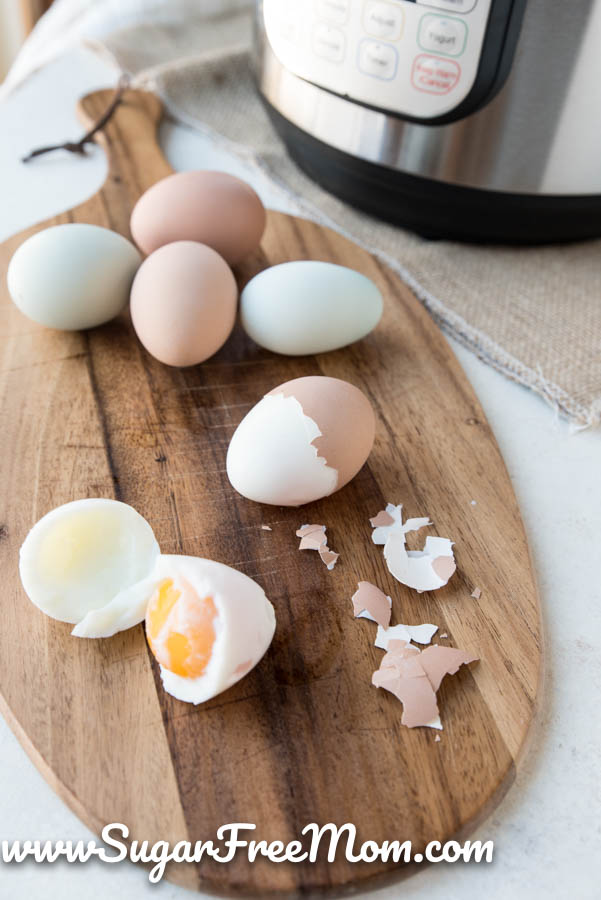 STEAMING EGGS VERSUS INSTANT POT
While steaming eggs is a much better option than boiling, it is still not my preferred method for easy peeling. Steaming does produce a more tender cooked egg and less cracking as opposed to boiling, but if you truly don't want to fight that peel every time you make soft boiled eggs, invest in an Instant Pot. It's quicker then steaming or boiling with just 3 minutes to cook! You will need a wire rack or egg rack like this to level your eggs in the pot.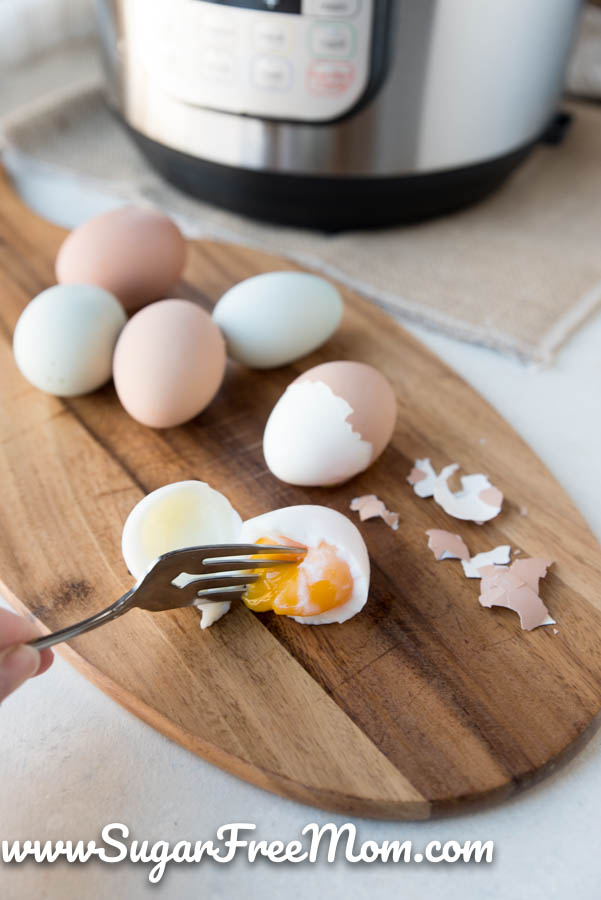 KETO BREAKFAST SIDES
Some delicious keto breakfast side that would make for a wonderful brunch or breakfast would be my Cloud Bread French Toast, Breakfast Sausage Patties, Ricotta Pancakes, Dairy Free Chaffles, Coconut Flour Bread, Everything Bagel Bread, Chocolate Chip Muffins , Cinnamon Rolls or this amazing Italian Sausage Quiche.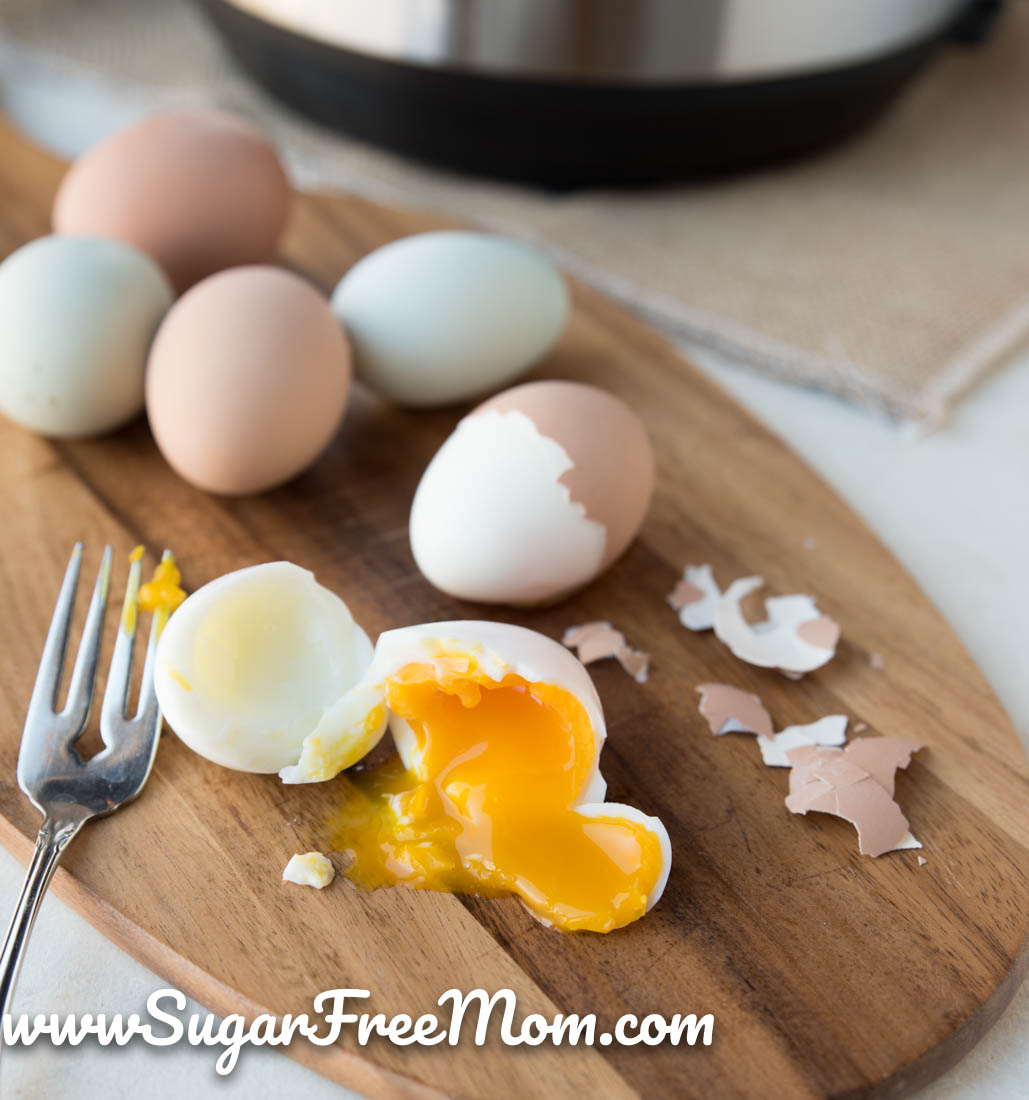 LOW CARB KETO MEAL PLANS
If you love meals like this for yourself and family, you might be interested in my meal planning membership. Weekly low carb keto dinner meal plan sent to your inbox every Friday with shopping list. The best part about my meal planning feature is that if you aren't interested in one of the dinner meals you can swap it out for something else! You can even change serving sizes and the shopping list will adjust! It pretty amazing software and I hope you'll take advantage of it. You can have a sustainable low carb/keto lifestyle when you're well prepared and planning meals is the key! LEARN MORE TODAY!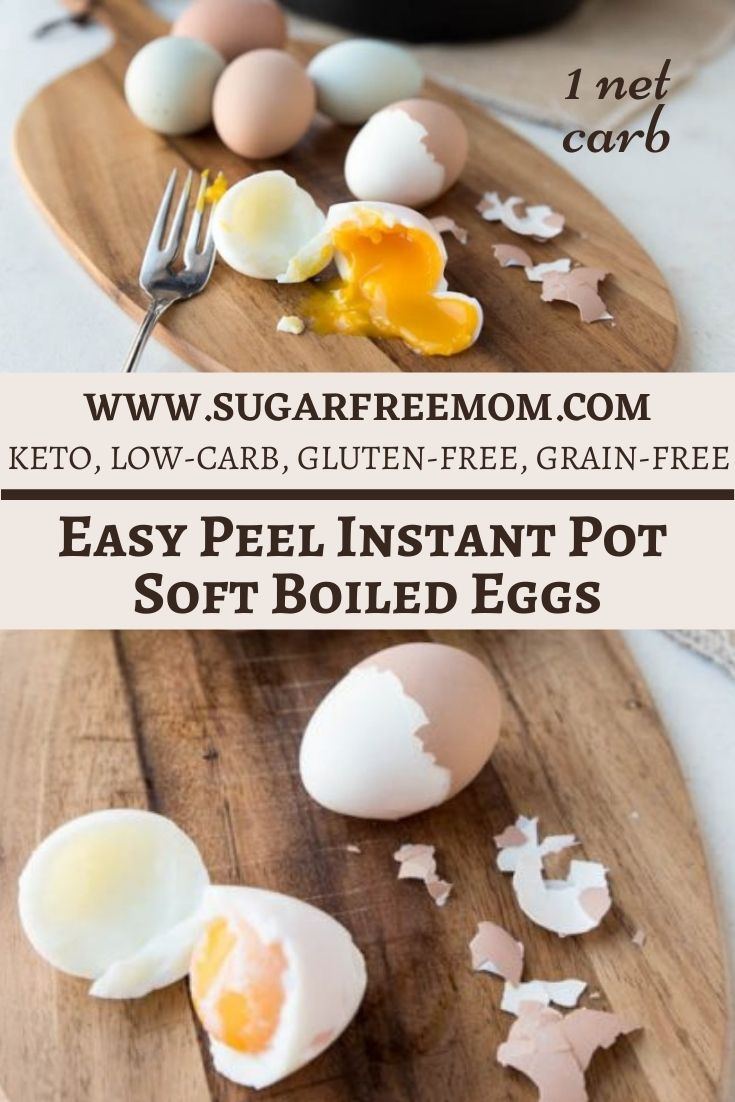 EASY PEEL INSTANT POT SOFT BOILED EGGS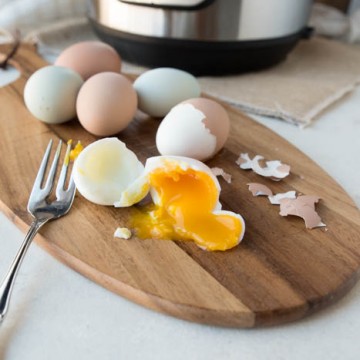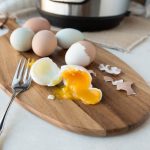 Print
Instant Pot Easy Peel Hard Boiled Eggs
Equipment
6 quart Instant Pot

Instant Pot Wire Egg Rack
Ingredients
6

large

eggs

2

cups

cold water
Instructions
Close lid. Make sure valve is set for sealing. Press "manual" and set timer for 6 minutes with low pressure. (If you have small eggs, set timer for 5 minutes.)

Once timer beeps, press "cancel" and wait 1 minute. After 1 minute, use a long wooden spoon to move valve to "venting" for quick release.

Once pressure is down and pin has dropped, carefully remove the lid. Be careful of steam. Remove eggs with tongs and place into a bowl of ice water for 30 seconds.
Nutrition
Serving:
1
serving @ 2 eggs
|
Calories:
143
kcal
|
Carbohydrates:
1
g
|
Protein:
13
g
|
Fat:
10
g
|
Saturated Fat:
3
g
|
Polyunsaturated Fat:
2
g
|
Monounsaturated Fat:
4
g
|
Trans Fat:
1
g
|
Cholesterol:
372
mg
|
Sodium:
142
mg
|
Potassium:
138
mg
|
Sugar:
1
g
|
Vitamin A:
540
IU
|
Calcium:
56
mg
|
Iron:
2
mg