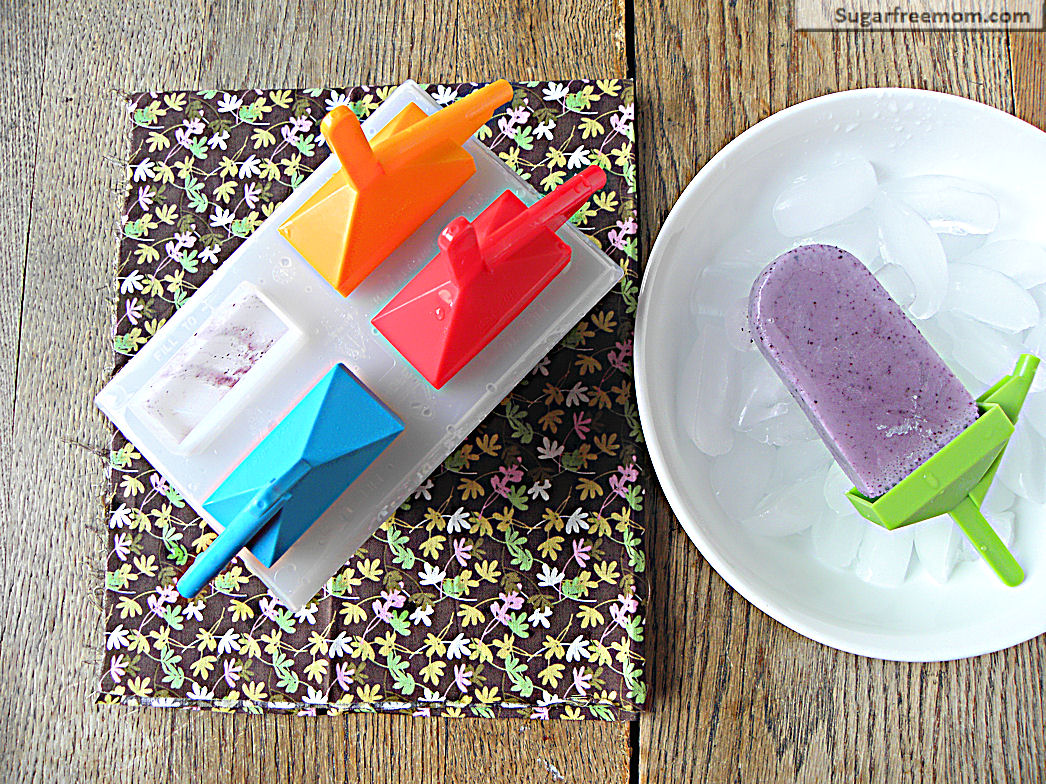 Remember my Low Fat Blueberry Protein Smoothie recipe from last week? So creamy and delicious! Well the recipe makes two servings which is fabulous when my daughter or hubby are here to share it with me. The boys have nut allergies and would not be able to try it with the almond milk in it.
You see I REALLY wanted this smoothie again but no one was home to share with me and I didn't want to eat both servings......guess what I did? YEP, took the second serving which was about a cup and made popsicles! They taste just as creamy and amazing as the smoothie in FROZEN form!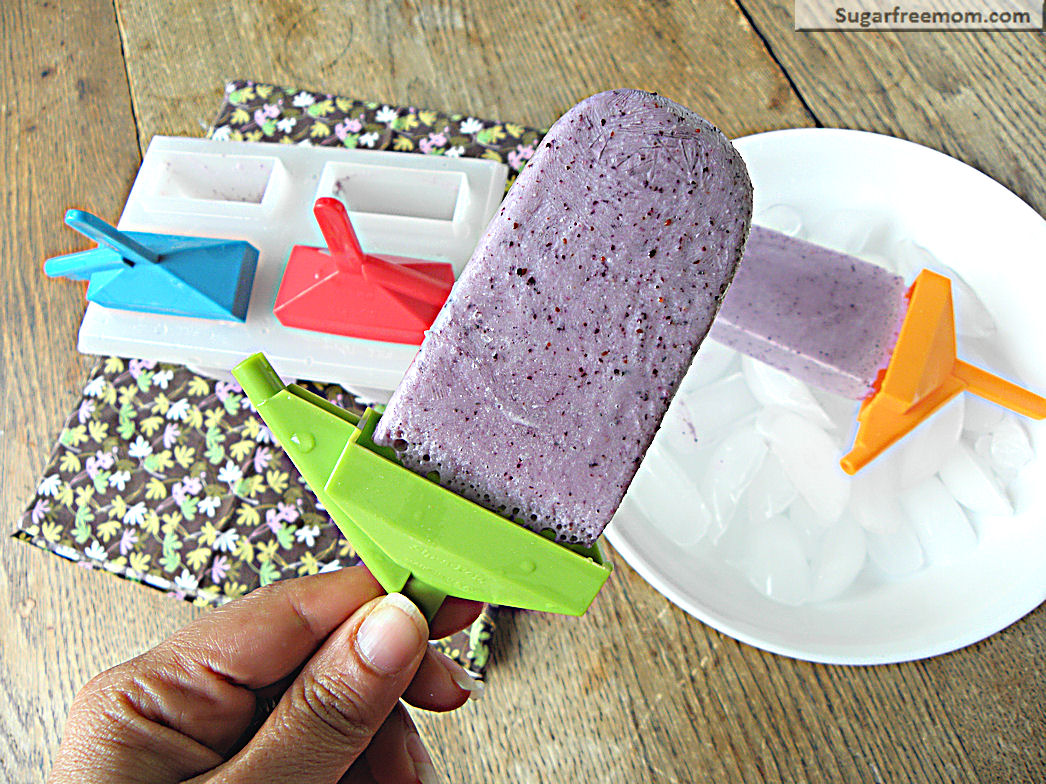 Knowing that my kiddies would soon see this frozen treats later in the day and want one, I had to change out the almond milk for coconut milk. But you can certainly just stick with the Blueberry Smoothie recipe and freeze that instead of change it up like I did here.
Another change and they still came out incredible was I had to reduce the frozen blueberry amount to only one cup because.....well..... I ran out!!! Still just as good!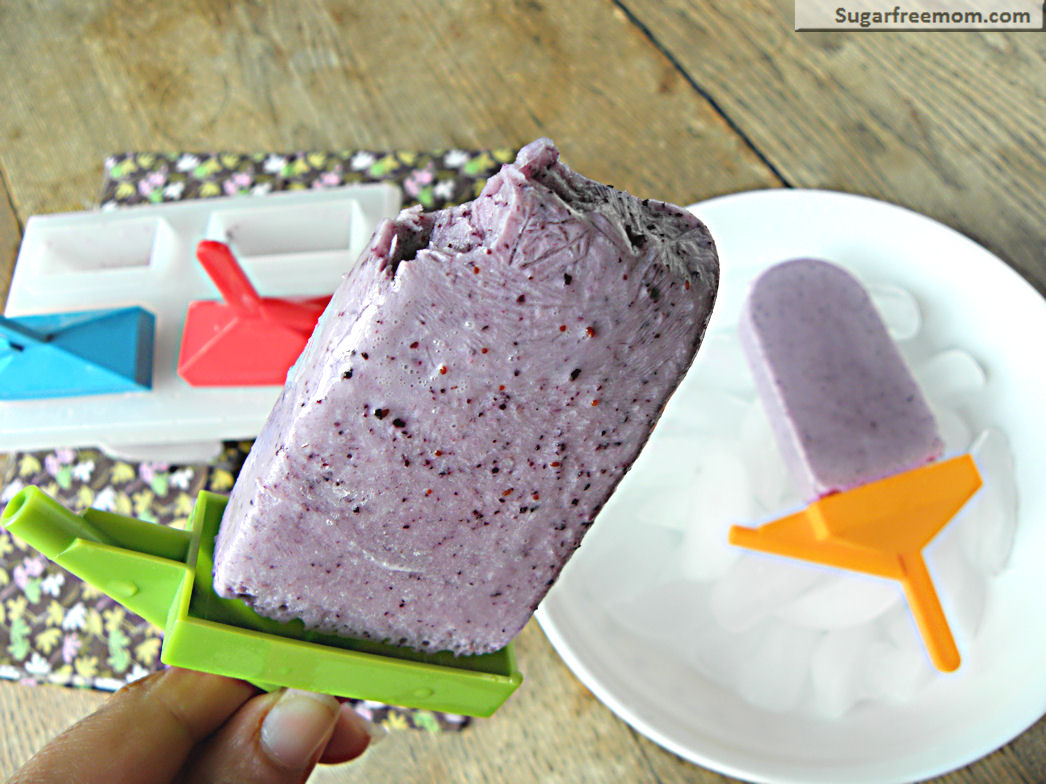 I almost devoured this before I could even finish taking pics! Lucky I got at least these three ........
.........and apparently this was the last good shot before it was eaten. 🙂
Low Fat Blueberry Protein Popsicles: No Sugar Added
Author:
Prep time:
Total time:
Ingredients
1 cup plain Greek yogurt, nonfat
½ cup coconut milk, unsweetened, full fat or almond milk, unsweetened
¾ cup liquid egg whites, 100% pasteurized*
1 cup frozen blueberries
3 droppers half full liquid stevia ( I used vanilla)
Instructions
Blend all ingredients together.
Taste and adjust sweetener.
Pour into molds and freeze for about 3 hours or until frozen.
Makes about 3 cups. Each mold filled ¼ cup of the mixture.
One cup made 4 popsicles.
Serving size:
1
Calories:
44
Fat:
2g
Carbohydrates:
3g
Sugar:
2g
Sodium:
34mg
Fiber:
0g
Protein:
4g
Cholesterol:
0mg
Notes
Weight Watchers PointsPlus: 1*
* If you're concerned about using uncooked egg whites, read this. They are perfectly safe.
Nutrition Info
[using almond milk]
Servings: 12* Calories per serving: 27* Fat: 0g* Cholesterol: 0mg* Sodium: 32mg* Carbs: 3g* Fiber: 0g* Sugars: 2g* Protein: 4g
Weight Watchers Points+: 0 {BUT if you eat 2 you must count it as 1 point}