This Creamy Keto Dairy Free Cheesecake will completely surprise even the dairy lovers with the delicious texture and taste!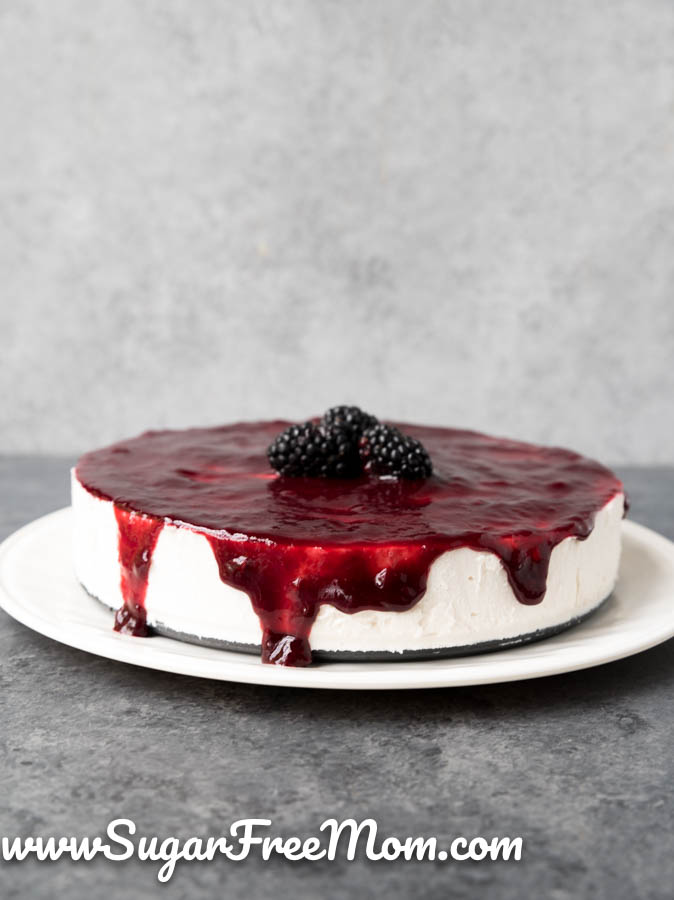 Dairy Free Cheesecake
If you've been a follower of mine for a long time, you know I am a dairy lover. I've got a billion and one cheesecake and mousse recipes on my blog and I hope to bring more of those recipes to you. But currently, my daughter is feeling better on a dairy free diet and I've been ordered by my doctor to remove dairy, which makes me cry like a baby as I miss my heavy cream in my coffee so badly. But alas, dairy can cause inflammation in many and like my post about my Epstein Barr diagnosis, if you have a particular dairy intolerance or allergy then maybe this recipe will be a Godsend for you as well.
You see I REALLY miss cheesecake and I was having a party with family and just really wanted to make a dessert I too could enjoy. Bonus is, even the non keto family members, LOVED this cheesecake.
I adapted this beautiful dairy free cheesecake from my Coffee Cheesecake recipe and it was a hit with everyone!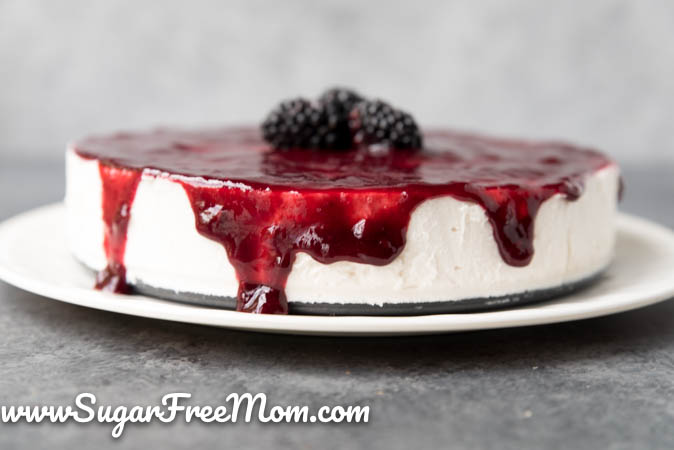 No Bake Cheesecake
Making a cheesecake keto is fairly easy. You've got to love the sweetener you use because if you don't, you won't like your cheesecake. The choice of sweetener is always yours and while I recommend what I prefer and use in this recipe and all my others, if you've not tried the sweetener you might not like the recipe. So know your favorite sweetener and use that. The wonderful thing about this recipe is you can taste and adjust as you go. There are no eggs in this recipe so you won't have to worry about getting sick trying a taste or two.
Making a cheesecake no bake is a bit harder than baked cheesecake, as you need something to make it hold it's form. My choice is gelatin for this recipe. I would not recommend making it without but you could swap it with guar gum if you prefer.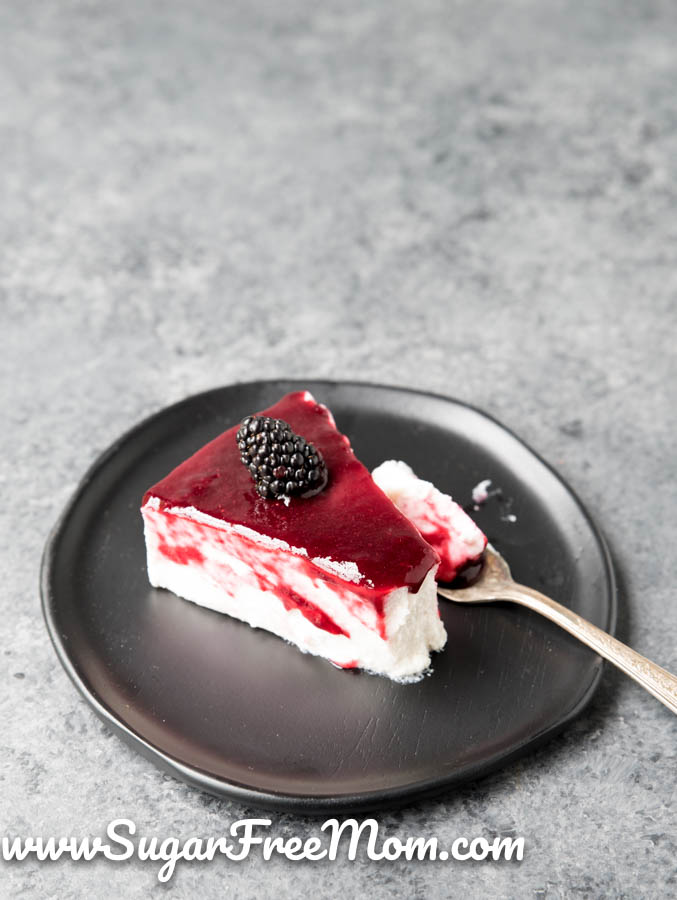 Paleo Cheesecake
What makes a recipe paleo? It needs to be ingredients it their purest forms such as foods that could have been hunted and gathered and nothing artificial. Dairy is not a paleo friendly food. But what about the sweetener I used, is that paleo? Yes, Monk fruit is paleo and is the perfect sweetener as many who don't like the aftertaste of stevia or the cooling effect of Swerve, will LOVE Monk Fruit.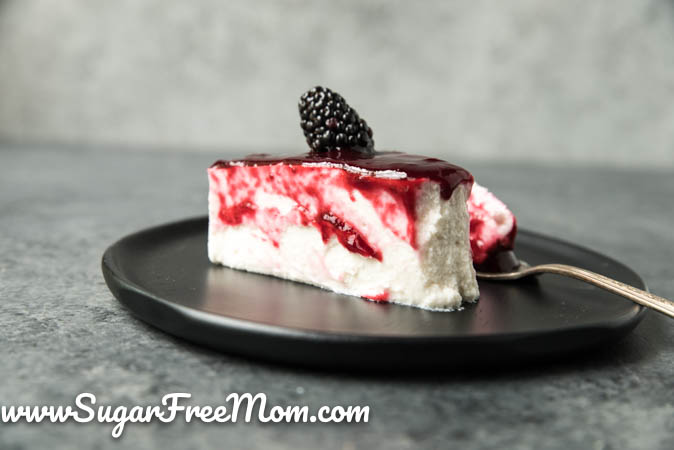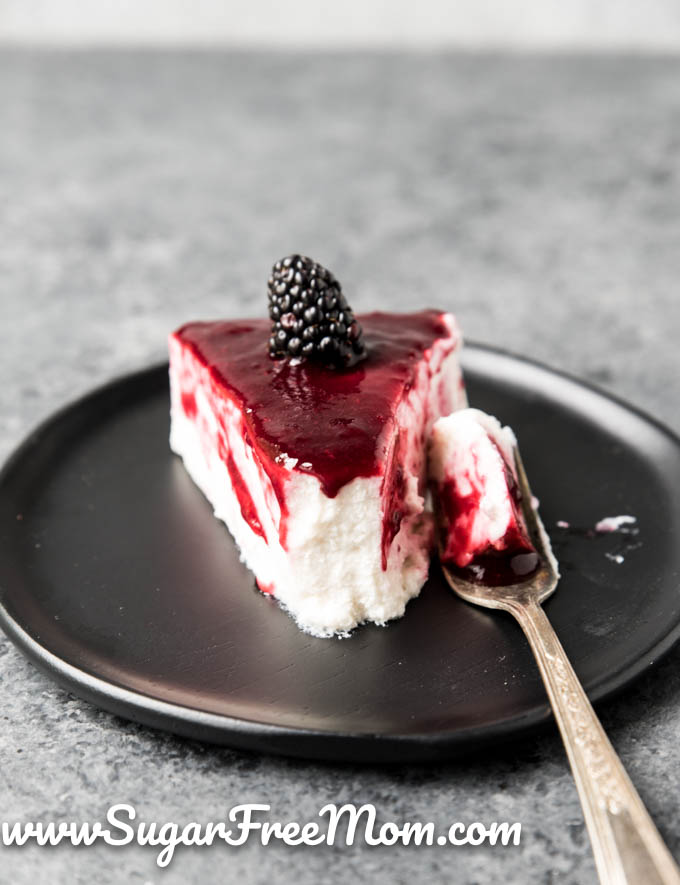 Nut Free Cheesecake
Some of you might be saying this recipe is NOT tree nut free because it contains coconut. I am here to clear the record on this controversial topic. Coconut is a DRUPE. It is NOT a tree nut. Even though the FDA has stated it's considered a tree nut, it is like a peach with a pit, it is a drupe. While some people who have tree nut allergies may also be allergic to peanuts and/or coconuts, neither are tree nuts. Peanuts are legumes and coconuts are drupes. Of course if you have tree nut allergies as my youngest son does, please ask your own allergist if you can enjoy coconut or get tested to find out if you even need to be avoiding it. My youngest is NOT allergic to coconuts and our allergist is not concerned with us using it.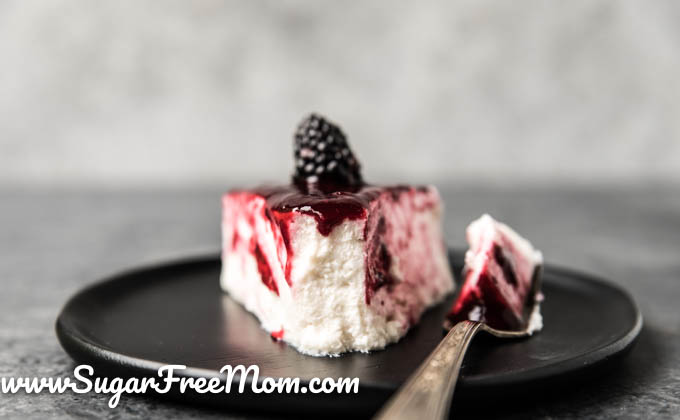 I hope you enjoy this dairy free cheesecake and much as we did!
Here are some other dairy free recipes you might enjoy:
Meal Planning
If you love recipes like this for yourself and family, you might be interested in my meal planning membership. Weekly low carb keto dinner meal plan sent to your inbox every Friday with shopping list. The best part about my meal planning feature is that if you aren't interested in one of the dinner meals you can swap it out for something else! You can even change serving sizes and the shopping list will adjust! It pretty amazing software and I hope you'll take advantage of it. You can have a sustainable low carb/keto lifestyle when you're well prepared and planning meals is the key! LEARN MORE TODAY!

Keto Dairy Free Cheesecake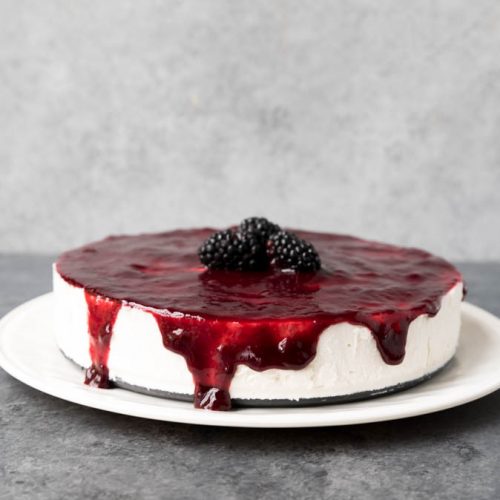 Print
Keto Dairy Free Cheesecake
Ingredients
Optional Blackberry Syrup
Instructions
Cheesecake
Grease an 8-inch spring form pan. Set aside.

Canned coconut milk should be refrigerated overnight. When ready to make recipe, flip can over and open. Remove all but ¼ cup of the coconut water, discard remaining liquid, but scoop out the cream. Place the coconut cream and ¼ cup coconut water into a stand mixer. Use whisk attachment and mix on high speed until thickened, could take up to 10 minutes.

While it's mixing, add the vanilla extract, salt and ⅓ cup monk fruit sweetener. Set aside once thickened.

In a small sauce pan add water and sprinkle gelatin. Bring to a boil and stir until dissolved. Set aside to cool.

In another mixing bowl add the cream cheese, yogurt and ⅓ cup Monk Fruit sweetener. Use a hand mixer or stand mixer and blend on high until well combined. Taste and adjust sweetness if needed. On low speed, drizzle in the cooled gelatin until combined.

Fold in the whipped coconut cream. Pour mixture into pan and refrigerate for 3-4 hours or overnight. Serve as is or top with blackberry syrup if desired.
Optional Blackberry Syrup
Place blackberries and water in a small sauce pan over medium heat. Mash berries while mixture comes to a boil. Once there are no large berries and all well mashed, turn off heat. Place a fine mesh strainer over a bowl and pour in mashed berries. Use a spatula to mash berries against the mesh strainer to release all the juices so you will have a nice seedless syrup.

Return the strained blackberry juice to the sauce pan on the stove and heat over medium heat. Add salt, Monk Fruit sweetener and sprinkle xanthan gum. Bring to a boil, constantly stirring, about 5 minutes to thicken syrup. Remove from heat. Refrigerate for 30 minutes before pouring over chilled cheesecake.
Notes
Nutrition Information does not include blackberry syrup.
Net Carbs per one slice of cheesecake= 7g
Nutrition
Serving:
1
slice
|
Calories:
191
kcal
|
Carbohydrates:
8
g
|
Protein:
2
g
|
Fat:
17
g
|
Saturated Fat:
13
g
|
Sodium:
255
mg
|
Fiber:
1
g
|
Sugar:
1
g