A traditional Tres Leches Cake made without grains, gluten free, sugar free and low carb!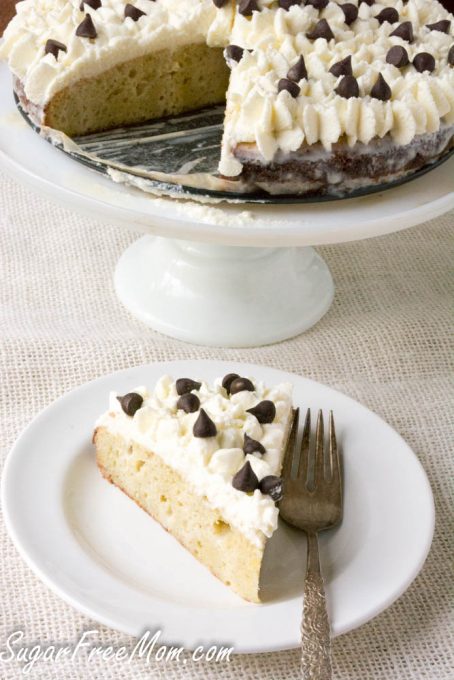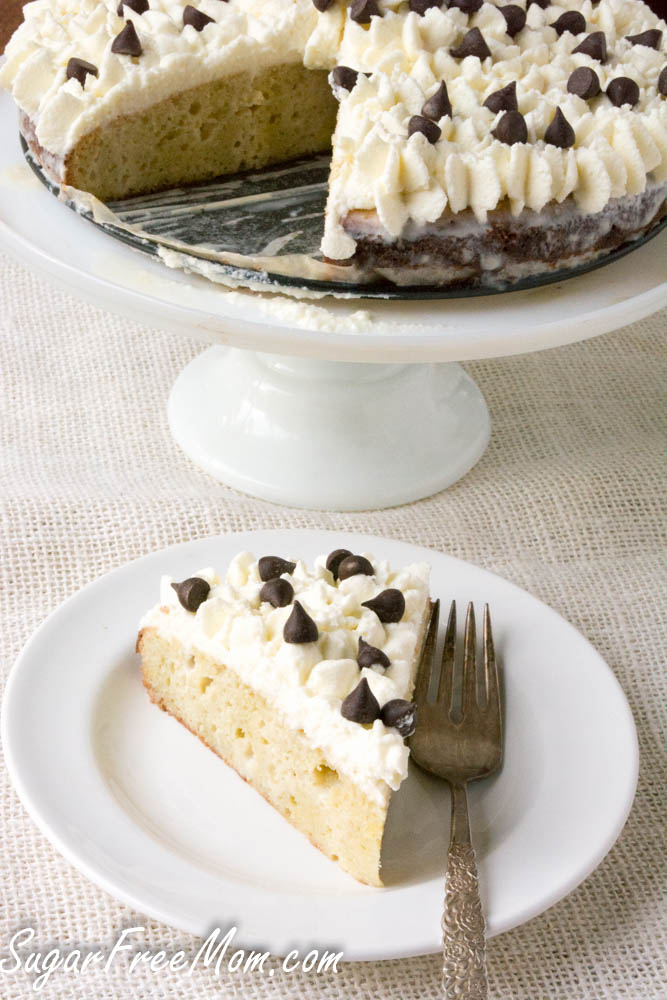 A traditional Tres Leches cake is as type of sponge cake or butter cake using 3 milks to soak the cake in, typically evaporated milk, sweetened condensed milk and heavy cream.
Although my version is low carb and sugar free, it takes on the traditional with a vengeance!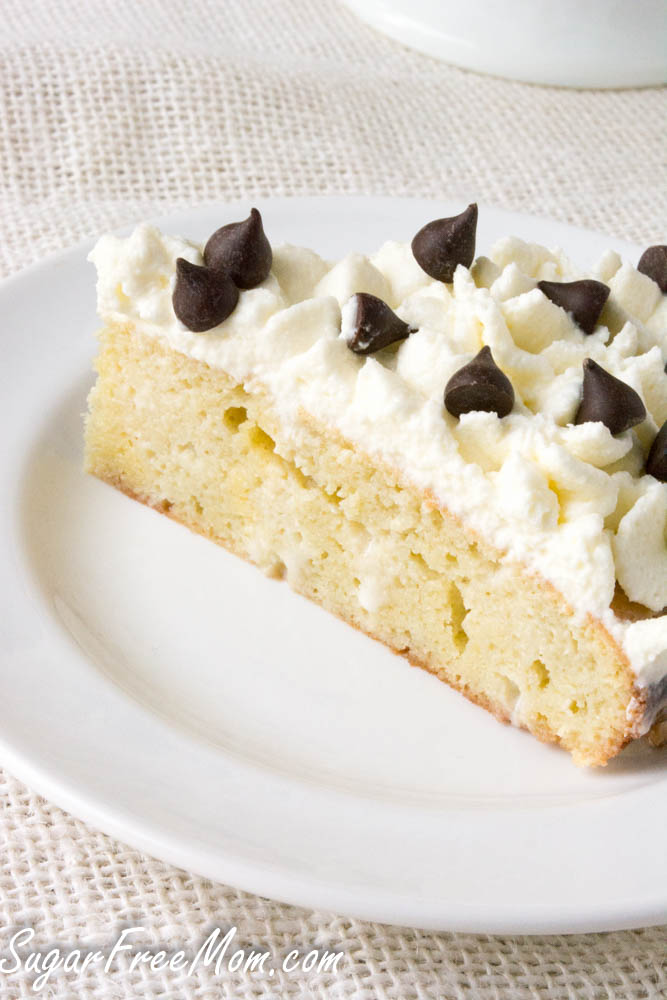 With an airy light texture despite being soaked in delicious milk and cream it's oozing pockets of cream that spill out when sliced is nothing less than spectacular!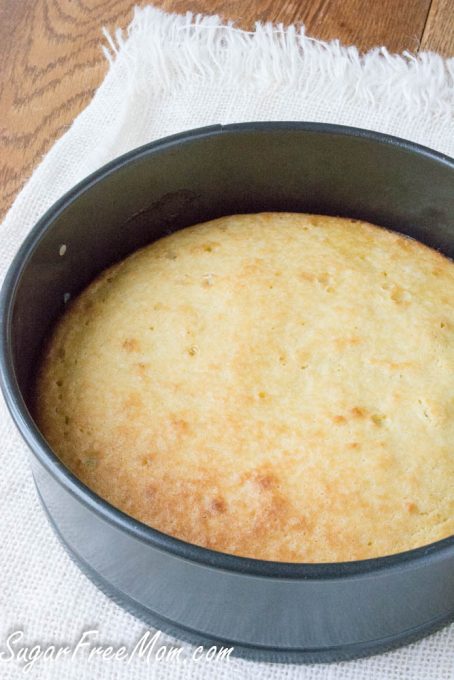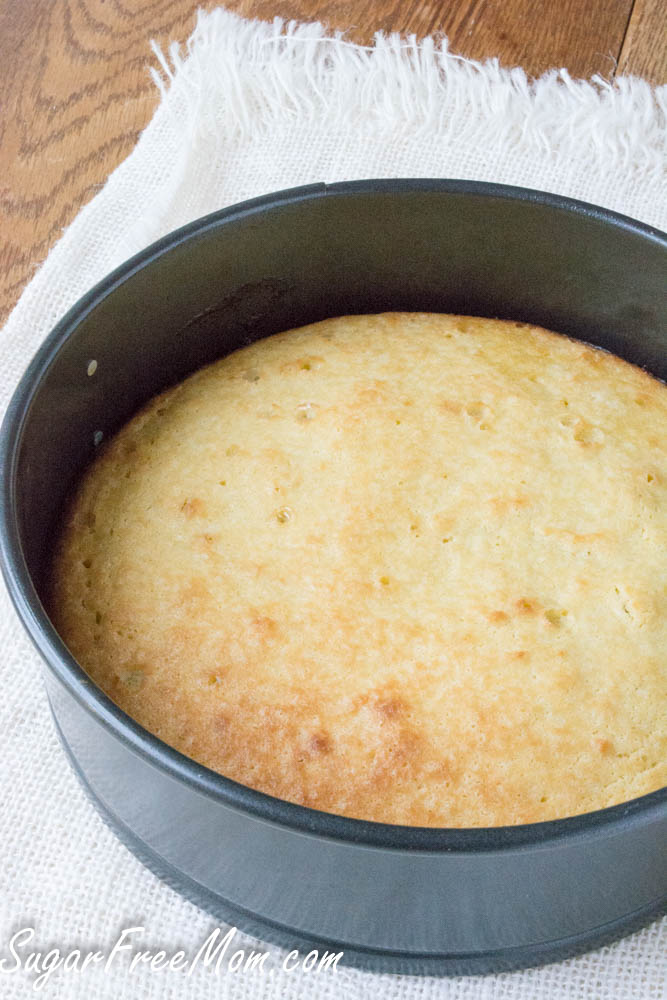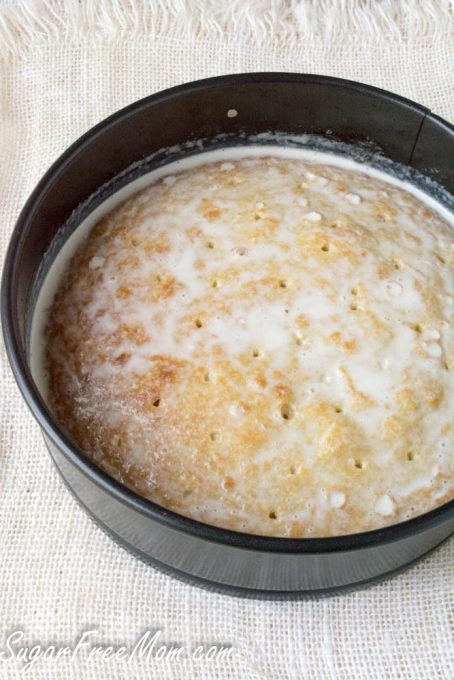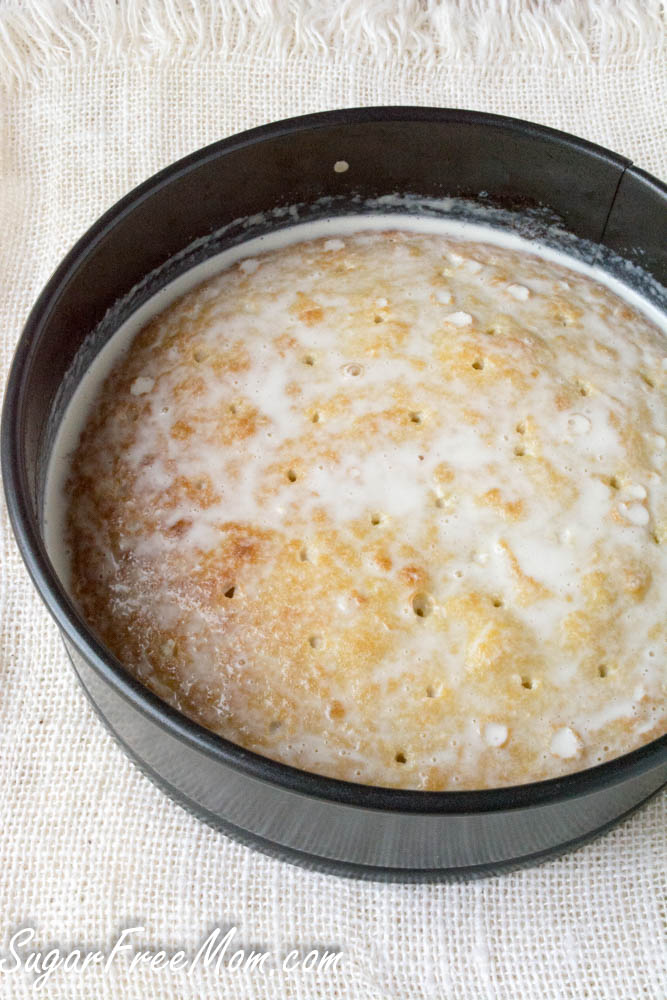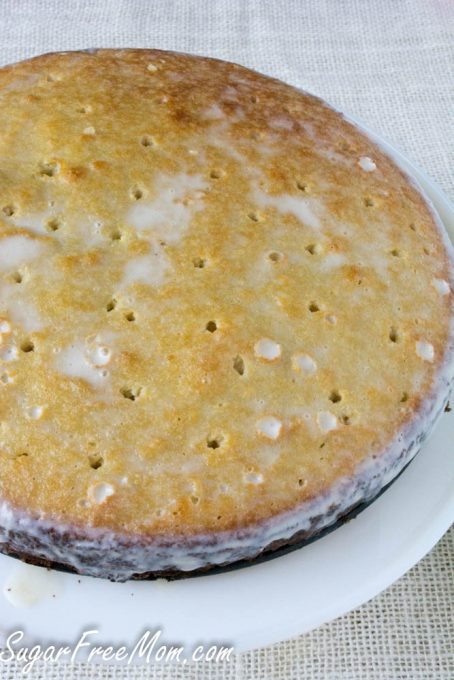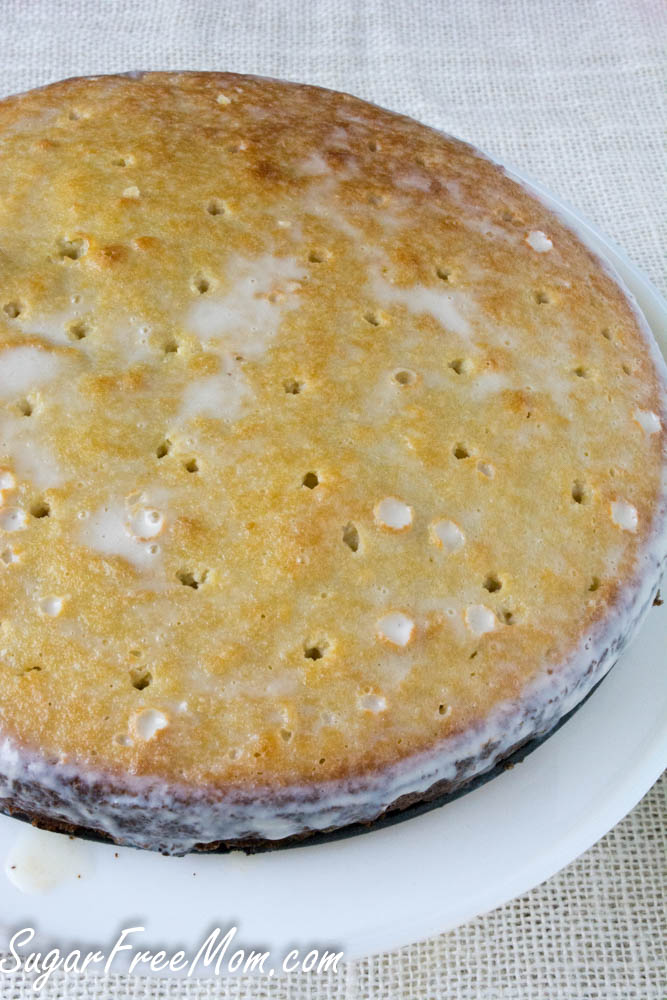 If the look of this doesn't get you excited I'm not sure what will.
Although it's got a coconut flour base that's not even a factor in flavor, especially if you're not a fan of coconut. It's just a slight hint, the overwhelming flavor of the cream mixture is all you will notice upon each soft milky bite.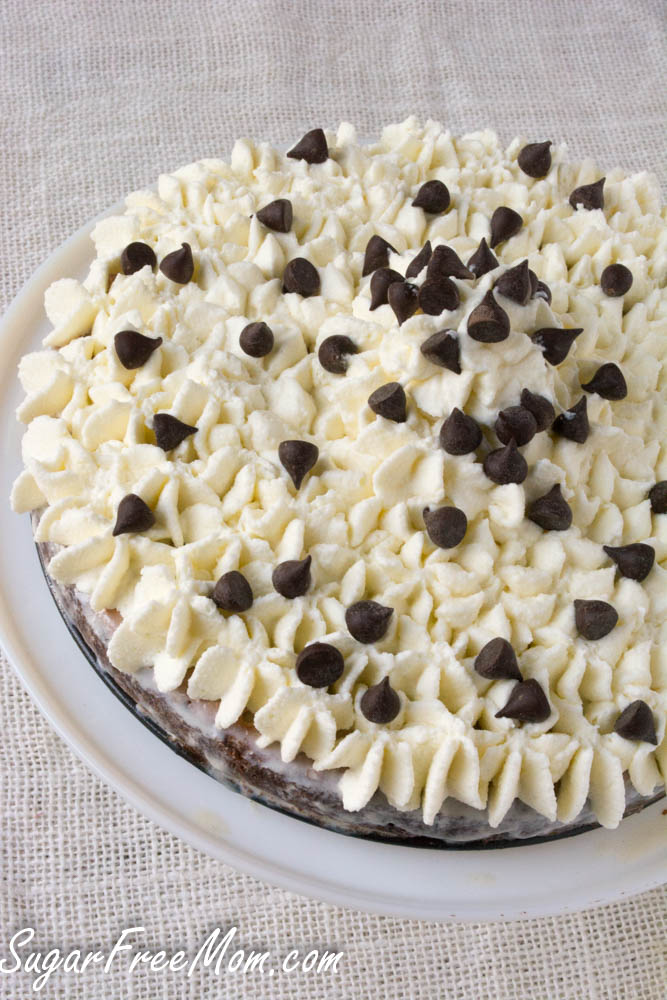 Seen here topped with my Sugar Free Cannoli Frosting and some chocolate chips for a bit of color.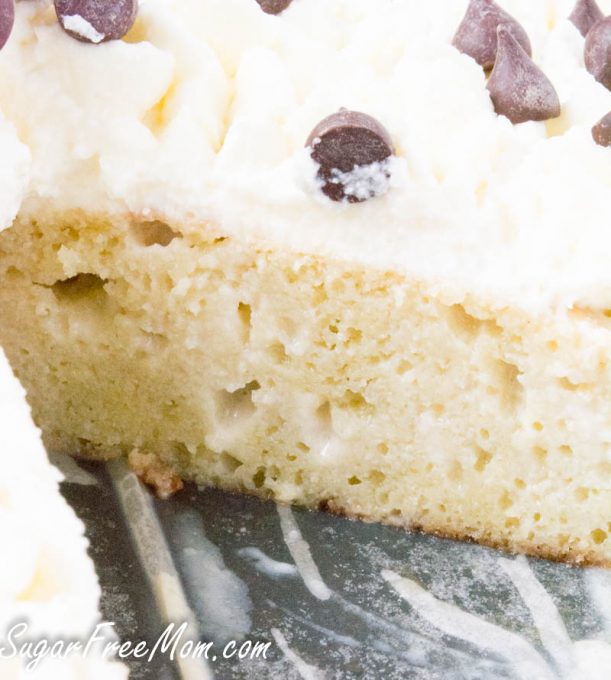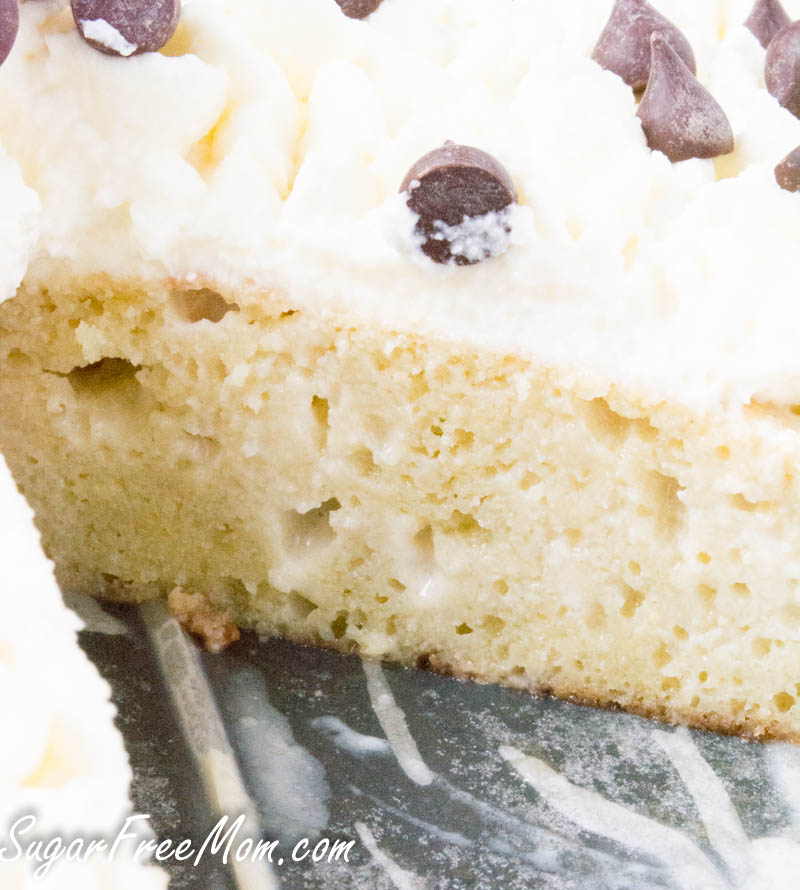 You want to see those holes, don't feel like you made a mistake in baking it. The holes hold all that creaminess!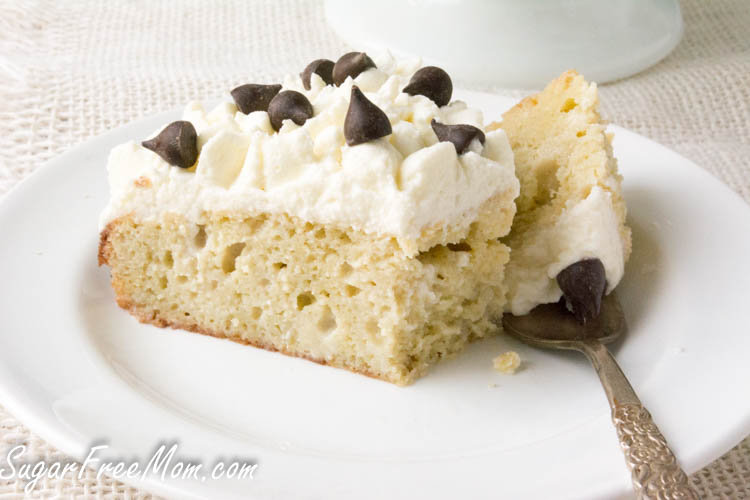 If I were trying to impress company that weren't accustomed to sugar free low carb desserts, this is the one I'd make. It's fool proof and perfect.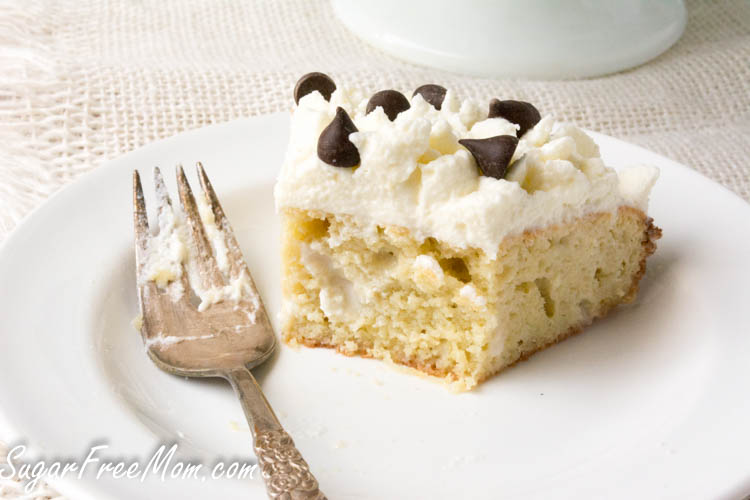 Make this for your next family and friends get together and you will impress them beyond belief! AND I would know this because NONE of my family is low carb and sugar free BUT me, so I brought it, they tried it and they loved it, even the picky hubby of mine! Rave reviews!
P.S.: Nutrition Info INCLUDES frosting because you NEED it, can't make the cake showing holes on top.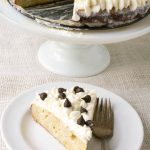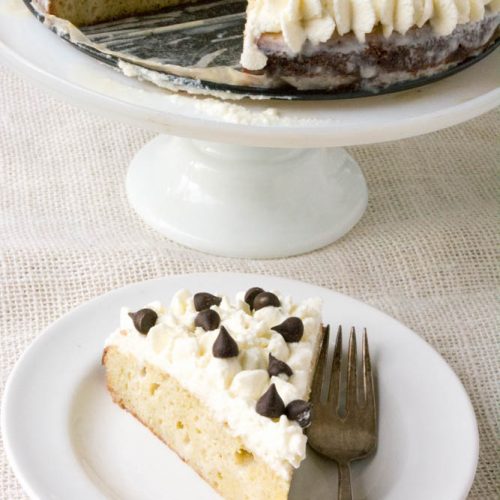 Sugar Free Low Carb Tres Leches Cake
Ingredients
1/2

cup

coconut flour

1/2

tsp

baking powder

pinch

salt

6

eggs

seperated

1/2

cup

butter

melted, cooled

1

tsp

vanilla extract

1

tsp

vanilla stevia

1/2

cup

unsweetened oconut milk or unsweetened almond milk

1/2

cup

Half & Half

1/2

cup

heavy cream

optional: 1/4 cup Brandy

2

cups

Sugar Free Cannoli Frosting
Instructions
Preheat oven to 375 degrees F.

Line a 9 inch spring form pan with parchment paper.

Whisk the coconut flour, baking powder and 1/2 cupSwerve together in a bowl. Set aside.

Place the egg whites into a stand mixer with the remaining Swerve and blend until stiff peaks form.

In another bowl whisk the egg yolks, butter, vanilla extract and vanilla stevia.

Fold the coconut flour mixture into the egg yolk mixture.

Gently fold in the stiffened egg whites in small batches into the coconut flour batter.

Pour batter into pan and bake for 30 minutes. Allow to cool for about 20 minutes before removing from pan.

Take a skewer stick and make holes in cake.

In another bowl whisk together the coconut milk, Half & Half, heavy cream and optional brandy.

Pour this over the cake into all the holes. Allow to stand for 30 minutes.

Refrigerate for at least one hour before frosting.

Frost and serve!
Nutrition Facts
Sugar Free Low Carb Tres Leches Cake
Amount Per Serving (1 slice)
Calories 262
Calories from Fat 215
% Daily Value*
Total Fat 23.9g 37%
Cholesterol 158mg 53%
Sodium 77mg 3%
Total Carbohydrates 5.5g 2%
Protein 6.5g 13%
* Percent Daily Values are based on a 2000 calorie diet.