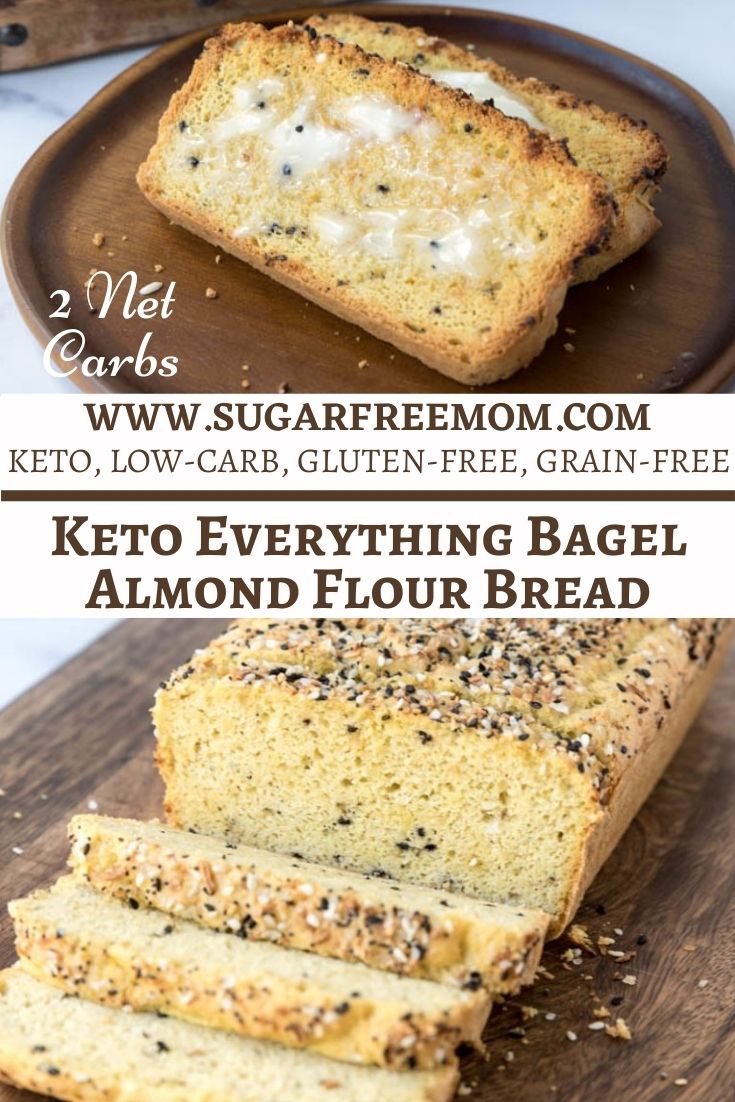 Just 7 ingredients needed to make this amazing Keto Almond Flour Bread that tastes like you're eating an Everything Bagel, but it's low carb and keto, so no spike in blood sugar! No fancy ingredients needed! Be sure to read the frequently asked questions in this post so you get the perfect keto bread!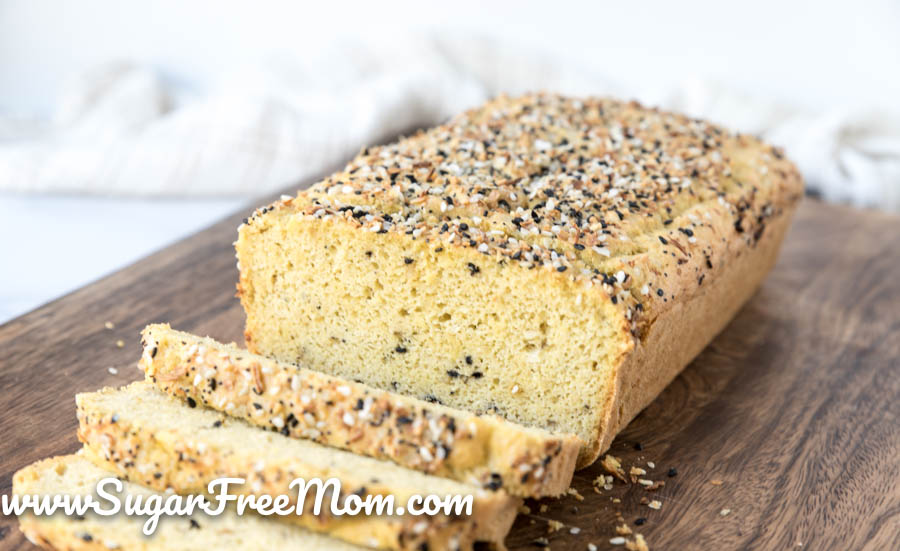 What's Wrong with Almond Flour?
Almond flour has been getting a bad rap lately in the keto space. Some say because it is high in Omega-6, eating all your keto baked goodies made with almond flour may cause you to have an imbalance of Omega-3 to 6 ratios, which may cause inflammation. But who eats baked goods all day anyway?
Even if they are keto, I don't eat almonds, almond butter or almond flour on a daily basis, do you? My approach to eating a keto diet, is with whole, real foods in their natural state, think single ingredient foods like avocados, grass-fed beef, broccoli, eggs etc.
My food doesn't consist of daily doses of almond flour, so when I feel like a piece of buttery toast smeared with avocado, this is one of my favorites, no fuss, easy keto bread recipes. No special funky ingredients needed!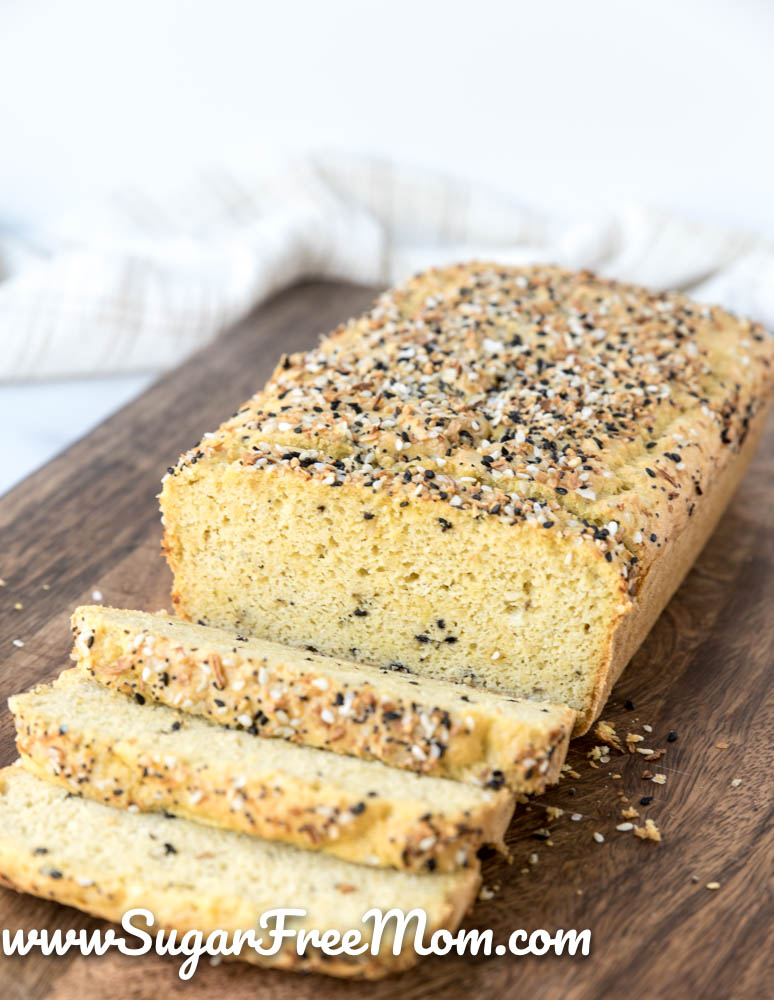 Almond Flour Bread versus Coconut Flour Bread
If you're looking for a great toast for spreading avocado on or making a toasted BLT sandwich, this Almond Flour Bread is perfect for you! If you're wanting a more honey wheat like, softer slice of bread, I would suggest using my Coconut Flour Bread recipe for that.
The coconut flour bread doesn't toast up as well as this almond flour bread does. But for a soft, sandwich filled with deli meat, cheese and mayo, the coconut flour bread wins!
If you can have dairy, an a hearty, Artisan like bread is more your preference, my Almond Flax Bread will fit the bill! If you can't have coconut or almond, try my Low Carb Sunflower Seed bread.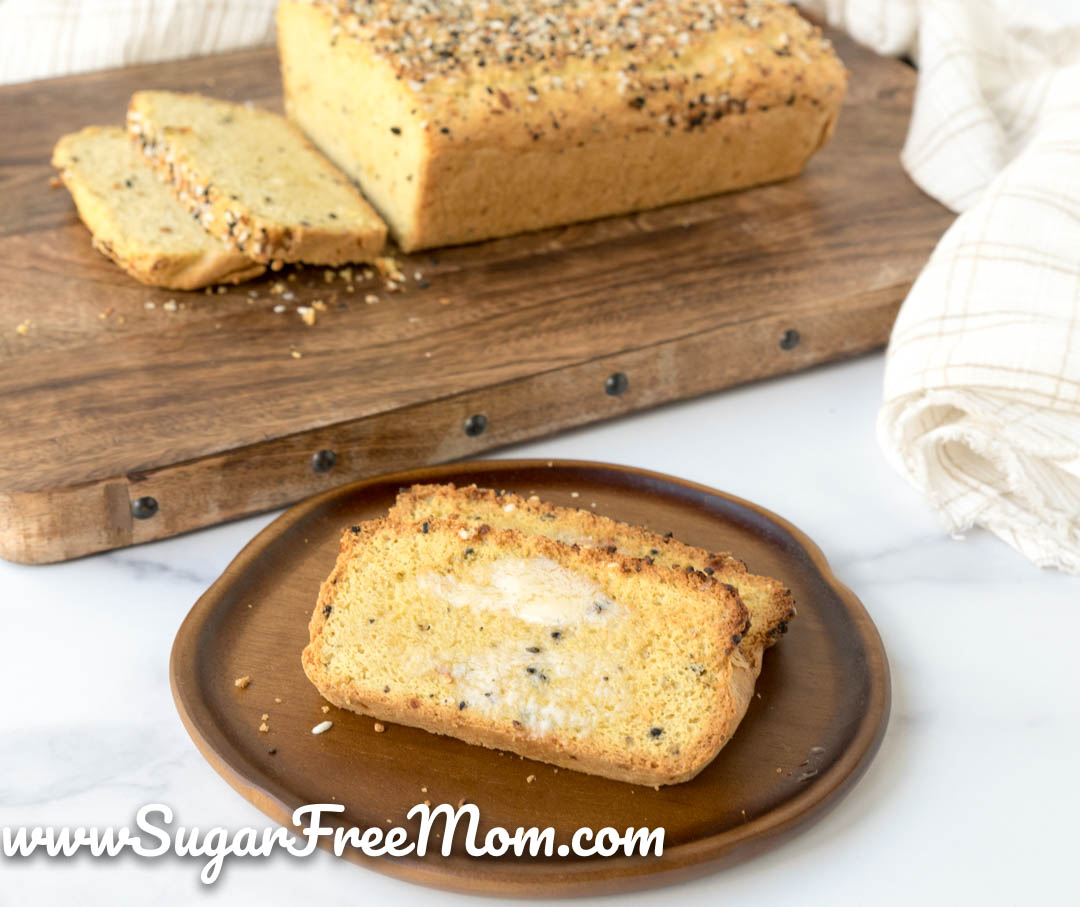 Frequently Asked Questions
Can I replace Almond with Coconut?
No. The two have different needs for liquid ingredients and just ¼ cup of coconut flour equals about 1 cup of almond. No need to try to change this recipe when I have a fantastic, reader approved, fool proof, Coconut Flour Bread recipe already made for you!
Can I replace fine almond flour for almond meal?
No. Is you use almond meal which is not as fine as almond flour, you will end up with a very dense loaf of bread.
Why didn't my bread get height?
The key is STIFF EGG WHITES!! Please read my instructions carefully for what it should look like and do not stop the stand mixer until those peaks are stiff.
How can I make this Dairy Free?
Just swap out the melted butter for melted, coconut oil or even ghee or avocado oil if you prefer.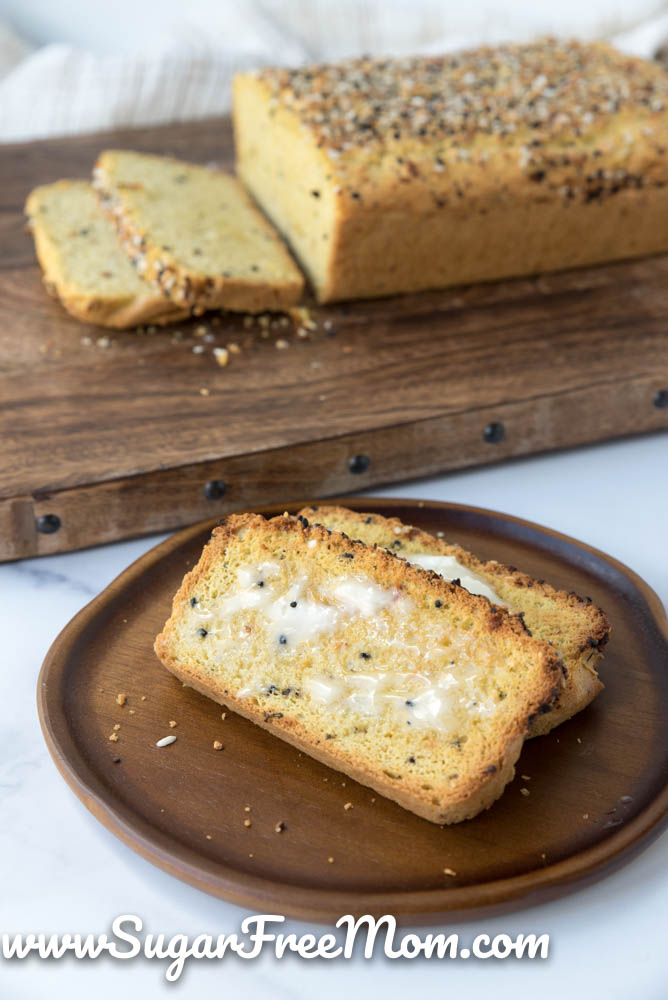 Do I need both baking soda and baking powder?
Yes! Make sure both ingredients are fresh and stored in the refrigerator after opening. Baking powder and baking soda helps to create the texture that resembles the traditional gluten type bread you once loved.
Baking soda works immediately when combined with wet ingredients so it's really important to work fairly quickly to get the batter in the oven.
Baking powder has a double acting reaction. So it works once mixed with wet ingredients but also gives lift to the batter when it gets heated in the oven so using both gives you a guarantee that you'll have a nice and airy loaf!
Do I really need all these eggs?
Yes! Though this recipe calls for 8 eggs, it is not eggy in taste at all. Having this many eggs ensures a tasty loaf that isn't gritty or dry!
Can I replace the eggs with egg substitute?
No. Sadly replacing this many eggs would not create the light, airy and the height desired for this bread.
What can I use if I don't have Everything Bagel Seasoning?
If you don't haveEverything Bagel seasoning or want to purchase it, combine a ½ teaspoon each of minced dried onion flakes, minced dried garlic, poppy seeds, sesame seeds, black sesame seeds, coarse or flaked sea salt, and ¼ teaspoon pepper. Stir together and double the amounts for this recipe.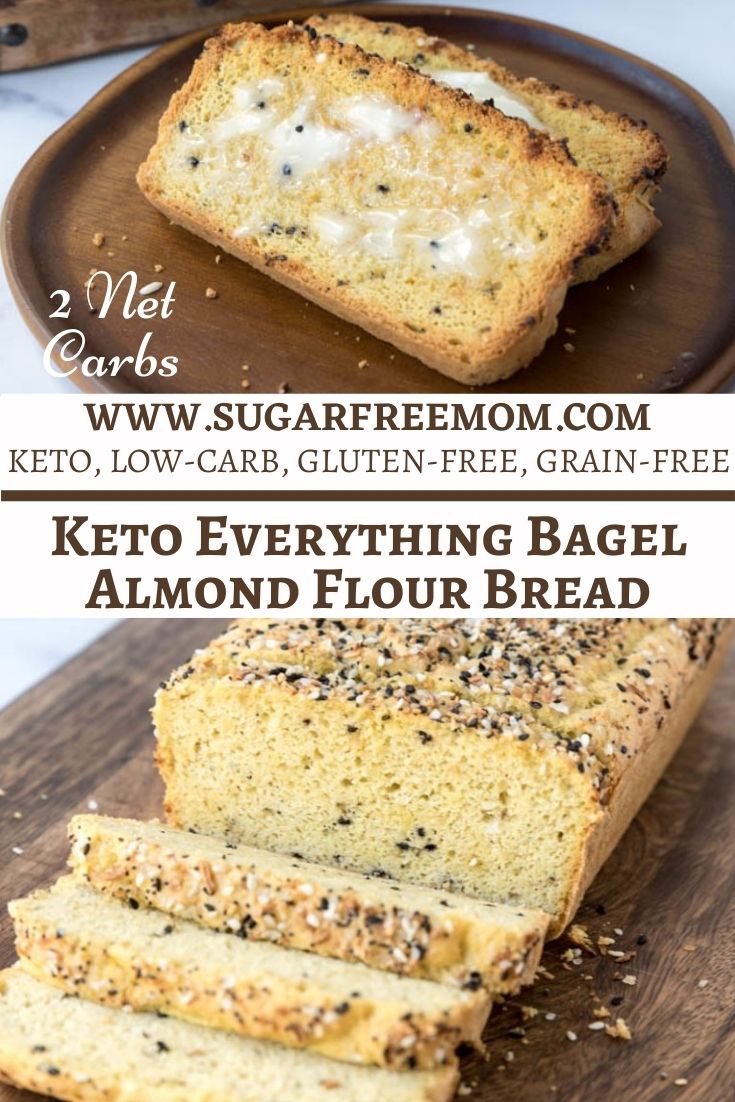 How to Store Keto Almond Flour Bread
It's best to allow the loaf to cool completely. Slice and place into an airtight container and store in the refrigerator for up to 2 weeks. You can also slice and place between pieces of parchment paper then store in a freezer plastic bag for up to 2 months.
What Else Can I Make with this Bread?
If you remove the bagel seasonings, you can turn this into Keto French Toast or Bread Pudding!
Keto Everything Bagel Almond Flour Bread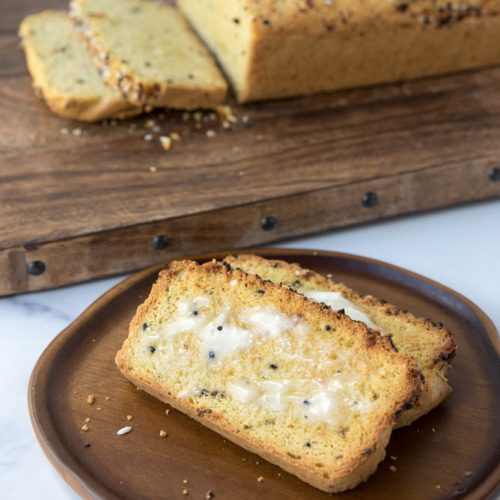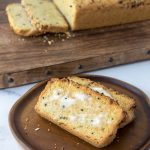 Print
Keto Everything Bagel Almond Flour Bread
Instructions
Preheat oven to 350 degrees F. Line a 9 by 5 loaf pan with parchment paper, hanging enough over the sides for easy removal. Spray the parchment with avocado oil cooking spray and set aside.

Separate the egg whites and place into a stand mixer bowl. Place the yolks into another mixing bowl, set aside for now. Add cream of tartar to the egg whites and mix on a low speed until it starts to thicken then speed it up. Continue to mix gradually increasing speed. The whites should be very stiff within 10- 15 minutes. While that is mixing prepare the remaining ingredients.

To the yolks in a large bowl, add the melted, cooled butter, almond flour, baking powder and soda, and 2 tablespoons of the bagel seasoning. Save the remaining 1 tablespoon for the top of the bread. Mix to incorporate all the ingredients until there are no lumps and it resembles cookie dough texture.

Take a small amount of the stiff egg whites and add it to the yolk batter. Fold by hand or use an electric mixer or paddle attachment from stand mixer to incorporate into the batter. Take another small amount of stiff egg whites and do it again, until the batter seems to be loosening a bit. This will make it easier to fold the remaining whites into the batter by hand. Continue to fold egg whites into the batter then pour into the loaf pan. Sprinkle remaining bagel seasoning over the top.

Bake for 30-35 minutes or until a toothpick in the center comes out clean. Allow to cool for 10 minutes before removing from the pan. I was able to make 16 thin slices from the loaf.
Nutrition
Serving:
1
slice
|
Calories:
137
kcal
|
Carbohydrates:
4
g
|
Protein:
6
g
|
Fat:
12
g
|
Saturated Fat:
3
g
|
Cholesterol:
89
mg
|
Sodium:
284
mg
|
Potassium:
122
mg
|
Fiber:
2
g
|
Sugar:
1
g
|
Vitamin A:
207
IU
|
Calcium:
75
mg
|
Iron:
1
mg