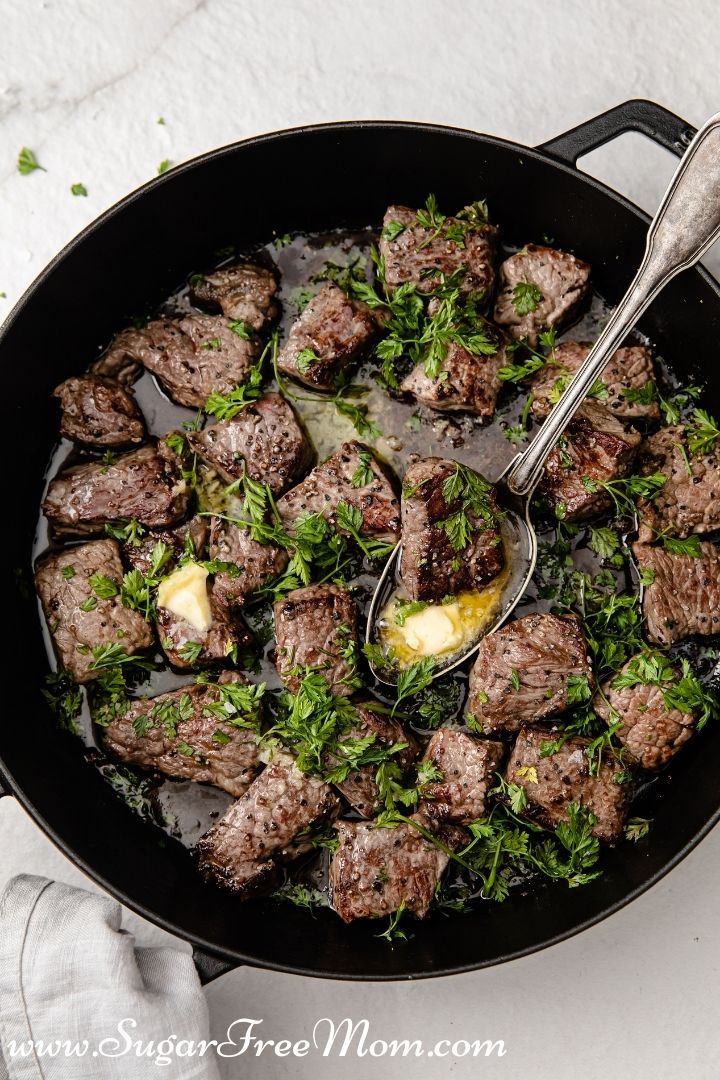 Easy recipe for keto garlic butter steak bites, that are juicy, tender and ready in just 10 minutes!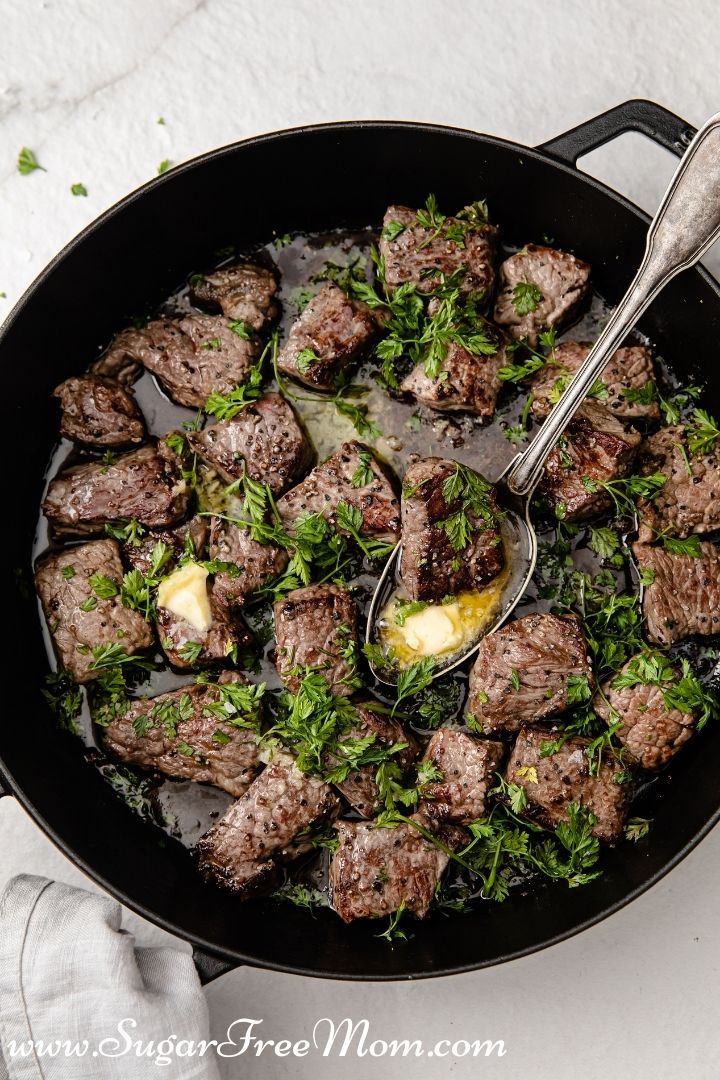 HOW TO MAKE GARLIC BUTTER
In order to take this easy steak recipe over the top and make it even more delicious than it already is, you've got to have garlic butter! Garlic butter makes the best sauce to dip cook your steak in as well as dip your steak bites into once cooked!
Start with softened, salted butter. Yes salted, you need that salted butter which adds more savory flavor than unsalted butter. Nice and soft or at room temperature is what you're looking for to easily combine with the minced garlic. If using straight from the fridge you can soften a little in the microwave, but careful not to melt it.
Fresh garlic is best! Smash the cloves on a flat surface using the side of a wide blade. Peel and chop finely to a mince. Stir into the butter and combine well.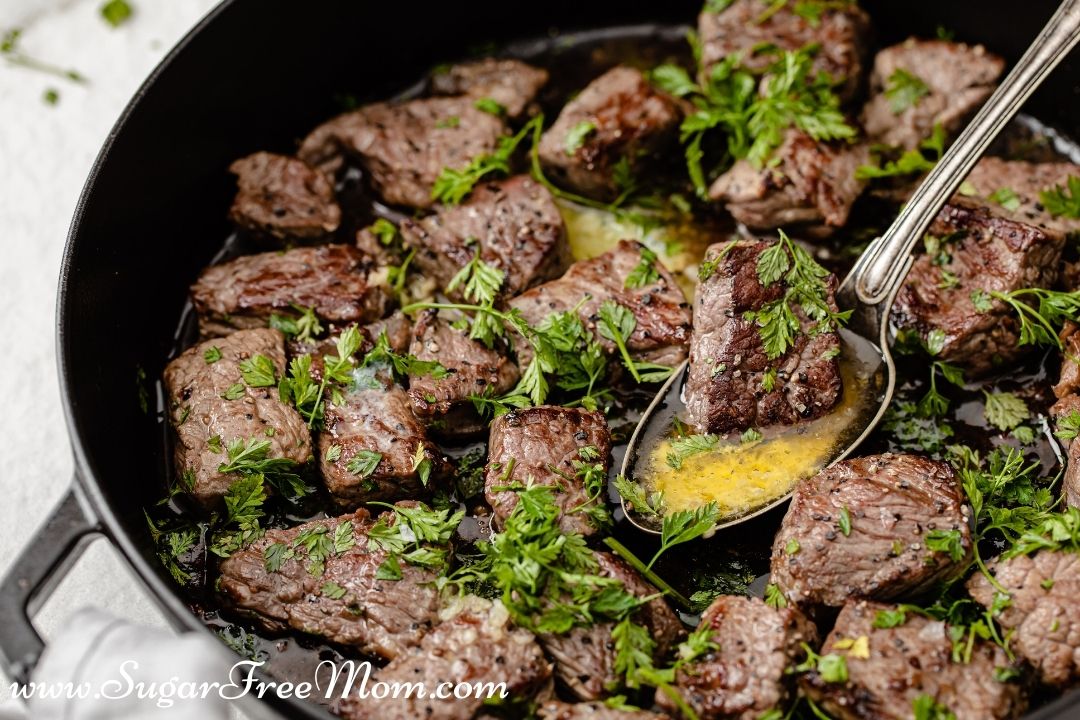 PERFECTLY SEARED STEAK
To create a perfect crust and sear on the steak, you must start with a hot pan. Drop some butter in the pan and if he melts quickly, you are ready. Add one piece of steak and if you hear that sizzle, you are good to go to add a few more pieces of steak.
DO NOT OVERCROWD your skillet or you will steam your steak and will not get a good browning or sear on the steak bites. Work in batches until you have them all browned then return to the pan.
Choose a cut of beef that fits your budget. I recommend sirloin or ribeye for pan frying.
Feel free to adjust the cooking time slightly depending on whether you like your steak rare, medium or well done. I did mine medium. Cut one in half to check! The size of the cubes will also alter the cooking time.
WHAT IF I DON'T HAVE A CAST IRON PAN?
A cast iron skillet is the best way to get a perfectly seared steak because it heats evenly and retains it's heat well. If you don't have a cast iron skillet, you can use a stainless steel skillet. I would not recommend a nonstick skillet as you won't get that sear we want on the steak bites and non stick are highly toxic and leach chemicals into your food. But if I were you, investing in a cast iron skillet will turn you into a chef! It is worth it's price! I've created some amazing savory recipes, like my Deep Dish Cauliflower Pizza, as well as desserts like my Skillet Cookie Pie!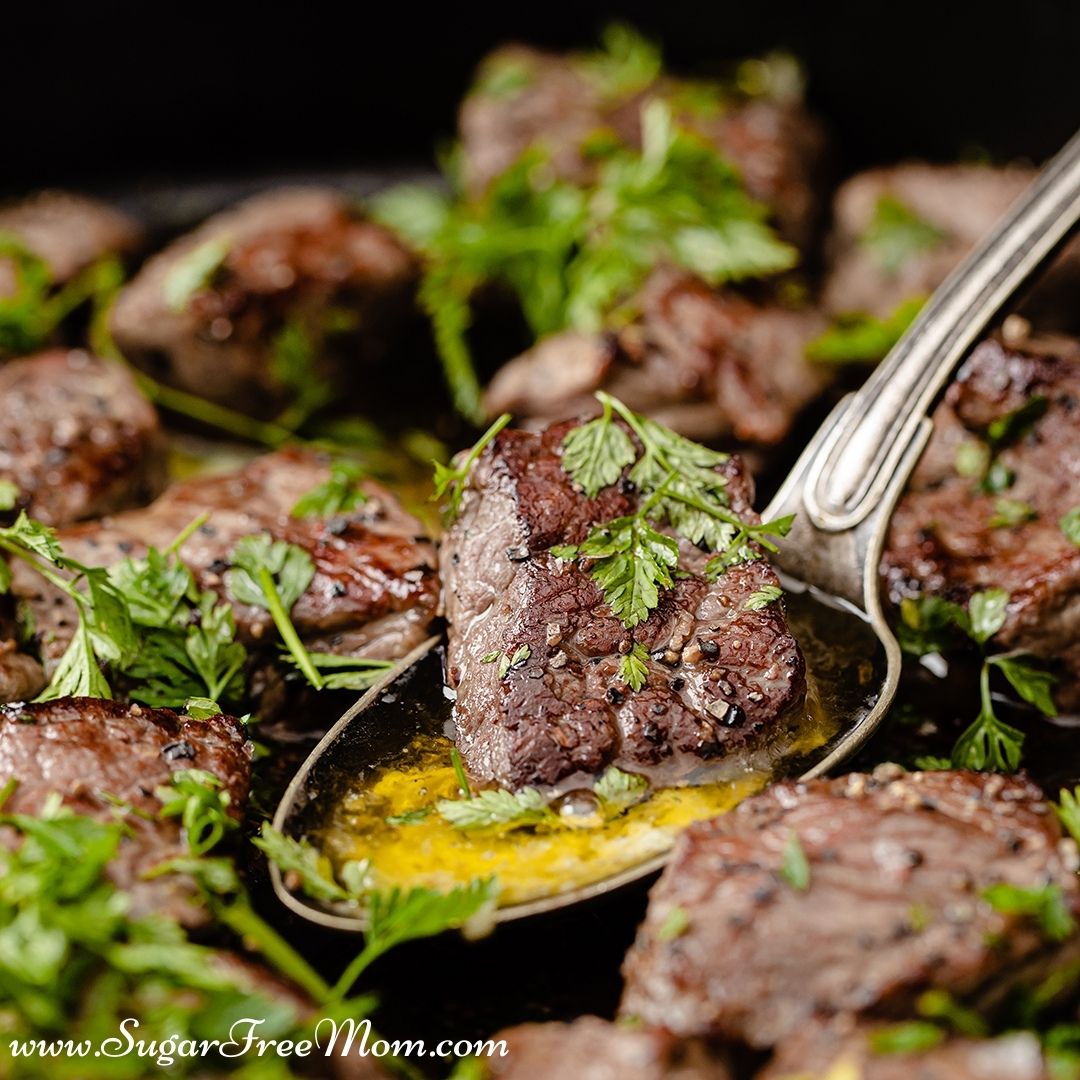 KETO SIDES TO SERVE WITH STEAK BITES
Mashed Cauliflower would be my first choice to serve these steak bites with. Italian Style Cole Slaw would be another good option. Sautéed Cabbage and onions would also be terrific served with these steak bites on top! You might prefer this Roasted Garlic Cauliflower Rice which is always quick and easy to throw together with your main dish!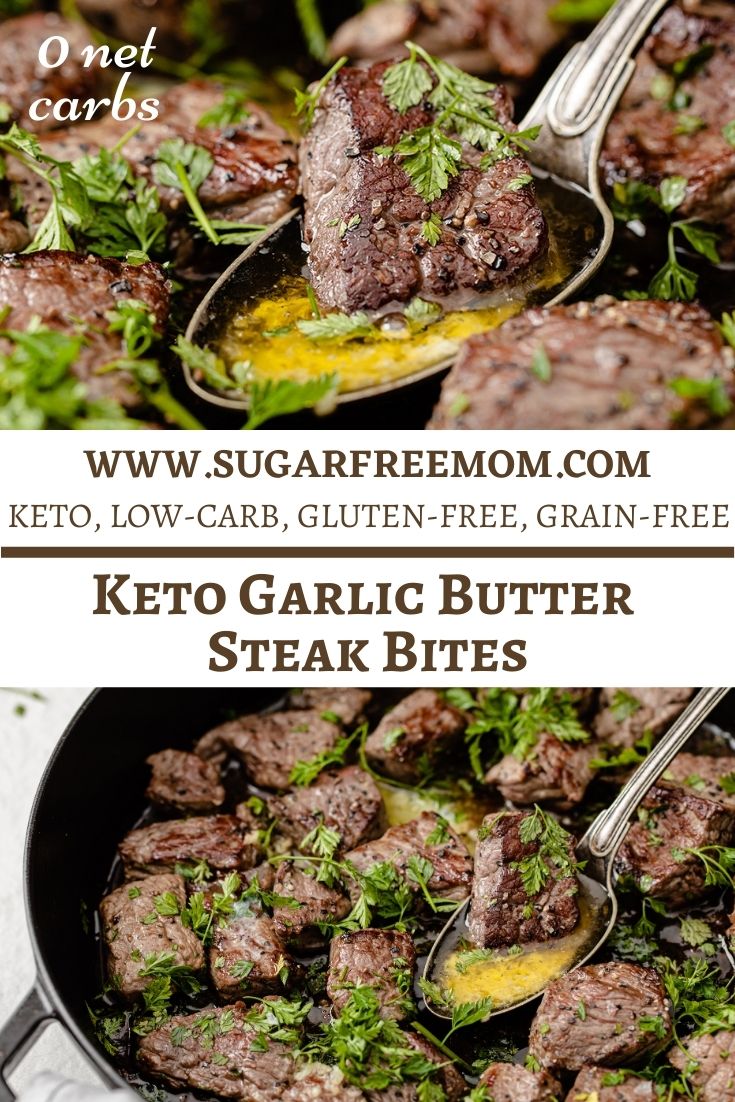 LOW CARB KETO MEAL PLANS
Our membership is simple. You can subscribe for a month to try it out or you can subscribe for a yearly membership. Each Friday you will get a meal plan that comes to your email. You'll have that early in order to go food shopping before the meal plan begins on Sunday. You will be able to view and print the meal plan and the shopping list. If you don't like a meal, simply delete it and swap it with another meal you like. The shopping list will automatically adjust. It's the best software available out there for a customizable menu plan. Not many other low carb or keto meal plans allow you the option to remove, add, start with a blank menu and create your own if you so wish.
You can choose from Three Meal Plan Options:
Low Carb Meal Plan includes breakfast, lunch, dinner, and snacks with 40 net grams of carbs or less per day.

Keto Meal Plan includes breakfast, lunch, dinner, and snacks with 20 net grams of carbs or less per day.

Intermittent Fasting Keto Meal Plan includes 2 meals per day plus one protein/fat rich snack daily with no more than 20 TOTAL carbs per day.
KETO GARLIC BUTTER STEAK BITES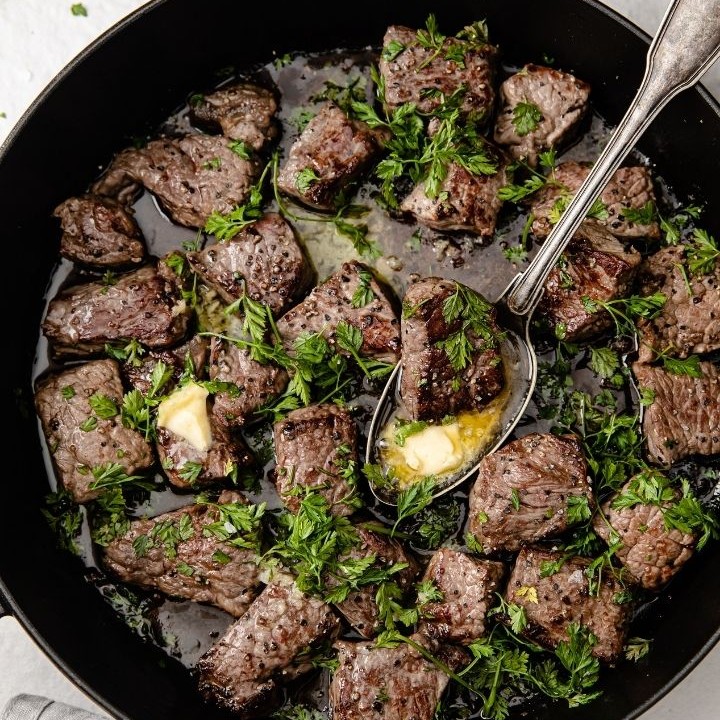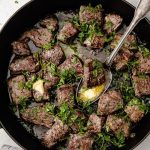 Print
Keto Garlic Butter Steak Bites
If you're looking for a really good quick and easy steak recipe, these Keto Garlic Butter Steak Bites are a winner. I used sirloin steak in this recipe which is best for pan frying and is nice and tender.
These Keto Garlic Butter Steak Bites take just 10 minutes to make and are super low in carbs. I like to serve them with a nice low-carb salad, cauliflower mash, green beans or why not try them in a good keto baguette with a generous dollop of mustard?
Ingredients
GARLIC BUTTER
4.5

tablespoons

salted butter

softened, room temp (or 65g)

2

cloves

garlic

minced
STEAK BITES
2

pounds

sirloin steak

(or 900g/800g when trimmed)

½

teaspoon

black pepper

cracked (or to taste)

1

teaspoon

salt

(or to taste)

3

tablespoons

fresh parsley

finely chopped
Instructions
Mix the garlic and softened butter together in a bowl.

Trim the excess fat off the steak and dice into 1.5 inch cubes. Season with salt and pepper.

Heat 2 tablespoon of garlic butter in a large non-stick frying pan or cast iron skillet. Add the steak in a single layer. Cook on high till browned, approx. 2 minutes. Resist the urge to turn, turn only once browned.

Turn until all sides are browned or cooked through to your liking, approx. another 2 minutes. Work in batches in the pan, adding garlic butter each time. I did two batches.

Toss through the parsley to serve.

Serve hot with low-carb veggies, salad or cauliflower mash.

Storage: Can be stored in a Tupperware in the fridge for up to 2 days and reheated, but best fresh.
Nutrition
Serving:
1
serving
|
Calories:
423
kcal
|
Carbohydrates:
1
g
|
Protein:
50
g
|
Fat:
23
g
|
Saturated Fat:
12
g
|
Trans Fat:
1
g
|
Cholesterol:
172
mg
|
Sodium:
825
mg
|
Potassium:
806
mg
|
Fiber:
1
g
|
Sugar:
1
g
|
Vitamin A:
648
IU
|
Vitamin C:
4
mg
|
Calcium:
76
mg
|
Iron:
4
mg