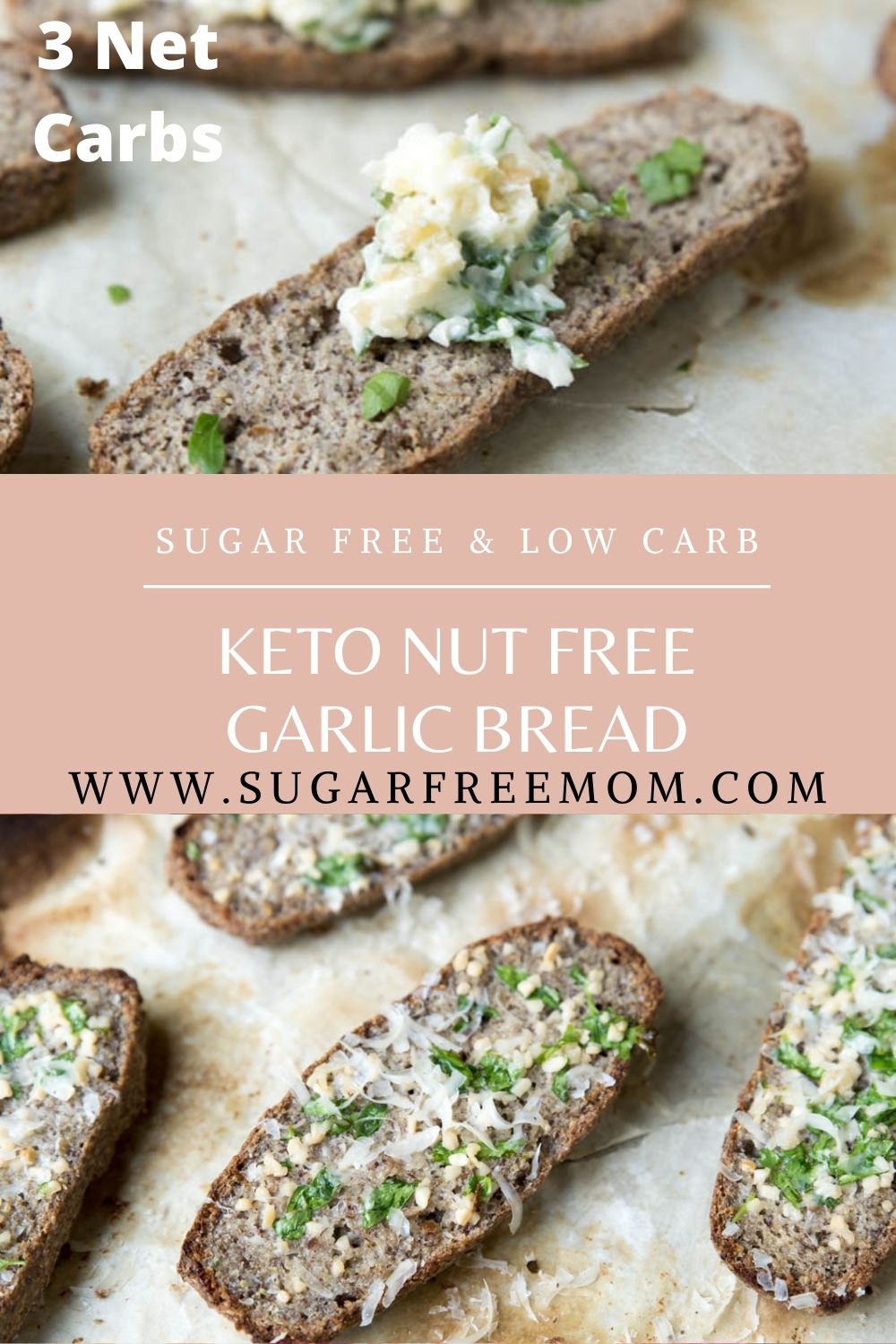 This amazing recipe for keto nut free garlic bread is easy to make at home and so tasty your family will be requesting it often! Just 3 net carbs per serving and enjoy with your favorite entree!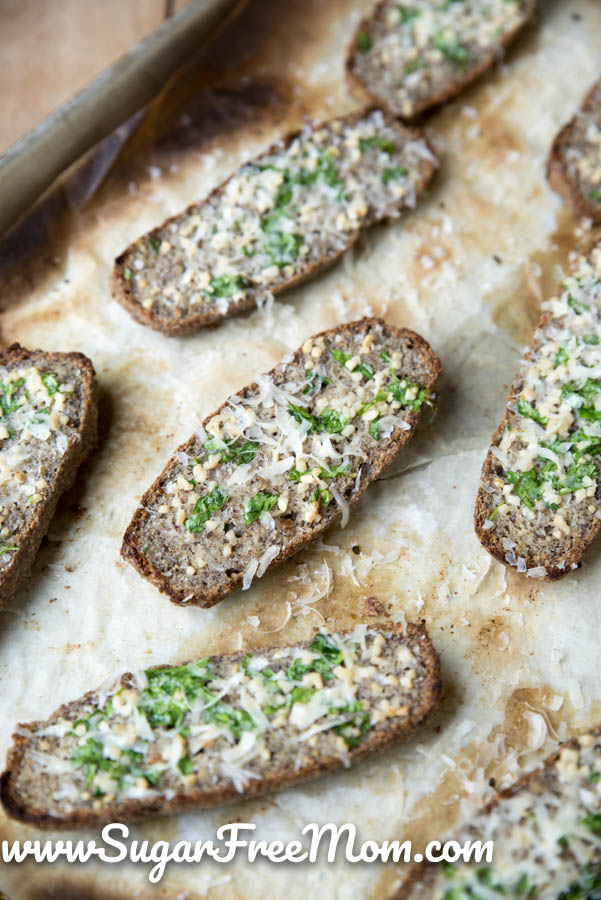 When you want an easy keto side to go with your main entree like my Bacon Cheeseburger Casserole or my Creamy Chicken Soup, this recipe for keto nut free garlic bread is an easy winner the whole family will love!
This recipe can also be made into keto hamburger rolls or keto sandwich bread if you want! Be sure to read all my tips below if you want to swap or adapt this recipe.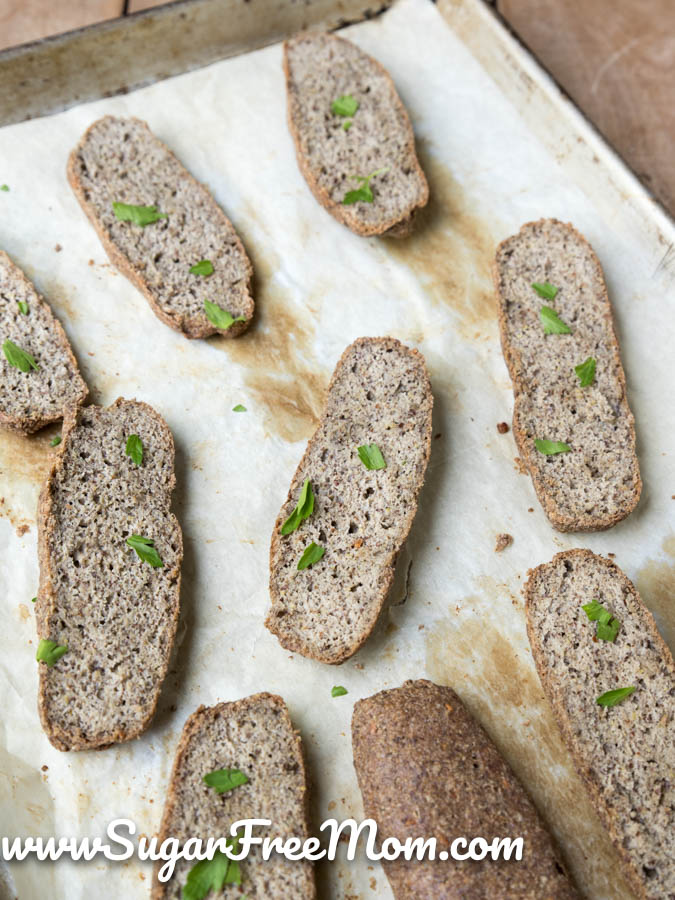 CAN I SWAP THE SUNFLOWER SEED FLOUR?
If you don't have a tree nut allergy then you can easily swap the sunflower seed flour with almond flour. You would use the same exact amount as the sunflower seed flour in this recipe below. I have not tested this recipe using any other tree nut free flours like sesame or coconut. I can tell you they both do not equally swap with almond as they are both super absorbent and need less flour plus more eggs and liquids.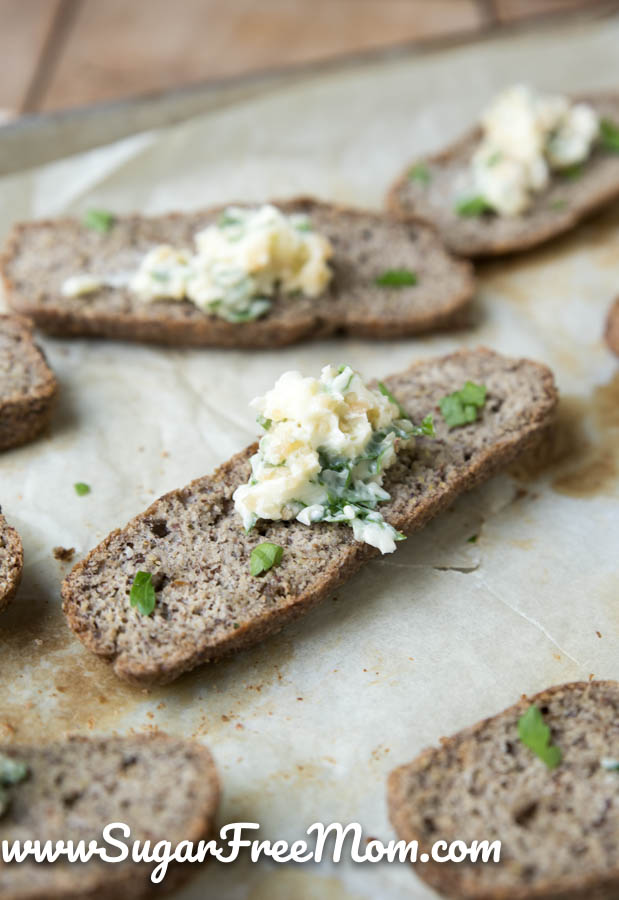 CAN I TURN THESE INTO SANDWICH ROLLS?
You can turn this recipe for keto nut free garlic bread into sandwich rolls or hamburger buns simply by changing the shape from a log or loaf into a round roll. The only change to the recipe below would be to use 1 tablespoon of baking powder instead of just a half teaspoon so that you get more lift in the roll. Eliminate the garlic butter spread as well. Bake time would remain the same.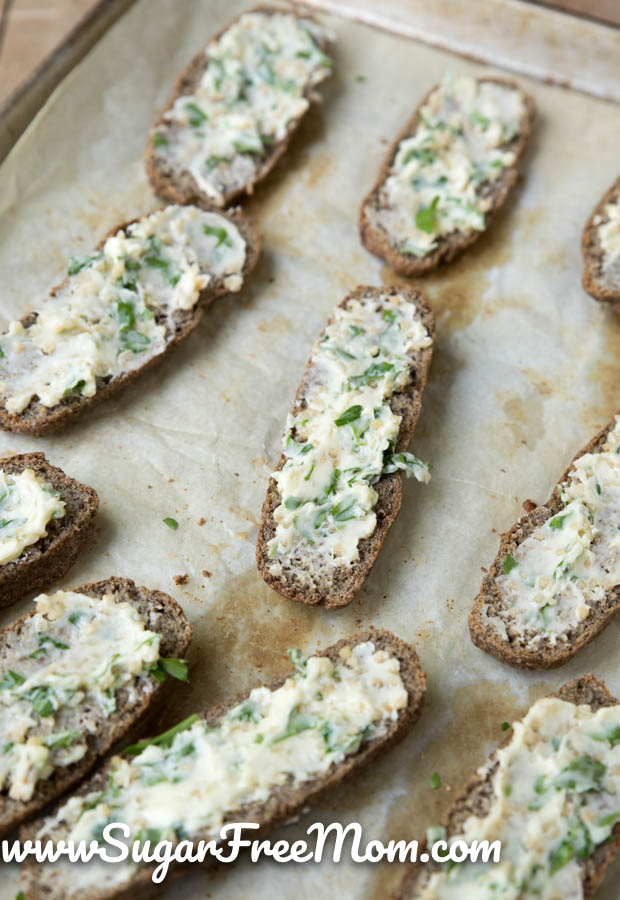 CAN I SWAP THE BUTTER?
If you need to swap the butter for a dairy allergy, you could try clarified butter called ghee, which has very little lactose and is casein free, and can be enjoyed by many who have issues with dairy. You could also try coconut oil in place of the butter in the garlic bread, though I have not tried that out myself, still it's a viable option.
DO I NEED THE FLAXSEED?
Ground flaxseeds can replace eggs in a recipe and because of its high oil content and also be used to replace oil or fat in a recipe. Ground flaxseed can really increase the texture quality of baked goods that are gluten free. I'd say keep it in this recipe for keto garlic bread, but if you truly don't have it on hand and refuse to buy any, you could swap out the ground flaxseed with chia seeds or about a tablespoon of oil. I can't guarantee on how the texture or quality will be when swapping the ground flaxseed out of this recipe.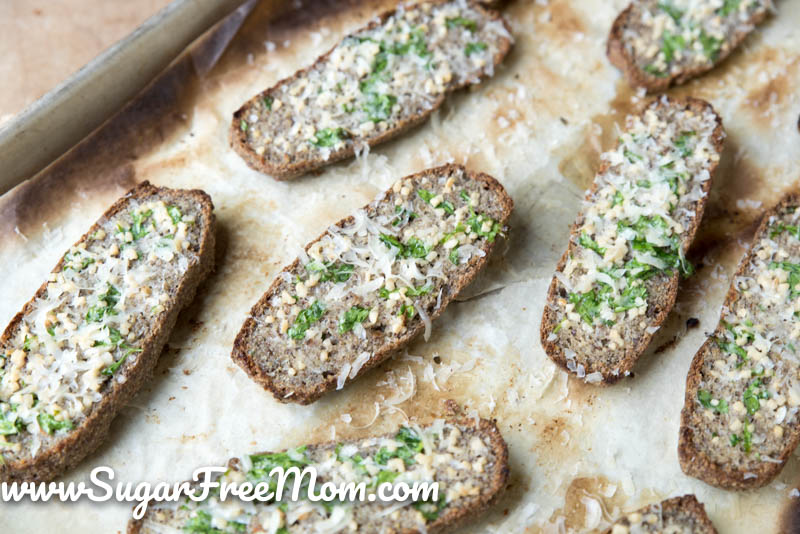 CAN I SKIP THE PSYLLIUM HUSK POWDER?
Psyllium husk powder is one of the best alternatives to gluten in keto friendly baking recipes. It helps retain moisture in baked goods and that helps with reducing keto breads from being too crumbly and falling apart. It's also got a nice high fiber content and is often used in products like Metamucil, for helping to keep yourself regular.
Since these are paleo rolls, they do not have any cheeses that hold them together like most keto hamburger buns and rolls you see online using fat head dough as the base. Psyllium husk holds these keto rolls together since it acts like a gel when mixed with hot liquids. It helps to make keto dough to roll out and shape easier and provides a nice light and airy texture that is hard to beat. I do not recommend leaving out the psyllium husk powder in this keto nut free garlic bread.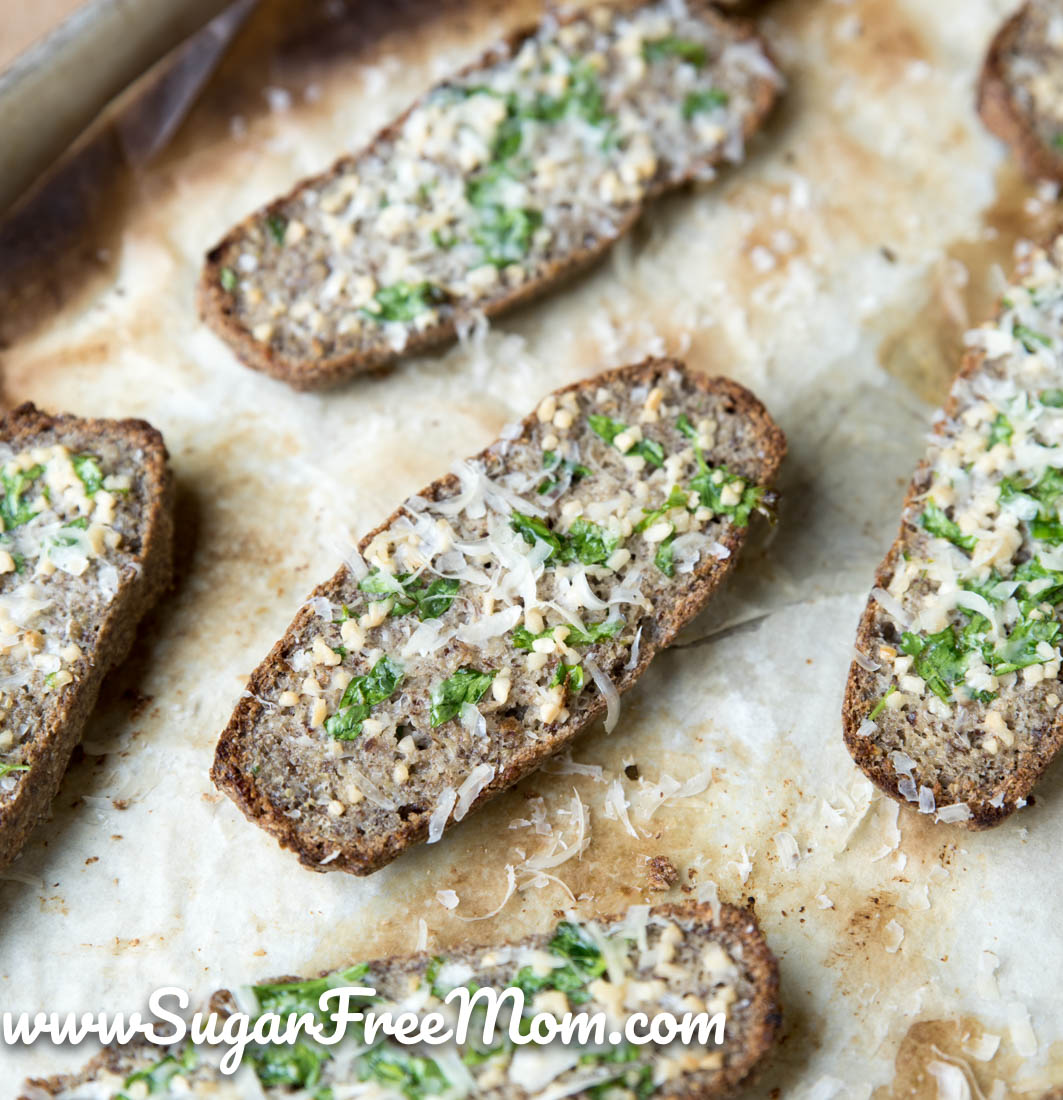 CAN I USE ALL EGGS INSTEAD OF EGG WHITES?
This recipe requires a lighter and less dense texture so using all eggs would not work as well as using more egg whites. If you have an egg allergy, you could try replacing the egg and whites using chia seeds, or try this egg replacer from Bob's Red Mill, but I have not tested this to be certain the end result would work as well.
WHAT CAN I DO WITH THE EXTRA EGG YOLKS?
If you decide to use whole eggs for this recipe rather than a carton of egg whites, you could make any of the following delicious keto recipes.

SUGAR DETOX COURSE TESTIMONY
Ann says, "I weighed and did measurements this morning. I have loss 12 pounds and 11.5 inches. My A1C went from 7.5 to 6.7. My dr just cut my blood pressure medicine in half. Joining this group is the best thing I could have done for my health. I have met so many wonderful people who have become life long friends. Brenda, I can't thank you enough for always being there for us with your knowledge, wonderful recipes and just being you. You have made this journey so much more enjoyable. I look forward to each week. I will definitely be joining the alumni group. See everyone there!!"
KETO NUT FREE GARLIC BREAD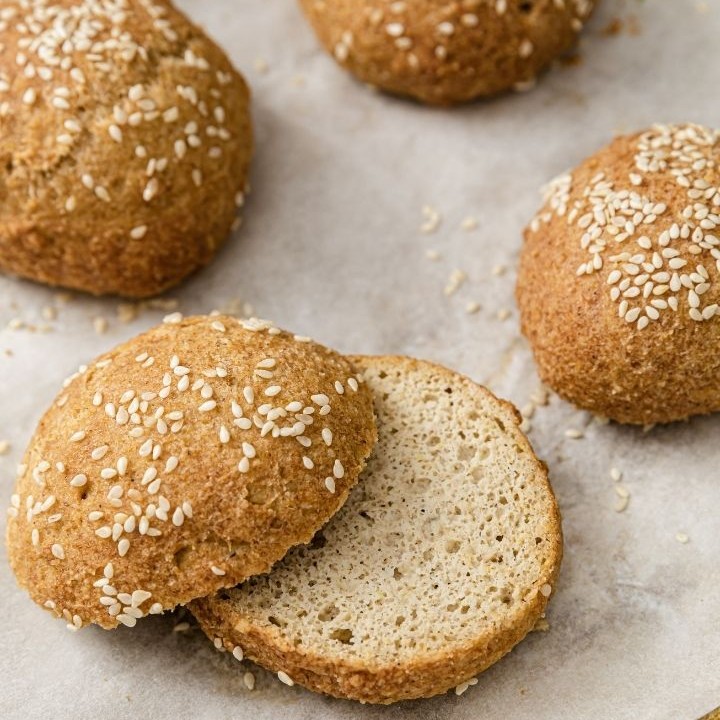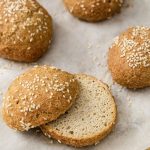 Print
Keto Garlic Bread
Ingredients
Garlic Butter
½

stick

butter

3

teaspoon

minced garlic

¼

teaspoon

salt

2

tablespoons

parsley

fresh, chopped

grated Parmesan

optional topping once out of the oven
Instructions
Preheat the oven to 375F / 190C / 170 fan.

Place all the dry ingredients in a mixing bowl and stir to combine.

Add the egg and egg whites. Whisk to combine using an electric whisk with bread paddles. Add the boiled water and whisk again until like a slightly sticky dough. Allow to stand for 5 minutes.

Roll into 6 loaves about 4-5 inches in length and ½ inch in height and pat slightly to form. If the dough is sticking to your hands (it should be slightly sticky) simply wet your hands with a little water.

Place on a non-stick baking tray lined with parchment paper with enough space between them to grow in the oven.Bake for about 40 minutes until golden.

Remove from the oven and allow to cool then slice and spread on garlic butter. Broil 1-2 minutes until crispy, top with grated parmesan if desired and enjoy!

Storage: Airtight container for up to 4 days or freezer for 3months.
Nutrition
Serving:
1
piece
|
Calories:
155
kcal
|
Carbohydrates:
7
g
|
Protein:
7
g
|
Fat:
11
g
|
Saturated Fat:
3
g
|
Trans Fat:
1
g
|
Cholesterol:
26
mg
|
Sodium:
200
mg
|
Potassium:
90
mg
|
Fiber:
4
g
|
Sugar:
1
g
|
Vitamin A:
196
IU
|
Vitamin C:
1
mg
|
Calcium:
15
mg
|
Iron:
1
mg