When you are looking for a quick and easy dinner, this Low Carb Keto Shrimp Stir Fry is a must make. In less than 15 minutes, you can have a delicious low carb keto stir fry ready and on the table for the family to enjoy on busy weeknights.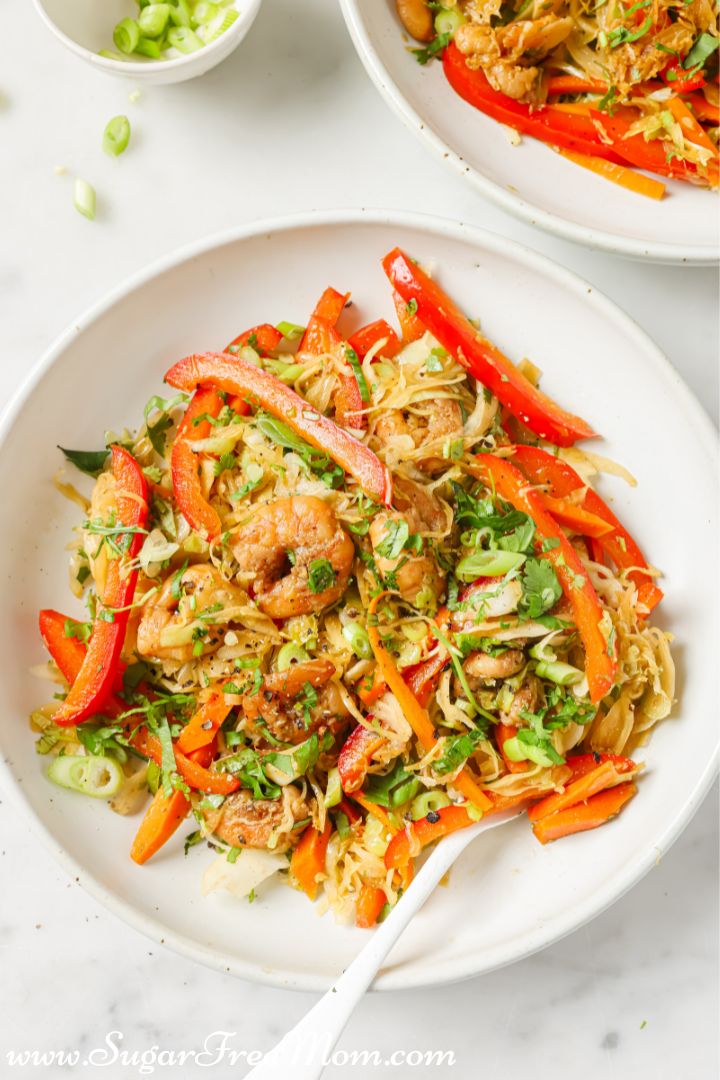 Low Carb Keto Shrimp Stir-Fry Recipe
​This easy one pan recipe is a quick low-carb meal made with fresh vegetables, juicy shrimp and just 8 grams of net carbs per serving!
The delicious marinade, uses coconut aminos, but you could swap that with soy sauce if you prefer.
Sesame oil or avocado oil, fresh ginger and garlic, salt, pepper and apple cider vinegar create this amazing sauce, coating the raw shrimp, and then cooks if just 2-3 minutes in a hot skillet.
The low carb stir fry veggies cook just as quickly in your frying pan!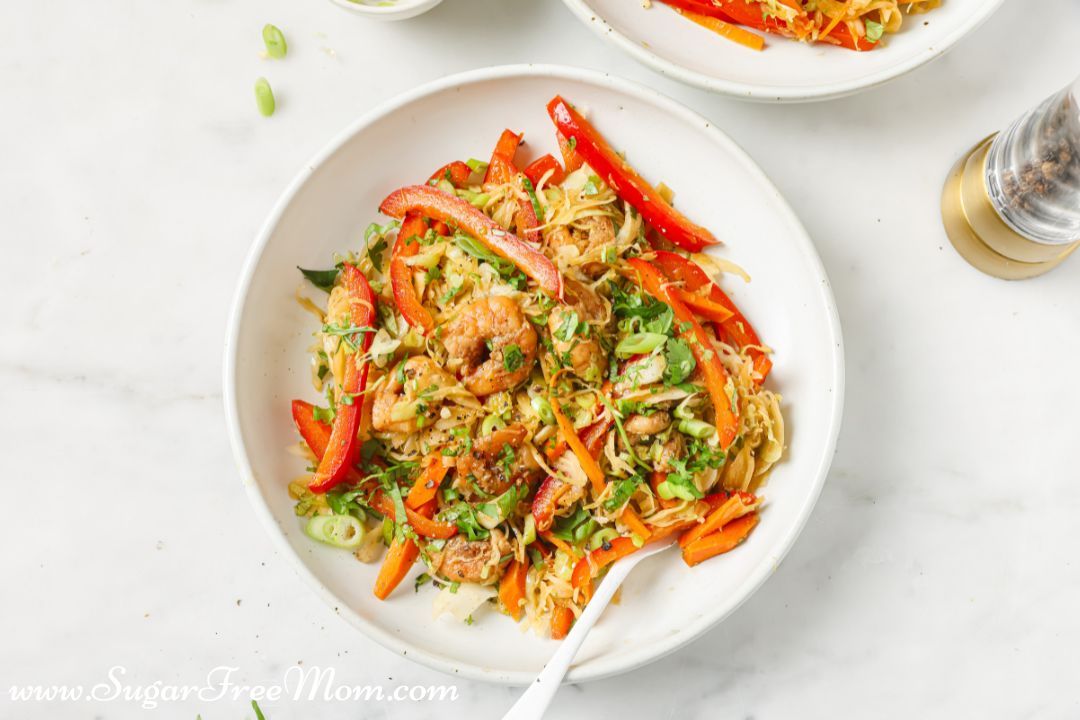 This really is an easy weeknight meal and can easily be customizable by swapping any low carb vegetable you and your whole family.
If your children don't like the vegetables in this recipe, swap with low carb noodles like, zucchini noodles or shirataki noodles or even cauliflower rice.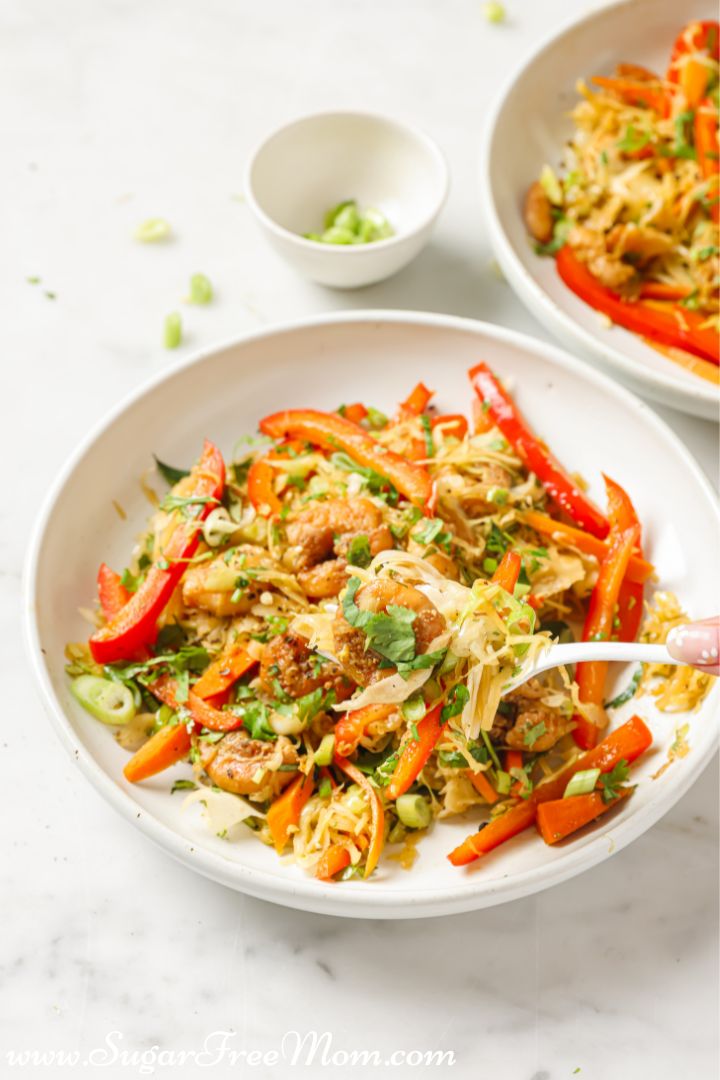 Healthy Cooking Oils
Contrary to popular belief, dietary fat does not make you physically fat. Healthy fat is nothing to fear. Eating a low-fat die is neither the key to weight loss nor the way to eliminate sugar cravings. The 30-Day Sugar Elimination Diet, Brenda Bennett, page 50
Learning which fats and oils to consume is one of the most important things you can do for your health, longevity and quality of life.
Fats are essential to a well-functioning body and critical for many purposes, and necessary for certain hormones to function properly.
They also act as building blocks for cell membranes, protect the linings of your organs and help you absorb fat-soluble vitamins A, D, E and K. Plus, fat makes food delicious! Enjoying healthy dietary fat can increase your satiety levels and help regulate the speed at which you digest your food.
Your body requires a healthy balance of omega-3 and omega-6 fats. Unfortunately, omega-6 is abundant in vegetable oils and meat from grain-fed animals, which makes it easier to come by than omega-3.
A dominance of omega-6 can cause inflammation. You want to avoid anything inflammatory because inflammation leads to a host of other issues, especially with keeping your blood sugar balances and losing weight.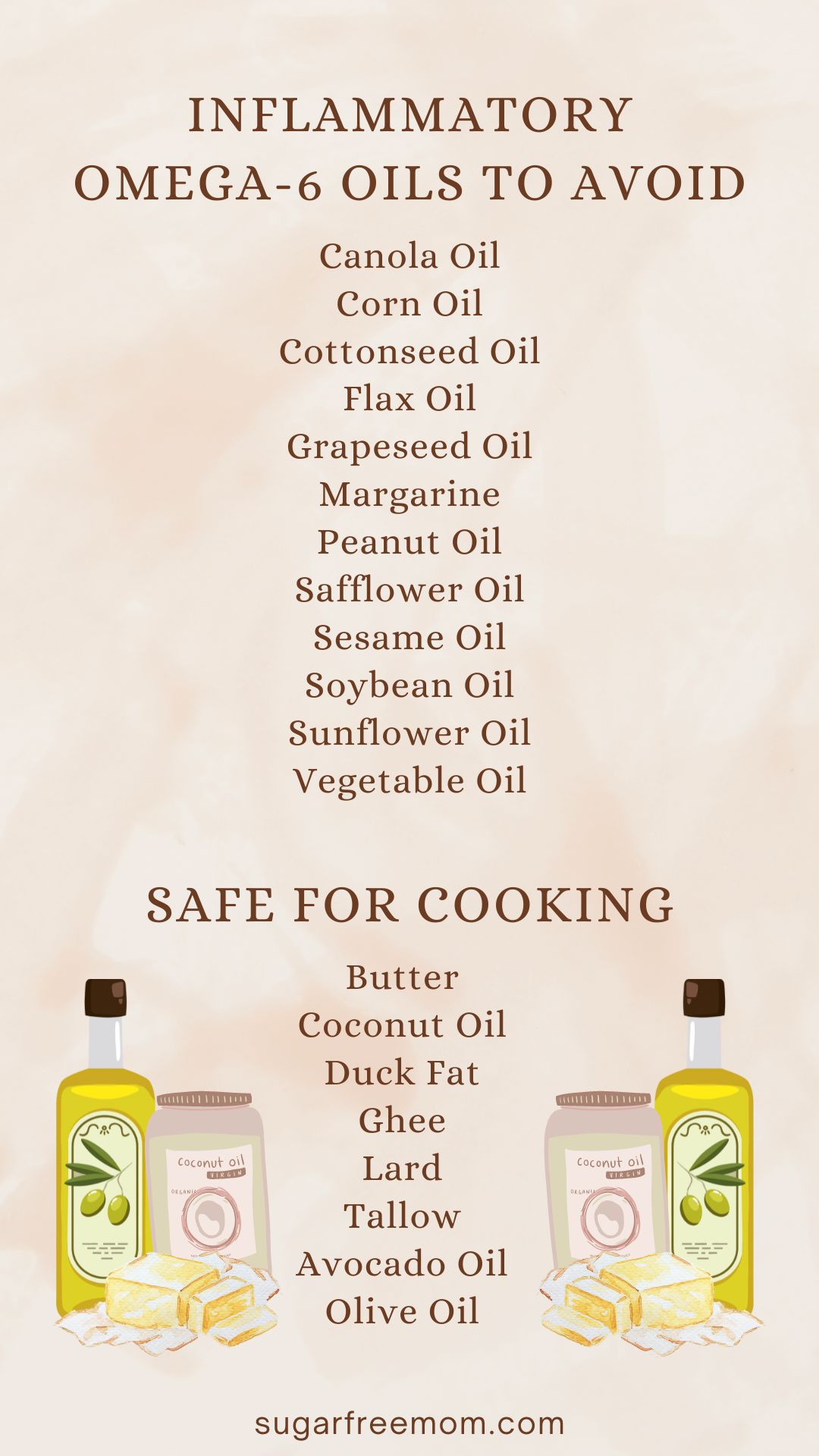 Avoid these omega-6 oils as they are inflammatory and lower your dopamine levels.
Canola oil
Corn oil
Cottonseed oil
Flax oil
Grapeseed oil
Margarine
Peanut oil
​Safflower oil
Sesame oil
Soybean oil
Sunflower oil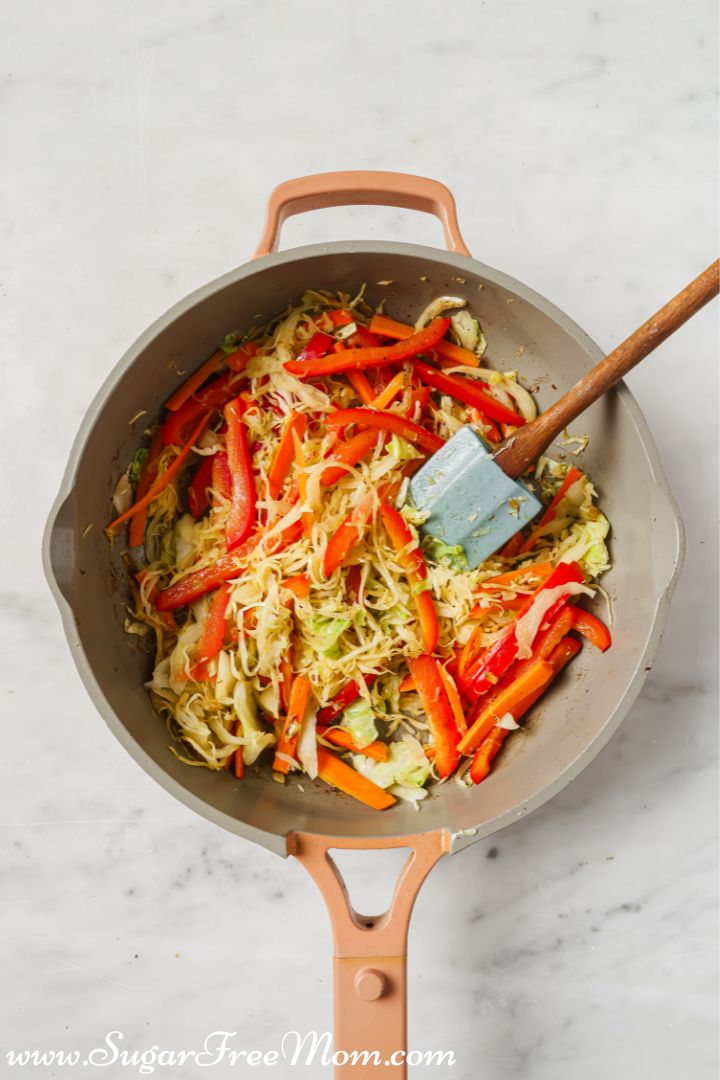 What Low Carb Vegetables Can I Substitute?
When it comes to sustaining a low carb diet or keto diet, personal preference is key. Don't like vegetables used in this recipe? No problem, you can easily swap them.
You can swap the cabbage and make a broccoli stir fry if you prefer.
Green Beans, cauliflower, or zucchini would also be a great option.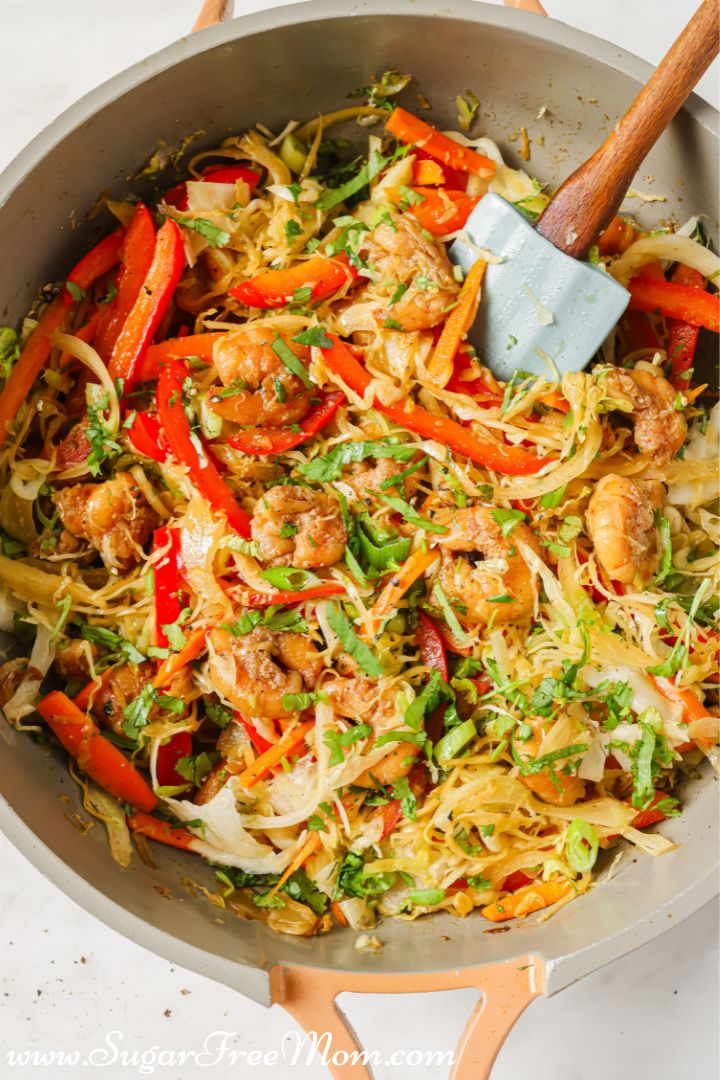 What can I replace Shrimp with?
​The great thing about this easy one pan meal is that it is so versatile.
If you're allergic to shrimp or just don't like it, you can replace the raw prawns.
To keep the same macros, I'd recommend another lean protein for swapping shrimp, like scallops or even boneless, skinless chicken breast, cut into bite size cubes for quick cooking in a large pan.
Keto Shrimp Recipes
Low Carb Shrimp Ramen Stir Fry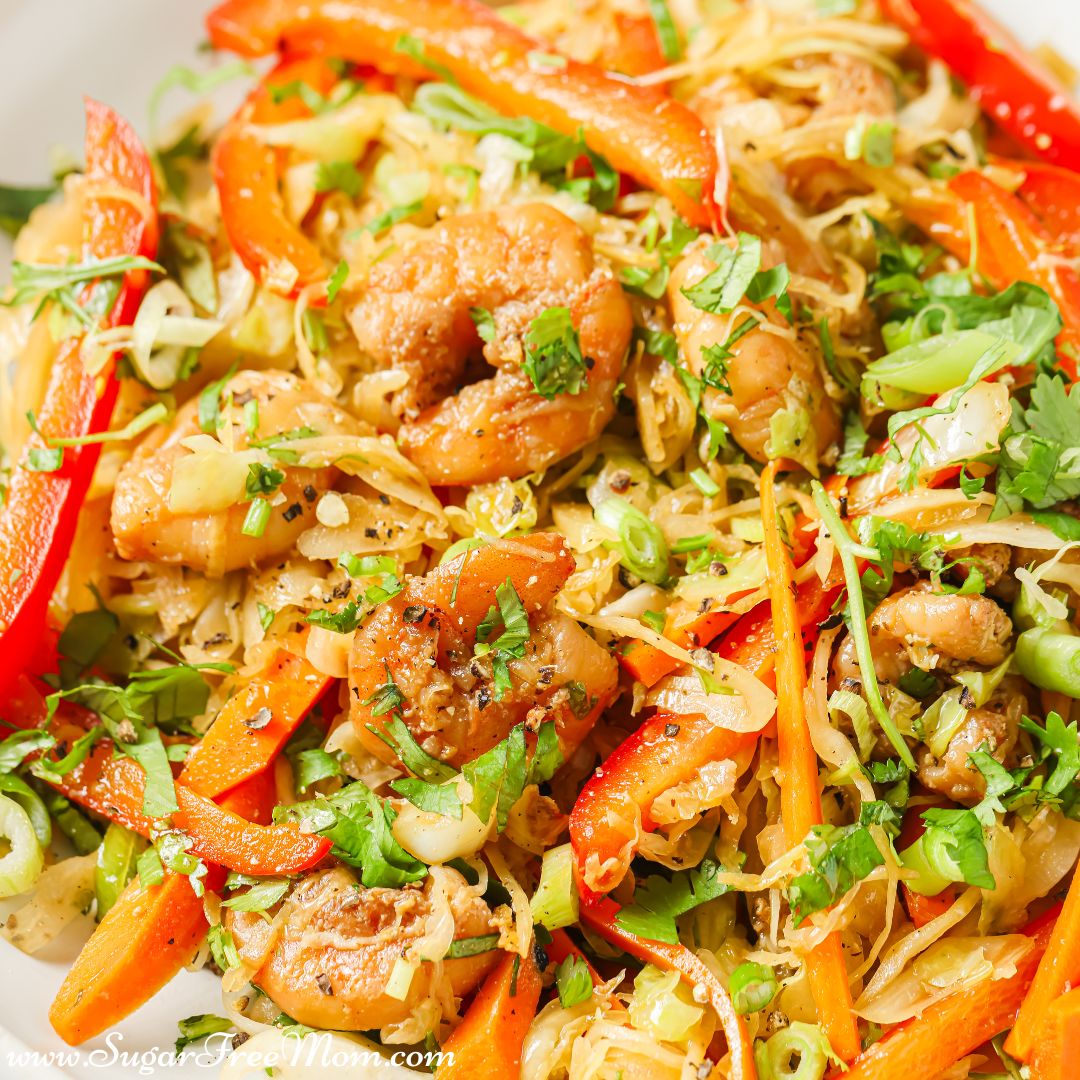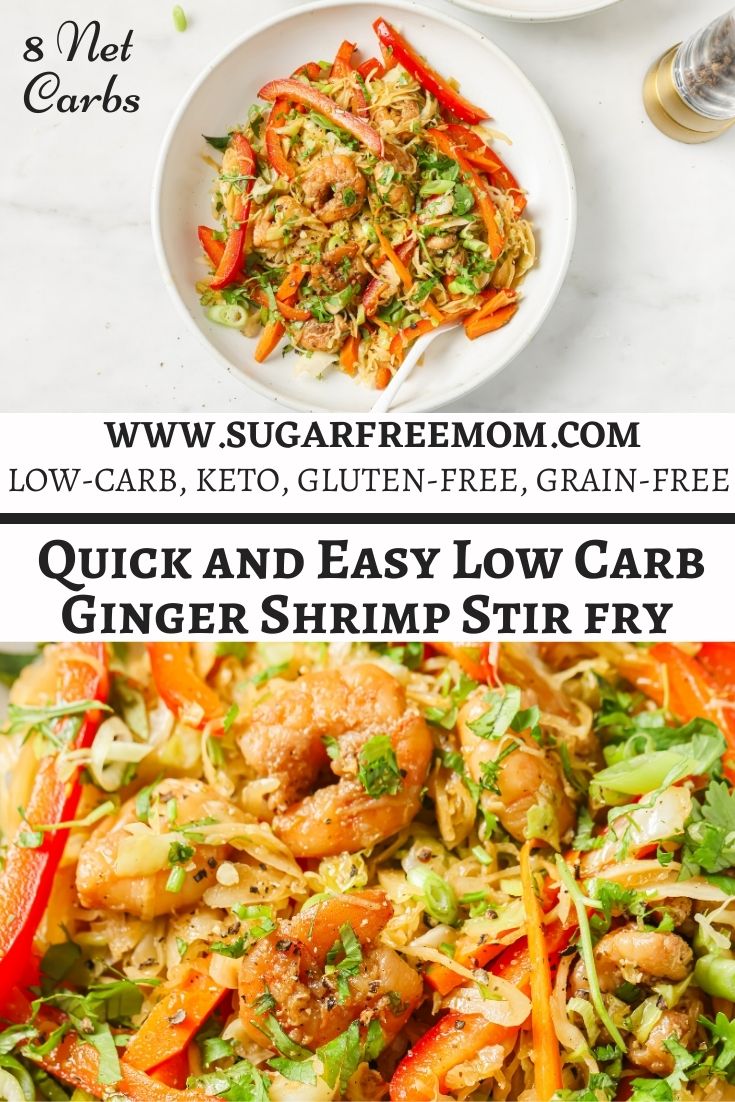 Quick Keto Shrimp Stir Fry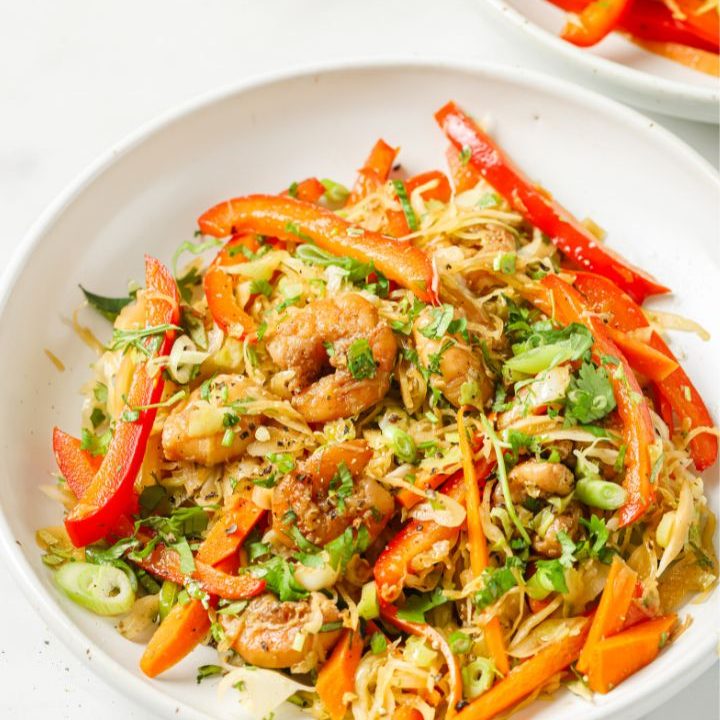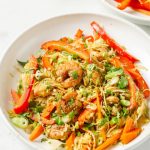 Print
Quick and Easy Low Carb Ginger Shrimp Stir Fry
When you are looking for a quick and easy dinner, This Low Carb Ginger Shrimp Stir Fry is a must make. After a busy day, in less than 15 minutes you can have a delicious dinner ready and on the table for the family to enjoy.
Ingredients
Other
12

ounces

shrimp

large, raw, deveined or 350 grams

2

tablespoon

avocado oil

(or olive oil)

1.5

cups

white cabbage

finely shredded or 330 grams

½

cup

red bell peppers

deseeded and thinly sliced or 120 grams

¼

cup

carrot

thinly sliced or julienne or 60 grams

pinch

xanthan gum

red chili slices

(or minced) optional or red pepper flakes
To Serve
¼

cup

scallions

spring onions (green onion) or 30 grams

2

tablespoon

fresh cilantro

chopped

squeeze of fresh lemon juice, sprinkle of sesame seeds
Instructions
Mix the sauce ingredients together in a small bowl.

Add the shrimp to a large bowl with ½ the marinade and toss to coat. If using xanthan gum, don't add to the marinade and just add when you add the remaining sauce to the pan.

Preheat a wok or large frying pan over medium-high heat. Heat half the avocado oil and when hot add the shrimp and spread in a single layer. Cook for 1 minute, don't stir them, then flip and quickly stir fry for another 1-1.5 minutes or until they turn pale pink, but are not over cooked. Remove from the pan and set aside.

Add the remaining avocado oil to the pan. When hot, add the peppers, cabbage and carrots, plus a good pinch of salt and pepper. Sauté for 2 mins or until soft, but still al-dente.

Add the tender shrimp and the remaining sauce (if using xanthan, mix it into the sauce now) back to the pan (add some chili too if you like) and cook for 1 minute or so until warm.

Top with spring onions and fresh cilantro, lemon juice and/or sesame seeds.

Storage: Airtight container in the fridge for 1 day.
Nutrition
Serving:
1
serving
|
Calories:
252
kcal
|
Carbohydrates:
10
g
|
Protein:
16
g
|
Fat:
16
g
|
Saturated Fat:
2
g
|
Polyunsaturated Fat:
2
g
|
Monounsaturated Fat:
2
g
|
Trans Fat:
0.01
g
|
Cholesterol:
143
mg
|
Sodium:
996
mg
|
Potassium:
297
mg
|
Fiber:
2
g
|
Sugar:
3
g
|
Vitamin A:
2799
IU
|
Vitamin C:
46
mg
|
Calcium:
85
mg
|
Iron:
1
mg