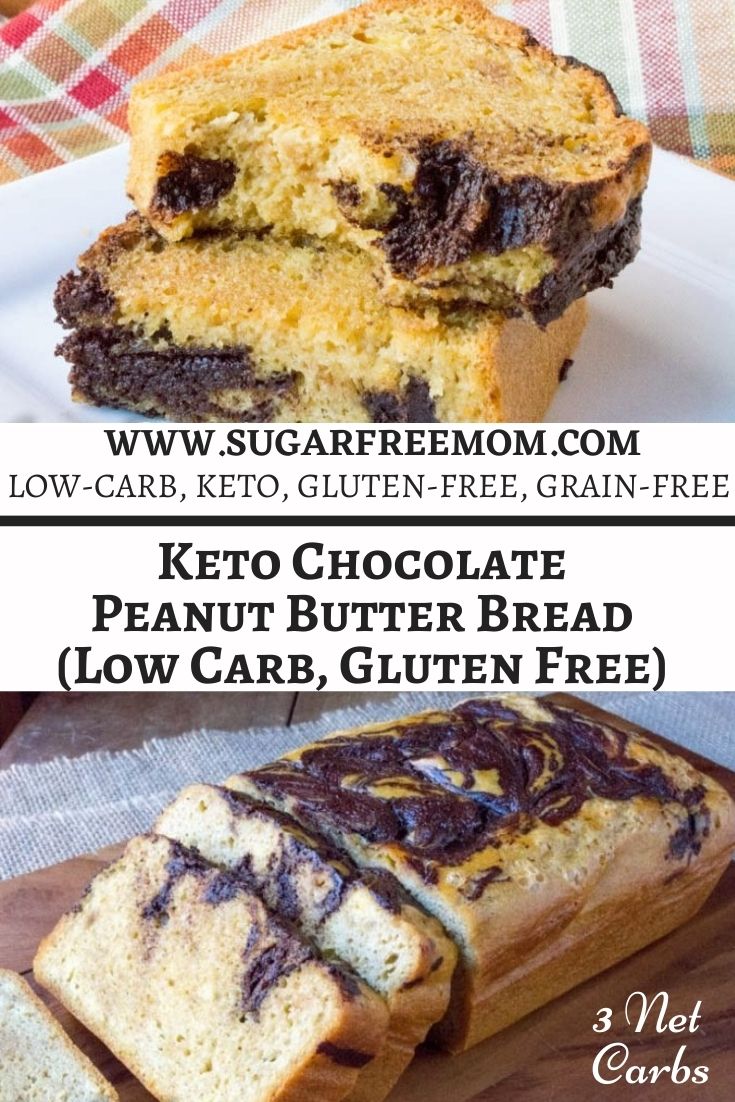 This Chocolate Peanut Butter keto bread is gluten free, grain free, sugar free and low carb, and you won't believe how fabulous the texture is! Perfect whether you're on a keto diet or low carb diet. Just 5 total grams of carbs or 3 g net carbs.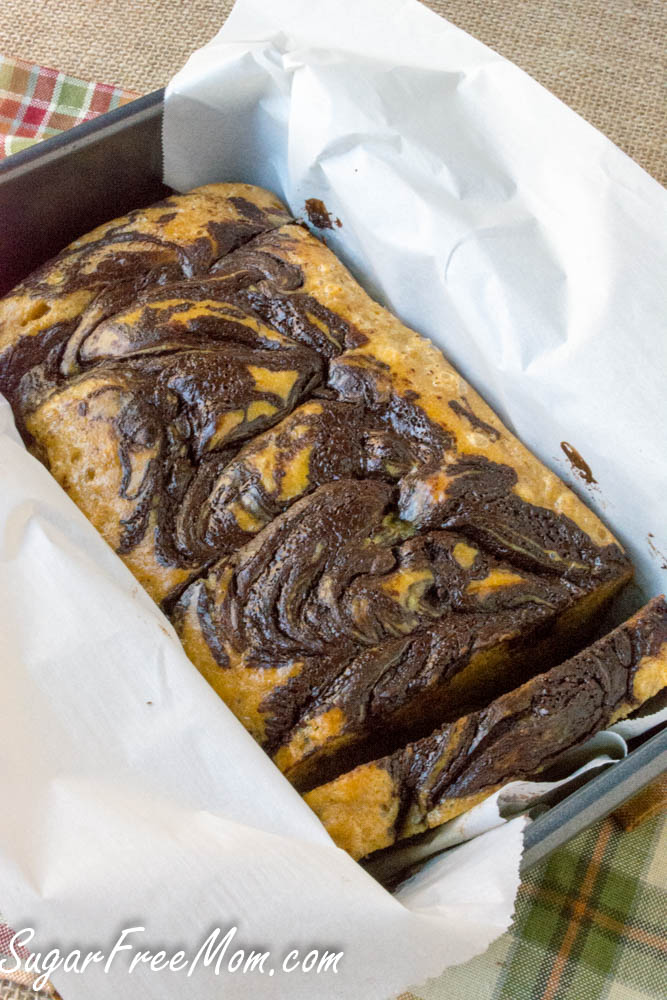 Sugar Free Low Carb Chocolate Peanut Butter Bread
Chocolate and Peanut Butter. Peanut Butter and chocolate.
The classic combo never gets old and the variety of keto recipes will never end. This keto peanut butter bread with a swirl of dark chocolate over the top is a lovely low-carb treat of healthy fats that will curb your sweet tooth!
I've adapted some of my favorite recipes from before I started a keto lifestyle using just basic ingredients and I never feel deprived.
When you can enjoy your favorite things and still stick to your health goals, it makes this a sustainable way of life!
I hope you are as excited about this delicious low carb peanut butter bread as I was making it!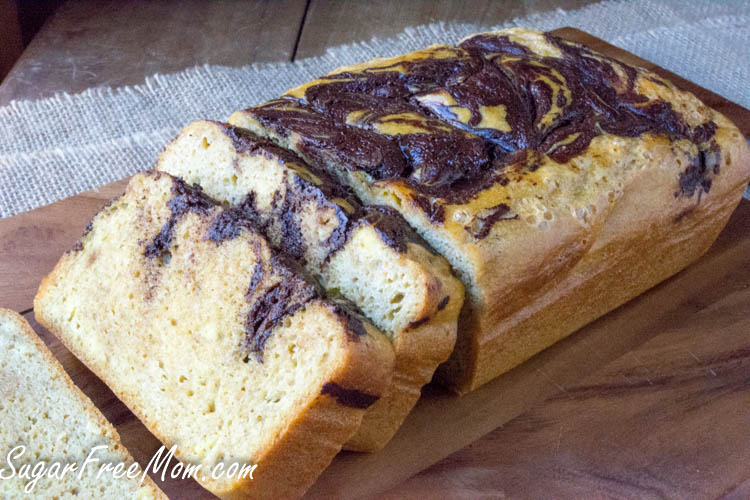 Can I Make This Peanut Free?
Yes, if you have a peanut allergy, you can easily make this peanut free using sunflower seed butter. It works perfectly and has the same texture as creamy peanut butter.
What brand of Peanut Butter should I buy?
​Most grocery stores now have a lot of food and sweet treats for the ketogenic diet, but you do need to read the ingredients for sugars.
Sometimes the names of sugar are in disguise and you can mistakenly eat keto desserts that you think won't spike your blood sugar, but actually do, and raise your insulin levels.
​I recommend looking for store bought products with minimal ingredients listed. For peanut butter, simple ingredients with just peanuts and salt would be best.
I like Justin's classic peanut butter.
​The type of peanut butter does matter when making this keto bread. I would not recommend crunchy peanut butter, you need smooth for this bread.
​You can also use other nut butters, if you don't like peanut butter or sunflower seed butter. You could use an unsweetened almond butter or macadamia nut butter, or cashew butter. Just make sure they don't include added sugar.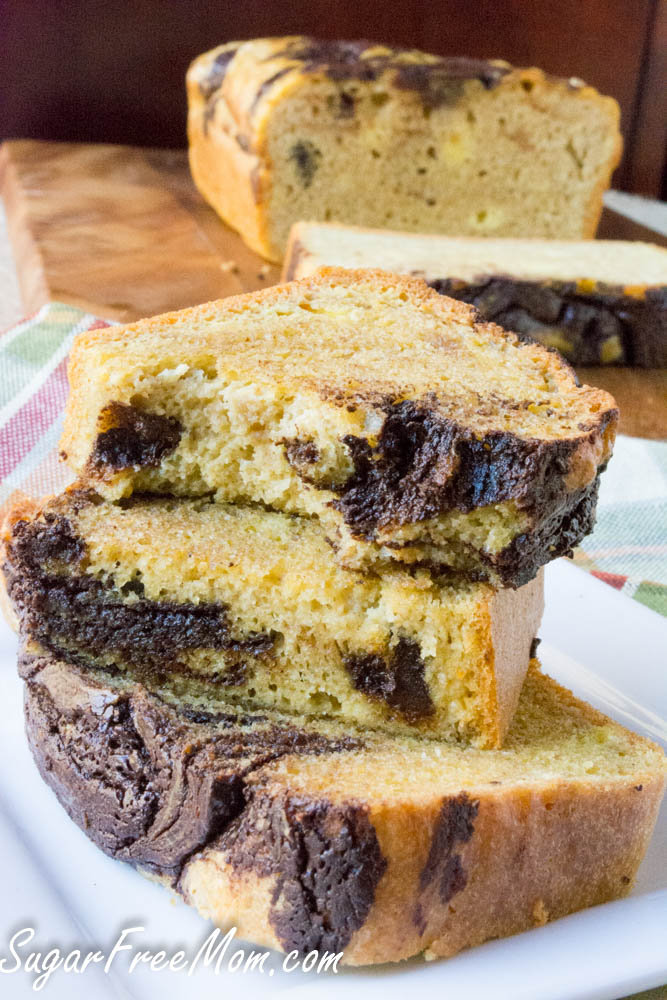 How can I make this Tree Nut Free?
​If you have a tree nut allergy, you can easily make this tree nut free. Swap the almond milk and almond flour with sunflower seed flour and either coconut milk or whole milk or cream.
​Can I swap almond flour for coconut flour?
No, you can't evenly swap almond flour with coconut flour but if you need to make these tree nut free, you can evenly swap almond flour with sunflower seed flour.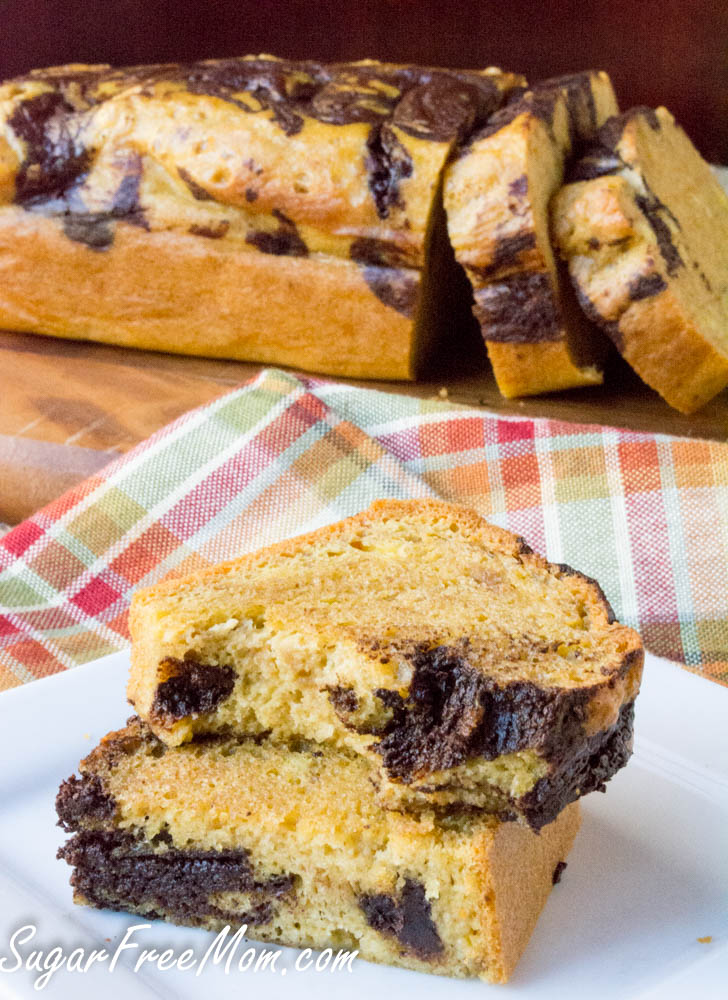 Adapted from my Low Carb English Muffin Loaf
The texture is amazing. Almost like an English muffin with some nooks and crannies and light and airy, not dense. Add that bit of chocolate swirl over the top and it's almost like a little bit of dessert with your breakfast!
Enjoy this bread for breakfast or as a side or as a snack, but whenever you eat this, you won't be eating any guilt! It's super low in carbs!
When I made my Blueberry English Muffin Loaf which I had adapted from my orginial English Muffin made in 2 minutes, another version was in the works in my head before I could have the chance to make it in the kitchen.
The first time I tested this out adapting from my orginial recipe from the Blueberry English Muffin, it was slightly oily so I did some adjustments with the almond flour and butter and it came out perfect the second time around! You can enjoy this quick bread right out of the oven, but I like toasting each slice for a little bit more crispness.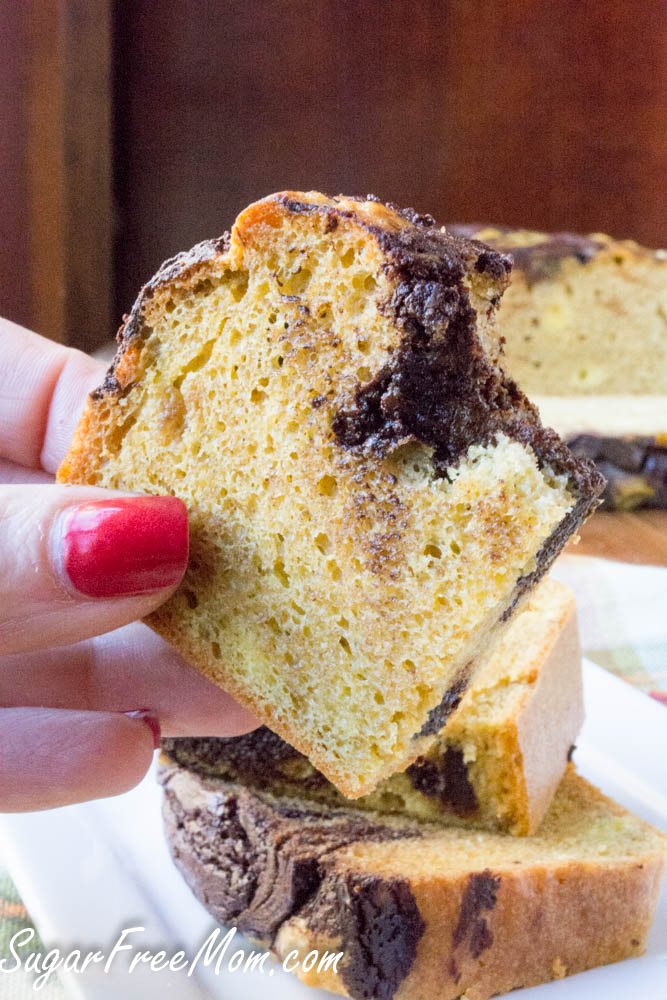 Can I use Monk Fruit sweetener instead of Stevia?
You can use any sugar substitute you prefer. I always have on hand vanilla liquid stevia and use it often in a dessert recipe, but you could swap it with what you prefer.
Use my Sweetener Guide & Conversion chart to decide how much of a different sweetener to use in place of the vanilla stevia I used in this healthy peanut butter bread.
​I would recommend using a liquid Monk Fruit because it is just as sweet as stevia. If you use a granulated sweetener like erythritol in granular Swerve, it is not as sweet as either monk fruit or stevia so you will need more of it.
Check my conversion chart for help with this.
​Can I replace the unsweet chocolate with sugar free low carb chocolate?
Yes, if you decide to replace the unsweetened chocolate I used, also replace the chocolate liquid stevia as that is what I used to sweeten the chocolate. You won't need it if you are using a store bought sugar-free chocolate chips or bar, like Lily's brand.
Got another version for me to make with this loaf? Let me know, I love a good challenge!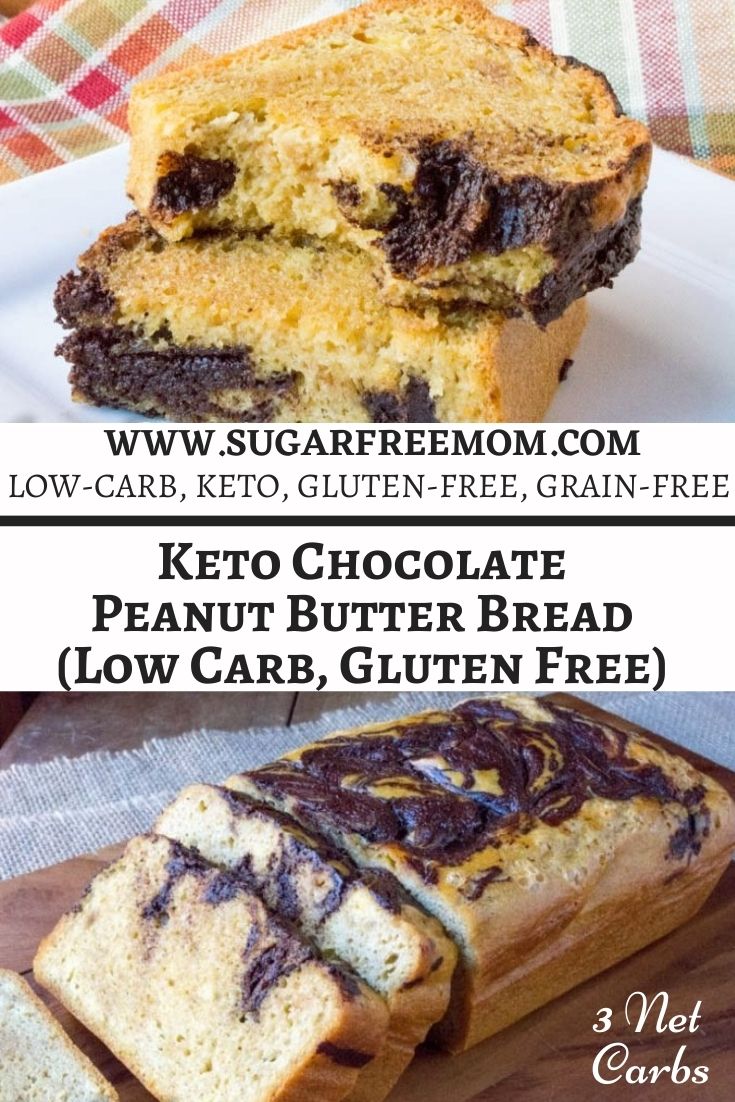 More Keto Peanut Butter Low-Carb Recipes
No Bake Peanut Butter Mousse Pie
Keto Reese's Peanut Butter Cups
Keto Low Carb Chocolate Peanut Butter Bread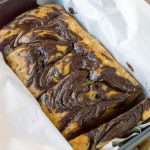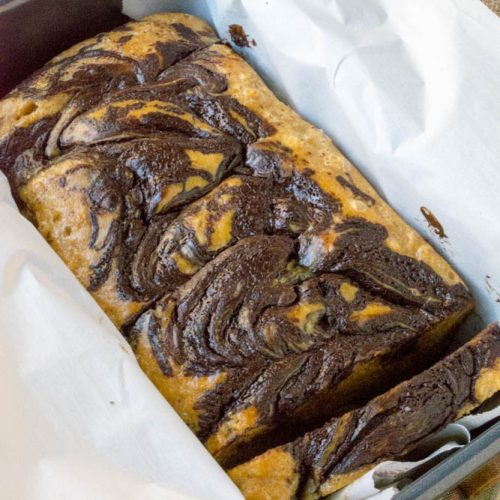 Print
Keto Low Carb Chocolate Peanut Butter Bread
Instructions
Preheat oven to 350 degrees F.

Melt the peanut butter with 3 tablespoons of butter in a large bowl. Set aside 1 tablespoon of butter.

Stir in the remaining ingredients; almond milk, almond flour, vanilla extract, vanilla stevia, baking powder, salt, but do not add eggs yet. Wait to add eggs until you taste the peanut butter mixture.

Taste batter for sweetness, adjust if needed, then stir in eggs until combined.

Pour batter into a 8 by 4 loaf pan lined with parchment paper.

In a separate bowl, add the remaining tablespoon of butter with the unsweetened chocolate and melt together about 30 seconds in the microwave. Stir then add the liquid chocolate stevia then taste and adjust. Stir until smooth. Skip chocolate stevia if using sugar free chocolate chips.

Drizzle the melted chocolate into the peanut butter layer. Swirl around with a butter knife.

Bake for 45 minutes until puffed and golden brown and toothpick in center comes out clean.

Allow to cool 15 minutes before removing and slicing.

Enjoy or toast!
Notes
Net Carbs: 3g
This recipe was first published in November 2016 and updated with video in September 2019.
Nutrition
Serving:
1
slice
|
Calories:
197
kcal
|
Carbohydrates:
5
g
|
Protein:
8
g
|
Fat:
17
g
|
Saturated Fat:
6
g
|
Polyunsaturated Fat:
1
g
|
Monounsaturated Fat:
3
g
|
Trans Fat:
0.2
g
|
Cholesterol:
92
mg
|
Sodium:
195
mg
|
Potassium:
139
mg
|
Fiber:
2
g
|
Sugar:
1
g
|
Vitamin A:
235
IU
|
Calcium:
62
mg
|
Iron:
2
mg