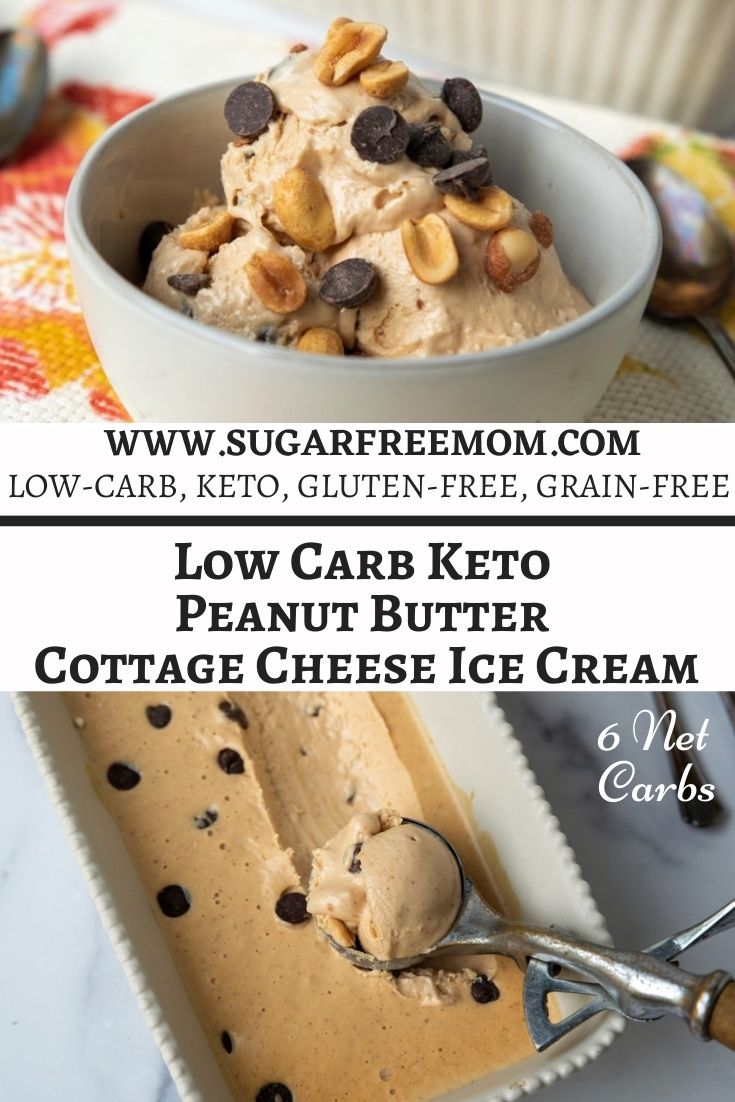 Just 3 simple ingredients to make this high protein, viral cottage cheese ice cream recipe! No ice cream maker is needed! This keto peanut butter cottage cheese ice cream tastes like traditional ice cream, but has only 6 g net carbs and 15 grams of protein!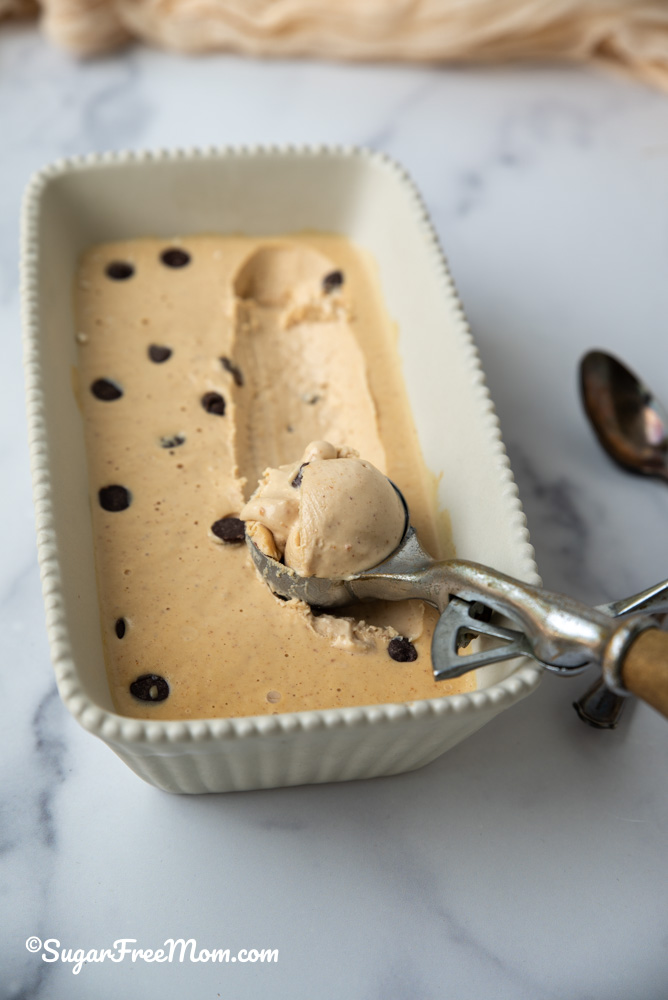 ​Regular Ice Cream versus Keto ice Cream
​Cottage cheese ice cream has become a healthier option thanks to Lainie Cooks on TikTok who first shared this healthy ice cream recipe. It quickly became a viral ice cream recipe because of how simple the ice cream base is to make.
Using full-fat cottage cheese and a sweetener of choice and then you can add other add-ins like fresh fruit or almond butter or natural peanut butter.
As a recipe developer, I've been creating cottage cheese recipes for years in savory and sweet low carb recipes, like my Spinach pie and my high-protein snack chocolate smoothie.
​The different flavors for this high-protein dessert are endless! Lainie and other bloggers are often using maple syrup or honey to sweeten the cottage cheese mixture, but I'm making it a sugar free ice cream recipe.
Using less sugar to sweeten, you have less carbs, which means your blood sugar won't spike and will stay nice and balanced after enjoying this delicious ice cream.
​Next time you're taste buds are cravings some keto ice cream, instead of buying store bought keto ice cream with a ton artificial preservatives and ingredients, and not to mention how expensive it is at the grocery store, just choose your favorite brand of cottage cheese and make this easily and quickly at home!
Plus with 15 g protein, this is and easy way to have a high protein dessert and still maintain your weight loss and health goals!
For my next upcoming cottage cheese recipe, I will be adapting these ricotta pancakes for cottage cheese pancakes!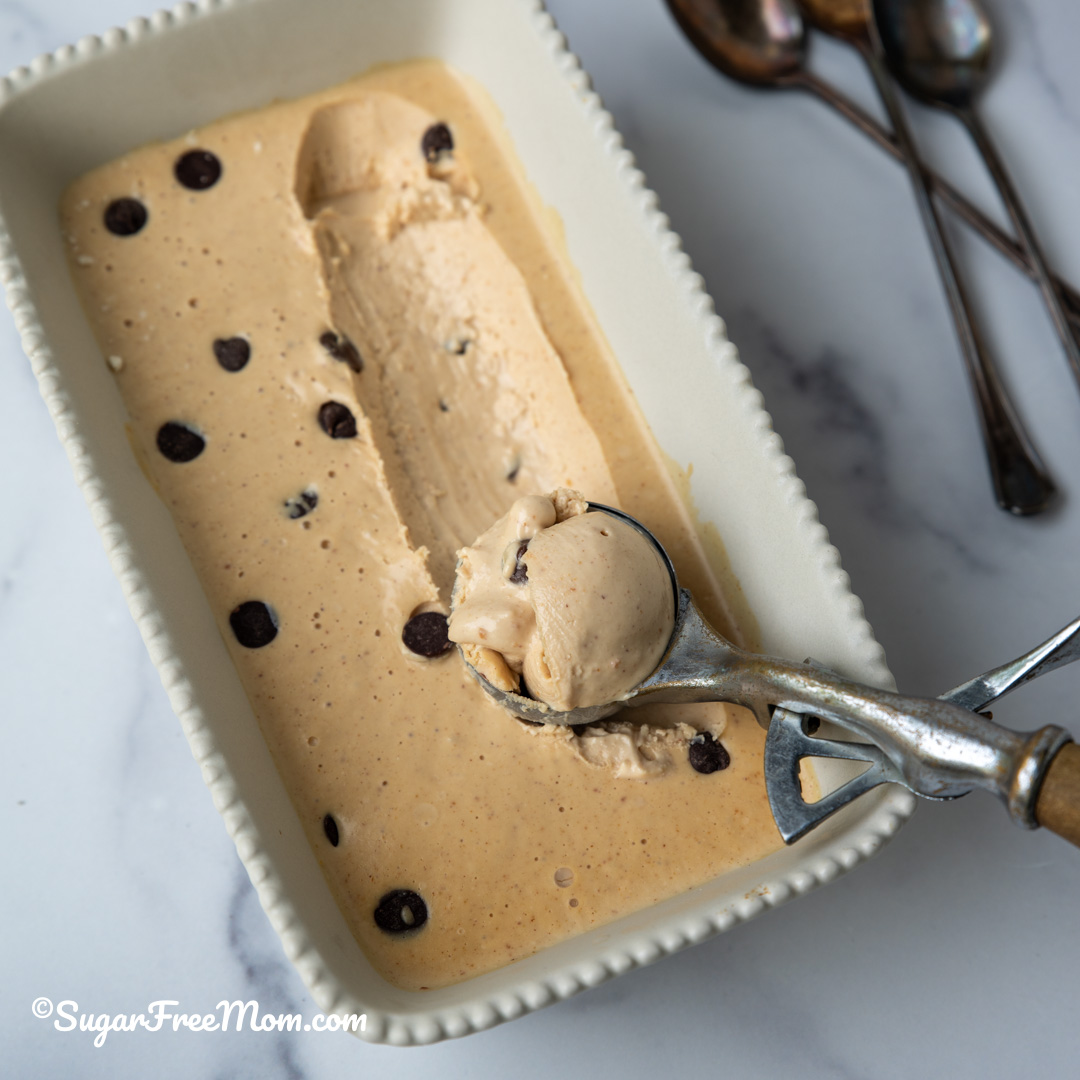 Can I use fat-free cottage cheese or low-fat cottage cheese?
​The first step for this sweet treat is choosing your cottage cheese since it is the main ingredient needed. Whole milk cottage cheese is best if you truly want a creamy texture, but low fat will work, just understand it will not be as creamy.
I do not recommend fat-free cottage cheese as it will form ice crystals and set hard as a rock.
​The specific brands I like are the Green Valley Lactose Free Cottage cheese since my daughter and I have a lactose intolerance, this works better for us without stomach issues. The Good Culture brand is also great if you don't have a lactose intolerance.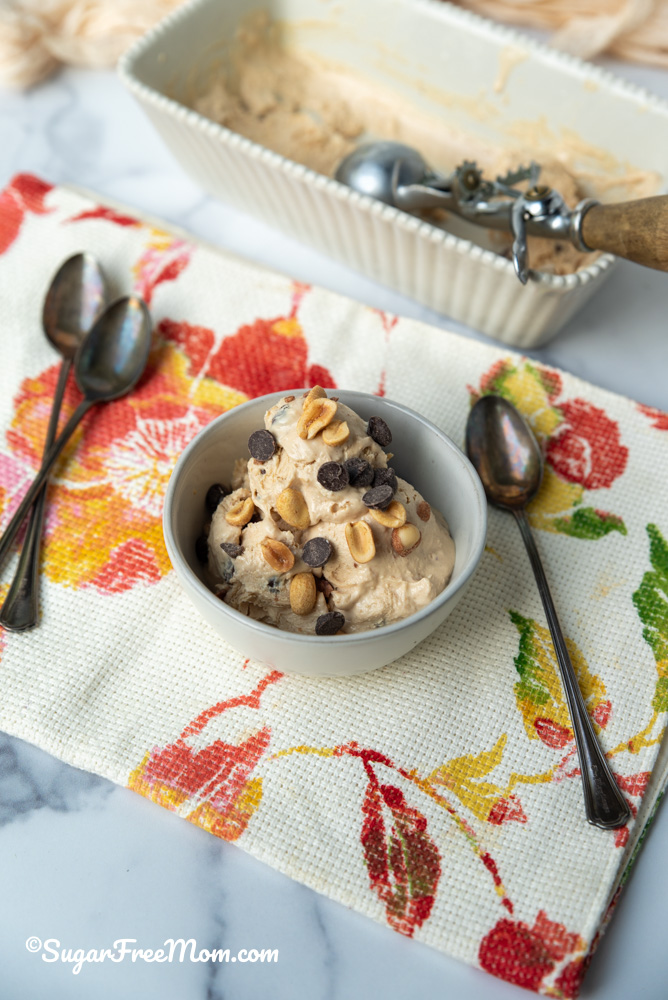 ​Can I replace the Peanut Butter?
If you want to lower the fat, replace the peanut butter used with peanut butter powder.
To make this peanut free, replace peanut butter with the same amount of sunflower seed butter or almond butter or any nut butter of choice.
Can I replace the Allulose?
The best part about this recipe since it doesn't contain eggs like typical ice cream is that you can use any sweetener you like.
The reason I use Allulose in liquid form is before it helps the ice cream not set so rock hard and provides a creamier texture even though we aren't using an ice cream maker.
You could also make my Keto Simple Syrup to replace Allulose.
My Sweetener Guide & Conversion Chart can help you choose a different low carb sweetener and decide how much to replace the Allulose with that I used in this recipe.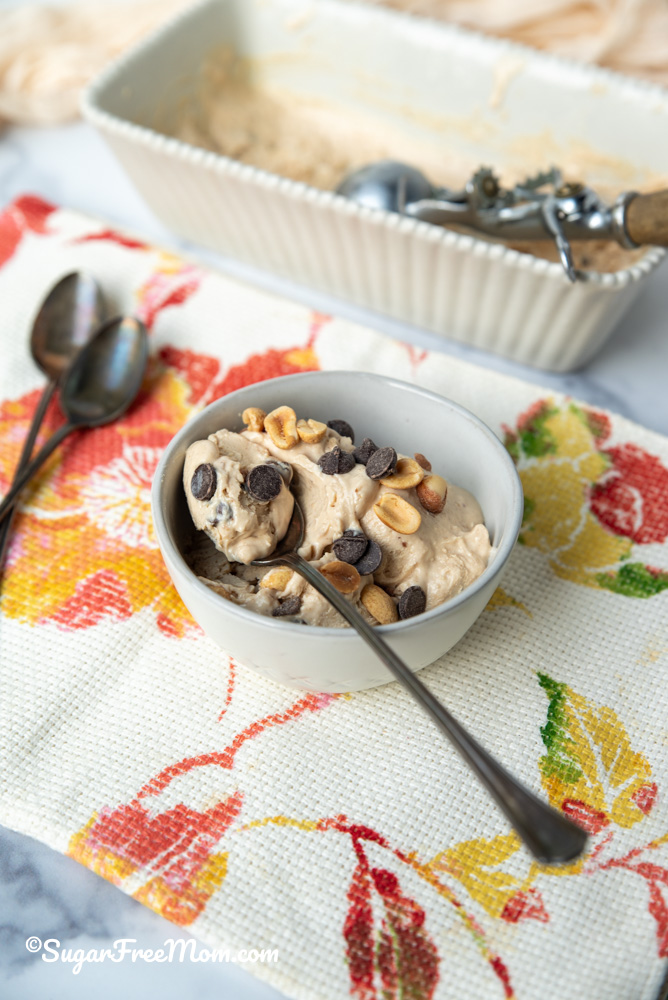 Tools to make Cottage Cheese Ice Cream
You have a few options to easily make the best homemade ice cream recipe with a smooth texture!
​Food Processor- Many of the cottage cheese recipes use a food processor and while this works well, if you don't have one, you can choose these other options below.
​High-Speed Blender- I used my Vitamix because it is a high speed blender and works well to remove the clumps of cottage cheese in just a couple of minutes.
​Ice Cream Machine- You can use an ice cream maker after blending or processing the ice cream mixture first. This will also help the ice cream mixture to stay softer after freezing for more than a few hours. I have an ice cream attachment for my Kitchenaid.
Ninja Creami- You could absolutely make this ice cream using a ninja creami. First process or blend then add to your container and freeze overnight. The next day follow the creami instructions and you'll have a delicious high protein ice cream.
​Immersion blender- Lainie made a single serving version of her cottage cheese ice cream using an immersion blender then placed it back into the cottage cheese container, but for more than one serving, you will either need to use the food processor of high-speed blender.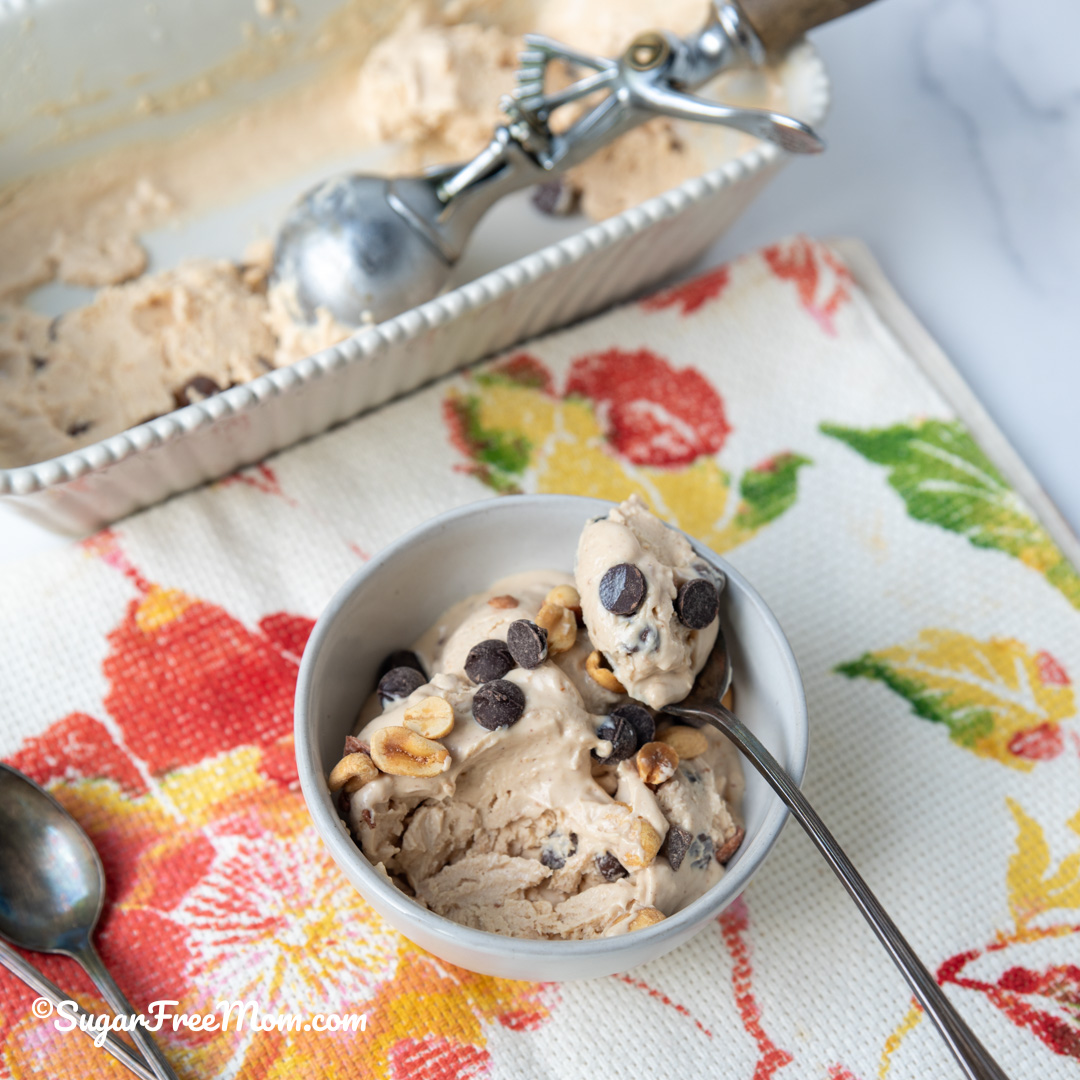 Different Variations
​Strawberry Cheesecake Cottage Cheese ice Cream- Use fresh strawberries in place of the ½ cup of peanut butter.
​Chocolate Cottage Cheese Ice Cream- Use a ¼ cup of unsweetened cocoa powder, or chocolate protein powder and a drizzle of melted keto chocolate chips to swirl throughout. If it's a little thicker in texture, before freezing, add about 2 tablespoons of heavy cream to loosen it up a bit then freeze.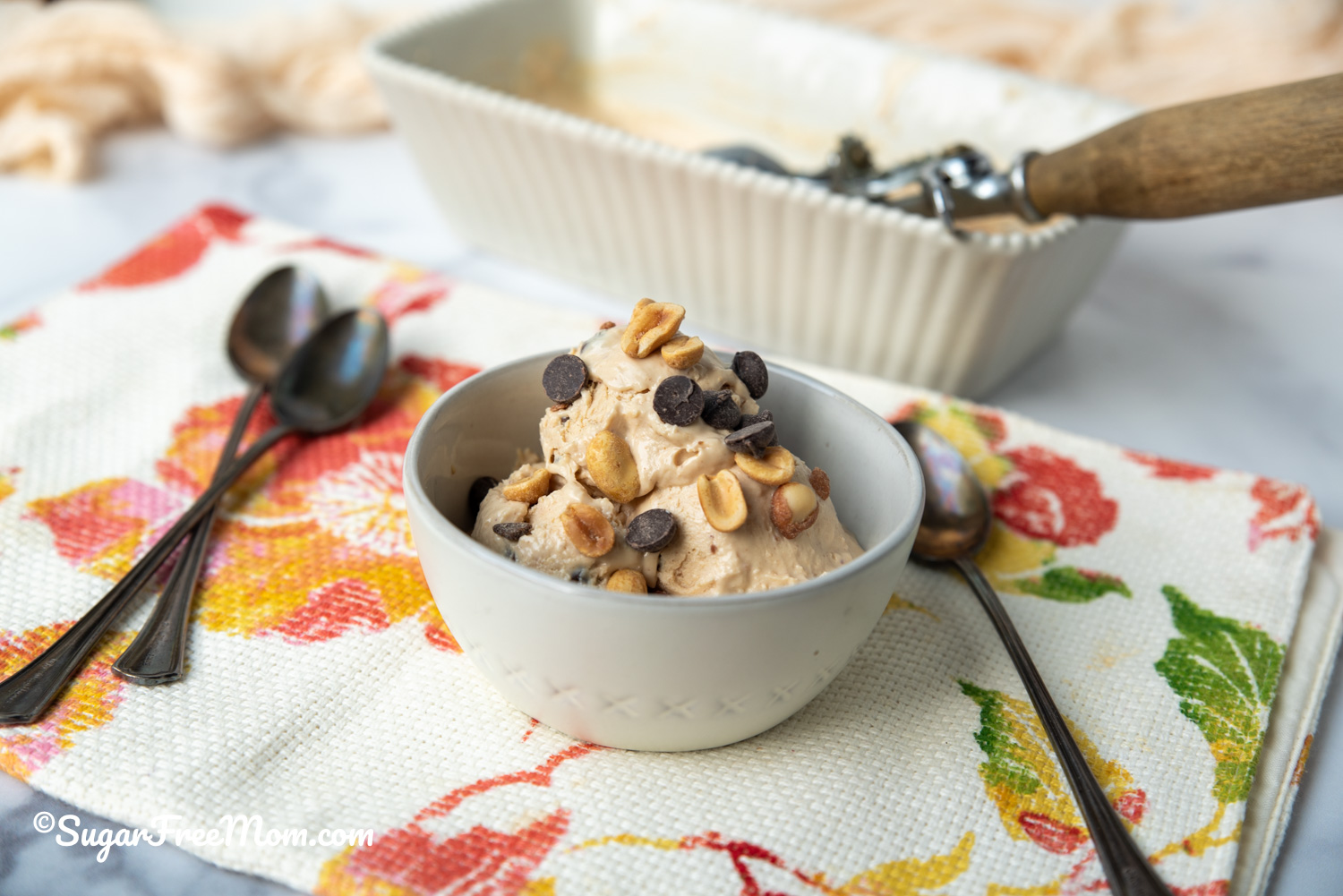 ​How to Store Cottage Cheese Ice Cream
Once you make this delicious recipe, store in an airtight container in the freezer or loaf pan for one hour to set. It will be more like soft serve after one hour. 3-4 hours will make it more like traditional ice cream. Enjoy immediately!
​If you have leftover cottage cheese ice cream, keep it in a freezer-safe container for up to 3 months.
When the cottage cheese ice cream is stored in the freezer for 24 hours or more, it will take some time to come to room temperature.
Let the ice cream thaw on the counter of at least 30 minutes then it should be soft enough using an ice cream scoop or cookie scoop.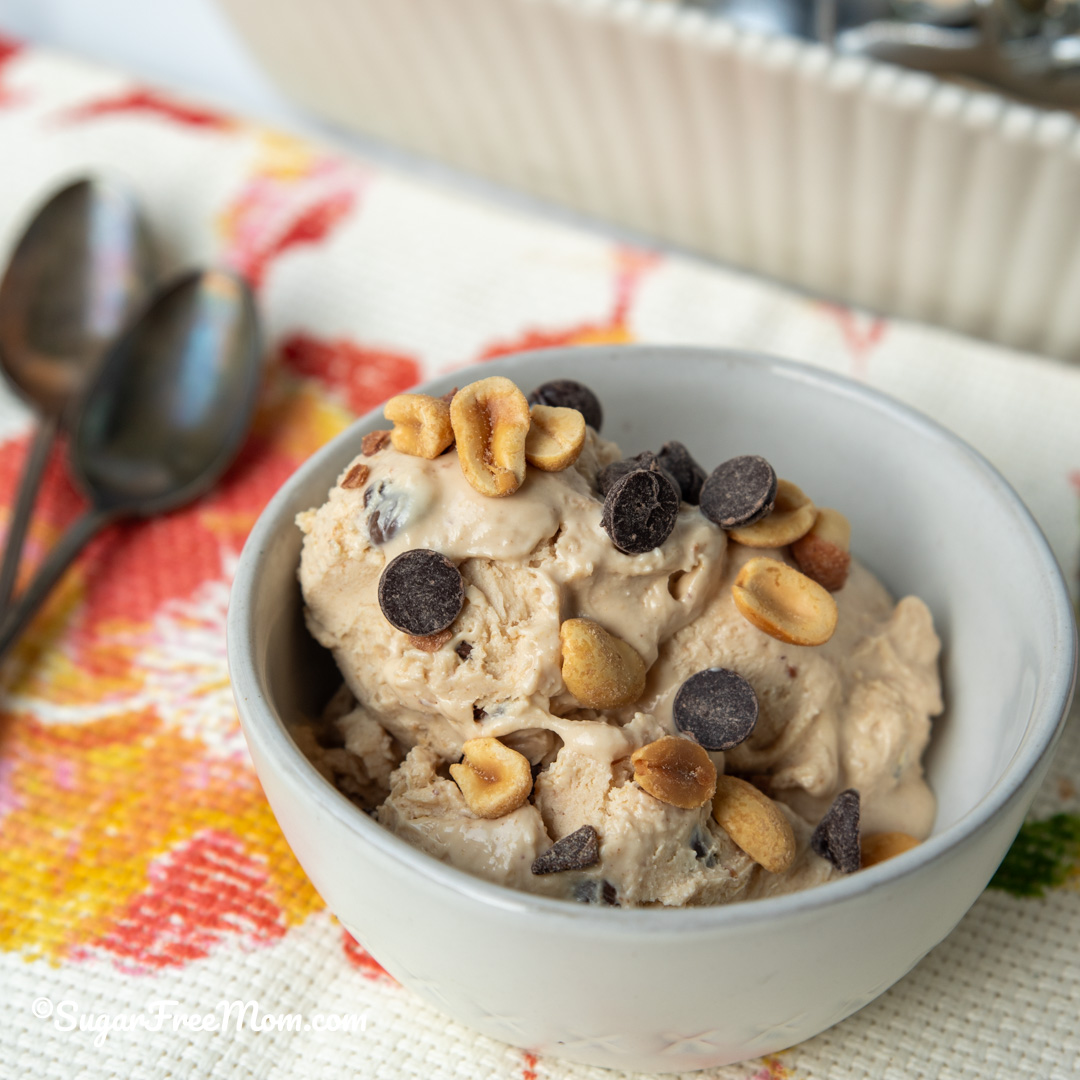 Sugar Free Keto Favorite Toppings
Please note, the recipe card below contains the nutritional information for the ice cream without optional ingredients or toppings.
Sugar Free Chocolate Magic Shell
Nuts like chopped peanuts, or walnuts
Seeds like sunflower or pumpkin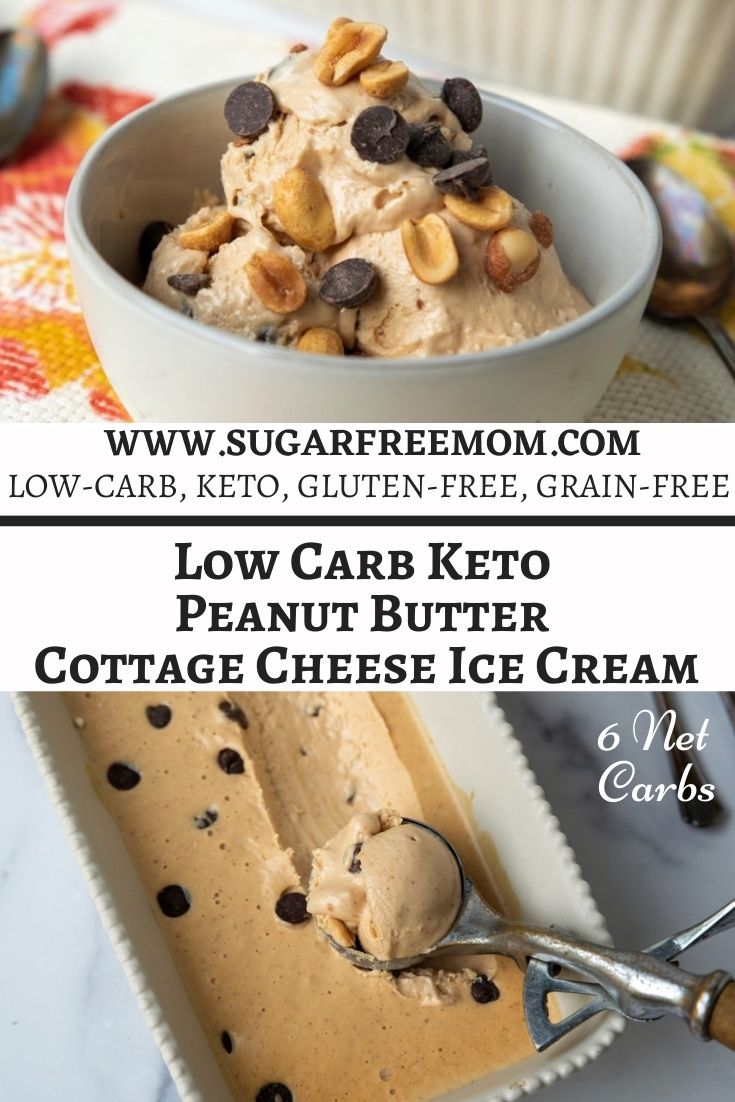 Sugar Free Peanut Butter Cottage Cheese Ice Cream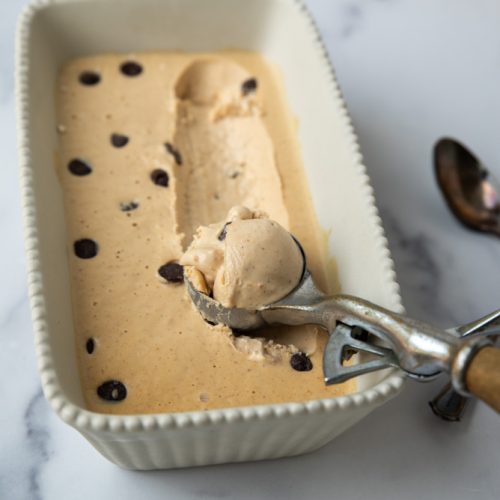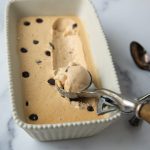 Print
Low Carb Keto Peanut Butter Cottage Cheese Ice Cream
Ingredients
12

ounces

cottage cheese

full fat

¼

cup

Allulose

liquid form or see notes above
Instructions
Place the cottage cheese, natural peanut butter and allulose into a high-speed blender or food processor. Blend for 5-10 minutes in a food processor until the clumps of cottage cheese are gone and the texture is smooth.

Taste and adjust sweetener. Use any optional ingredients you like. I find that a little vanilla extract really enhances the sweet flavor of whatever sweetener you are using.

Pour ice cream mixture into a loaf pan and freeze for 1 hour or more. The longer you freeze it the harder the ice cream will become. You can also add the ice cream mixture to an ice cream machine and follow manufacturer's instructions.

This makes 4 servings at ½ cup. Storage information above.
Nutrition
Serving:
1
@ ½ cup
|
Calories:
217
kcal
|
Carbohydrates:
7
g
|
Protein:
15
g
|
Fat:
14
g
|
Saturated Fat:
3
g
|
Polyunsaturated Fat:
0.1
g
|
Monounsaturated Fat:
1
g
|
Cholesterol:
14
mg
|
Sodium:
338
mg
|
Potassium:
88
mg
|
Fiber:
1
g
|
Sugar:
3
g
|
Vitamin A:
119
IU
|
Calcium:
71
mg
|
Iron:
0.1
mg